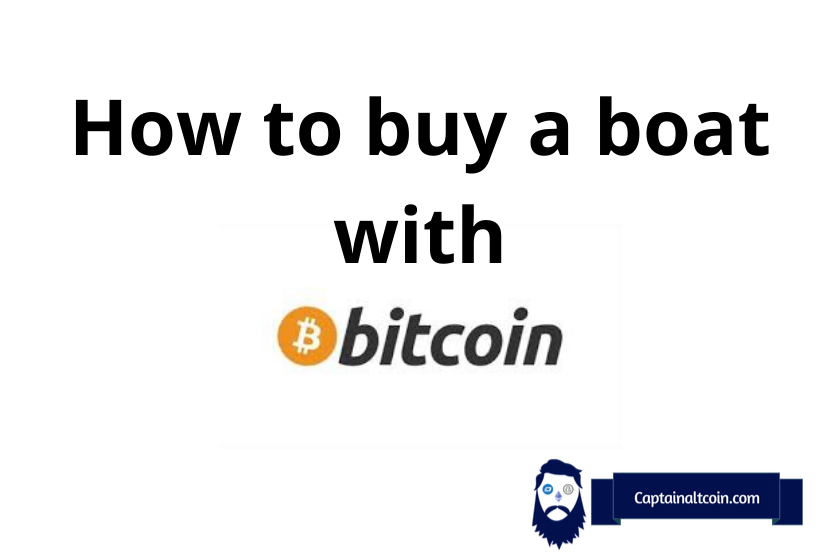 Intro
---
The value of a single Bitcoin has risen from around $10,000 to over $65,000 in just the past year, fueled by the people around the world wanting to get a taste of this exciting new internet money. The promises it holds brought many folks on board who don't even have a bank account.
The creators of Bitcoin intended it to be peer-to-peer cash that can be used to buy and sell stuff without the need of any centralized authority. In fact, Bitcoin began its journey when two pizzas were bought for 10,000 Bitcoins.
However, much of its growth today can be attributed to the investors who see it as a store of value that they can use to hedge against the inflating fiat. Thanks to the hard cap of 21 million Bitcoins — that's the most there ever will be.
That being said, today there are a surprising number of things you can buy using Bitcoins. Of course, you can always convert your Bitcoins to fiat to carry out the transactions, but that's not how it's supposed to be. Many places allow transacting directly in Bitcoins.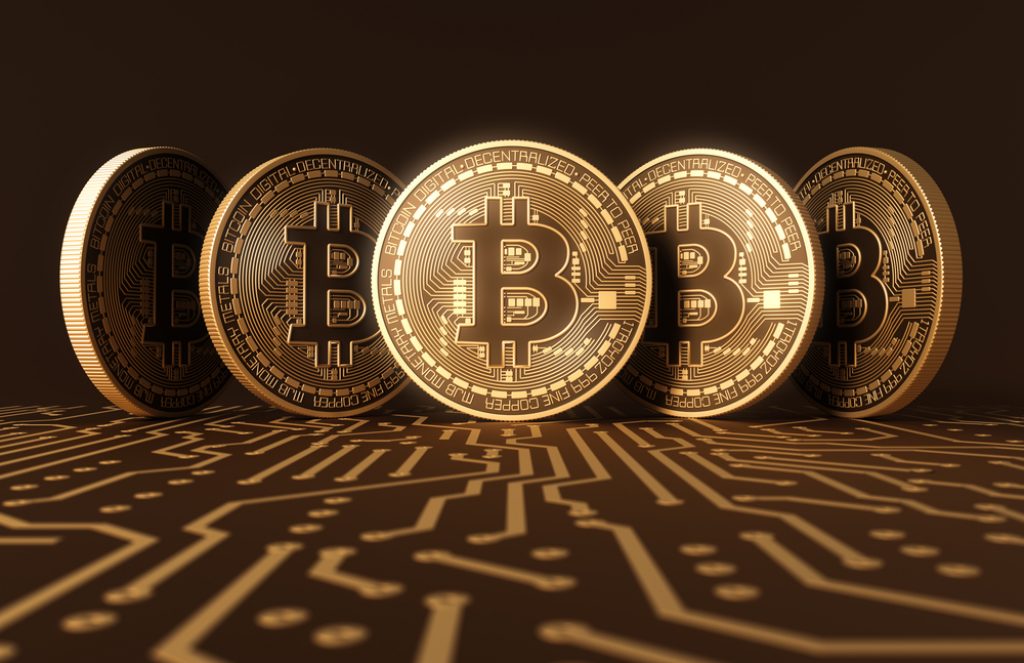 With a bit of research, you can find all sorts of things to spend your Bitcoins on: from a pair of socks to a private jet, from VPN services to donations for your favorite causes.
In this article, however, let's talk about boats.
Why buy a boat or yacht with Bitcoin?
---
So, why would anyone want to use Bitcoins to buy a yacht, why not just use the fiat?
Bitcoin offers some great advantages over the traditional methods of payments. Let us look at some of those advantages:
Privacy
---
Bitcoin is a peer-to-peer network where transactions are stored on a blockchain. Although not completely anonymous, the transactions can not be traced back to the user. This can help you if you want to keep your spendings private.
No central authority
---
This is a big advantage for many who prefer Bitcoin. Bitcoin is a decentralized currency, meaning that there is no central authority controlling it. No one can freeze your transactions, and no need to wait for the banks to process those transactions.
Accessibility
---
Another big advantage of Bitcoin is that it is a truly global currency. Within a few minutes, you can send money to anyone in the world. Also, you won't be spending much on the fees on cross-border transactions.
Read also:
Where can you buy a boat with Bitcoin?
---
Now that you are preparing to spend your Bitcoins on a boat, here are some of the places you should be looking at:
boatshed.com
---
Based in the UK, Boatshed Is an international yacht broker, in business since 1999. Neil Chapman, the founder, set up Boatshed to enable customers from all over the world to avail the service. Since then, the company has made a name of its own and is now represented in over 70 locations in 18 countries by more than 150 local brokers and franchisees.
In 2015, Boatshed took another forward-thinking step in making the platform more global. They became one of the first boat companies to offer boat purchases using Bitcoin. The currency can be changed from the menu in the top right corner which allows you to see the price in BTC. Although, the purchase will require that both parties are willing to transact in Bitcoins.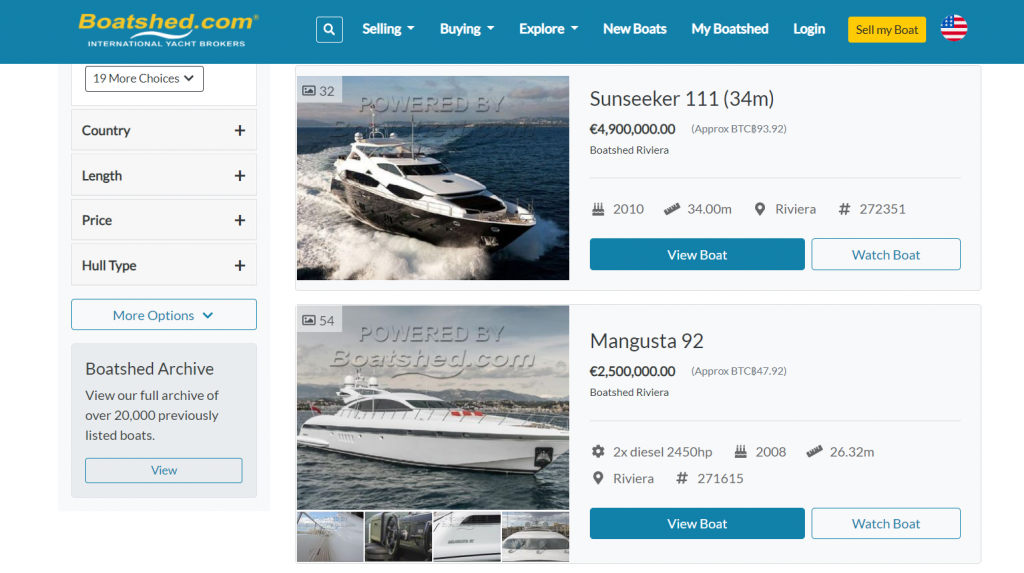 Boatshed has an advanced search tool to let you find the right boat for you. Moreover, they boast taking 'unlimited photos, videos, and VR images' of the boats listed, so once you set your eyes on a boat, you can view it from every possible angle before proceeding.
bitcars.eu
---
"Sorry Elon, we sold #Tesla's for #Bitcoin years before you came up with the idea. We will keep going! Thanks for freeing up the space ;)"
With that right in front of the homepage, you would think Bitcars is for cars, and you would be right. But dive a little deeper and you'll find that they have got yachts too listed on their site. While the selection is not huge, you should definitely take a look here.


Bitcars is a sales platform that takes care of most of the things like paperwork involved in the purchase and offers worldwide shipping.
As for payments, Bitcars accepts major cryptos like BTC, BCH, ETH, LTC, DCR, DOGE and XMR; processed by OpenNode and GloBee.
denisonyachtsales.com
---
Denison Yacht Sales was another one of the very first in the marine industry to see the clear advantages of Bitcoin. They have been accepting Bitcoin since 2014.
Denison Yacht Sales have been a leader in the industry for a long time, being in the boat business for over 50 years now and creating many histories along the way.
They are an international yacht brokerage platform with experience in various yachting services including sales, charter, financing, insurance and yacht management.
Individual sells by owners that accept Bitcoin
---
Apart from the brokerage platforms, you could go to places where individual boat owners themselves list their boats for sale. These can be boating specific marketplaces like Boat Trader and boats.com or more general ones like eBay and other classified advertising places. On marketplaces like these, you can transact directly from the sellers who are willing to accept Bitcoins.
Conclusion
---
Bitcoin no doubt has a few disadvantages when it comes to using it as a currency like its highly fluctuating nature, limited number of places accepting it, and the way it is taxed (In most places it is regarded as a property, so if you bought low and used it to purchase something after its value increased, that's capital gains). The advantages it provides, however, can sometimes far outweigh these disadvantages.
Bitcoin today is at a point where it is a completely acceptable way to purchase a boat, provided the other party is also willing to transact in digital money.

CaptainAltcoin's writers and guest post authors may or may not have a vested interest in any of the mentioned projects and businesses. None of the content on CaptainAltcoin is investment advice nor is it a replacement for advice from a certified financial planner. The views expressed in this article are those of the author and do not necessarily reflect the official policy or position of CaptainAltcoin.com