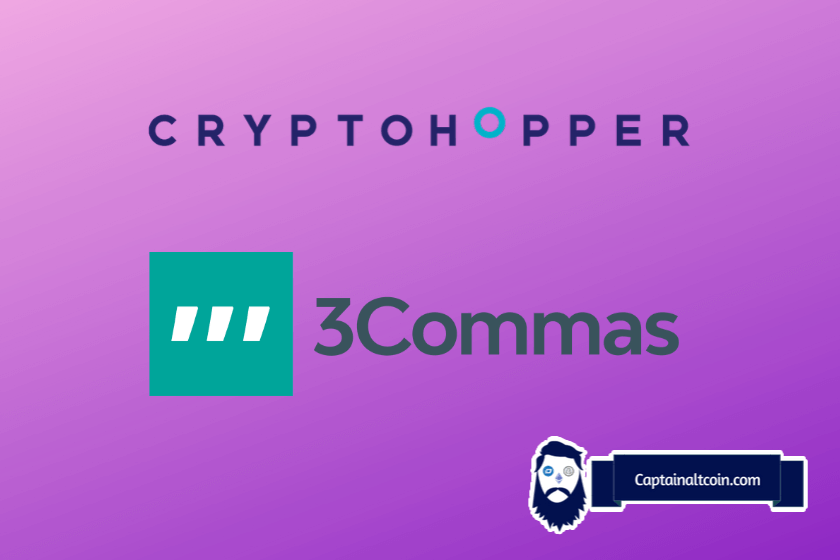 The prices of cryptocurrencies might be volatile and go in both directions – up and down; but the ecosystem is steadily on the expansion route. Cryptocurrency is developing in a full-fledged industry with compartmentalization process full on, segmenting the industry into distinct sectors.
One of the thriving sectors of cryptocurrency world is automated trading. Platforms like Cryptohopper and 3Commas are chief players in the game, leading the pack with hundreds of thousands of monthly active users.
Considering this, it was only logical to put these two leading bitcoin bots on a line and have them go head to head in a Cryptohopper vs 3Commas comparison.
So, let's start.
Visit CryptoHopper Now Visit 3Commas Now
General info
---
| | | |
| --- | --- | --- |
| | 3Commas | Cryptohopper |
| Company Location | Canada | Netherlands |
| Founding Year | 2017 | 2017 |
| Supported Exchanges | 23 | 14 |
| Free trial period | 3 days for Pro | 7 days for Starter |
| Cloud-Based | ✔️ | ✔️ |
| Multiple currency support | ✔️ | ❌ |
| Automated trading | ✔️ | ✔️ |
| Backtesting | ✔️ | ✔️ |
| Social trading | ✔️ | ✔️ |
| Mobile app | ✔️ | ✔️ |
| Day/night interface | ✔️ | ✔️ |
Cryptohopper trading bot is a rather young automated crypto trading platform, having its domain originally registered in July 2017. Created by two brothers from the Netherlands, one a day trader, and the other a web developer, it can brag about having a perfect blend of experience and knowledge – both in the worlds of trading/technology – behind it from the start. The two merged their ideas, skills, and experiences and created Cryptohopper.
You can read our in-depth review of Cryptohopper platform here.
? Price
Free Trial / $19 / $49 / $99 Per Month
? Payment Options

PayPal / Bank Transfer / Crypto
? Exchange Support

OKEX / KuCoin / Bitvavo / Binance / Binance US / Coinbase Pro
Bittrex / Poloniex / Kraken / Bitfinex / Huobi
☁️ Cloud Based

Yes
? Signals
Marketplace of Free & Paid Signals
? Strategies
30+ Indicators / 90+ Candle Patterns
3Commas was started in 2017 as well by a team of Russian developers. The company grew quickly with more than 200k monthly users, per their own website. Their about us page shows a growing number of team members which ensures the product will stay on top of its game in the future as well.
You can read our in-depth review of 3Commas platform here.
? Price
Free Trial / $29 / $49 / $99 Per Month
? Payment Options

PayPal / Apple Pay / Credit or Debit Card / Crypto
? Exchange Support

Binance / Binance Jersey / Binance US / BitMex
Bittrex / Bybit / Coinbase Pro / Huobi / OKEX
☁️ Cloud Based

Yes
? Signals
Marketplace of Free & Paid Signals
? Strategies
30+ Indicators / 90+ Candle Patterns
Features
---
Cryptohopper offers a wide array of features:
Automatic trading: automated trading of your favorite coins. Set up your own trading strategy and let the bot trade for you.
Crypto signals: Alternatively, if you don't want to/don't know how to set up your own strategies, the bot allows you to automate your trading by copying signals sent to you by third-party technical analysts (signalers).
Risk-minimizing features: constant automatic price trailing, trailing stop-shorts, trailing stop-buys, stop-losses and sell with profit options limit your chance of losing everything you have.
Trading bot templates: save and load your own templates to quickly setup and change your trading bots.
Technical analysis: the bot offers dozens of volatility, trend and volume indicators as well as tools to perform technical analysis of the market, all of which helps you determine the ultimate trading strategy.
Backtesting: lets you analyze data from the past, which can help you fine tune your trading strategy for optimal profitability.
Similarly, 3Commas is also feature-rich platform, some of them enumerated below:
Broad range of bots – 3Commas is cloud-based platform with support for short, simple, composite, and composite short bots. It also allows setting stop loss and take profit targets, as well as customization of youw own trading strategies.
Performancy and analytics tools – This automated trading bot offers a wide range of trading tools and in addition to the automated bots and performance analytics, you can also create and auto-balance your portfolios, track their performance but also "spy" on other users via social trading features.
Social trading – 3Commas users are able to create, analyze and back-test crypto portfolios and track the best performing portfolios of other users. Users can also engage in social trading and follow and copy the actions of other successful traders.
Exchange Integration – The 3Commas team provide automatic trading bots for 23 exchanges including the leading platforms like Bittrex, Bitfinex, Binance, Bitstamp, KuCoin, Poloniex, HitBTC, Cex, GDAX (Coinbase Pro), OKEx, Huobi and Yobit.
3Commas vs Cryptohopper: Pricing
---
The plans on Cryptohopper are as follows:
Pioneer Plan: Free Trial for 7 Days
80 positions
Max 15 selected coins
Max 2 triggers
TA with 10 min interval
1 Simulated Trading Bot
Explorer: Starter package ($19 Per Month)
80 positions
Max 15 selected coins
Max 2 triggers
TA with 10 min interval
1 Simulated Trading Bot
Adventure: Trader Plus Package ($49 Per Month)
200 positions
Max 50 selected coins
Max 5 triggers
TA with 5 min interval
1 Simulated Trading Bot
Exchange arbitrage
Hero: Pro Trader Package ($99 Per Month)
500 positions
Max 75 selected coins
Max 10 triggers
TA with 2 min interval
All coins for signals
Market Arbitrage
Market-Making
1 Simulated Trading Bot
It's possible to pay per month or to purchase the service for a whole year, it's also important to note that Cryptohopper doesn't provide any refunds and users should make the most of the free trial before committing to a subscription.
3Commas is also free to try out for 3 days and then you have to decide if you go for a paid subscription and which package is to your liking. All three packages offer discounts if you buy the license for longer time periods – 6 months or 12 months.
The Starter package costs $29 a month (paid monthly)*, and includes:
Smart Trading terminal
No limits for trading
Errors and cancellations notifications
The Advanced package costs $49 a month*, and includes:
Smart Trading terminal
No limits for trading
Simple bots
Personal signals TradingView
The Pro package costs $99 a month*, and includes:
Smart Trading terminal
Simple, Composite bots and Bitmex bots
Personal signals TradingView
Full portfolio management
Cryptohopper vs 3Commas: Supported exchanges
---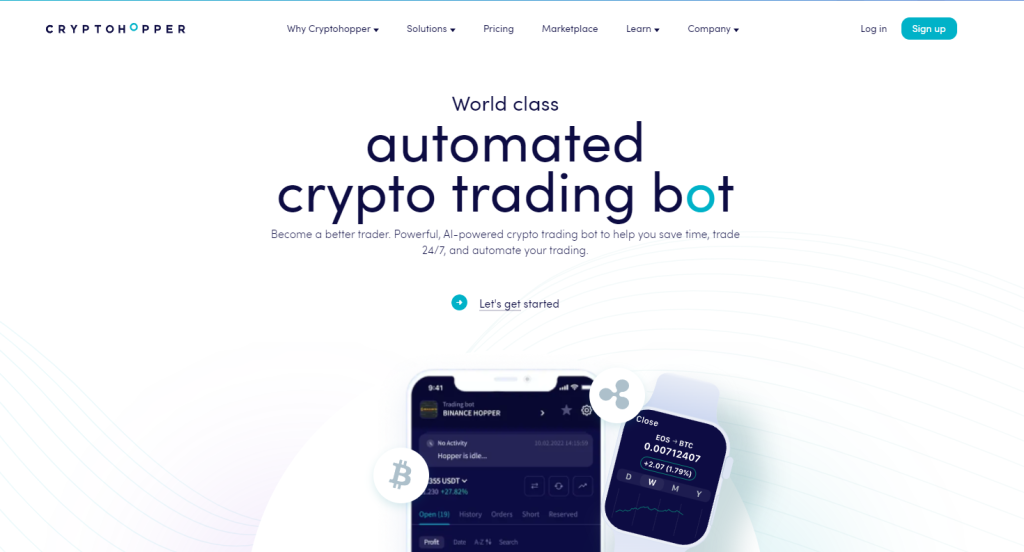 Both platforms keep adding new exchanges, almost on weekly basis. Cryptohopper currently supports 12 exchanges, among them:
OKEX / KuCoin / Bitvavo / Binance / Binance US / Coinbase Pro
Bittrex / Poloniex / Kraken / Bitfinex / Huobi
3Commas outpaced Cryptohopper when it comes adding integration to new exchanges and currently supports 23 crypto exchanges (but only 9 are supported for automatic bot trading), among them:
Binance / Binance Jersey / Binance US / BitMex
Bittrex / Bybit / Coinbase Pro / Huobi / OKEX
Tools and bots offered
---
Cryptohopper allows automated trading with two types of bots: market makers and arbitrage bots. The platforms is packed with features, some of them are highlighted below.
Trailing Stop Loss – When price moves in your favor, it is a good move to use a stop loss order that follows the market and ensures maximum gains.
Searching for Targets – You set the desired positions into the bot and it executes them as the market moves into that area. This is very helpful to non-professional traders who are not online 24/7 – Hopper will be like a trading assistant to you.
Reserved Funds – With this option, you can always set aside certain amount of tokens to make sure there is always something saved-up in your account
Scalp Trading – Scalping is a way to make money in a sideways market with small market movements. You set the parameters (like buy when the price drops 2% and sell when it spikes 2%) and Hopper does the work for you.
Positive Pair Trading – Cryptohopper monitors hundreds of crypto pairs across multiple exchanges to spot a trending pair it can enter and make use of the trend via this option.
Triggers – This one is self-explanatory – the bot stands still until market moves trigger a signal you previously set. In that moment, Hopper places a buy or sell order, according to your instructions.
Short Selling – If you have a hunch some coin will go down in price, you can instruct Hopper to sell/short it when reaching a certain point.
Dollar Cost Averaging – Method to buy an asset over a longer period of time at different price points changing the overall average investment you made in a certain asset. Cryptohopper has built a dollar-cost averaging tool into its trading platform.
Signalers – Cryptohopper allows you to take a peek at what other users are doing who act as signalers, making Cryptohopper a social trading network. You can see their past performance and copy their moves and portfolio.
3commas is geared to newbies as it offers more automatic solutions, a plug and play bots that require only one or two parameters from the user to start their work.
Smart Trading – The smart trading feature lets you to set up certain trade parameters that 3Commas will automatically carry out so you wont't have to be glued to your trading terminal.
Auto Trading Bot – This is 3Commas' auto-pilot – all you have to do is select a token pair, and enter some basic trading parameters. Once the bot is active, it will work on your behalf to make profits. You can tweak the bot you use by picking a long, short or composite strategy for the coin pairs you want to trade, and the bot will basically do the rest.
The composite bot tool – this 3Commas bot allows you to mix long and short positions over a variety of token pairs, to take advantage of more complex trading strategies.
Top bots from the last 24 hours – Trend-based bots that can be followed in case you think a positive/negative trend of certain trading pair is going to continue.
Customer support
---
Both platforms excel in this regard – they have a chat and email-based support systems supplemented by diverse social media channels where you can get in touch with team members from Cryptohopper or 3Commas and have them help you out in solving your problem.
In addition to this, there are extensive resource pages on both websites where you can get up to speed with the trading platforms or find solution to the most common issues other users experienced before you.
Beginner-friendliness
---
Another criterion where these two fare similarly good. As both platforms evolve into complex and powerful ecosystems, their dashboards and user-interface are still very intuitive and self-explanatory.
3Commas might be better suited for those who look for off-hands, automatic solutions while Cryptohopper allows for more customization and tailor-made solutions.
There are exhaustive tutorials on how to use each of the bots, created by themselves or third-parties like various YouTubers and bloggers. So, you won't have too much trouble to get up to speed with these platforms.
Safe to use?
---
Bitcoin bots connect to your exchanges via the application programming interface or API. When you generate API keys on your exchange, make sure to leave the "withdrawal" rights box unticked. This adds a layer of protection in case a bot platform gets hacked – attacker wouldn't be able to withdraw your funds (but could hurt you financially in other way, for example, buy buying some low cap tokens he already owns to prop up the price and sell them at profit while leaving you with worthless tokens and at a loss).
There have not been any reported cases of data breaches at Cryptohopper or 3Commas and both platforms employ standard industry practices to safeguard your data.
Final verdict – who wins?
---
Both of these cryptocurrency trading bots are competing at a high level with slight to no differences between them. To answer which one is better would require a deeper analysis of each individual case and trader profile.
In general, our subjective perception is that Cryptohopper enjoys better reputation among the traders and has a larger customer base. Additionally, they offer a longer trial period (up to 30 days) and their lowest package is cheaper than 3Commas ($19 to $29). Cryptohopper does offer additional benefits like longer free trials, cheaper and featured-richer starter package, larger marketplace, more established brand and arbitrage bots.
On the other side, 3Commas has a broader exchange support with 23 exchanges in comparison to 12 exchanges that are supported on Cryptohopper. But bear in mind that 3Commas allows automated trading only on 9 of those 23 exchanges, meaning that this criterion lands another W for Cryptohopper.
If Cryptohopper or 3Commas are not to your liking, check out our other guides on their competitors:

CaptainAltcoin's writers and guest post authors may or may not have a vested interest in any of the mentioned projects and businesses. None of the content on CaptainAltcoin is investment advice nor is it a replacement for advice from a certified financial planner. The views expressed in this article are those of the author and do not necessarily reflect the official policy or position of CaptainAltcoin.com