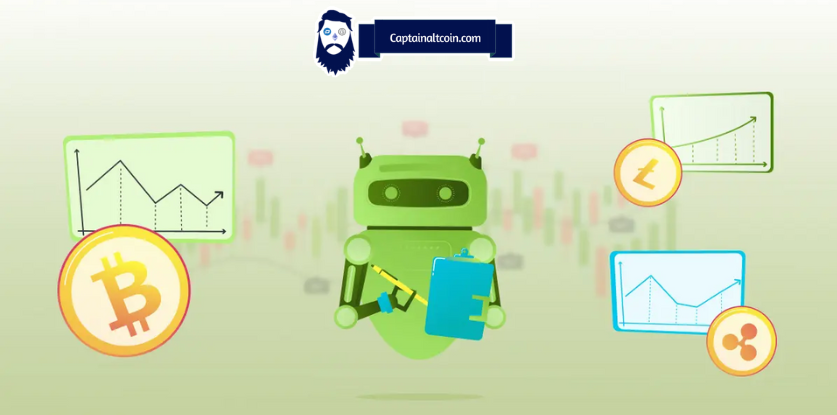 What Is Swing Trading in Cryptocurrency?
---
Swing trading is a method of investing where traders attempt to make profits from price fluctuations within a medium to long timeframe.
Swing trading is a long-term strategy. In swing trading, you should identify a trend and then maintain your position over a period of months to years. You should not panic over sudden changes in price, given you're identifying a pattern by analyzing the trends. For this, you must use technical indicators and fundamentals to better predict your moves in the market.
There are two swings investors usually look out for:
Swing highs – When markets peak before pulling back, providing opportunities for short trades.
Swing lows – When the market rises and falls, providing an opportunity for short trades
Swing trading strategies work best with trending markets, including cryptocurrencies. The best crypto coins to trade for beginners include Bitcoin, Ethereum, Dogecoin, and Binance Coin. These are the most actively traded and most volatile coins on the market, so they make great swing trading candidates.
Successful crypto swing trading typically uses technical analysis to observe short-term charts to catch daily and weekly trends. The use of fundamentals is also helpful, as market events can often unfold over days or weeks.
What are Swing Trading Bots?
---
A swing trader uses technical analysis to predict price movements. A bot helps him automate his job.
There are several types of trading bots. Some use artificial intelligence, while others rely on human traders. They are designed to execute trades based on predetermined rules.
For example, one trading bot looks for cryptos that trade above their 200-day moving average. If such a coin falls below that level, the bot buys it. Then it waits for the price to rise above the moving average again. Once it does, it sells the coins.
The second type of trading bot monitors the market for news events that could affect the price of a stock, when such news breaks, the bot triggers a buy or sell order.
Another type of trading bot works similarly to the first type, except it looks for stocks that fall below their 50-day moving average. It then sells shares once the price rises above the moving average.
7 Best Crypto Swing Trading Bots
---
The swing trading strategy is the most effective way to trade cryptocurrency. If you do it correctly, you can earn a lot of money in a short period of time. However, it requires a certain level of expertise. We have prepared a list of the best Swing trading bots available online. They help beginners learn how to trade successfully.
After testing each bot, we selected the ones that offer the highest number of features. These include indicators, charting tools, technical analysis, etc. In addition, we paid attention to the ease of installation and operation. All the bots listed here are easy to install and use. You don't even need to know anything about programming languages. Simply copy and paste the code into your browser. Then, follow the instructions and start earning today!
Bitsgap – flag-bearer among crypto bots
---
Bitsgap is a great place to start if you're new to automated trading. Its intuitive interface allows users to easily navigate through the various features and tools offered. In addition to the standard suite of trading bots, Bitsgap offers a number of advanced options such as market analysis, technical indicators, and portfolio management.
There is also a free trial period to allow users to test the service before committing to a paid subscription.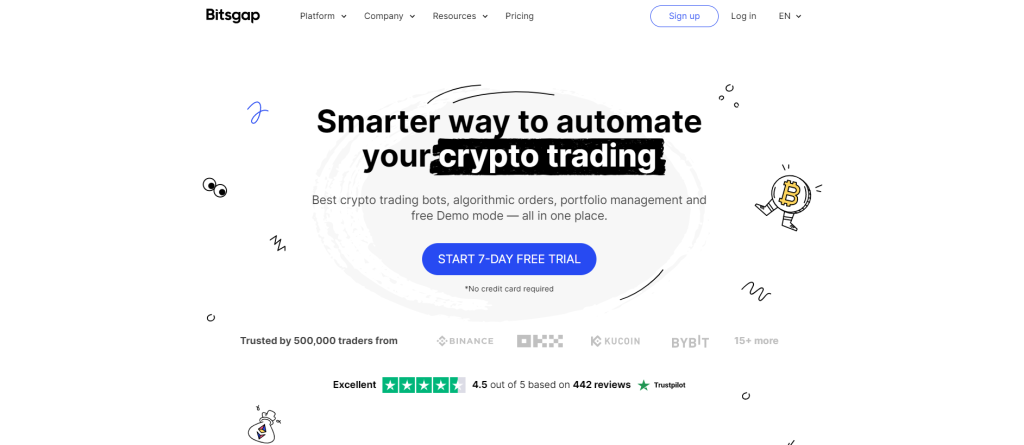 Coinrule: IFTTT for crypto traders
---
Coinrule bot is an amazing Swing Trading Bot. You can use it to generate profitable trades according to your rules. It provides a variety of prebuilt trading strategies for beginners as well as experienced traders. These strategies are easy to understand and implement.
The Coinrule app offers different packages for different levels of traders. Each package consists of a wide range of predefined trading strategies. Users can choose the one that suits their needs best. They can even customize the strategy to suit their preferences.


Coinrule app offers users more than 150 trading templates to choose from when they invest.
More importantly, the pre-defined template is executed automatically when the market condition meets the predefined parameters.
Coinrule allows new cryptocurrency traders to perform paper trading, backtesting, and strategy testing. This allows them to test their strategies before investing any money.
Cryptohopper: one of the oldest players in the game
---
Cryptohopper is a great tool for swing traders who want to trade cryptocurrency. This app offers a wide range of tools, such as automated bots, technical analysis indicators, risk management tools, etc., to help you automate your trades and make money. With this application, you can easily manage multiple accounts, use different strategies, and set alerts to execute your trades automatically.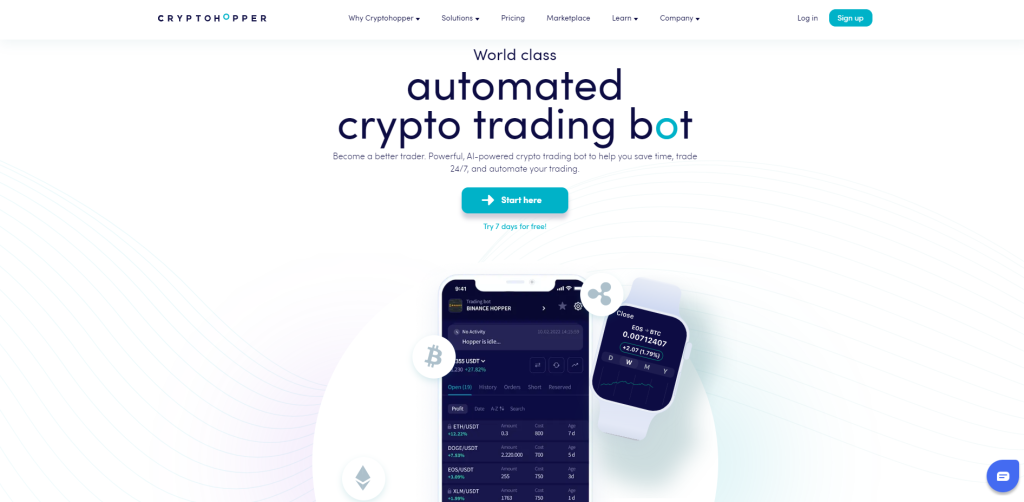 You can customize your own strategy or copy trade some professional traders whose trading methods and signals are available on the Cryptohopper marketplace.
The app allows you to perform several trading actions like shorting, long selling, buying, and stop loss orders. This app offers many features to help you optimize your trades and reduce the chances of losing money.
For example, you can choose whether to open positions manually or let the app do it for you. If you don't want to lose money, you can always set up a stop loss order and take advantage of the automatic exit feature. Also, there is a limit order function that lets you place a buy or sell order at a specific price without worrying about market movements.
Pionex: Exchange with Built-In Trading Bots
---
Pionex is a great crypto exchange with built-in automated trading strategies. They are known for being one of the most popular exchangesamong traders because it provides a wide range of assets and allows easy access to both fiat and cryptocurrencies.
You can use the Pionex bot to execute trades automatically based on predefined rules.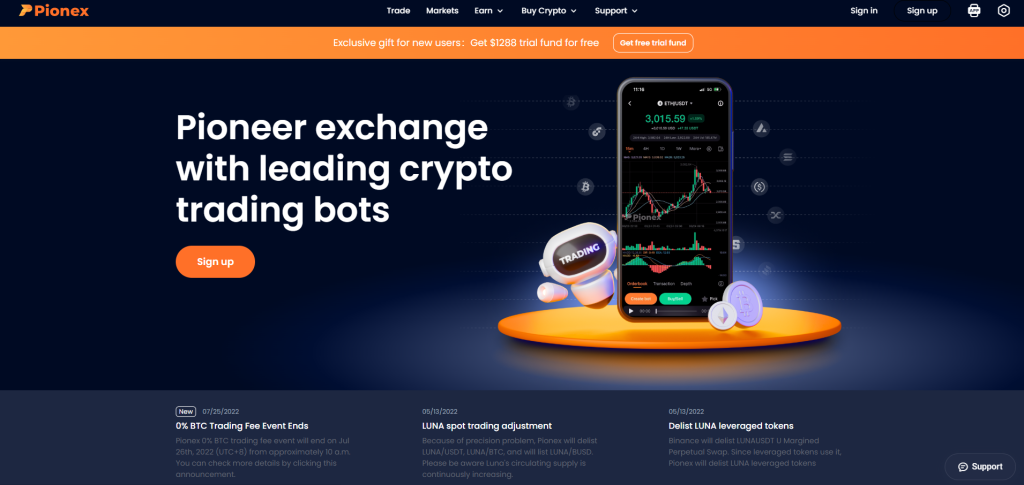 Pionex's most popular bots are a grid bot, arbitrage bot, and DCA bot. Pionex is one of the largest BinanceBrokers, which has deep liquidity with the Binance exchange. In addition to that, Pionex offers 18 trading bots free of cost inside the exchange. The trading fee is very low at 0.05%.
3Commas: bot with a great track record and reputation
---
3Commas is an online trading platform that allows you to use automated bots to buy and sell cryptocurrency. This is a great way to make money without having to spend hours every day on exchanges. You just need to choose what bot to use, set up the parameters, and let it do the rest.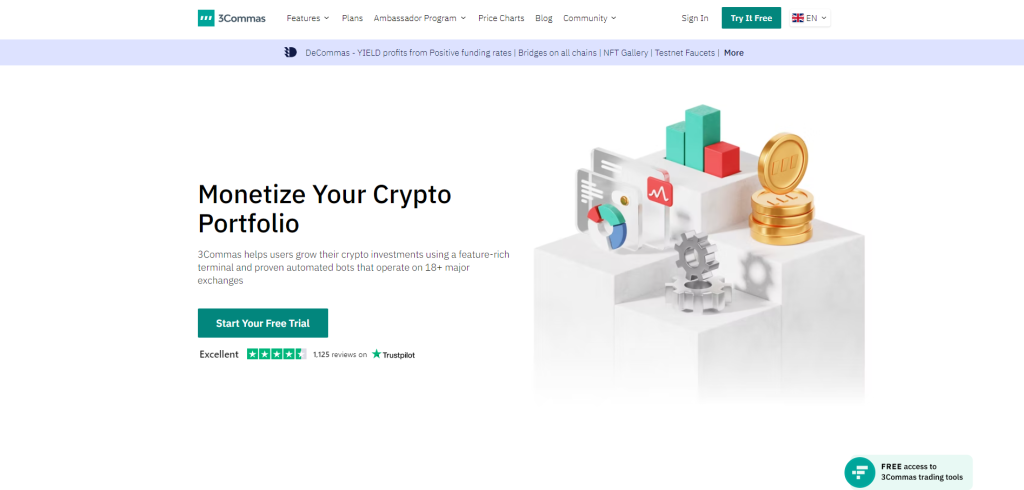 You can choose from different trading strategies, depending on how much risk you want to take on. There are three types of strategies. Each strategy has its pros and cons, and some people prefer one over another. For example, swing traders do better during bull runs, while day traders usually do well during bear markets.
The platform uses artificial intelligence to help you pick what type of trader you'd be best suited for. Once you've chosen a strategy, it'll automatically open up positions for you based on your preferences. If you don't want to keep track of every detail, you can delegate certain tasks to 3Commas' AI bot.
It can be accessed from any computer or mobile device.
3comma smart trade has different trading bots for different strategies. Users can also customize these using unique trading positions.
You can set them to run only during certain or 24 hours without stopping.
The stop-loss function of the 3commas API ensures that if the user-defined loss percentage is crossed, the asset is sold immediately.
NapBots: Pre-built Trading Strategies
---
NapBots is a fully automated cryptocurrency trading software. This system is designed for both beginners and experienced investors. You don't need to learn anything about technical analysis or charting. Their team of professionals will take care of everything. Napbots provide you with a set of pre-built trading strategies, and all you need to do is follow the instructions given by us.
Some of its advantages are:
It has an easy-to-use interface.
The platform has a simulated mode to help you practice first.
Users don't need to be skilled or experienced to trade with this bot.
It works with all major crypto exchanges
It's cloud-based and AI-powered, so it can be used anytime.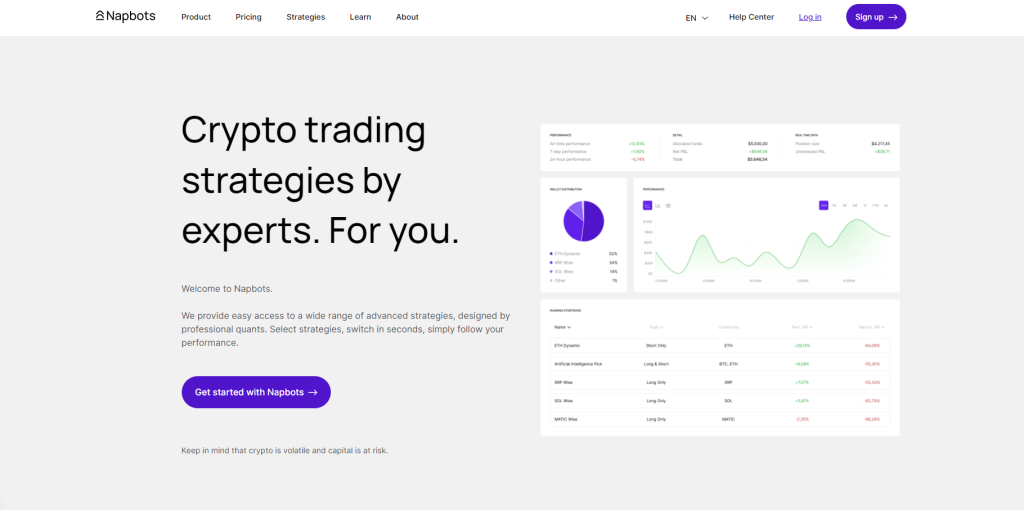 Kucoin Bot: Built-in trading bot
---
The Kucoin bot can utilize a variety of trading strategies. Most commonly, it utilizes Spot Trading, also known as Classic grid trading. This strategy involves placing buy and sell orders based on market fluctuations.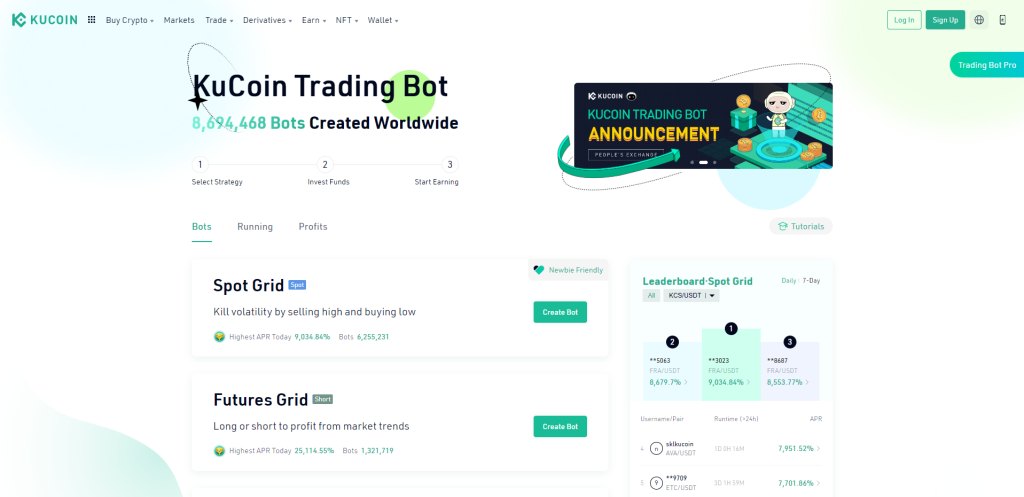 Essentially, the system buys coins when their price drops and sells them when it climbs over a base currency at set intervals. As a result, they make gains by using the current market trends.
One more thing to note is that this bot is completely free of charge. Users don't have to pay anything to access it, so there are no subscription fees, access fees, and the like. They just need an account on the exchange and some money that they could deposit for the bot to begin trading.
Other than this strategy, the Kucoin bot features also:
Dynamic Rebalancing
Infinity Grid
Margin Grid
DCA (Dollar Cost Average)
Futures Grid
Classic Grid
Conclusion
---
The cryptocurrency market is very volatile. You cannot predict what it will do next. Even the most experienced traders lose money sometimes. But swing trading allows us to take advantage of short-term trends and profit from them.
The allure of swing trading is primarily due to its relatively low time commitment and pressure compared to other forms of investment. When it comes to trading cryptocurrencies, there are many different ways to make money.
With that said, new investors shouldn't rush into things without learning the ropes first. If you're looking to invest in cryptocurrencies, it's important to know what you're getting yourself into. You don't want to lose your hard-earned money because you didn't do enough research ahead of time.
Frequently Asked Questions
---

CaptainAltcoin's writers and guest post authors may or may not have a vested interest in any of the mentioned projects and businesses. None of the content on CaptainAltcoin is investment advice nor is it a replacement for advice from a certified financial planner. The views expressed in this article are those of the author and do not necessarily reflect the official policy or position of CaptainAltcoin.com