Summary
---
Who Is WunderTrading Best For?
---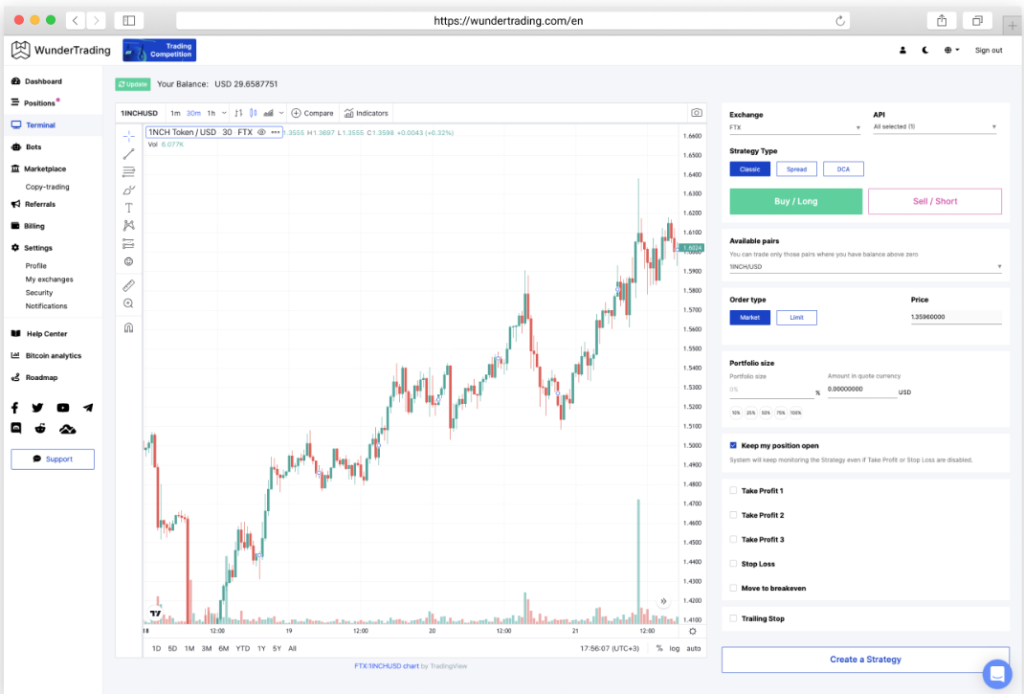 Features
---
Buy crypto with credit card: WunderTrading supports a variety of payment methods including Visa, Mastercard, Skrill, Bank Transfer (SEPA) and of course, Bitcoin. According to the website, the process of buying crypto with a credit card takes just around 10 minutes, and the coins themselves will be transferred in the next 20 minutes.[1]

Social trading: Referred to as Copy-Trading (or mirror-trading) on the website, this tool allows the user to use Wundebit's advanced copy-trading system to copy and execute the trades of the professional traders that they follow.[2]

Multiple account management: Users can manage multiple exchange accounts on WunderTrading, be it manually, through the advanced trading terminal, or automatically using bots.

For instance, when creating a trading strategy, crypto traders can choose several API accounts from the same exchange and trade on all of them simultaneously.[3]

Trading bots: Using TradingView scripts with WunderTrading's automatic trading system, crypto traders can create an unlimited* number of cryptocurrency trading bots.[3]

WunderTrading helps users automate any TradingView scripts into fully functioning trading bots that can be created in a matter of seconds for free with the help of TradingView's PineEditor tool. Additionally, WunderTrading also offers free TradingView scripts, suited for users who don't know how to make one.

Features: Limit entries, multiple entries, partial take profit, trailing stop, take profit/stop loss, and order size (in percentage or fixed amount in USD).

Types of bots: Binance Futures Trading Bot, Bybit Trading Bot, Deribit Trading Bot and FTX Trading Bot.

*Premium users only.

Spread trading terminal: This allows users to select the assets they'd like to use for creating a spread. Spread trading is available on all crypto popular exchanges that offer futures trading.

To change the terminal view from Classic Trading to Spread Trading, all users have to do is change the strategy type from the exchange selection dropdown menu.[3]
Pricing
---
Free:
Price:$0.00 per month.
Key features:
5 open positions
2 active bots
1 API per exchange
Trading Terminal (Spot Trading, Futures Trading)
Spot Trading
Futures Trading
Simultaneous Take Profit and Stop Loss
15 open positions
5 active bots
2 API per exchange
Trailing stop
Multiple take profits
DCA trading terminal
100 open positions
15 active bots
5 API per exchange
Fixed amount (futures only)
Spread trading terminal
Swing trade
Unlimited open positions
Unlimited active bots
Unlimited API per exchange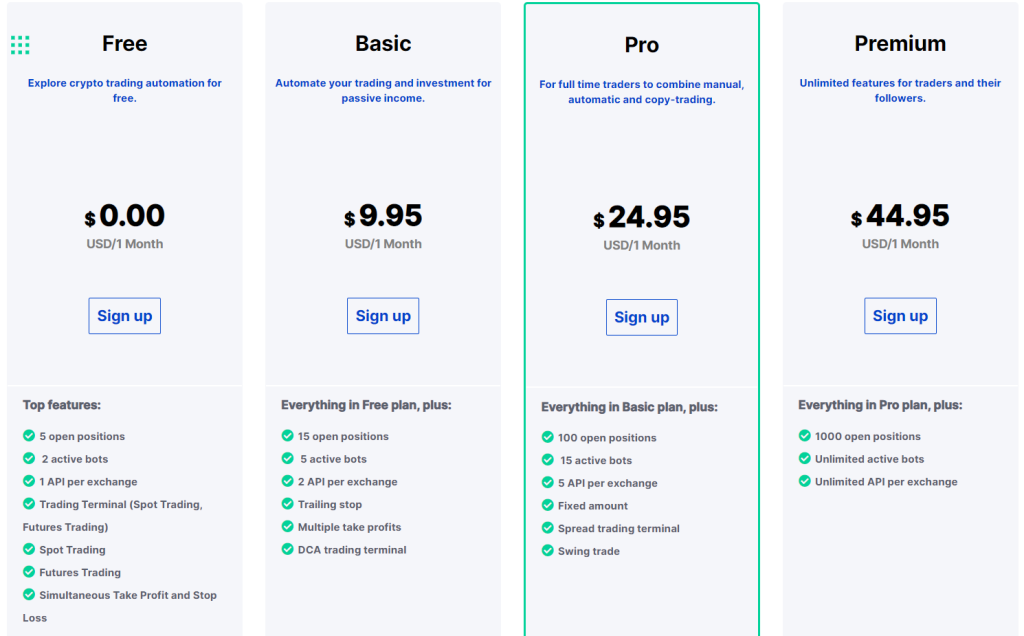 How To Set Up WunderTrading
---
Here's a quick and informative guide to get you on track to start using WunderTrading. Simply sign up for an account, and follow the steps below.
Log in to your account and head to Settings > My Exchanges and click on Add New.

Fill the form with the account name, the API key and secret, and select the exchange.

a) The account name will be visible to other traders and investors.
b) You can get an API key and secret from the exchange site.

Click on Add.
Head on over to Copy-trading and click on Start underneath Copy-trader.
Go to the Marketplace tab, choose a trader and click Follow.
Press Ok, and select the API profile with which you'd like to follow the trader or bot.
Click Confirm, and click Ok.
Go to Bots and head on over to Strategy, and then to Create.
Determine your Bot Name, Exchange and API profile, and the Time Frame.
Select your Pairs.
Determine your Portfolio share, which is the percentage of your available balance with which you would like to trade (for FTX, you can select the Amount directly).
Set the Leverage.
Select the Order type and fill in your Last price, Ask price or Bid price.
Determine whether or not you'd like Multiple entries.
Determine your multiple Take profit targets.
Determine your Stop loss.
Click Create Bot Strategy.
WunderTrading VS Alternatives
---
User Experience
---


Is WunderTrading Safe?
---
Conclusion
---
How does WunderTrading make money if it's free?
---
Can I be both a trader and an investor?
---
How do I pay a commission to a trader?
---
What happens if I don't pay the commission?
---
Should you still be unsatisfied with what Wuderbit has to offer, check out other cryptocurrency botsthat are available on the cryptocurrency markets and were thoroughly tested by us: