Kucoin Trading Bot Review – Minimum Investment, Profitability, Results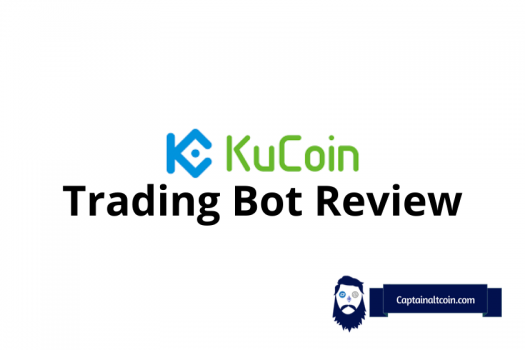 Completely free
You can edit parameters, and increase investment while the bot is already running
Copytrading - you can copy other traders
Lots of statistics and analytics are provided for free
Kucoin is a popular cryptocurrency exchange that offers a trading bot service to its users. This Kucoin trading bot review will take a closer look at the minimum investment required, the potential profitability, and the results that users can expect when using this service.
Whether you're a beginner or an experienced trader, this Kucoin trading bot review will provide valuable insights into the features and capabilities of this service. With the ability to customize settings and make trades based on market conditions, the Kucoin trading bot is a powerful tool for maximizing profits in the highly volatile world of cryptocurrency trading.
And, since Kucoin's expansion was seemingly unstoppable for quite a while, it's not such a big surprise that they decided to come up with their trading bot as well.
From the perspective of a crypto exchange, this is always a good move. No matter how good the bot is, it will eventually increase the overall traffic on the platform. But, how useful will it be for an average trader? Is it better or worse than most of its competition? The answers to these and many other interesting questions lie in front of you. So read on! 
Fantastic free trading bot
Kucoin bots are free and very powerful. The exchange has great liquidity and order execution is impeccable. You can edit parameters, increase investment, copy other traders and do backtesting on any pair.
PROS
Completely free
You can edit parameters, and increase investment while the bot is already running
Copytrading - you can copy other traders
Lots of statistics and analytics are provided for free
CONS
No major flaws aside of being limited to coins listed on Kucoin
How Does Kucoin's Trading Bot work?
---
The Kucoin bot first saw the light of day in early 2021, and at the time, it had only three basic features. Nevertheless, it got attention from experienced traders. Over the next few months, the bot has undergone slight modifications, and today it has six features. They are as follows:
Dynamic Rebalancing
Infinity Grid
Margin Trading Grid
DCA (Dollar Cost Average)
Futures Grid
Classic Grid
When it comes to crypto assets, the bot supports pretty much all the coins that the platform itself supports. According to the latest assessments, there are more than 800 coins available on the crypto exchange. Starting the bot isn't too difficult, especially if we have in mind that it supports only the features that were already available on Kucoin's website. The only difference is that the bot is available only inside the mobile app. So all you have to do is to download it, run it, and your investing adventure may begin.
Advanced traders and crypto investors can leverage advanced orders like real-time charting, limit orders, stop-loss to earn more from crypto trading bots.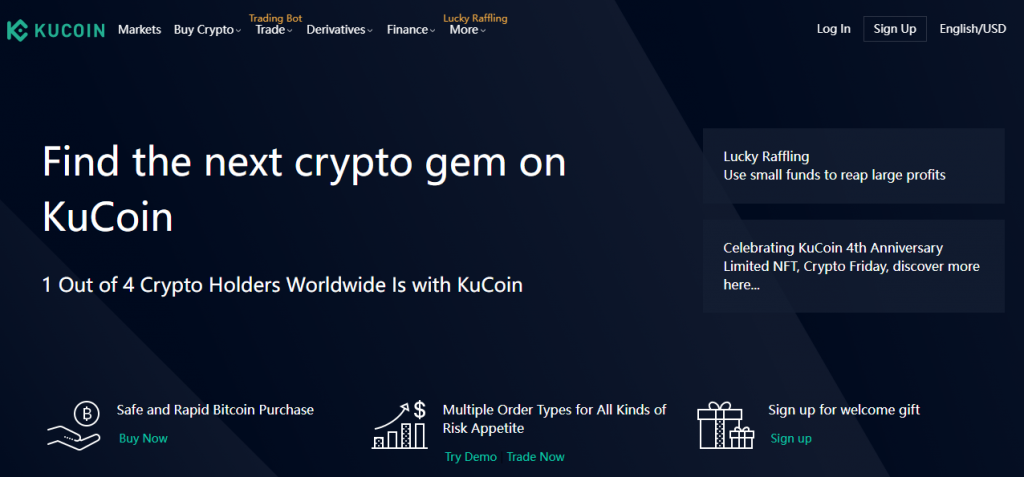 Since the bot has fairly recently left the development stage, it is still free to use. The layout of the app is rather simple, and even beginners shouldn't have any problems navigating it. The fact that it is only several months old, however, means that changes and updates are very likely in the next few months. The only trading fee you will have to pay are the ones that are already charged by the Kucion crypto exchange.
You should, however, keep in mind that the bot is available only on Kucoin's platform, and you won't be able to use it on other exchanges. Unlike some other, more sophisticated crypto trade assistants, Kucoin's bot is meant for mass usage, and the price of its simplicity is the lack of more complex customizing options. And, if something is perfect for rookies and newcomers, it is usually frowned upon by more experienced crypto traders.
Earning Passive Income With Kucoin's Trading Bot
---
Diversifying your sources of income is one of the first stops on the road to financial independence. If you manage to earn passive income from various sources, you'll be more financially resilient, and crypto markets crises and fluctuations won't cause that much trouble. Kucoin's bot is a perfect source of passive income. As soon as you set it up, the bot will do the work for you. From there on, it all depends on the behavior of the crypto markets.
With automated trades, crypto traders can avoid losses that occur due to emotional bias, errors, and slow and poor analyzes. We ssuggest similar type of bots to experienced traders.
Trading Fees For Using Kucoin Bot
---
In short, the trading fee you have to count on with the bot are the same you would otherwise have to pay on the Kucoin's platform. The good thing is that Kucoin organizes frequent promotional campaigns during which it offers special discounts and trading free rebate coupons to its most active users. If you regularly check the news on Kucoin's website, you might come across some rather lucrative offers.
How Many Crypto Bots Can I Have at the Same Time?
---
You are limited to one Kucoin bot application per device. However, if you know what you are doing and if you set it properly, one will be more than enough. Should you decide to ask around and see what the online community has to say about the bot, you might find some rather strange and contradictory reviews.


Namely, on platforms such as Telegram, Reddit, and Trustpilot, there are many negative reviews of the bot. All things considered, the great majority of negative experiences are caused primarily by a lack of knowledge about crypto trading. Quite a significant number of users engage in trading without previously learning all the basic rules and concepts.
Read also:
FAQ
---

CaptainAltcoin's writers and guest post authors may or may not have a vested interest in any of the mentioned projects and businesses. None of the content on CaptainAltcoin is investment advice nor is it a replacement for advice from a certified financial planner. The views expressed in this article are those of the author and do not necessarily reflect the official policy or position of CaptainAltcoin.com