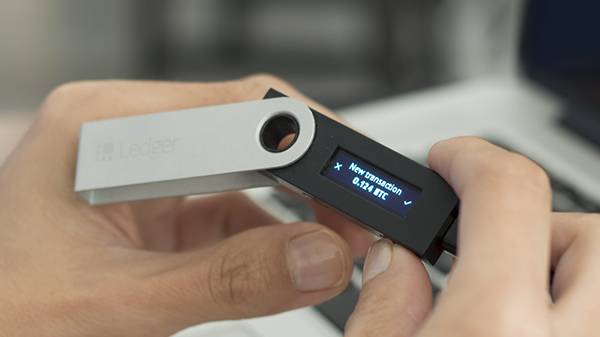 The Ledger Nano S hardware wallet is very popular and very safe wallet for securing Bitcoins and altcoins. When you own cryptocurrencies, you need to protect the access to your funds and also your confidential data.
By using the Nano S, secrets like your private keys are never exposed, and all sensitive operations are isolated inside your wallet within a state-of-the-art Secure Element, locked by a PIN code. Transactions can only be verified physically on the embedded screen with a simple press of a button, which means that they can't get tampered with.
The following guide will walk you through which coins and cryptocurrencies are currently being supported by the Ledger Nano S hardware wallet.
With the Ledger Nano S wallet you can check your accounts, send and receive payments, and manage multiple addresses for each currency from the same device. The Nano S also supports the FIDO® Universal Second Factor standard. This feature simplifies the authentication process on compatible online services such as GitHub, Dropbox, Dashlane, or Gmail.
The Ledger is one of the most well-known Bitcoin security companies, and they released the device in August 2016. The Ledger Nano S hardware wallet costs about $65, and is the cheapest of the three major hardware wallets with a screen.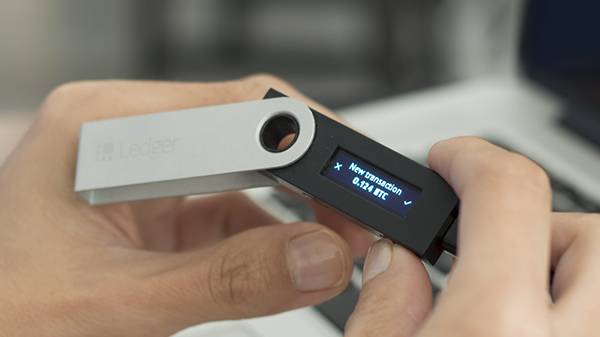 Holding your coins on a Ledger Nano S means you are keeping them in cold storage, which refers to an offline wallet not connected to the network for safekeeping. The wallet cannot be hacked remotely due to this feature.
Check also: Ledger refreshed its legendary Nano S wallet with a new version dubbed Nano S Plus. Here is our Ledger Nano S Plus review.
1/6/2021 Update
Ledger Nano S supports more than 1500 coins and tokens. Most of them are ERC-20 tokens but Ledger does support 27 different blockchains aside of the Ethereum blockchain (the one that hosts the ERC-20 contract).
Here is the list of most popular cryptocurrencies supported by the Ledger Nano S:
Bitcoin (BTC):The Ledger was first designed for holding Bitcoin, so this should go without saying.
Bitcoin Cash (BCH):The Ledger was the first hardware wallet that made it easy for Bitcoin holders to get free Bitcoin Cash, and it was a good sign that Ledger will support Bitcoin splits because you can get free money when Bitcoin splits and convert to get more BTC!!! Here is the list of other Bitcoin Cash wallets.
Litecoin (LTC):LTC is popularly known as the "silver of cryptocurrencies", and it was the second coin added for the Ledger Nano S software/hardware. Read here about other best LTC wallets.
Ethereum (ETH):Ethereum is a solid investment (2nd after BTC in the world coin rankings), and it should be a part of your cryptocurrency portfolio. Read here about other best ethereum wallets.
Ethereum Classic (ETC):This is a forked version of ETH and it was requested and added very soon after release.
Stratis (STRAT):Stratis is a strong cryptocurrency with a bright future and a great development team.
Dash (DASH):I feel Dash has a great future considering they have great marketing, a really strong team, and most importantly, a usable currency. These are the reasons why I would recommend that 20-25% of your portfolio is reserved for Dash. Here are other wallets you can use for Dash.
Ripple (XRP):Ledger Nano S is a perfect choice for those who are looking to hold Ripple long term. The Nano S is definitely one of the best wallets for holding Ripple.
Komodo (KMD):The Ledger Nano S added support for Komodo recently.
Zcash (ZEC):Zcash is a privacy-based cryptocurrency and many people love it. Zcash is considered to be a decent investment. However, I wouldn't put more than 4% in my portfolio.
Dogecoin (DOGE):Dogecoin can be stored on the Ledger Nano S wallet as well. Dogecoin was very popular a couple of years ago, but not anymore!
Bitcoin Gold
Viacoin
Stealthcoin (XST)
PIVX – Here is our list of best PIVX wallets.
Vertcoin
Ubiq
Expanse (EXP)
PoSW
ARK
NEO(Works with NEON Wallet and supports GAS too). Here is our list of best NEO and GAS coin wallets.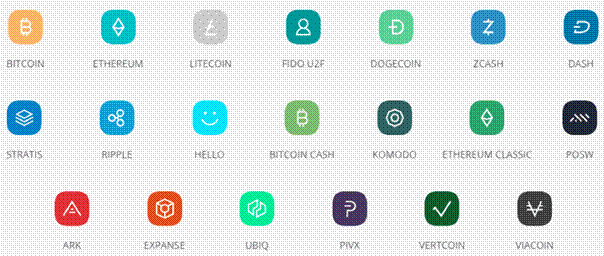 Data formats, software, or computing that are 'native' are those that a system supports and runs on a computer without any external layer requiring its function.
Clicking on the coin link below will direct you to the Ledger site. There you will find step by step directions including pictures on how to install and manage each of them with your Ledger device.
The Ledger Nano S operates with its own cryptocurrencies wallet interfaces – Ledger Apps, which are free official application interfaces between your Ledger devices and the Bitcoin and Ethereum decentralized networks. You can also use some of these compatible software wallets:


Also, Ethereum tokens (ERC20 tokens) can be managed using the Ledger Nano S via the MyEtherWallet only (it won't work with the Ledger Wallet application alone):
all the ERC20 tokens
1ST
WINGS
XAUR
VSL
VERI
TKN
TRST
Unicorn
SWT
TaaS
TIME
SGT
SNGLS
SRC
RLT
DICE
ROUND
QRL
REP
RLC
PTOY
PLU
QAU
MYST
NxC
PAY
MKR
MLN
MNE
MGO
MDA
MIT
LUN
MCAP
MCO
HMQ
ICN
JET
GUP
GT
HKG
EMV
GNO
GNT
DGD
DGX 1.0
EDG
CryptoCarbon
DAO
DAO_extraBalance
BNT
CFI
ANT
ARC
CRB
BAT
BeerCoin
BCDN
MyEtherWallet is a popular online Ethereum wallet that supports natively the Nano S on Chrome and Opera, without the need to install any app or plug-in. This wallet can be used as an alternative to the Ledger Ethereum Chrome application.
To manage your Ethereum account, go to the MyEtherWallet website and select the "Send Ether & Tokens" tab. Plug your Ledger Nano S device, select the Ethereum app and go to the settings of the app to activate "Browser support" to enable the direct connection to the browser and MyEtherWallet will be able to detect your device.


It's important to note that you'll have to disable Browser support if you want to use the Ledger Ethereum Chrome application.
Select the "Ledger Wallet" option. Click on "Connect your Ledger Wallet":
What If you have an ERC20 token that is not supported by MyEtherWallet? Then, you can access your account on MyEtherWallet and choose "Add Custom Token" with the following information related to the token – Contract address, Token Symbol and its decimals.
The Ledger Manager app runs flawlessly with your Ledger device, and is available for free on Chrome for Windows, Chrome OS, Linux, or Mac OS.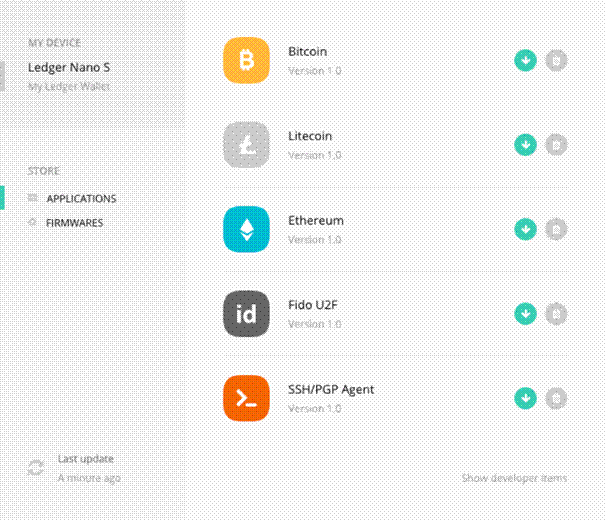 All Ledger Apps are fully open source. Thos means that anyone can access the full source code to authenticate code paths and contribute to the development.
You can also use the official Ledger App Store to install new applications in order to extend your Ledger Wallet features.
The app helps you upgrade the firmware of your device. In this way you can keep your Ledger Nano S Wallet up-to-date in order to benefit from the latest security features available.
When a new altcoin is added to the Ledger Nano S, you will only need to update the firmware or download the last app (free). You can consult their public roadmap if you want to check if a cryptocurrency is planned to be supported.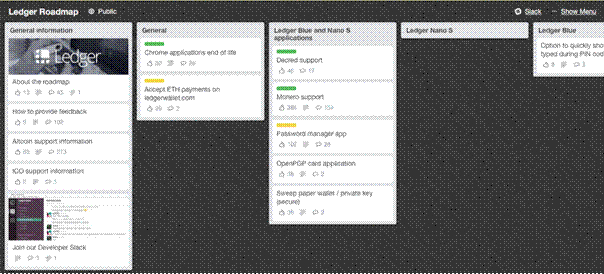 This roadmap board is used by Ledger to communicate about its future consumers products, Ledger supported coins, implementations, and features. It's important to note that this is only informative and no way binding. They use the community feedback to help them prioritize developments. However, Ledger will always keep full control of its roadmap.
Conclusion – Ledger Nano S Supported Coins
---
If you are a long term HODLER, then you should purchase the Ledger Nano S and put your Bitcoins on it. Moreover, if you live in a country where LTC, ETH, Dash, or other cryptocurrencies can be bought directly, then it's strongly recommended to secure them with a hardware wallet like the Ledger Nano S.
And if you don't have direct access to these altcoins, you can use Changelly. This is the fastest and simplest way to exchange Bitcoin into other cryptocurrencies. I have used it many times myself and I didn't experience any problem.
You can use the link below to order Ledger from the official site:
Visit the official Ledger site here.

CaptainAltcoin's writers and guest post authors may or may not have a vested interest in any of the mentioned projects and businesses. None of the content on CaptainAltcoin is investment advice nor is it a replacement for advice from a certified financial planner. The views expressed in this article are those of the author and do not necessarily reflect the official policy or position of CaptainAltcoin.com