Ledger Nano S Plus Review – Refreshed Legendary Hardware Wallet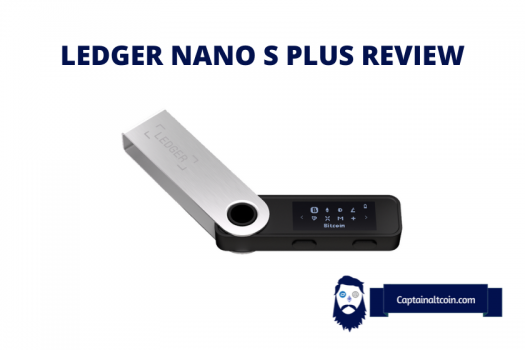 Ledger Nano S Plus Review – Refreshed Legendary Hardware Wallet
It has multi-sig support
The device is user-friendly and times out if it is not used for a while
It has enough memory to house up to 100 apps
It is affordable, the same cost as the Ledger Nano S
It provides access to the DeFi world by means of the Ledger Live app
Disguised as a flash drive, it may not be readily noticeable by scammers
It is portable
It allows users to set up a passphrase in addition to a PIN to boost its security further
LEDGER NANO S PLUS OVERVIEW
---
Hardware wallets are crucial parts of the crypto ecosystem. Being separated from the online world, they provide little or no room for hackers, ensuring that your crypto assets are as safe as they can be. Therefore, when the first Ledger wallet, the Ledger Nano S, was released in 2016, it immediately gained a massive following, which has since steadily increased. Today, it's one of the most popular hardware wallets in the world.
However, the technological and crypto world has changed in many ways. For the Ledger company to keep being relevant in the crypto space, they need to roll with the changes and provide some necessary upgrades. That is why they keep releasing updated versions of their wallets, with the latest, the Nano S Plus, being introduced towards the end of 2021.
How does this wallet compare to its predecessors? What essential features should you keep in mind if you are thinking of getting this wallet as a storehouse of your crypto assets? This article will address these and other topics. Follow me as I take you on tour through the Nano S Plus wallet.
WHAT IS THE LEDGER NANO S PLUS?
---
The Ledger Nano Plus is an improvement over the Ledger Nano S wallet. It was released in March 2022 as a limited edition package with only 10,000 devices available for pre-order. Coming in a compact design as a sleek flash drive, it excels in portability and durability.
The Ledger Stax is a new hardware wallet from Ledger (
click here to see if Ledger Stax is worth buying
) that offers several new features and improvements over the company's existing products. The wallet has a touch-screen interface and supports over 5,500 coins and tokens, as well as Ethereum and Polygon-based NFTs. It also has Bluetooth connectivity and Qi wireless charging, a larger battery, and customizable lock screen images or NFTs. The wallet is highly secure, using the ST33K1M5 secure element chip with the CC EAL5+ certificate. It is currently priced at €279, including free shipping, and will be available for delivery in 2023.
Preorder it by clicking here.
LEDGER NANO S PLUS KEY FEATURES
---

The following features stand out about this Latest Ledger wallet. They include:
Memory space of about 1.5 MB. This is a significant improvement over its predecessor, the Ledger Nano A, which has 160 KB worth of space, enough only for three apps. On the other hand, the Nano S plus' memory allows you to install more DApps(up to 100) on your wallet.
A bigger display screen
Cold storage
USB Cable Type-C port
Broader Web3 connection.
Two buttons at the top to select and confirm transactions.
A special engraving on the hardware.
It is available in desktop version (Windows, Mac) and mobile version (Android, iOS)
SUPPORTED DIGITAL ASSETS AND STAKING
---
All Ledger models support over 5000 cryptocurrencies and digital assets, including BTC, BNB, BCH, ETH and Erc-20 coins, TRX, ADA, LTC, USDT, among others. The major difference and advantage of the Plus model are that it can store about 100 different cryptocurrencies at a time due to its higher memory space. Conversely, the Ledger Nano S wallet can only hold 3 at a time.
Also, the Nano S plus allows you to stake coins on the Ledger Live application. There are about nine coins that can currently be staked on the Ledger Live app, including Tron, Tezos,Cosmos,Polkadot, Algorand, Ethereum, Crypto.com coin,Solana, and Matic.
Apart from the Ledger Live app, you can stake tokens directly using the token's application page. For example, you can stake ADA on Adalite, stake NEO on Neowallet, etc.
WHAT DEVICES IS A LEDGER NANO S PLUS COMPATIBLE WITH?
---
The wallet is compatible with the following operating systems:
Android
iOS
Linux
Trezor
Windows
OS X
It doesn't have Bluetooth connectivity features.
PRICE AND VALUE
---
The wallet goes for $79 (excluding tax and shipping duties). It's the same price as its predecessor, the Ledger Nano S. It's a good deal because you are literally getting an improvement over the Nano S wallet for free!
BATTERY LIFE
---
Like the Ledger Nano S, the Nano S Plus does not have a battery. Therefore, it can only be operated when connected to a computer. If you'd prefer a wallet with a battery, you should go for the Ledger Nano X.
WHAT COINS CAN BE STORED ON THE LEDGER NANO S PLUS?
---
You can store up to 5,500 different coins in the wallet. They include Bitcoin, Ethereum, Crypto.com coin, Monero, Stellar, BNB, Tron, Dogecoin, USDT, Flow, etc. It's hard to find a coin that can't be stored in the wallet.
LEDGER NANO S PLUS APP – DO I NEED TO DOWNLOAD ANY SOFTWARE?
---
The wallet provides access to a wider variety of applications that can be used to store and stake coins. Some coins can be stored directly on the wallet by copying the receiving address and sending the coins directly from other wallets. These coins do not need third-party applications installed.
Many other coins require third-party applications to be installed before they can be stored in the wallet. For example, you need to install Adalite to store Cardano. Other examples of third-party apps are the XRP toolkit, Electrum, Electron Cash, Neowallet, etc.
MONITOR WALLET
---
Since the Ledger Nano S Plus does not have a battery, the only way to know the status of your stored coins is to connect the wallet to a computer. However, you can still monitor your coins on your phone with the use of some crypto-analysis applications.
You just need to copy your receiving address(or addresses) into the app, and it will track your activities safely and easily. Examples of applications that work for that are Blockfolio, Coindesk, Bitref, Delta, etc.
This writer is not making any recommendations.
HOW TO SEND AND RECEIVE CRYPTO
---
Ledger Live is the wallet's medium for sending most cryptocurrencies. Even after getting the Ledger Live app, you would still need to download the appropriate app to access the crypto. For example, you would need to download the Electron Cash app to send BCH.
To send coins
---
Log into Ledger Live on desktop or Android
Click the 'Send' button from the dropdown menu and follow the subsequent prompts
Connect your Ledger Nano S Plus and unlock it.
Verify transaction details and then press both buttons on the device to accept and send the transaction
You're done!
To receive coins
---
Click 'Receive' from the dropdown menu on Ledger Live.
Connect your Ledger wallet and open the app connected to the coin you want to receive
Verify the address both on the Ledger Live app and on your wallet.
Copy the address. That's your receiving address.
CAN YOU TRADE CRYPTO VIA THE LEDGER NANO S PLUS?
---
Yes, you can swap crypto directly on the Nano Plus by means of the Ledger Live app. This feature is developed in partnership with some crypto swap platforms likeChangelly, Wyre, Paraswap, and 1inch. Each of those platforms has its list of supported coins, with the common ones being Bitcoin, Ethereum, Uniswap, USDT, USDC, Chainlink,Litecoin, Ripple, and many others.
CAN YOU BUY COINS DIRECTLY FROM THE LEDGER LIVE APP?
---
Yes, you can buy and sell coins directly on the Ledger Live app. To enable this, the Ledger team has partnered with many payment processing platforms. They include Banxa, Changelly, Visa, MasterCard, 1inch, BTC Direct, BitRefill, Coinify, MercuryO, MoonPay, ParaSwap, Ramp, Simplex, Wyre, Transak, Zerion, etc.
All you just need to do is to open the Ledger Live app on your device, connect your Nano S Plus wallet, and choose any of those services to buy your cryptocurrency from.
WHAT COMES WITH THE LEDGER NANO S PLUS PACKAGE?
---
The package comes with:
A Nano S Plus wallet(shaped like a flash drive)
A micro USB-C cable for connection purposes
Each Limited-edition Genesis wallet comes with a special engraving and a unique POAP(Proof of Attendance Protocol) NFT that can be accessed by means of a QR code.
You'll get an envelope containing three blank recovery sheets
Accessories like keychains and Ledger stickers.
An envelope containing introductory and setup messages
HOW TO SET UP THE LEDGER NANO S PLUS
---
It's pretty straightforward. Just follow these steps:
Download the Ledger Live app crypto wallet. You can get this application on your computer. It is Ledger's one-stop-shop that allows users of Ledger wallets to access the DeFi world and buy, sell, swap, and stake digital assets stored in their wallets. It also helps you track your portfolio in real-time. To successfully install the app, your computer must have either Windows 8+, macOS 10.14, or Linux Ubuntu 16.10 operating system.
Insert the Ledger Nano S Plus into the USB Port. Once that is done, your computer should display a welcome message. It shouldn't immediately ask for a PIN as that shows that it has been configured by someone else and may be unsafe to use.
Pair to a device. It is vital to go through this step to ensure that only your devices are paired with the wallet.
Create a wallet: Press the right button to scroll through the options and choose 'Set up as a new device' or 'Restore from Recovery Phrase', whichever option is applicable. You'll then see the option to 'Choose PIN with 4 to 8 digits'. Press both buttons to select that option.
Select your PIN by pressing the right or left button to scroll through the numbers and both buttons to select a number. Repeat the process until your PIN is complete. Then enter your PIN again to confirm. That's it! Keep the PIN safe and use it to access your wallet whenever you want.
After creating your PIN, your 24-word recovery phrase will be displayed one word after the other on the screen. Take care to write it down as it will only be displayed once. Then press both buttons to proceed. You'll be asked to confirm your recovery phrase. Do that and press both buttons. If it's necessary for you to pair your Nano S Plus with your phone, you can still use a USB cable.
You have successfully created your wallet!
CUSTOMER SERVICE AND SUPPORT
---
Ledger is a company noted for putting customer service first. They have provided an easy way for customers to address any issues they have with acquiring and installing the Ledger Nano S Plus wallet. They do this by means of the Ledger academy, a website page consisting of articles and FAQ sections that provide needed info about Ledger products.
They also provide a manual specifically for the Nano S Plus, which comes in a PDF format too. On top of that, they have hotlines, email addresses, and social media platforms to address real-time complaints of their various customers. Some complain that they can be slow to respond at times, but the general sentiment is that they are up to the task.
IS LEDGER NANO S PLUS SAFE?
---

It has a distinct advantage in that it is a cold wallet. This means that most of the attack vectors of hackers have been eliminated. It also does not have a BlueTooth connectivity setting, eliminating another attack vector.
However, Ledger was recently hacked, and its customers' databases were breached. Even though no one lost their coins, it still shows that it is not all perfect when it comes to security. It's best to take all precautions when installing and using the device so as to ensure that no one defrauds you of your hard-earned funds.
CAN YOU STORE NFTS ON LEDGER NANO S PLUS?
---
Yes, you can do that through the Ledger Live app. This feature is also available for the Nano S and Nano X models. They can be displayed on your 'Live' account and seamlessly sent to other wallets with no risk of blind-signing.
In addition, Ledger has partnered with a few NFT platforms like Rarible and Rainbow.me to allow users to buy and store NFTs seamlessly. Don't forget about the POAP too, an NFT you get with your Ledger wallet that basically helps visualize key events in your life.
CAN YOU ACCESS DEFI ON THE LEDGER NANO S PLUS?
---
The Ledger Live app makes that possible. It provides access to various DeFi services like staking, swapping, lending, and NFT trading. On the Live app, there is a discover section that leads to DEXes like 1inch, Paraswap, Aave, Compound, Rarible, and some other DeFi platforms.
LEDGER NANO S PLUS 🆚 NANO S
---
👉 Similarities:
They go for the same price, $79
They both do not have BlueTooth connectivity
They both do not have a battery
They support the same number of tokens
They have the same secure element and certification type
They have a similar PIN and backup format
Similar supported operating systems
❌ Differences:
The S Plus has a slightly larger screen.
The S Plus has a USB-C mouth while the S has a micro-USB mouth
The S Plus can support up to 100 apps, while the S can only support 3.
LEDGER NANO S PLUS VERSUS NANO X
---
👉 Similarities:
They have similar screen dimensions(128 × 64px)
They both use a USB-C mouth
They support the same number of tokens.
They can both support up to 100 apps
They have the same secure element and certification type
They have a similar PIN and backup format
Similar supported operating systems
❌ Differences:
The Nano X has a 100mAH battery that can last for 8 hours on standby, while the Nano S Plus has no battery.
The Nano X comes with a BlueTooth connection
The Nano X is more expensive, going for $139 apiece
The Nano X is heavier than the Nano S Plus.
CONCLUSION
---
Now you have been introduced to the world of the Nano S Plus wallet. It is Ledger's latest attempt to provide efficient crypto-storing services for crypto enthusiasts and to keep its place as one of the leading hardware wallets globally.
Its strong aspects are the high memory space, POAP NFTs, multi-signature support, and improved display. It also has to be connected to a device before the operation as it doesn't come with a battery.
It's pretty affordable too, and it gives you value for your money.
However, if you choose to go with this device, ensure that it is tamper-proof and that no PIN code has been pre-entered before purchase so as to ensure the safety of your coins.
Read also:
FREQUENTLY ASKED QUESTIONS
---
PROS
It has multi-sig support
The device is user-friendly and times out if it is not used for a while
It has enough memory to house up to 100 apps
It is affordable, the same cost as the Ledger Nano S
It provides access to the DeFi world by means of the Ledger Live app
Disguised as a flash drive, it may not be readily noticeable by scammers
It is portable
It allows users to set up a passphrase in addition to a PIN to boost its security further
CONS
It doesn't have a Bluetooth connection feature

CaptainAltcoin's writers and guest post authors may or may not have a vested interest in any of the mentioned projects and businesses. None of the content on CaptainAltcoin is investment advice nor is it a replacement for advice from a certified financial planner. The views expressed in this article are those of the author and do not necessarily reflect the official policy or position of CaptainAltcoin.com