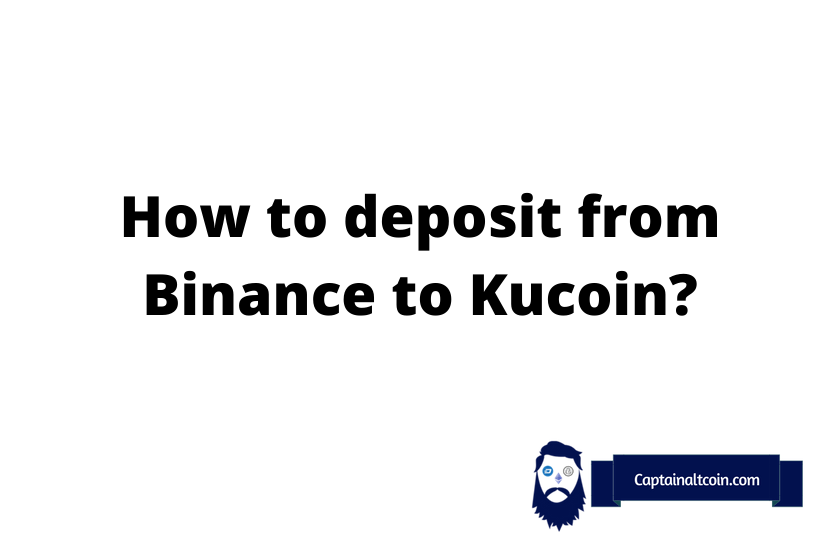 IMPORTANT WARNINGS
---
Trying to deposit a non-supported token may result in the loss of tokens.
Send a small test amount first
Beware when choosing the network which you want to use for sending crypto
How to Withdraw Cryptocurrency on Binance
---
Cryptocurrency transfers between exchanges becoming more and more common. Since we have a lot of exchanges to choose from, and a lot of competitions to participate in, people move their coins from one place to another all the time. We are no longer in the days where people only move their coins if they are completely stopped using one place and moving to another, we do back and forth now. This is why today, we will look at moving our coins from Binance to Kucoin.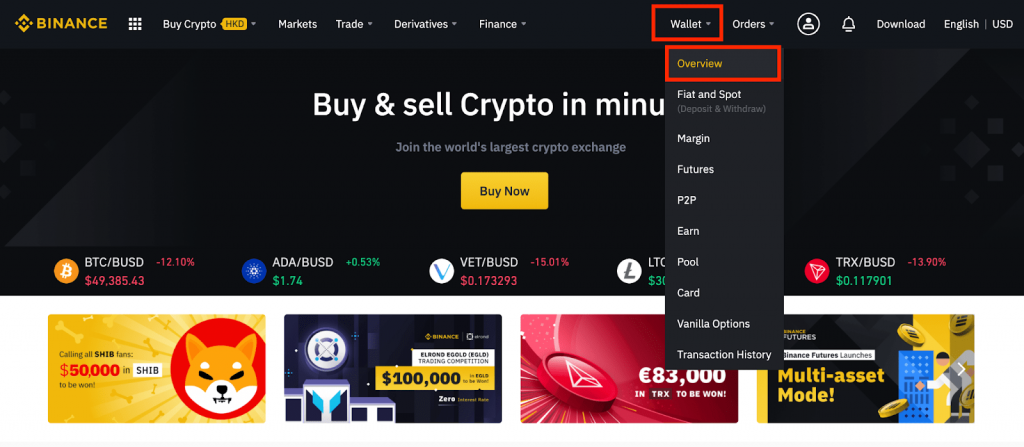 After you log into your account, open up the Binance home page. Here you will see the "wallet" button and the drop-down menu as well. On that drop-down menu either pick overview or the fiat and spot options in order to get redirected.


Here on this page, we are seeing the "withdraw" button highlighted. Click on it to go to the withdrawal page of Binance.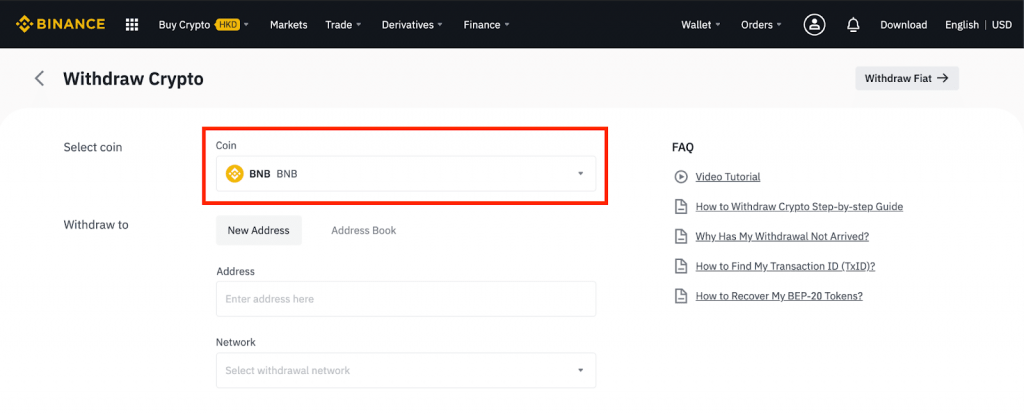 On the withdrawal page, the only thing we need to handle right now is picking the coin. Click on the coin button and the list will show up on a pop-up new tab on the page.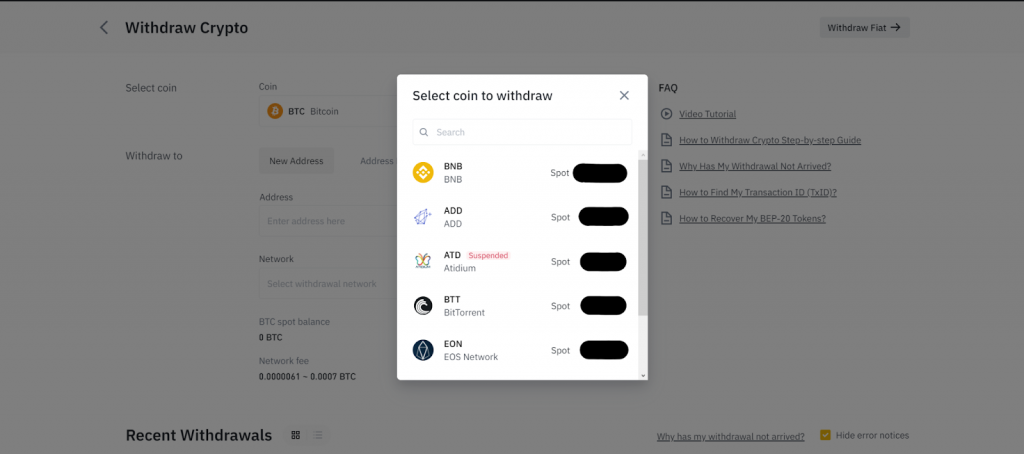 On this drop-down list, we are going to pick which coin we would like to send to Kucoin. Obviously, you will pick a coin that you have the funds for, they will be listed at the top, if you have a lot of different coins and tokens, you could use the search bar.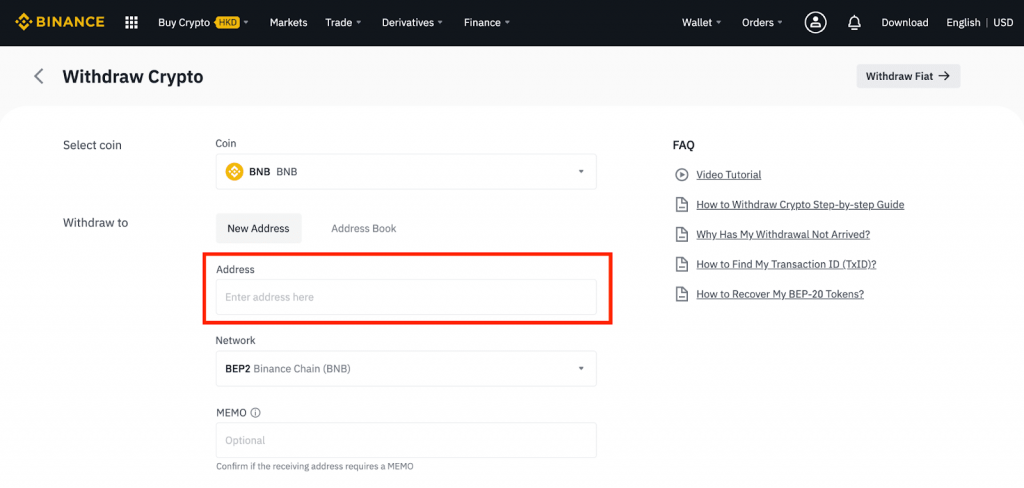 After you pick the coin, we will write down the address, but in order to get the address, first, we will open up a new tab and go to Kucoin and get the address from there.
Visit Binance Now Visit KuCoin Now
Getting the address from Kucoin
---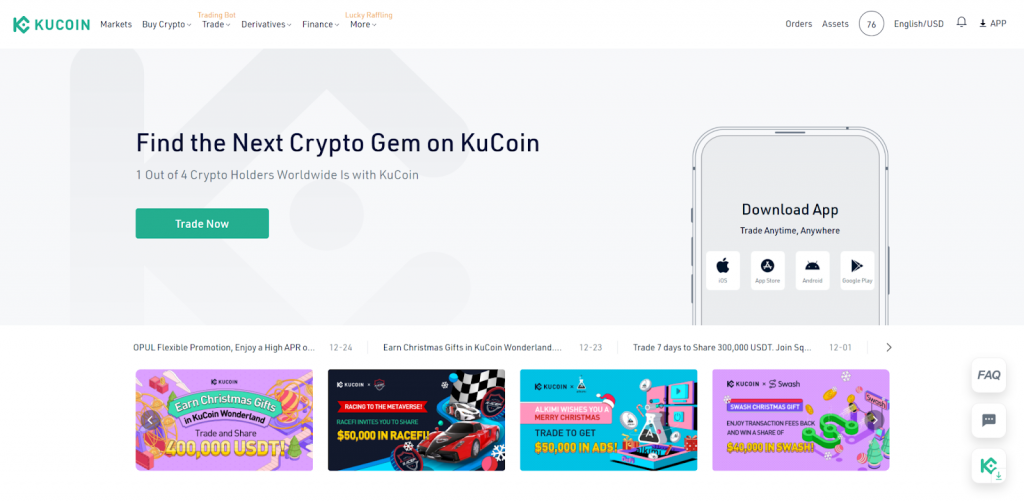 If you do not have a Kucoin account, the first step is registering and getting a new account. Do not forget to handle your KYC before you send anything in there as well because you will not be able to withdraw it until your KYC is done. After you register and log in, click on the "Assets" button at the top right corner.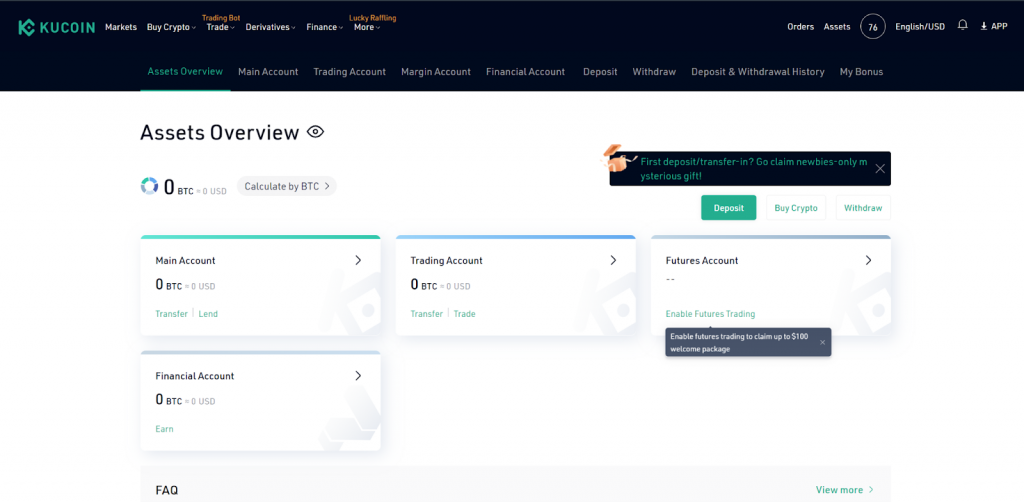 This will redirect you to all types of accounts you could own at Kucoin. However we do not need to pick any of them to deposit, you can click on the deposit button in green color to be redirected to the deposit page.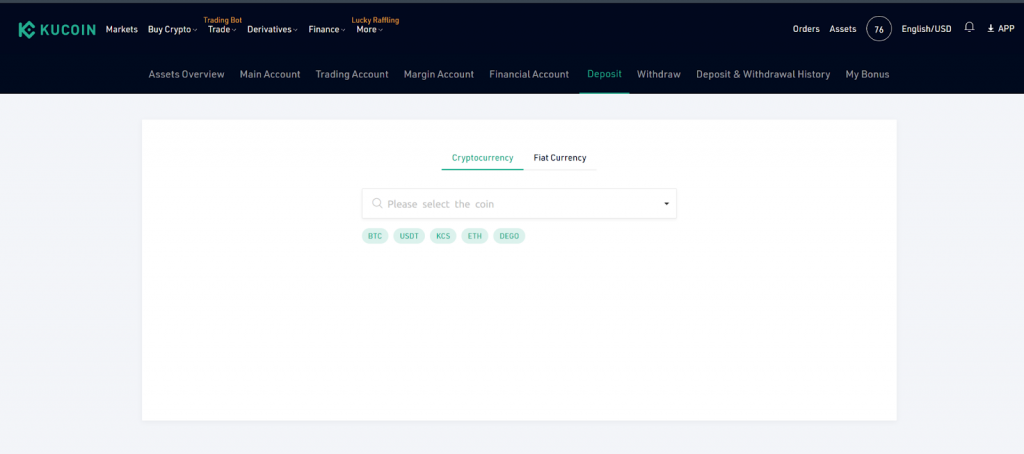 Here we will see the search bar, in order to pick which coin you would like to deposit, we will write down the coin name. Click on the result if you see the coin you want to deposit here.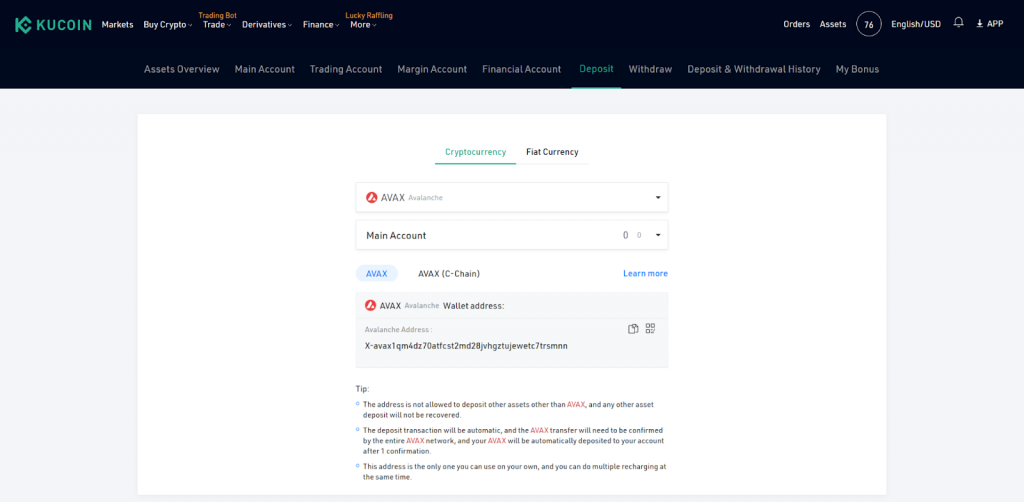 After you pick your coin, you will see which account you would like to deposit your coins into, and which network you would like to send it to as well. In an age where networks are fighting over which one is faster and which one is cheaper, it is quite difficult to pick the right network.
Always check the cheapest and fastest network in order to benefit from this competition. Afterward, copy the address you are given and go back to Binance in order to finish up.
Read also:
Last Stages
---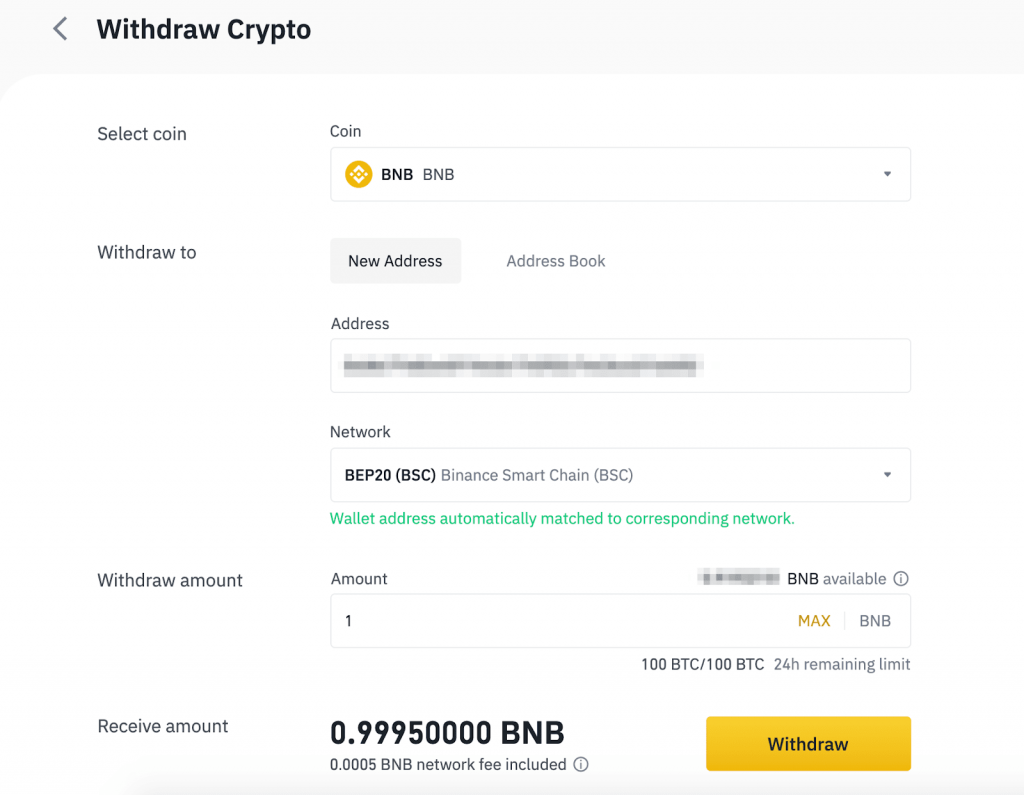 At this last stage, we will be writing down the address we just got from Kucoin, then we will pick the network. Pick the same network on both exchanges because if you pick different ones, then your cryptocurrency will not arrive on your account.
Lastly, we will write the amount we would like to send (or click max if you want to send it all). When you are done, click on the "withdraw" button to go to the confirmation page.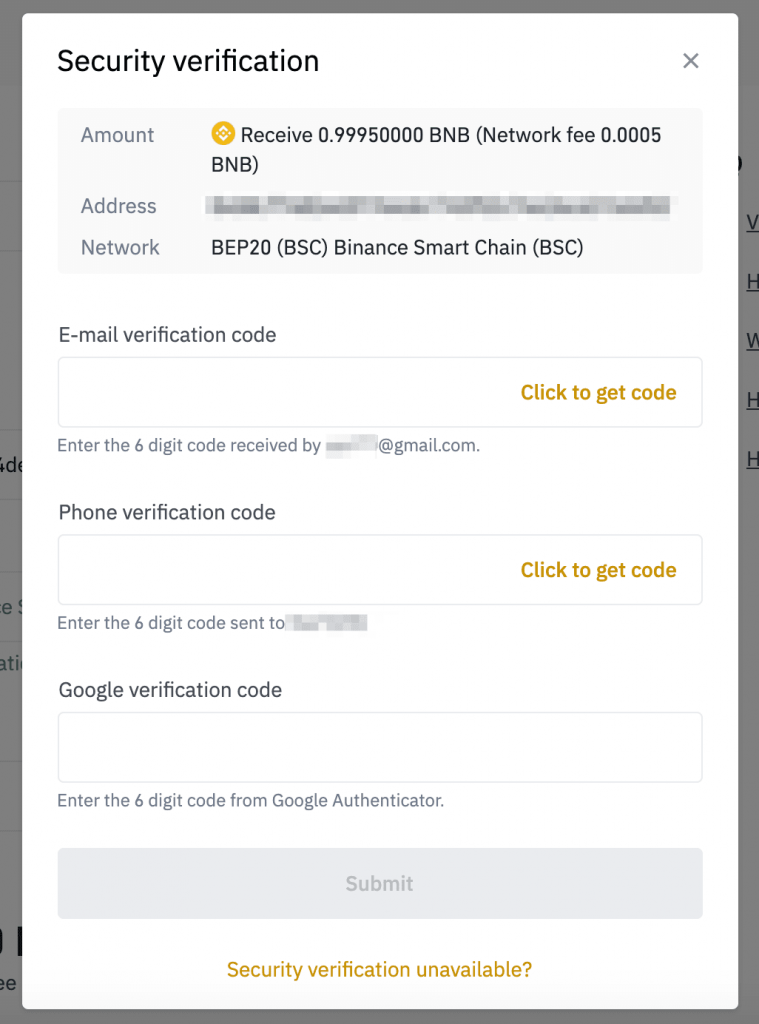 This is the last page you will see, it is the confirmation page. On the confirmation page, you will write down the email code Binance sends you, and phone verification code if it is enabled, and lastly google 2FA code on your mobile app. When you do them all, you will click on the "submit" button and you will be done.
After you are done, all you have to do is wait 10 to 45 minutes and you will receive your coins on Kucoin. If it takes longer than that, you may check the blockchain to see if it is still on the way or not. If it is on the way then just wait for Kucoin to credit them, shouldn't take too long, if not on the way then it will be sent by Binance soon.

CaptainAltcoin's writers and guest post authors may or may not have a vested interest in any of the mentioned projects and businesses. None of the content on CaptainAltcoin is investment advice nor is it a replacement for advice from a certified financial planner. The views expressed in this article are those of the author and do not necessarily reflect the official policy or position of CaptainAltcoin.com