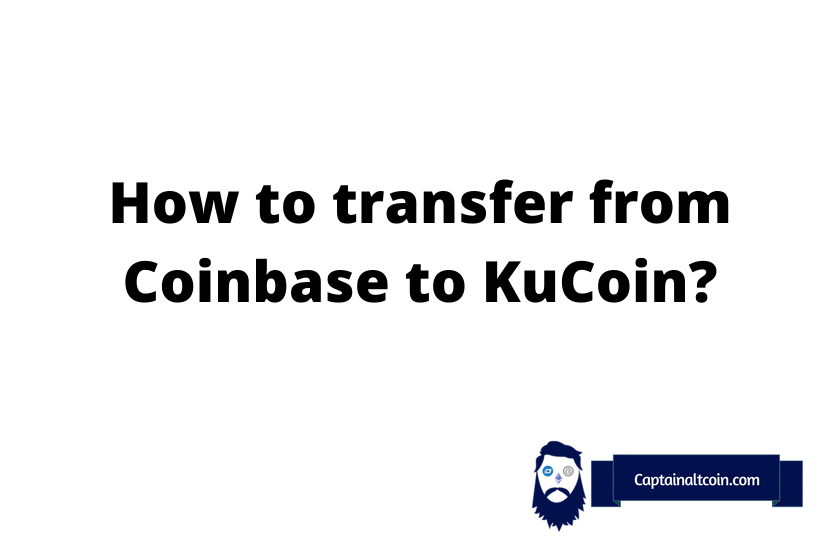 IMPORTANT WARNINGS
---
Trying to deposit a non-supported token may result in the loss of tokens.
Send a small test amount first
Beware when choosing the network which you want to use for sending crypt
Sending cryptocurrency from Coinbase
---
Coinbase is one of the biggest exchanges in the whole world. This is why many people use it as their main exchange. However, sometimes we would like to test out some other places as well, in this case, Kucoin. Let us check how we can move our cryptocurrencies from Coinbase to Kucoin.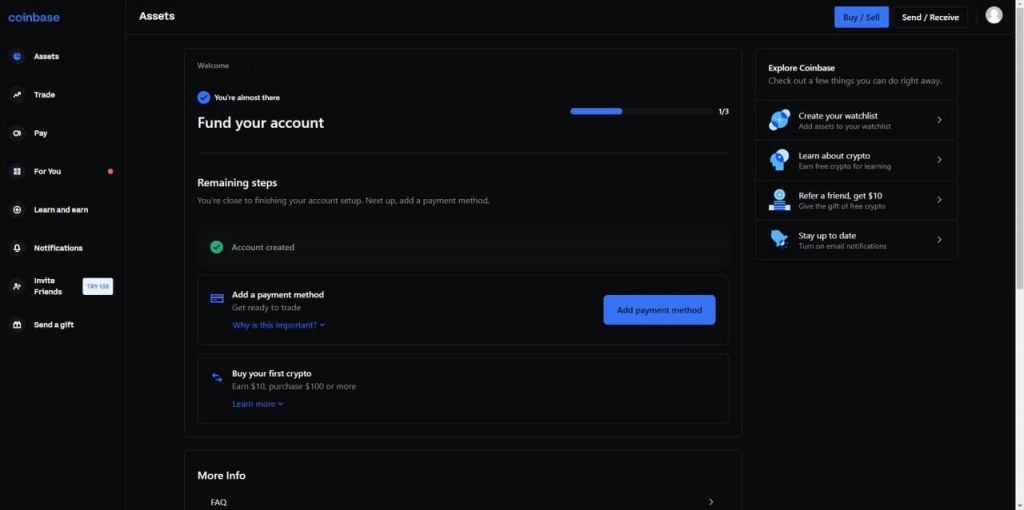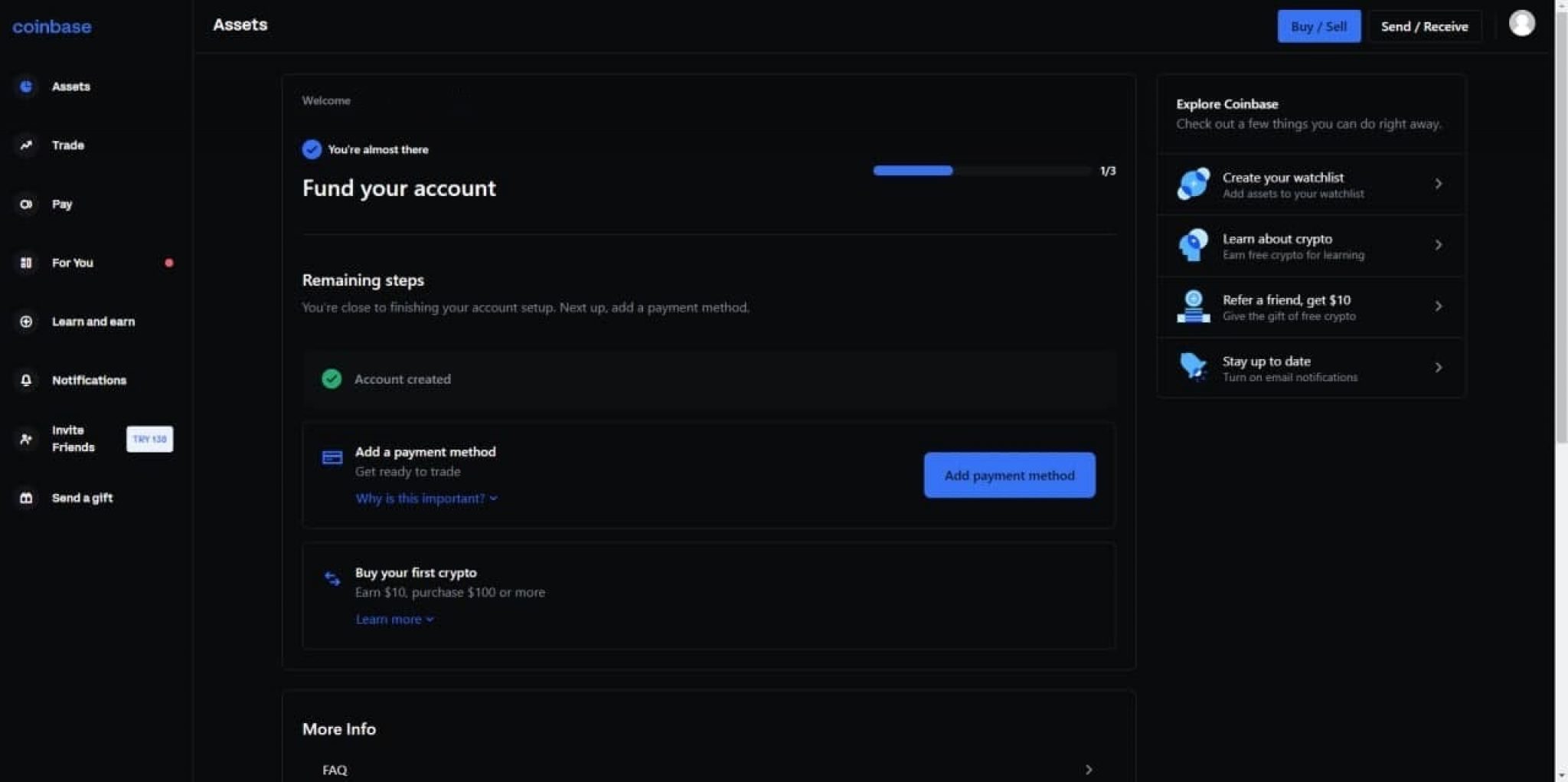 Firstly, we will open up our Coinbase account. If you haven't done your KYC, do not forget to do it, because it is required for withdrawals. After we see our home page, then we will click on the "send/receive" button at the top near our logo.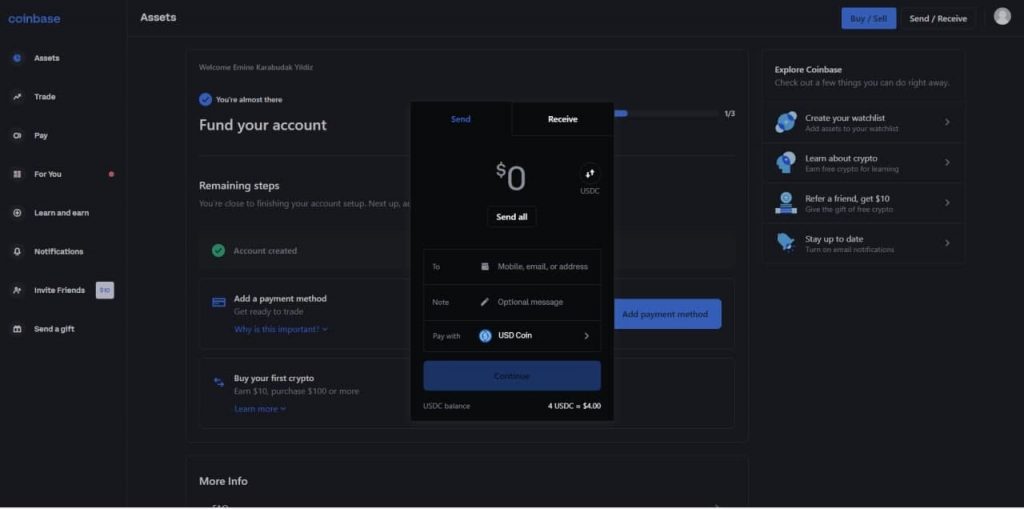 When you click on it, you will see a pop-up tab open up with both send and receive available. Click on the "send" button because today we will be sending from Coinbase and not receiving to Coinbase. Click on the coin you see on the screen, for this image it is USDC, it could be anything for you, this will open up the "select asset" part.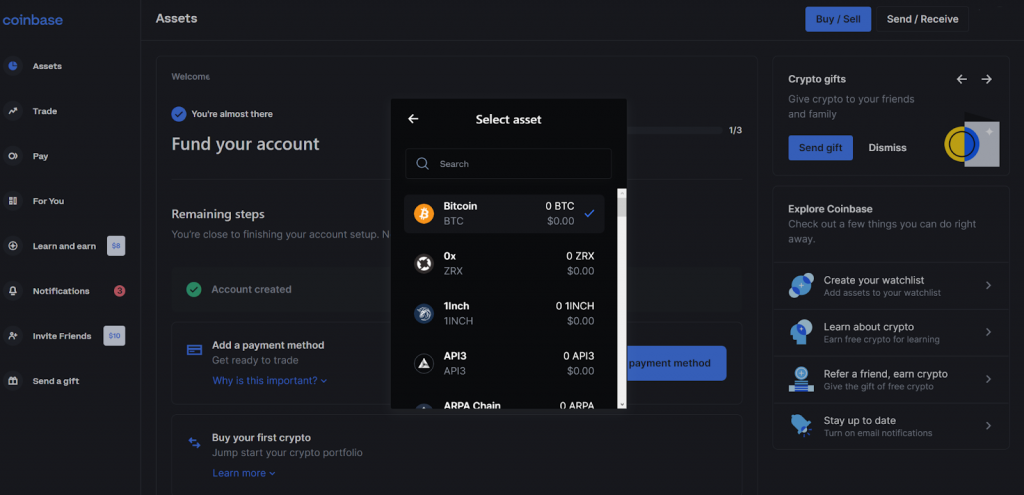 Here you can see that there are many coins available for you. Pick whichever coin you would like to use, or you could simply search it if you want to get it done quicker as well.
After you are done with this, you will need to type in the address you want to send to. Since we do not have it right now, do not close this page, but open a new one and go to Kucoin to get that deposit address.
Visit Coinbase Now Visit KuCoin Now
Deposit address from Kucoin
---

In order to get the deposit address, we came to Kucoin. Here we click on the "assets" button in order to go to our accounts page.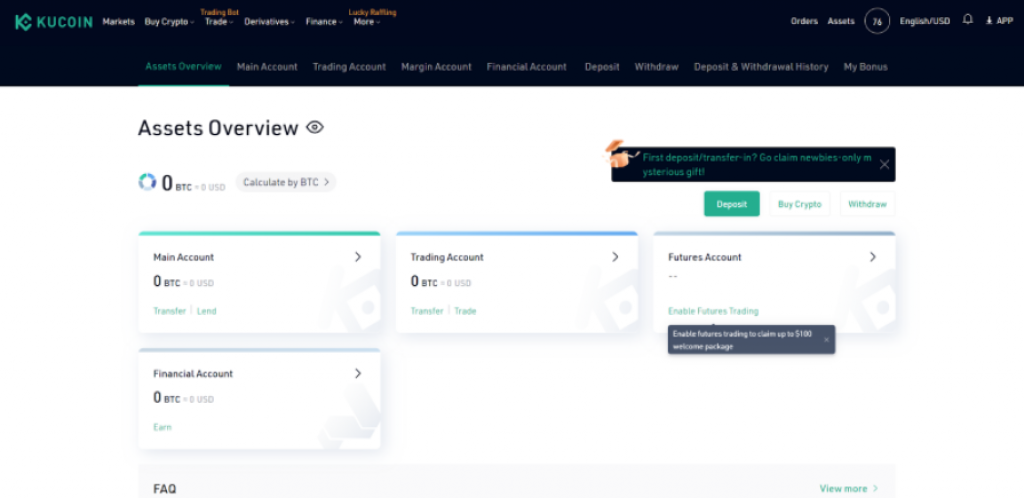 On our accounts page, we see all the things we can do with crypto. Sometimes people want to separate their long-term investments and short-term trading funds, on Kucoin you can do that. You do not have to pick anything and can just go with "main account" if you want to. However, we do not need that right now, click on the deposit you see on the screen in order to get your address.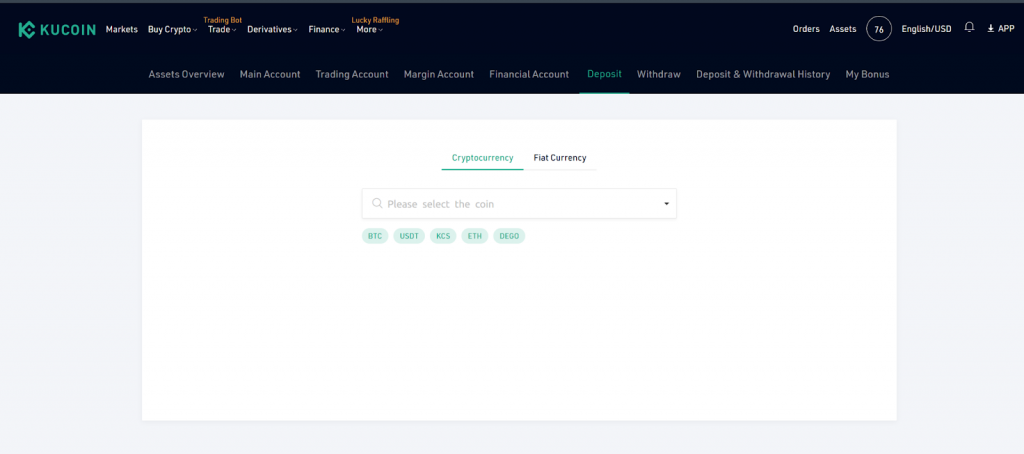 On this page, you see the search bar. On this search bar, you will type in the coin you want to deposit.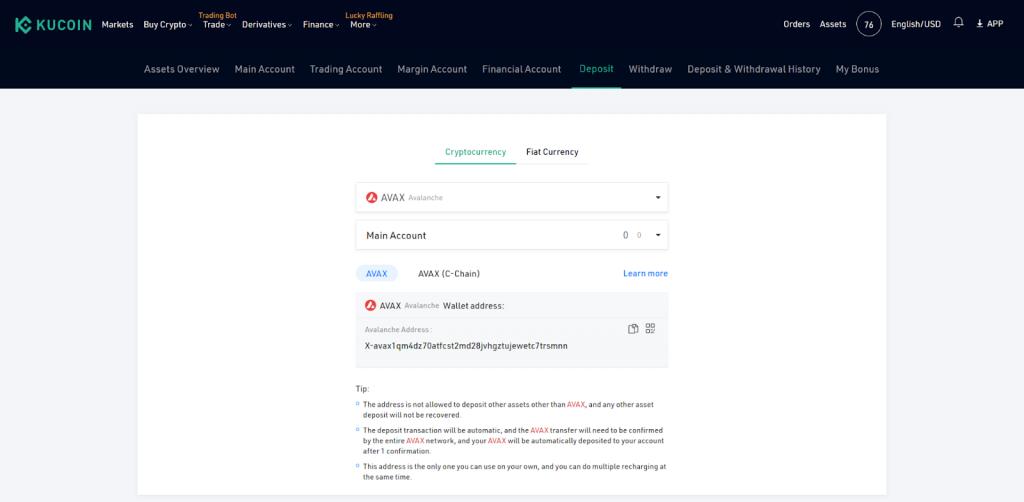 After you select, your coin, pick the account you want to deposit into, and the network you want to send with. Make sure that it has the same network as you want to use on Coinbase as well. Picking the wrong networks will result in you losing your funds. Copy the address and go back to where you were with Coinbase.
Using the deposit address to transfer from Coinbase
---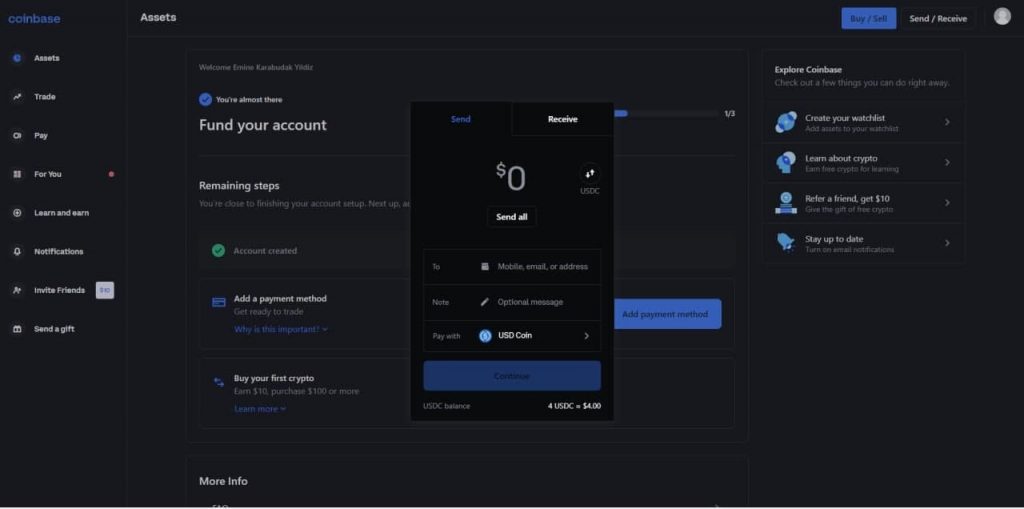 Here we will write the address we just got from Coinbase – pick the coin we want to pick and enter the amount we want to send. Afterward, click on Continue in order to see the confirmation page.

Here, check the address, the coin, the network, and the amount, basically everything you have written so far. If all of them seem fine then are you ready to transfer your coins. Click on the "Send now" button when you are ready.
Read also:
FAQs
---
Where is My Crypto Deposit?
---
Coinbase is one of the fastest exchanges when it comes to withdrawals. Which means you shouldn't be waiting too much for your deposits. Usually, the withdrawal part of a transfer takes longer than the deposit part, so if Coinbase is as fast as usual when sending your coins that means the deposit will be on Kucoin quite quickly. You can always watch the transaction on blockchain explorer if you want.
How long does the transfer take?
---
Depending on which network you picked, it should not be taking too long. Most projects these days are working on making it as fast as possible, even ETH is quite fast even though it is expensive to use the ERC20 network. So depending on the network, it should not take longer than 10-15 minutes most of the time. After a few hours, you could contact the support on both sides to see why it is taking too long.
Does Coinbase have crypto withdrawal fees?
---
Coinbase has a percentage-based rate for your withdrawal, plus the spread on trading as well. Which makes it a very expensive exchange to use if you are purely interested in crypto and not interested in buying crypto with fiat. If you want to learn more about their fees, you can check their page.
Does Kucoin have crypto deposit fees?
---
There is no deposit fee at Kucoin.

CaptainAltcoin's writers and guest post authors may or may not have a vested interest in any of the mentioned projects and businesses. None of the content on CaptainAltcoin is investment advice nor is it a replacement for advice from a certified financial planner. The views expressed in this article are those of the author and do not necessarily reflect the official policy or position of CaptainAltcoin.com