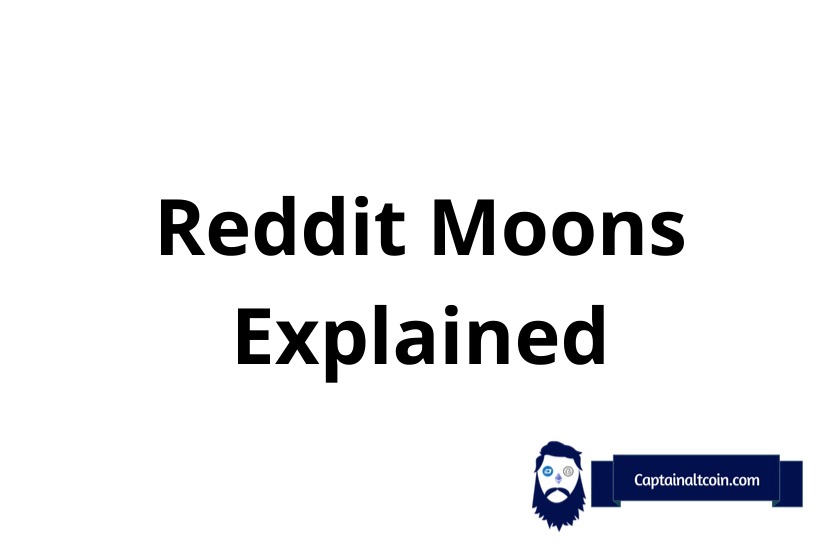 What is Reddit MOON?
---
In order to maintain its reputation as "the front page of the internet", Reddit always rewards its content creators and those who post quality content. For instance, Reddit offers karma points to contributors to reward them for their posts and comments.
In May 2020, Reddit introduced a new feature called Reddit Community Points (RPCs) in order to reward its users with crypto tokens that, unlike karma points, have a monetary value. RPCs are Ethereum tokens that can be used across a limited number of subreddits.

While Reddit is completely centralized, the RPCs they integrated can be compared to Hive and Steemit because they are decentralized. Content creators are rewarded for their content and a part of the reward goes to curators to make the discussions within the community even more valuable. The RPCs , like their counterparts on the Hive and Steemit blockchains are distributed fairly among the subreddit users.
The r/Cryptocurrency subreddit was the most intuitive subreddit to start this experiment due to the large community of cryptocurrency enthusiasts it has. The subreddit announced the MOON token, which represents ownership in the subreddit and can be earned and spent on various items within the community.
Because the moon contract was deployed to the Rinkeby testnet Ethereum network, the moon token didn't have any actual value.
However, the goal of Reddit is to successfully transfer moons on the Ethereum mainnet.

A moon
Who Created RCPs?
---
Reddit's developers created the smart contracts for the RCPs and the rules of their execution. The code went live on the Ethereum blockchain after being audited and reviewed. Since RPCs are Ethereum tokens, users will have to pay for gas fees with each transaction they make.
Earning MOON:
---
Moons are distributed monthly according to each user's contributions within the r/Cryptocurrency community(posts,comments,etc..). Users will earn moons based on the karma points they accumulated during each month, but the final decision is up to the community.
In order to check the current price of the Moon token, visit https://www.coingecko.com/en/coins/moon
Buy and Sell Moons – Converting MOON into DAI (and USD)
---
Transfer your Moons from the Reddit Vault to your Metamask wallet:

In order to transfer your Moons to metamask, you need to get the recovery phrase provided in your vault. You can access your vault in your Reddit mobile app.
Now proceed to make your vault by pressing on your profile picture and pressing "vault" on the menu.

Follow the steps provided by reddit to set up your Reddit vault.
Reddit will ask you whether you would like to make a reddit backup of your vault or a manual backup. Feel free to choose any of those options.
In case you choose the "manual backup" option, make sure to save the 12-word recovery key that will be displayed.

Once you have your recovery phrase copied, goto your Metamask wallet and select the "Import account" option.

You will now be prompted to enter in your 12-word Reddit vault recovery key you saved earlier.
Once you have entered it, switch networks on Metamask from the "Ethereum network" to " Rinkeby testnet".

Please note that your moons won't be immediately visible, you still need to add the Moon token as a custom token on Metamask.
Seeing your Moons in your Metamask wallet:
---
In order to see and track your Moon balances, click the "add token option in the bottom left corner of your wallet.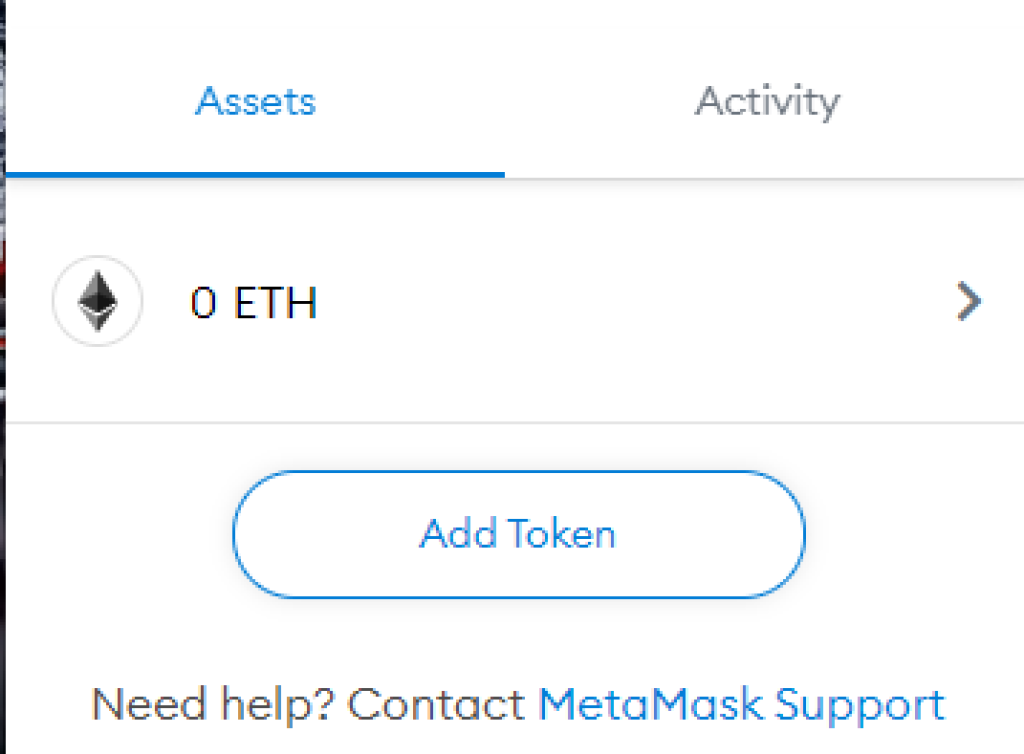 Proceed with adding the Moon token by specifying its contract address, symbol and decimals of precision:
Token contract address: 0xDF82c9014F127243CE1305DFE54151647d74B27A
Token symbol: MOONS
Decimals of precision: 18


Once you have added the token, you will be able to see your Moon balance appear.
Set up the xDai network in your Metamask wallet:
---
To start using the xDai network on Metamask, click on the network menu and select "Custom RPC" then enter these details:
Network Name: xDAI
New RPC URL: https://rpc.xdaichain.com/
ChainID : 100
Currency Symbol: xDai
Block explorer URL: https://blockscout.com/poa/xdai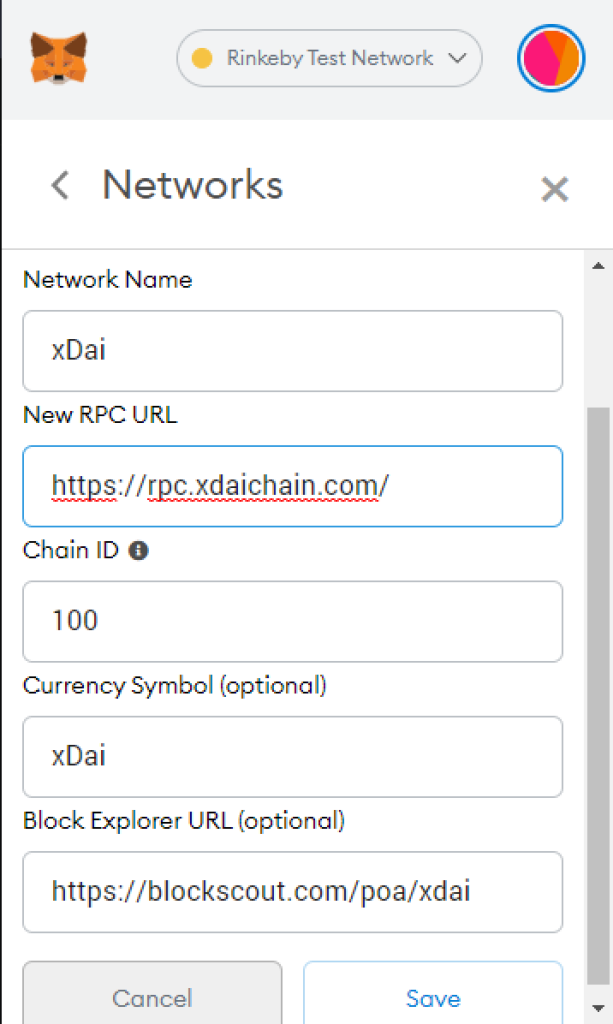 Finally, click on the "Save" button.
Convert Dai to xDai:
---
In order to pay the fees on the xDai network, you will need some xDai. You can use a Dai to xDai bridge to get some:
You will now be prompted to connect your Metamask wallet, click "connect".
Now you need to switch to the Ethereum mainnet network.
Put in how much DAI you want to convert to the xDai network.
You will now be prompted to confirm the transfer, click "confirm".
Since you will be selling your xMOON for xDai, you'll first have to convert your MOON into xMOON:
Visit https://xmoon.exchange/
Connect your Metamask wallet to the exchange by clicking the "connect" button in the top-right.


Now switch to the Rinkeby test network in Metamask
In order to make this transfer, you will need some Rinkeby Ethereum to cover the Rinkeby network fees. You can get Rinkeby Ether by entering your Rinkeby network address on Metamask in those two faucets and claiming : https://faucet.rinkeby.io/ or https://rinkeby.faucet.epirus.io .
The first faucet requires you to make either a Facebook or Twitter post in order to get free Rinkeby Eth.
Click on "MOON to xMOON" button
You'll be prompted to confirm the transfer, click "confirm"
Wait until the transaction is confirmed, your xMOON balance will then show up on the left-hand side.
Proceed with the previous website in order to swap your xMOON to xDAI
Switch to the xDai network on Metamask
Click on the "xMOON to xDai" button
Confirm the transfer within the Metamask pop-up
Wait for your xDai balance to show up
Convert xDai to Dai:
---
We're almost there! Lastly, you need to swap your xDai to Dai using the bridge we used earlier. Please note that it will take some time for your Dai to show up in your Metamask wallet. The transaction usually takes one hour but it may take longer depending on the network condition.
Switch to the xDai network on Metamask
Transfer your xDai to Dai using the bridge
Confirm the transaction on Metamask
Your Dai will soon show up on the Ethereum mainnet in Metamask
Awesome! Now you have successfully swapped your moons into Ethereum mainnet tokens.
Read also:
Vault:
---
RPCs such as moons are stored in a "vault" which is basically an Ethereum cryptocurrency wallet embedded in Reddit users' accounts. This vault stores Ethereum tokens that can be spent on subreddits that support the community points feature. Currently, there are only two subreddits that have introduced this feature: r/Cryptocurrency with their MOON token and /r/FortNiteBR's Brick token.
Like most cryptocurrency wallets, these vaults generate a public address to store the m
oons, and a private key, which makes them accessible by the user.
Why Does MOON Have Value?
---
When moons were first introduced to the r/Cryptocurrency subreddit, 50 million moons were distributed based on the karma points of users. The amount distributed per month started at 5 million and decreases by 2.5% in each cycle. The maximum supply of moons distributed will be close to 250 million.
On September the 22nd 2020, a new thread on r/Cryptocurrency called "New Moons feature – convert to Coins!" explained how users can convert their moons into Reddit coins. These Reddit coins are used in Reddit to award posts and comments and can be purchased with fiat money.

Since moons can be converted for reddit coins that have actual value, the moon tokens became valuable as well. This allowed moons to be adopted by various exchanges even though they are a testnet cryptocurrency.
Moreover, whenever r/Cryptocurrency users spend their moons on Reddit, they get removed from circulation. That means that the number of moons available for users will decline over time, which will eventually increase the value of the remaining MOON tokens.
However, half of all the burned moons will be back in circulation the upcoming month, to ensure that there will still be moons for distribution even after the token reaches its maximum supply.
Spending MOON:
---
You can spend your moons on the r/Cryptocurrency subreddit to unlock some exclusive features such as badges and GIFs in comments. Moons are also used to add weight to your vote on polls.
Add to that, you can convert moons to Reddit coins to award posts and comments on the r/Cryptocurrency subreddit only.
Moreover, you can buy a special membership on the subreddit for 1000 coins per month.
Furthermore, you convert your moons to DAI like we showed you earlier and earn interest on them using a DeFi protocol or sell them for fiat money on exchanges such as Binance and Coinbase.
Finally, in case you believe in the power of Reddit communities and the r/Cryptocurrency subreddit especially, you can hold your tokens and sell them after they reach their maximum supply.
Why Should I Use MOON?
---
You should use the MOON token if you are interested in the r/Cryptocurrency subreddit and want to maintain the subreddit and grow your reputation there.
If you are a reddit user who enjoys posting and commenting on this subreddit, you can do so and get rewarded for it. All you need to do is to create a vault in order to claim the moons you have earned.
FAQs
---
Ressources: https://blog.batcommunity.org/2020/05/how-to-connect-your-reddit-community-points-reddit-vault-to-brave/

CaptainAltcoin's writers and guest post authors may or may not have a vested interest in any of the mentioned projects and businesses. None of the content on CaptainAltcoin is investment advice nor is it a replacement for advice from a certified financial planner. The views expressed in this article are those of the author and do not necessarily reflect the official policy or position of CaptainAltcoin.com