Public.com Review – Is Public.com Legit & Safe To Use?


Public.com Review – Is Public.com Legit & Safe To Use?
Fractional share investing is supported
There are more than 30 cryptocurrencies supported on the platform
The mobile app that is easy to use
Great social aspect that helps you connect with people
No commissions when it comes to stock and EFT trading
In today's time, just having your money stashed away is not an optimal thing. Due to inflation, you will probably lose a big percentage of the money value. Because of that, people started investing their money.
The most popular method is investing in stocks. With the rise in popularity came platforms that helped you with investing. One of those platforms is Public.com.
If you are looking to invest your money and are not sure how to do it, do not worry, as Public.com can help you. In this review, we will go over all the necessary information about Public.com to make sure you make the right decision.
So without any more delay, let us dive right into the review.
What Is Public.com?
---
Public.com is a user-friendly commission stock and crypto trading mobile app that lets you trade your stock for free. Back in 2018, the broker rebranded, changing its name to Public from Matador. In February 2021, Public made an announcement that in a Series D round, it managed to raise a whopping $220 million with a valuation of $1.2 billion.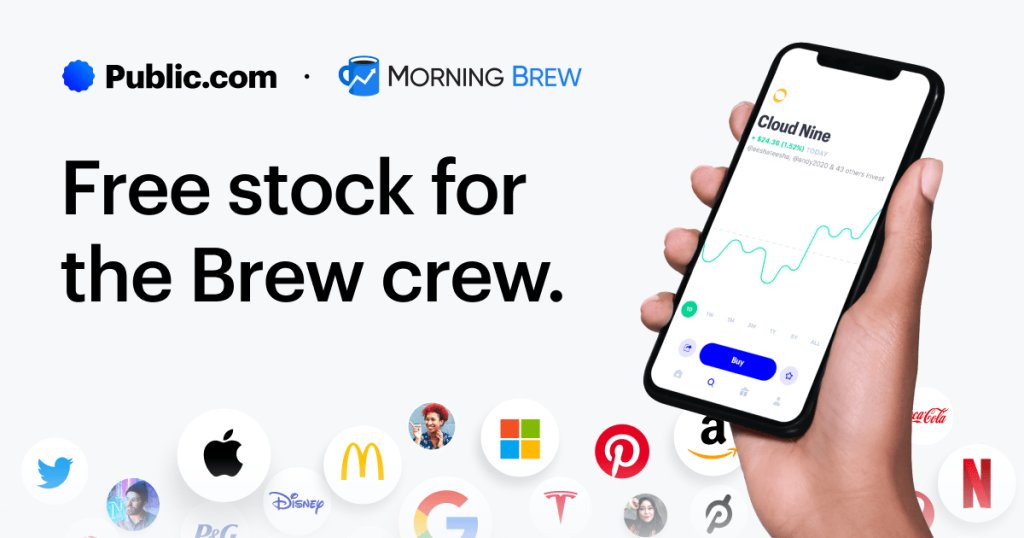 The list of investors is really something. It included Will Smith, The Chainsmokers' Mantis VC, Greycroft, Accel and Lakestar, and many more. What makes Public.com stand out is the social aspect of the platform.
You have the option of connecting with your friends by following each other. In addition, you are able to connect with a large number of experts that are in the community if you need any help.
One drawback of the platform is that there are not a lot of different account types that you can choose from. That being said, the platform does not charge any commission or trading fees, so you could say that when it comes to the pricing structure, they know what they are doing.
This creates an amazing environment for investors that are just beginning their journey to share their ideas with the community.
TL;DR
---
Public.com has its drawbacks, but that does not mean it is not a great platform that can help you with your investing. There are a lot of features that the platform offers to its users, such as no minimum investment requirements, social feeds, crypto, stock, and EFTs, automatic dividend reinvestment, educational resources, and a portfolio overview.
In this review, we will cover all the necessary information regarding these features, as well as how the platform works, its pros and cons, and all the popular questions people ask about the platform. We will also go over the basic information on how to start on the platform and if the platform is legit and safe.
How Does Public Work?
---
Public.com is very simple. It is an app that you can download both on Android and IOS for free. You can download it from the Google Play Store or the Apple Store. Once you download the app, your next step is to create an account.
You will be asked a couple of questions that you need to answer in order to continue. These questions will be about your personal information, such as age, you need to be 18 or older to continue, your social security number, and lastly, your bank account information.
Once you finish setting up your account, you can begin your investing journey. As soon as you set up your account, you can begin trading no matter how much you have on your balance. You are not limited in any way when it comes to the amount you wish to spend.
Now that you have finished setting up your account and decided where you want to invest, all you have to do is keep track of your investments. Lastly, after trying out Public and you end up liking your experience, why not invite your friends so they can do the same.
The platform has a referral system. All you need to do is send your friends your referral link and let them do the rest while you wait to receive your reward. You might be wondering what the reward is. Well, after your friends complete the steps and join the platform, you will receive a share of the stock.
So, what are you waiting for? Try it out yourself.
Fractional shares
---
When it comes to fractional shares, you can probably already suspect what it is. Fractional share investing gives you the option to buy only a fraction of a stock instead of a full one.
These fractional shares, also referred to as slices, are a great way of investing if you do not have the funds to buy a whole stock. You can buy any amount you desire, so if you are just starting out and do not have a large enough balance yet, you can still invest in what you want.
For example, let's say that one stock is worth exactly $10.000, but your balance is nearly not enough to buy a full stock. With fractional shares, even if you have only $2000, you can still buy 0.2 shares.
Additionally, it also works if you want to buy more than one stock but not necessarily two full stocks. If a stock is worth $10.000, you can invest $15.000 and buy 1.5 shares. This feature makes everything more affordable for every user on the platform.
Public.com features
---
Public.com offers many great features to its users. Here we made a list and will go over each and every one providing you with all the necessary information that you might need.
No minimum investment requirements
---
When it comes to the minimum investment requirements, there are none. Basically, to open up a public account, you can have as much or as little funds as you want. There is no reason to go out of your comfort zone whatsoever.
The most important thing is to always think about your investment goals before you make any deposits. With this, you will never go over what you initially wanted to spend. If you ever have any doubts and need some advice, you can always contact the Public.com support team.
They are always there to help you no matter what. You can do so through the live chat on the app or simply by sending an email.
Social feeds
---
The social feeds on Public.com are certainly no less than amazing. There is so much you can do and interact with. You can find company suggestions where Public.com gives you companies that you might be interested in based on your history.

Additionally, you can see posts made by other users about their experience or their ideas and thoughts about where they are investing. You can also see other users' profiles by simply clicking on their names, and there you can see their portfolios, posts, what they are interested in and much more. Furthermore, you can also follow other investors.
There are several celebrities on the platform that you can follow as well and see what they are investing in. Keep in mind that you should always invest in what you think is the best option. Following other users and seeing their investments should not completely influence your decisions.
As we mentioned before, you can also invite your friends to join the platform through your referral link. This way, you can earn rewards simply by inviting your friends. Lastly, there is a chat feature on the platform where you can message other users or your friends by sending them a direct message.
Public.com Crypto
---
Public.com entered the crypto market and can be considered a crypto exchange since 2021 (it is one of the best Coinbase alternatives for US users). There are more than 30 cryptocurrencies on the platform, such as Bitcoin, Ethereum, Decentraland, Algorand, Dogecoin, and much more. There is no minimum investment amount, so you do not have to worry about that. You can invest as much as you want without the need to take any risks.
Sadly, Public.com does not have its own crypto wallet. Because of that, they are working with Apex Crypto, which has the task of holding your crypto. Keep in mind that you are not able to transfer your crypto from Public.com to another wallet.
Your options are either to sell your crypto or to continue investing. So make sure you know what you are doing.
Public.com is fighting for its share of crypto market with the other US based crypto giants like Coinbase, Kraken, Binance US, Uphold and FTX US.
Public.com Stocks and ETFs
---
The platform has a large number of stocks and EFTs that you can choose from. So finding what you want to invest in will certainly be easy. You have commission-free trading as well as fractional share investing available on your taxable brokerage account.
In addition, it offers more features that can prove quite helpful on your investing journey. There is a tool on the platform called "Top Movers," which will present you with information about the movement of the stocks, which stock had the highest and which one had the lowest movement on a daily basis.
Furthermore, there is also a feature called "Stock Trends," which will give you information about which stock was the most popular and also which was the least popular.
Public.com creates an environment that is best suited for active traders that trade on a daily basis. That being said, anyone who can fit into the community and benefit from the information can succeed on the platform.
Automatic dividend reinvestment
---
When it comes to investing in certain companies, some of them will pay their investors dividends. That being said, on the Public.com platform, you are presented with a choice. When you receive those dividends as payments, you can either choose to reinvest them or keep them in your account balance.
If you decide to reinvest them, you have the option to enable the automatic dividend reinvestment. This option will, in your stead, reinvest all of the dividends that you receive. This is all commission-free, of course. To set up the automatic dividend reinvestment, all you need to do is follow a few simple steps that will take less than a minute.
All you have to do is click on your account icon in the bottom right corner, after which you click on the settings icon that is located in the top right corner. Here you will have to click on the account at the bottom, and you will find the dividend reinvestment there. With this, everything is set up so you will not have to worry about ever forgetting to reinvest your dividends.
Educational resources
---
When it comes to educational resources, Public.com offers a lot of information through the library of resources that they have available on both their app and website. You can find information about the stock market, retirement, and investing.
With that being said, where you can find the most information is through the social media aspect that is implemented on the app. You can find the most information by talking with other investors and by checking out their portfolios.
Start talking with other investors, create groups where you can share ideas, start discussions and chat daily. By doing this, you will only educate yourself even more and ultimately help yourself make the right decisions when it comes to investing.
Also, by following other traders and looking at their investments and decision-making, you can learn a lot of things. With everything we said, the most important thing is to make your own choices.
Blindly following other people's investments might yield results, but in the long run, it is best that you acquire the knowledge and skills to make decisions yourself.
Portfolio overview
---
On Public.com, everyone's portfolio is set to public by default. However, this does not mean other people can see how much funds you have. Information about how much you invested in stocks, how much you gained from it, and also how much you lost is being kept private, and only you can see such information.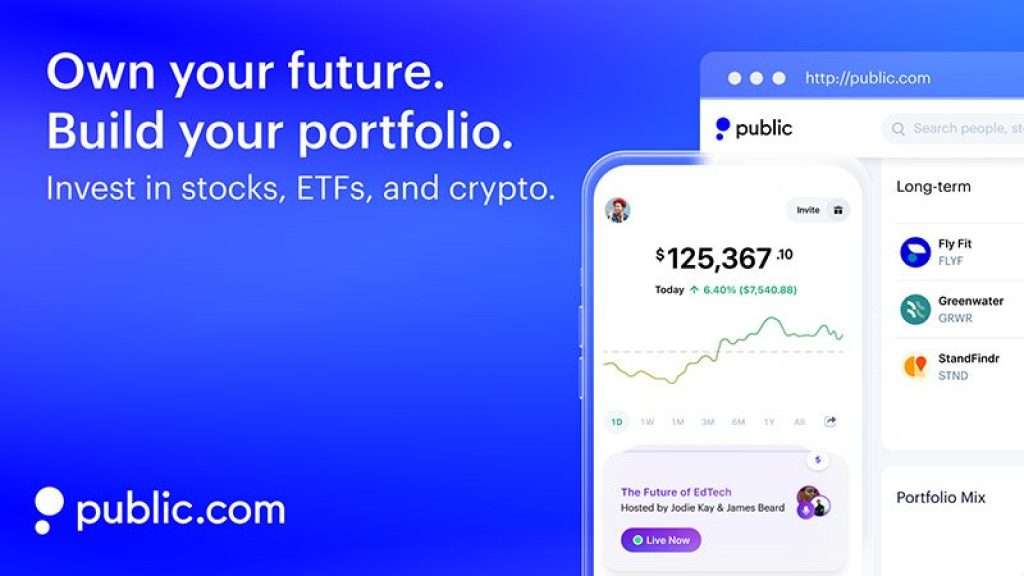 The goal of the platform is to create a community that revolves around the stock market and where people can help each other and even keep track of each other's portfolio in order to help everyone.
That being said, it will most certainly prove helpful if you check portfolios of other investors and gather knowledge that will help you with your investing journey.
You can't trade with leverage in USA on Public.com so we recommend Phemex, Margex or ByBit if you want to trade crypto derivatives.
Public.com Pricing & Fees
---
Public.com does not have any fees. The platform was a part of the Payment for Order Flow, PFOF for short, which is a standard for commission-free platforms. However, at the start of 2021, Public.com transferred to Robinhood GameStop because of the rise in popularity. So, the Public changed the trade routes directly to the exchanges instead of having a PFOF.
Even though there are no necessary fees, the platform has an option for tipping. This is not mandatory in any way, and you can tip as much as you want. You are given an option to tip after every trade. This was implemented in order to help mitigate the costs of direct routing.
Deposit & Withdrawal methods
---
There are several methods you can use to deposit and withdraw funds on Public.com. First, you can use Plaid. This way, you can connect your bank account with Public.com and transfer funds that way.
Next, if your bank is not listed or there are some unknown problems, you can manually link your bank with micro-deposits. Your next option is a debit card. You can use your debit card in order to deposit up to $1000, but keep in mind that you still cannot withdraw funds to your debit card. Lastly, you can use Check or Wire.
You can deposit your funds via a check or a wire transfer if you wish to do so. This represents a one-time transfer, and it will not link your bank account with the Public.com account.
Is Public.com Legit & Safe?
---
Public.com is considered safe and legit. The platform has not had any legal issues since 2018. When it comes to safety, it is SIPC-insured for brokerage failure. This means that if some unfortunate event happens and Public.com crashes, your account is protected. The amount is up to $500.000 which includes $250.000 for cash. Keep in mind that this does not protect you from the decline of the value of stocks.
There is also a two-step authentication through SMS. With the AES 128-bit encryption, as well as TLS 1.2 everything is safe and well secured. Public.com does post its fees and pricing schedule, but they can be tricky to find.
How to Get Started on Public.com
---
Getting started on Public.com is quite easy. The first step you need to take is to download the app to your device. It is available for both Android and IOS in their respective stores. Once you download the app, you will have to follow a few basic steps giving some information.
Once you finish that, you will be able to create an investor profile. Here you just have to provide your phone number, after which you will receive an authentication code that you simply enter into the app. Then you set up the basics such as username, email address, password, and profile picture.
If you wish to set up a brokerage account, you will need to provide additional information. The information includes birthdate, marital status, number of dependents, citizenship status, employment status, full name, social security number, and finally, your address.
Lastly, you will be asked about your net worth, annual income, goals, and experience in investing. After you finish setting up your account, all you have left to do is to start investing.
How Do I Contact Customer Service?
---
To contact customer service, you have several options. First and the easiest one is to contact them through the chat that is provided in the app. You can also try their web chat that is available in the app. Next up, we have one of the most used methods out there, contacting them through email.
If none of this works, your next option is to try social media such as Twitter or Instagram. The final option is Snail mail. There are a lot of different methods to contact customer service. If one of them fails, do not give up; try every option that is available to you.
FAQs
---
PROS
Fractional share investing is supported
There are more than 30 cryptocurrencies supported on the platform
The mobile app that is easy to use
Great social aspect that helps you connect with people
No commissions when it comes to stock and EFT trading
CONS
Limited choice when it comes to account types
Not a lot of investment options

CaptainAltcoin's writers and guest post authors may or may not have a vested interest in any of the mentioned projects and businesses. None of the content on CaptainAltcoin is investment advice nor is it a replacement for advice from a certified financial planner. The views expressed in this article are those of the author and do not necessarily reflect the official policy or position of CaptainAltcoin.com