Lolli Review 2022: Is Lolli a Legit Bitcoin Cashback App & Extension?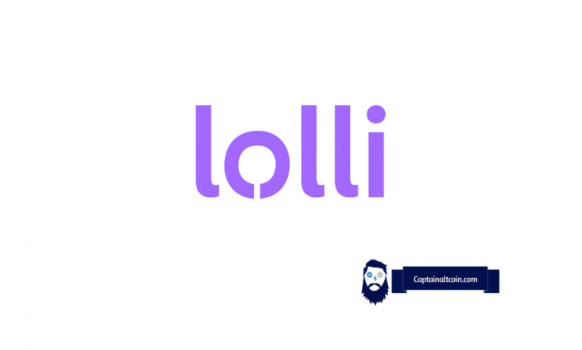 Lolli Review 2022: Is Lolli a Legit Bitcoin Cashback App & Extension?
Great cashback rewards in some shops
Easy to setup and use
Lolli is a fantastic new bitcoin cashback app and browser extension that enables you to earn bitcoin by shopping online. It was officially launched on August 22, 2018. The app lets sellers pay back shoppers up to 30% back in Bitcoin. Lolli is a genuine, secure, and exciting way for customers to earn simply from online shopping at their favorite retailers.
The app has partnered with several retail shops and companies and rewards customers for shopping at these stores. These retailers will refund a percentage of your spending in Bitcoin, and therefore one does not have to buy bitcoins through the traditional means.
You get some satoshis back by shopping at one of the Lolli partner shops.
It is one of the more popular way of earning bitcoins without investing money in them. Click here to read more about earning bitcoins online.
Many people have found conventional ways of mining or buying bitcoin quite tricky. Some countries, such as China and India, have even totally banned the use of cryptocurrency. This app lets them earn them passively while they are shopping for the things they need. This is a perfect way of killing two birds with one stone.
Cashback sites and applications are very effective ways of earning some of your money back when you shop online. However, not all crypto cashback services are legit so the logical question pops up:
Is Lolli legit and a trustworthy site? Is it safe to use or is Lolli just another bitcoin-related scam?
This Lolli app review discusses all there is to know about this interesting app.
How Lolli Works
---
Lolli is very simple to use. When one shops in one of their partners' sites, Lolli earns a percentage of the sale. This is a commission paid by the shop to Lolli for brining them visitors and conversions.


The commission Lolli earns is then shared with the Lolli customer – this is what is called cashback. This is, however not paid in USD but in Bitcoin, directly to your Lolli wallet. The customer can, after that, transfer his funds into their own wallet (best to use is a hardware wallet).
It is important to note that the retailer determines the percentage of the commission to be paid out and not Lolli.
This is a win for both the app and the customer. The customer passively earns bitcoins by only shopping, whereas Lolli can educate and inform people on the power of Bitcoin on top of them making a commission.
The site encourages you to 'buy and hold.' However, it is straightforward to withdraw your earnings, with the minimum withdrawal being $15.
Lolli has not yet figured out how to report earnings from their app. Acquisition of Bitcoin previously required a very intense Know Your Customer (KYC) so that the IRs could easily track purchases done. So Lolli may or may not send you 1099.
Read also:
How to Use the Lolli App?
---
Getting started on Lolli is very easy. One requires only an email address. The Lolli extension is available on both Firefox and Chrome. One only needs to follow these simple steps:
Go the Lolli Website
Click on "Get Lolli for Chrome"
After the download is complete, install the extension.
Create an account by typing your email and creating a password.
Activate Lolli alerts to be notifying you once you visit any of their partners' stores.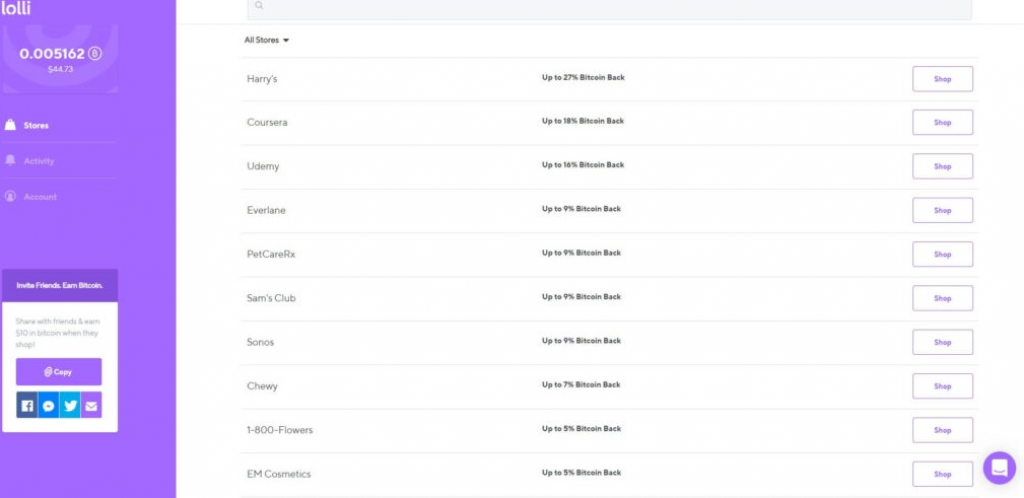 After successful installation and integration, Lolli will inform you automatically once you visit any of their partner merchants' websites. The app will also notify you of the Bitcoin amount that you would be eligible for once a purchase has been completed.
After these steps, you can now shop as you usually would. For every eligible purchase done, Lolli will track the sale and automatically send Bitcoin to your Lolli wallet. This will happen as soon as Lolli gets paid by the merchant. This is typically done after the retailer's return period is over. Lolli allows one to withdraw a minimum of $15 from their wallet straight to the bank or a hardware wallet.
Why should you use the Lolli App?
---
This app has several advantages. First, it is an easy and exciting method of earning Bitcoin passively while shopping for what you need or what you love. Lolli has been created in such a way that it is easy for all to use. The app does not require users to provide any verification documents or sign-up to exchange, thus making it very user-friendly.
Lolli is a very convenient way of earning Bitcoin for people who find the traditional fiat-to-crypto exchange difficult. On top of that, their wallet not only stores Bitcoin but also makes it possible to share Bitcoin with as many people as possible.
It is straightforward to cash out earnings.
Lolli has a swift and effective support team. The staff typically responds quickly, especially during office hours.
Tips on Using the Lolli Site
---
Make sure your email address on Lolli is the same address you use while shopping.
You can earn cashback from Lolli and also earn cashback from your credit card if yours offers such a loyalty program. Simply use the Lolli app when shopping and pay with the credit card that has a loyalty program. You will thus earn from both.
One may still qualify for a rebate. This requires a copy of the purchase receipt. Simply fill out the rebate form and attach a copy of the ticket while uploading or mailing it. This will provide you with a third option you may earn from the same order.
How much bitcoin can you earn with Lolli app?
---
The amount of rewards you earn is dependent on how often you shop. Because you will only be rewarded when you shop, the more purchases you make, the more you will earn. The value of purchases will also affect your earnings. The more the items are worth, the more you will earn.
The amount also depends on the cashback rate the retailer is offering. The highest this rate can be is 30%. Most retailers' rate ranges between 3%-10%.
Where to Shop Using Lolli?
---
Here is a small sample of top Lolli partners:


Lolli is currently in partnership with over 500 top brands and retailers from all over the world. It is possible to earn up to 30% in Bitcoin cashback when you shop from these retailers. Lolli even partners with the coupon site 'Groupon,' and customers can earn up to 9% cashback. People who travel often can earn cashback on Hilton stays, Booking.com, and Hotwire Booking. Some more merchant partners to Lolli are:
Booking.com: up to 3.5% cashback
Bloomingdale's – get up to 4.5 percent back.
Barnes & Noble – get up to 3.5 percent back.
Banana Republic – get up to 3.5 percent back.
Barnes & Noble – get up to 3.5 percent back.
Macy's: up to 5% in cashback
Gap – get up to 3.5 percent back.
Walmart: up to 3.5% in cashback
Nike: up to 3% cashback
Adidas: up to 7% cashback
Sephora: Up to 4.5% cashback
Among many others.
Lolli is still continually partnering with more and more retailers each day. Any retailers who wish to partner up with Lolli should simply contact them to enjoy this mutually beneficial partnership.
Frequently Asked Questions?
Who can Join Lolli?
---
Lolli is only available to the residents of the United States of America. If you live outside America, you can look at the best cashback sites here.
One also has to be more than fifteen years old to register.
Is Lolli safe and secure?
---
Lolli does not take security lightly. It has robust network and security features that ensure all transactions are safe and customers' balances and other features are not tampered with.
Is My Personal Information Secure When Using Lolli?
---
Lolli's business model is purely based on its partnerships with retailers and merchants. Is Lolli a scam? They only earn from commissions on the sale. The commission is after that split with the client. They do not track the sites users visit, nor do they sell any personal data to third parties. Customers can rest assured that their data is in safe hands.
Which Browsers are supported by Lolli?
---
Lolli is currently supported on Chrome and Mozilla Firefox. The developers are, however, looking into the possibilities of also supporting the Brave browser. Safari was previously endorsed, but due to changes done by Apple, the browser no longer supports Lolli.
Does Lolli have an Affiliate or Referral Program?
---
Lolli has a referral program that allows users to share their referral link and also earn more Bitcoin in turn. Once someone joins using the link and completes a purchase with any of the partner retailers, the referrer earns $10 of Bitcoin in their Lolli wallet.
Does Lolli have a mobile App?
---
Currently, Lolli does not have a mobile app. Only the desktop version is now supported. You can, however, conveniently visit the website on the phone. Their site is very user friendly. However, there are plans in place to develop a mobile app, and it should be available soon.

Conclusion: Lolli is a legit Bitcoin Cash Back App
---
In conclusion, looking at all the aspects, Lolli is a legitimate and very innovative way to earn cashback in Bitcoin. The app allows the users to make up to 30% of their purchases from partner retailers in Bitcoin. The customers can also make up to $10 from the referral program the app offers.
Lolli is anticipated to experience massive growth soon. This is because of the growing use and awareness of the use of cryptocurrencies all over the world. Lolli offers a very simple, efficient, safe, and fun way of earning Bitcoin. Lolli has created a very efficient platform through which ordinary people can enter the cryptocurrency arena. The power and value of Bitcoin have undeniable, and Lolli is playing a massive part in ensuring that as many people as possible join in.
PROS
Great cashback rewards in some shops
Easy to setup and use
CONS
No mobile app
Limited number of supported shops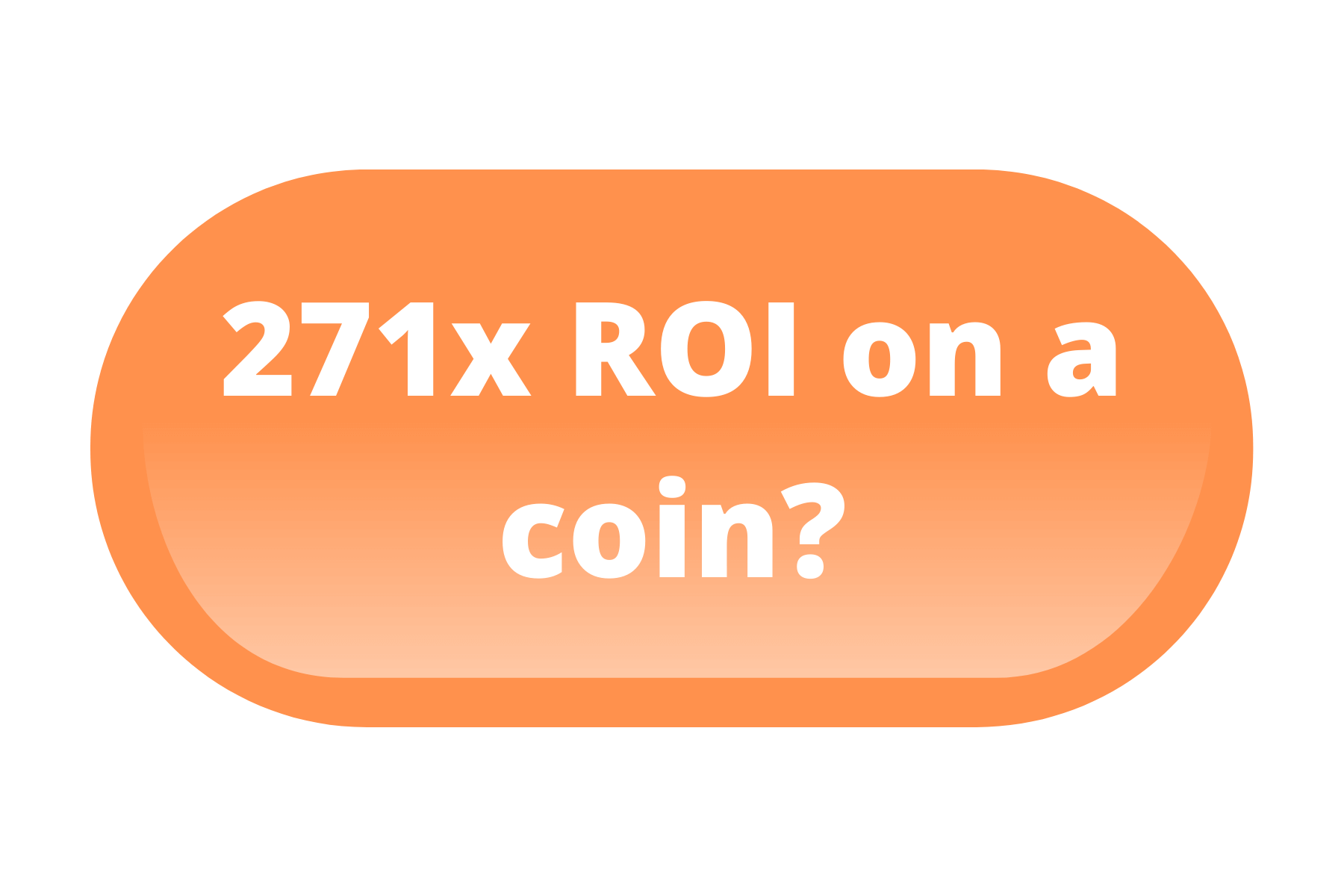 CaptainAltcoin's writers and guest post authors may or may not have a vested interest in any of the mentioned projects and businesses. None of the content on CaptainAltcoin is investment advice nor is it a replacement for advice from a certified financial planner. The views expressed in this article are those of the author and do not necessarily reflect the official policy or position of CaptainAltcoin.com