Coldcard Wallet Review – Bitcoin-only Hardware Wallet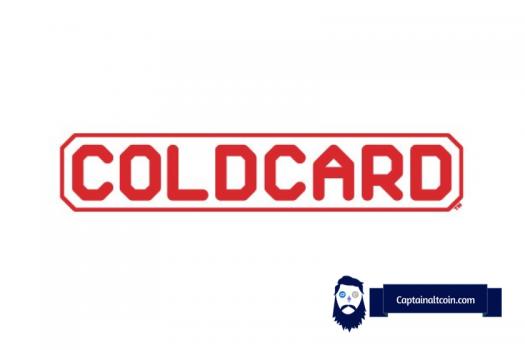 Coldcard Wallet Review – Bitcoin-only Hardware Wallet
Full-sized numeric keypad for easy interaction
Bright, 128x64 pixel OLED screen to show every critical detail that is ever needed
MicroSD card slot for air-gapped operation
No special software is required
Can be used completely offline.
Supply chain protection with a tamper-proof package containing a unique bag number, clear case, and sensitive parts covered in epoxy.
Coldcard Look & Feel
---
Coldcard hardware wallet is a small palm-sized device, resembling a calculator, with a 12-key numeric keypad and a 128×64 pixel OLED screen on the front of it. The whole thing weighs just about 30 grams and measures 88 x 51 x 9 mm.
Buttons on the keypad are decently sized and are used to interact with the device. Every function can be controlled using these onboard buttons and the bright OLED screen displays every information that is ever needed.
It has a MicroSD slot on the rear and a micro USB port on the top. That USB port is required to power the wallet, as it has no built-in battery.
The shell of the wallet itself is made out of thick transparent plastic which exposes the innards. It looks like something only an electronics nerd would use. However, this design choice is a feature.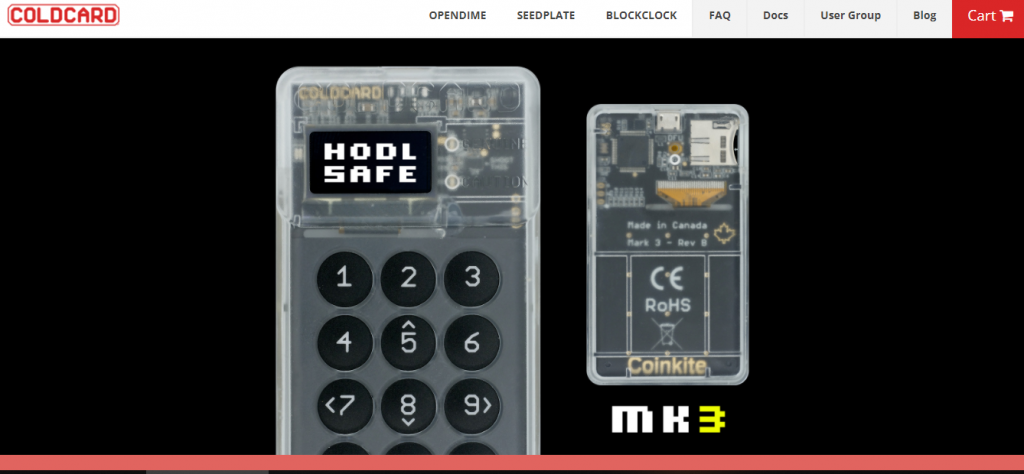 Coldcard wallet key features
---
The key features of Coldcard include:
True air-gap operation. No need to connect to the internet or other computers.
Open source code, down to the last bit. Don't trust, verify.
Bitcoin only, no shitcoins.
The private key is stored in a dedicated security chip (Secure Element ATECC608A).
Native PSBT support.
Multisig support for additional layers of security.
Custom seed: literally roll a dice to generate your mnemonic seed phrase.
Special pin login sequence to protect against phishing attacks.
Optional Dress pin to help if you are forced to reveal the pin.
Optional Brick me pin to promptly destroy the Secure Element chip.
Optional Login countdown to add a forced time delay while logging in.
Genuine vs Caution lights to alert if a rogue firmware is detected.
Clear case to detect if the hardware has been tampered with.
Easy encrypted backup using MicroSD card.
Price
---
Coldcard is listed for $119.97 in Coinkite's store. That 119.97 dollars will buy you a Coldcard Mk3 wallet, a wallet backup card, and a Coldcard sticker.
Purchase only from the Coinkite's store or from the authorized resellers. Never purchase a used wallet or a new one from any unauthorized seller, as it could be compromised.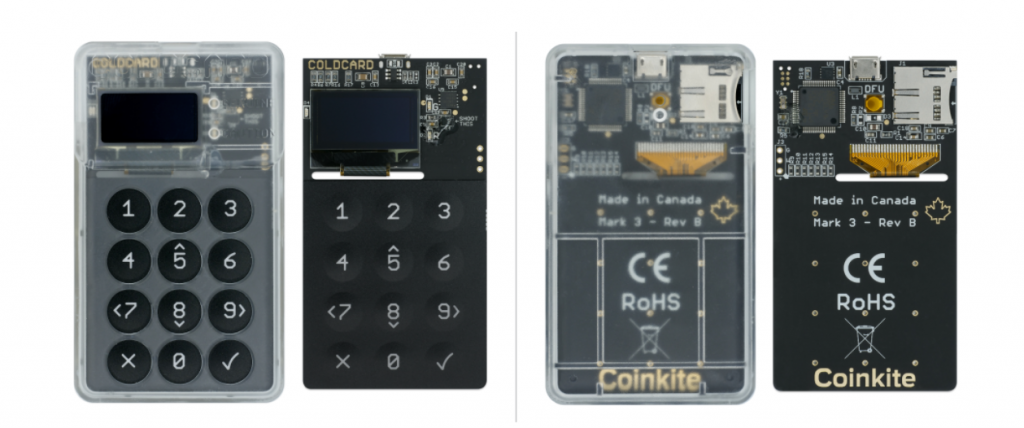 Supported coins
---
Coinkite, the company behind Coldcard is a Bitcoin-only company and has many Bitcoin-only products. Coldcard is no different, it supports only Bitcoin. The company dedicates its entire time and resources to Bitcoin security and does not support other cryptocurrencies that could make the wallet more susceptible to hacking.
The open-source firmware, however, allows the developers to develop their own altcoin integration if they want.
Why is Coldcard different?
---
Coldcard looks very little like other hardware wallets out there, just one look will tell you that it means business. That theme is maintained in every aspect of this wallet.
Secure Element but not "Security Through Obscurity"
---
Hardware wallets featuring Secure Element often have partially or fully closed source firmware, making it hard for the hackers to get their hands on the code and find vulnerabilities — offering security through obscurity.
Coldcard on the other hand uses Microchip's ATECCX08A which is a cryptographic co-processor that can perform SHA-256 hashing and includes an internal true random number generator, making it very hard for the attackers to get their way in. This allows Coldcard to have completely open-source firmware.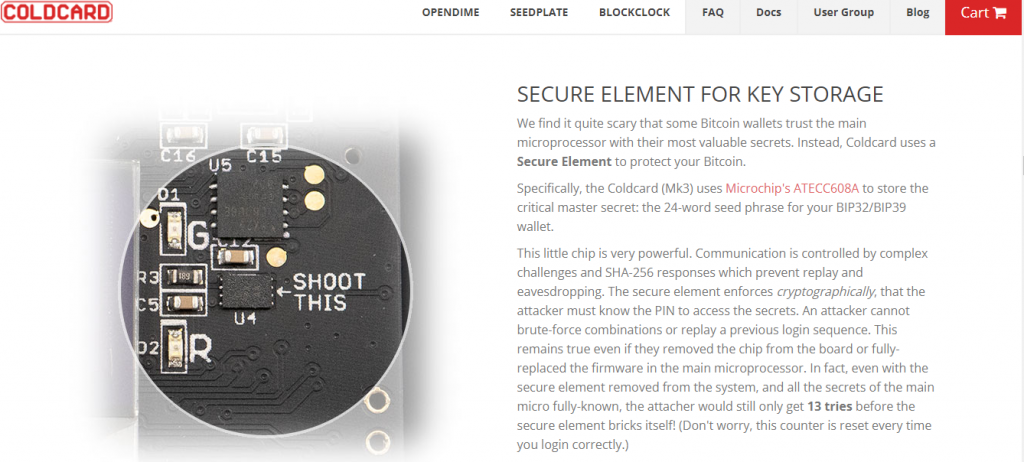 The fully "air-gapped" solution
---
Coldcard is specifically designed to be used offline. Everything on Coldcard — from seed generation to transaction signing — can be done without ever needing to connect it to a computer or internet, just provide power through the USB port.
Every piece of data that needs to be transferred to and from a computer can be done using a MicroSD card. This includes transaction files, backups, and firmware updates.
Coldcard is the world's first PSBT native hardware wallet allowing signing transaction files on the MicroSD card. 
Skeleton files can be exported for setting up Electrum or other desktop/mobile wallets and advanced users can even set up multisig wallets, entirely air-gapped.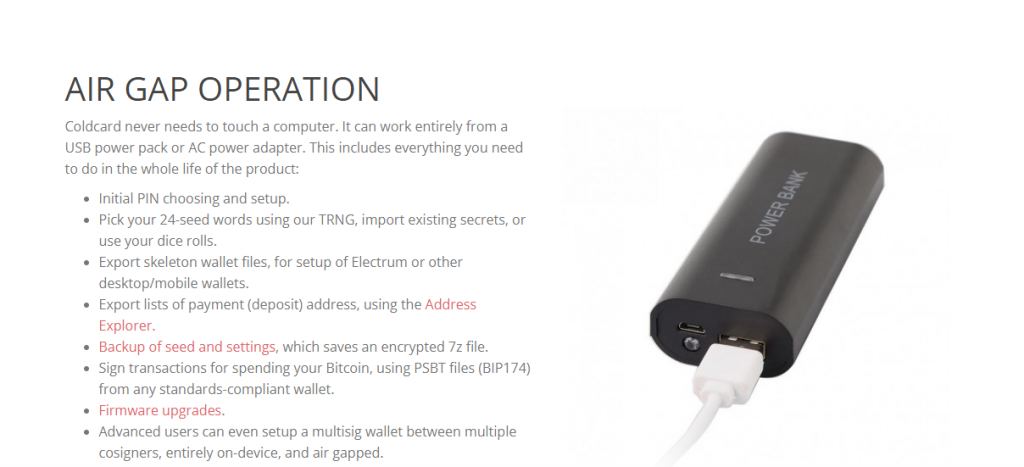 No Specialized Software Required
---
Unlike most other hardware wallets out there, Coldcard doesn't have a companion app to go with it. It works with many existing wallets like Electrum, Wasabi, and Bitcoin Core via USB or air-gapped using a MicroSD card. Even the firmware updates don't require any special software; they can be downloaded from their website and put straight on the MicroSD card.
How to set up Coldcard hardware wallet
---
Your Coldcard should have arrived sealed in a very special bag: It has a large Coinkite logo, green text, a blue border, and a barcode with the number underneath. This number is the "bag number" and is important.
Follow the steps to set up your Coldcard
---
Inspect the bag for damage or previous signs of being opened. The bottom of the bag should be seamless, and the perforations on the tear-off tab should match those on the bag. Pull the top seal, the word VOID will show.
The bag is unique with a unique bag number to make sure no one tampered with the device before you get it. If anything seems out of place, contact the support.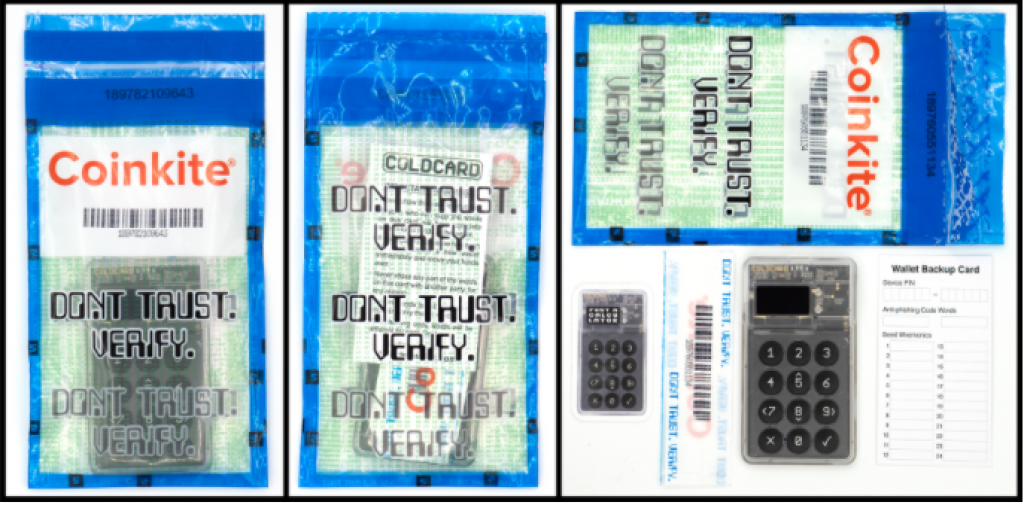 Power up using the micro USB port on the top. Use any micro USB cable connected to a computer or a power bank. The only power is required at this stage, no data.
It will present you with the Terms of sale and use. Scroll using the 5 and 8 keys and press the OK key (checkmark on the lower right) to accept.
Verify the device serial number and ensure that it matches the serial number printed on the bag.
Set a prefix pin. This helps prevent phishing attacks.
The pin on Coldcard consists of two parts in form 123-123. Each part can have between 2 and 6 digits.
Note down the two anti-phishing words displayed. This word pair is unique to each Coldcard and prefix pin and is shown on every login.
Set a suffix pin (The –123 part).
Important: Do not forget the pin (prefix-suffix), there is no alternative way to enter into the Coldcard.
Once your pin is set, you will see a menu with options to create a new wallet or import an existing one from the BIP-39 seed. Navigate using the 5 and 8 keys and select using the checkmark key.
The import menu allows you to import 24, 18, or 12-word seed generated on another system, restore a backup file, import a raw XPRV or roll a dice to make your own value.
If you are creating a new wallet, the 24 words will be shown to you. Write them down in the correct order on the card provided or some other paper. Press OK once you have written.
Important: Do not lose this 24-word mnemonic or let it into anyone else's hands.
Coldcard will ask what each word is, in random order. Once you complete the quiz successfully, the words are saved and your new Coldcard is ready to be used.
Should you get a Coldcard
---
Coldcard supports only Bitcoin and can be quite cumbersome to use, but it does what it is designed to do in a way that probably no other hardware wallet comes close to.
If you are a Bitcoin maximalist who needs no other cryptocurrencies; if you are a long-term HODLer and especially paranoid about security, Coldcard should be definitely on your radar.
Is a Coldcard Wallet Safe?
---
Coldcard is designed with a huge range of security features and design considerations that protect it against various types of attacks, making it one of the safest Bitcoin wallets.
Despite the fact that Coldcard has a Duress Wallet, we don't advise using it because an attacker who is experienced with Coldcard can quickly tell the difference between a true wallet and a duress one. You can define a different wallet with the duress PIN to deceive potential attackers. Also, ColdCard wallets support BIP39 passphrases for you to create an unlimited supply of distraction wallets.
Apart from that, Coinkite, the company behind Coldcard Wallet, is one of the global leaders in Bitcoin security and has multiple Bitcoin-related products in its portfolio.
Coldcard vs Ledger Nano X
---
They both are hardware wallets that store private keys offline. The similarities end there, as they are very different devices. The Ledger can store hundreds of coins, is very portable, and is more beginner-friendly but has proprietary firmware. Coldcard on the other hand is made for Bitcoin only, has completely open-source firmware, and provides rock-solid security but can be cumbersome to use.
Coldcard vs Trezor
---
Again similar but very different devices. Trezor can store hundreds of coins, has a beginner-friendly interface, and has an open-source design but lacks Secure Element. Coldcard is Bitcoin only, has Secure Element, and is also open source but again not as user-friendly.
FAQs
---
Read also:
PROS
Full-sized numeric keypad for easy interaction
Bright, 128x64 pixel OLED screen to show every critical detail that is ever needed
MicroSD card slot for air-gapped operation
No special software is required
Can be used completely offline.
Supply chain protection with a tamper-proof package containing a unique bag number, clear case, and sensitive parts covered in epoxy.
CONS
Only supports Bitcoin
No option to factory reset
The screen is not large enough to support QR codes
Can be cumbersome to use with a steep learning curve

CaptainAltcoin's writers and guest post authors may or may not have a vested interest in any of the mentioned projects and businesses. None of the content on CaptainAltcoin is investment advice nor is it a replacement for advice from a certified financial planner. The views expressed in this article are those of the author and do not necessarily reflect the official policy or position of CaptainAltcoin.com