BC Vault Review – Price, Supported Coins, Security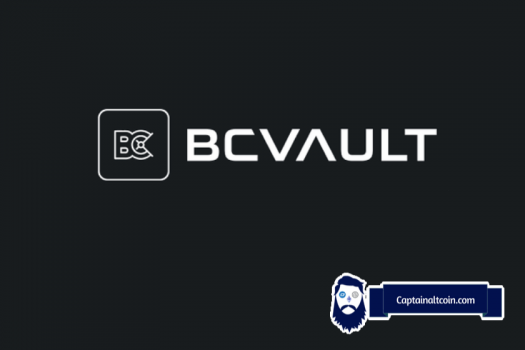 BC Vault Review – Price, Supported Coins, Security
The wallet is insensitive to computer viruses and hackers
Usable as U2F authentication tokens
Encrypted backup of the Micro SD card
User-friendly design
Large display and D-pad
Multi-crypto and native ERC20 token support
Offers a state-of-the-art storage medium where you can store your private keys
Hardware wallets are usually regarded as the most secure form of storing your cryptocurrency while remaining somewhat easily accessible. Typically, these are small hardware devices that you can plug into your computer when you need to use them. 
There are two mainstream hardware crypto wallets currently on the market – Trezor and Ledger Nano X, which have established themselves as popular cold wallet options. However, there is also a new powerful competitor – BC Vault, a recently launched product made by a security-focused company.
BC Vault Overview
---

BC Vault (short for Blockchain Vault) is a hardware wallet created by Real Security, a company focused on cyber security and the hosts of the biggest security conference from the Adriatic region – RISK Conference. REAL Security Inc. has challenged competing hardware wallets providers with their new product. BC Vault is considered one of the crypto individual wallets.
This multi-crypto hardware wallet generates a non-deterministic wallet, enables easy and secure crypto transactions and offers encrypted backups by default. You will also be impressed with the security measures, the user friendly interface and the amount of coins supported.
BC Vault Specifications
---
Size: 100mm x 57mm x 10mm (3.937" x 2.244" 0.394")
Weight: 41g (1.446 oz)
Operating temperature: 0°C to +60°C (32°F to 140°F)
Screen: OLED 61.5mm (2.42"), 128×64 pixel
Connector: USB Type-C
Additional slot: Micro SD
Certifications: CE, RoHS
BC Vault is small and compact. The sizes are 100mm x 57mm x 10mm (3.937'' x 2.244'' 0.394''), and the weight is 41 grams. The device has an OLED screen of 61.5 mm (128×64) pixels and can be connected to your laptop by using a USB type-C cable.
The OLED display is rather large among the hardware wallet, which is great because it fits all important transaction details on screen to protect against a man-in-the-middle attack.
The display also shows full sender and recipient addresses, wallet name, crypto amount and fees. The operating temperature can be between 0 and +60 Celsius grades. The best part about this wallet is that it has an additional slot for a Micro SD, which comes included with the device.
What's In The Box?
---
The BC Vault One comes in a small box which is protected with seals to easily find out if the hardware wallet has been tampered with. Once you remove all the security tape and plastic screen protectors, you will see the device itself which sits in a foam enclosure.
There is also a piece of paper that explains the BC Vault setup process. Under the device there are a few stickers and a long USB cord to attach the BC Vault to a computer (the cord needs to be inserted with a forceful push). The USB-C connector is also protected with seals, which needs to be peeled off gently. There is also a micro SD card, which is located next to the USB insert slot.




The BC Vault One hardware crypto vault
4 Sticker – "Wallets are for pocket money, Vaults are for safekeeping."
USB-C cable
User manual
1 GB microSD card
Welcome Note From CEO
BC Vault Design
---
One of the first noticeable things about the BC Vault wallet is its sleek design with a large display and a 4-way control pad that enables easy navigation and improved response. The device has a very good build quality and is very difficult to open and tamper with, which is important, especially if you purchase it from a third-party like Amazon.

The size of BC Vault is a bit larger than the size of a credit card, so the device is not unnecessarily tiny to complicate the use, and yet still small enough to be extremely practical.
Read also:
How to Set Up the BC Vault?
---
Using the device is relatively easy. First, remove the seal at the USB-C port must and then connect the device to the computer with the supplied cable. When you first turn it on, you have to shake it for at least a minute and a half to generate a random seed.

Essentially, the RNG mechanism inside the device will create your private key and from there you can proceed to the Vault's quickstart guide.
The BC Vault has an application for OS X, Windows and Linux and is supported on a wide variety of browsers such as: Firefox 52+, Chrome 50+, Opera 51+, Safari 11+ and IE 11+ (all new versions). You can download and install the software from www.bc-vault.com/first. After installation and execution, a login screen will appear where you will be asked to set a global password for the software as well as a global PIN for the device. The device has no keyboard.
However, you can come up with any random string of five different buttons to create a PIN for the device. PIN can be changed at any time if you retain the old one. Also, be careful to remember the global password or PIN, because the BC Vault is useless and all cryptocurrencies are not accessible if you forget them.
Cryptocurrencies Supported
---
There are a lot of cryptocurrencies supported by BC Vault, including all the ERC-20 tokens. The total number of these raises to more than 177,000. However, there are a lot less in circulations and daily usage. Other cryptos that are natively accepted by BC Vault are:
Ethereum
BINANCE COIN
ICON
OmiseGO
WaltonChain
Polymath
0x
Salt
Cindicator
Dynamic Trading Rights
Iconomi
OriginTrail
Viberate
CargoX
InsurePal
Xaurum and many other supported currencies.
You can also find a complete list of currencies that are supported by clicking to BC VAULT's website, which will always be up to date at the time you are reading this.
It's also important to note that the BC Vault is the only multi-currency wallet where you can store coins and tokens on a single device and use a single app to transfer them around.
BC Vault Security
---
The BC Vault seems like a safe haven for cryptos. Private keys are stored in a secure FRAM chip, which has a 1000x faster throughput and consumes 250x less power than Flash.
The FRAM chip can prevent exposure of crypto wallets to potential malware on connected devices and keep data intact for more than two generations. It's important to note that the FRAM is fully tamper-resistant and thanks to the reversible USB 3.0 Type-C connector any damage occurring from mechanical error is fully prevented.
BC Vault allows users to back up encrypted wallets by default, which is a huge advantage. In order to back up the funds, the device allows users to save encrypted wallet data on an SD card or back up the encrypted wallet data by printing out a series of QR codes.

Unlike the Trezor or Ledger, the BC Vault does not use an unencrypted BIP39/44 seed phrase to restore data. The BC Vault allows its users to encrypt wallets with their own passwords, and recover their backup versions with the passwords they know. If you are afraid you might forget those, you can still create unencrypted backup versions. However, be sure to keep such backups in a secure place as they will not be password-protected.
The BC Vault uses non-deterministic wallets, which means that wallets cannot be mathematically linked. Each wallet is generated using a true RNG (random number generator), which is initialized with a gyro sensor by shaking the BC Vault at the setup. Also, those who are using a Ledger wallet can have the same passcode for any wallets that they'd try to login.
BC Vault is a bit different here, you can hold more than 2000 unique wallets within the web app, and can granularly set specific passwords for each one. This number sounds a bit complicated or exaggerated. However, this option proves practical if more people wish to share a single vault to lower their costs.
You can also setup multiple PIN's to not only make it more secure, but also allows for an easy way to share the device and use Multi-Sig. Also, each BC Vault is pre-loaded with a private key that corresponds to a public address owning 1 BTC, which is intended to show how much trust the developers have in their hardware wallet.
They call this the "bounty wallet" because it's your payment if you find an actual vulnerability in the device and manage to access the more than $9,000 stored on every device.
As I already said, the BC Vault has a large display, which seems like a practical feature. However, it is primarily related to security because the display fits all important transaction details on screen to protect against a man-in-the-middle attack. One more thing worth noting is that the BC Vault also has no serial number, which ensures complete anonymity of its owner.
Customer Support
---
The BC Vault is limited to help articles and e-mail support. There is also a FAQ section where you can ask your question about the product. You will have to wait for the answer a couple of days. Unfortunately, phone support is not currently available. 
Pricing
---
Price is usually one of the most important factors when deciding on a hardware wallet. The BC Vault is primarily available online and the wallet currently sells at 131 EUR.
The BC Vault does not range as the cheapest among available hardware wallets, but it isn't a bad price, considering the features and amount of crypto you can store and use on this device.
For comparison, the latest Trezor Model T sells for 229 EUR together with Cryptosteel, a cold-storage steel wallet that lets you store sensitive information including Bitcoin private key. The shipping takes place worldwide, but this is connected with additional costs.
The team behind the company is working on their supply chain in order to reduce the cost, so they may be a much more competitive option moving forward.
It's important to note that hardware wallets should preferably be ordered directly from the manufacturer or official resellers because dubious shops or private sellers on platforms could manipulate the devices for their own purposes or trick the buyer.
Conclusion
---
Cryptocurrency hardware wallets give their owners a full control of their virtual currencies, which makes them a very important tool for crypto investors that want to remain safe in case of hacks or attacks to crypto exchanges or wallets.
The BC Vault is a new hardware wallet and it is far different than the last handful of hardware wallets currently on the market.
The BC Vault is fairly intuitive to use and a beginner could master it without much difficulty. The device offers crypto users something different and people may enjoy the alternative security aspects it incorporates.
The wallet introduces a lot of great features that the first generation lacks and is perfect for both long-term storage and daily crypto transactions. From the entirely different recovery process, to the highly secure wallet formatting has made this device a true contender for the most secure hardware wallet currently on the market.
PROS
The wallet is insensitive to computer viruses and hackers
Usable as U2F authentication tokens
Encrypted backup of the Micro SD card
User-friendly design
Large display and D-pad
Multi-crypto and native ERC20 token support
Offers a state-of-the-art storage medium where you can store your private keys
CONS
Price is a bit high
Device is not equipped with Bluetooth connectivity
Does not offer support for mobile devices

CaptainAltcoin's writers and guest post authors may or may not have a vested interest in any of the mentioned projects and businesses. None of the content on CaptainAltcoin is investment advice nor is it a replacement for advice from a certified financial planner. The views expressed in this article are those of the author and do not necessarily reflect the official policy or position of CaptainAltcoin.com