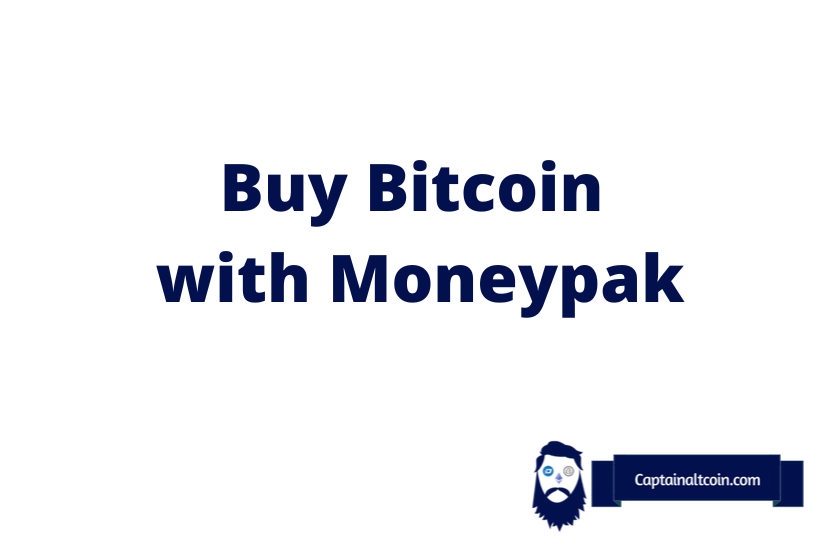 Where Can You buy crypto with Moneypak Green Dot?
---
Green Dot Corporation, which issued its first prepaid debit card in 2000, has since grown to become the industry leader in the United States. Over 70k stores throughout the country stock Green Dot MoneyPak.
Customers have the option of using the fast and simple loading, sending, and spending of funds using the Green Dot MoneyPak. Bitcoin can also bought and sold quickly and safely with this OTC payment option.


In the text below, you can find the top 3 exchanges where you can buy crypto with Green Dot MoneyPak:
eToro
---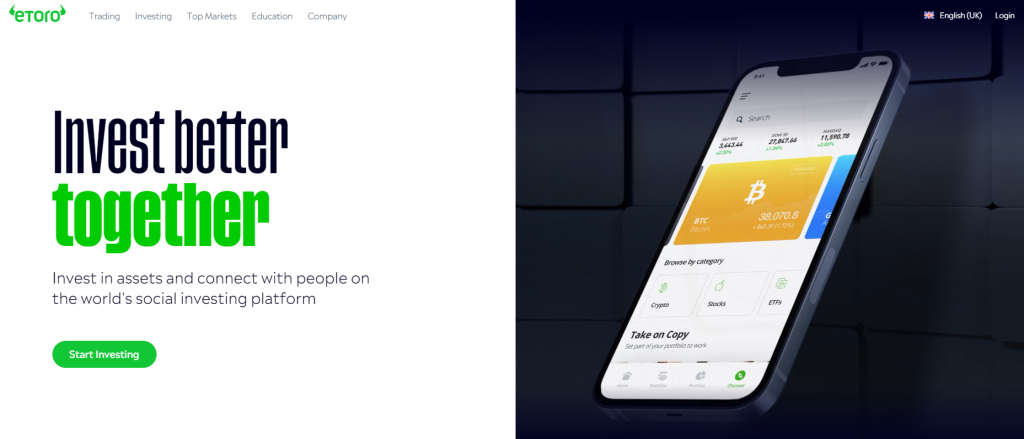 When it comes to multi-asset investment and social trading, eToro is unrivaled. Some of its customers include large financial institutions, hedge funds, family offices, and affluent people. Established in 2007, the firm now counts equities, commodities, indices, ETFs, FX, and digital currencies among its tradable assets.
More than 60 different cryptos are available on the platform, and more than 20 million registered users reside in 140 different countries.
It supports deposit methods, such as SEPA, PayPal, Online Banking, Debit Card, Wire Transfer, MoneyPak, etc.
Binance P2P
---
Before the end of 2018, Binance created its own P2P infrastructure to support local currency exchange transactions for Bitcoin. Three years later, the website began to offer other currencies, including BTC, ETH, BNB, BUSD, DAI, and USDT, using regional currencies through more than 150 payment options worldwide.
You may buy and sell crypto on Binance P2P using various payment methods. Local bank transfers, e-wallet services, SEPA, PayPal, Payoneer, MoneyPak, and local currency are a few of them. Compared to Paxful and Localbitcoins, their P2P market is substantially smaller.
Paxful
---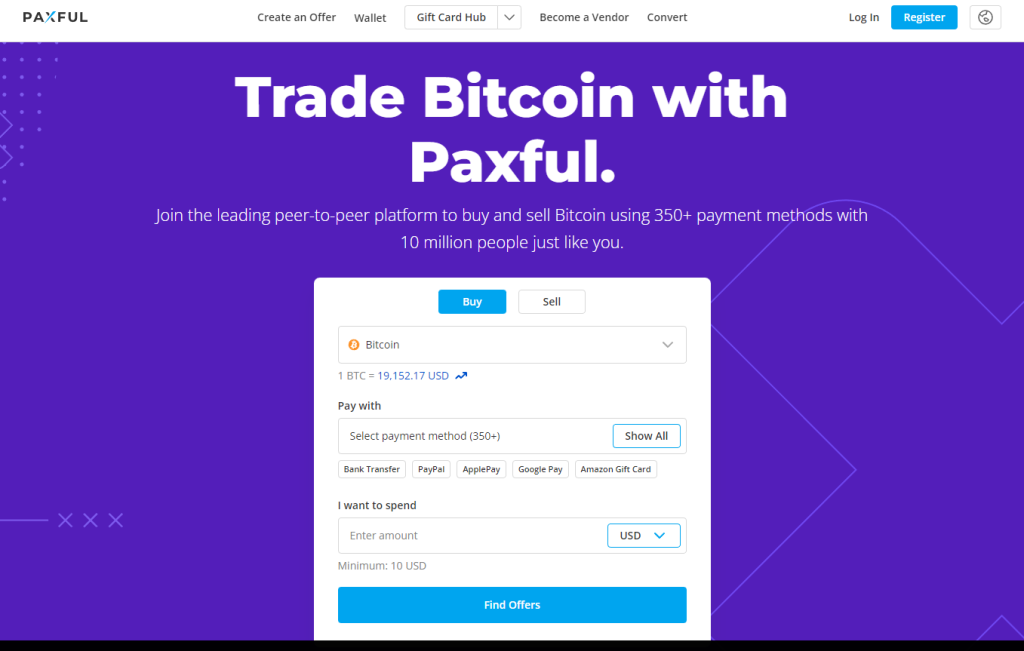 To facilitate the wider use of Bitcoin, a group of programmers built Paxful, a centralized peer-to-peer exchange network. The service acts as a go-between for those looking to purchase and sell cryptos directly with one another. In almost 190 countries, only Bitcoin, Tether, and Ethereum are available for purchase.
More than 350 payment options, including several fiat currencies and the aforementioned 3 cryptos, are available on the site. Paxful accepts a variety of currencies and payment methods, including bank transfers, payment applications (like PayPal), gift cards, other cryptos, cash, MoneyPak, and more.
Paxful is not really a service to avoid but rather to be careful when dealing with since there are a lot of scammers on the platform (among many legit and serious traders).
How to buy Bitcoin with Moneypak (step by step)?
---
To buy Bitcoin with MoneyPak, you can do this through some of the crypto exchanges texted above. To explain the step-by-step process, we are using Paxful P2P exchange. Follow these steps:
Sign in to Paxful, choose "MoneyPak" as your preferred payment option, and then browse available deals.
Be sure to evaluate not just their rates but also their trading history when perusing the list of deals that accept MoneyPak. You can determine if the provider is reliable based on their comments and reputation rankings. In addition, read the terms and conditions to ensure they are satisfactory to you.
To proceed with a transaction, click the "Buy now" option when you see a deal you like. To confirm your identity and payment details, the merchant will initiate a live chat with you and provide you with the information you need to send the money.
As soon as the cash has been sent, click the "Paid" button to confirm the trade has been made and to avoid expiring the trade. Bitcoins are held until the seller verifies the transaction and then sent to your wallet.
Read also:
How does Moneypak work?
---
Friends and relatives may transfer money to thousands of eligible prepaid or bank debit cards produced in the United States easily and quickly with MoneyPak. Here is the explanation of how Moneypak to use:
First, you must buy a MoneyPak at thousands of stores across the USA, such as 7-Eleven, CVS, Dollar General, Rite Aid, Walgreens, and many more.
Scratch off the secure MoneyPak number on the back of the package to start after you've bought it.
To send MoneyPak, you have to give the person who will get the money the MoneyPak pin.
If you use MoneyPak for the first time, you must register for an account. Identification and other personal details are necessary when dealing with financial services. You may need to provide proof of identity through a USA government-issued photo ID.
Add your debit or prepaid card as directed, then make your deposit. The name of the cardholder must be added to prepaid cards. To make future sends quick and simple, cards are immediately stored in the profile.
FAQs
---
Can I Buy Crypto With Green Dot MoneyPak❓
Yes, you can buy crypto with Green Dot MoneyPak through crypto exchanges, such as Paxful, LocalBitcoins, eToro, etc., that support MoneyPak as a payment method.
Can you load MoneyPak to PayPal❓
No, a MoneyPak cannot be used to add money to a PayPal account.
Is MoneyPak a gift card❓
Yes, in thousands of locations USA, MoneyPak may be found in the prepaid or gift card department.
How do you add a Green Dot card to PayPal❓
To add your Green Dot card to PayPal, follow the steps in the text below:
1. Visit the PayPal website on your web browser. Enter the PayPal password and your email address. Choose "Log In".
2. Under "My Account," click "Add Funds", and choose "Add Funds from MoneyPak."
3. The back of the GreenDot MoneyPak should be facing you. In addition to entering the MoneyPak Number, ensure you enter the security characters shown in the security box. Click on "Continue".
4. On the web page that says "Submit Info," fill out the forms. Your name, address, birth date, and Social Security number should be typed in. Click "Continue."
5. On the "Get Confirmation" web page, click "OK." Your email address will get a confirmation email. To finish the setup, launch your email application and click the email.
6. Visit your PayPal account again. Your GreenDot MoneyPak card can now be used to fund your PayPal account.

CaptainAltcoin's writers and guest post authors may or may not have a vested interest in any of the mentioned projects and businesses. None of the content on CaptainAltcoin is investment advice nor is it a replacement for advice from a certified financial planner. The views expressed in this article are those of the author and do not necessarily reflect the official policy or position of CaptainAltcoin.com