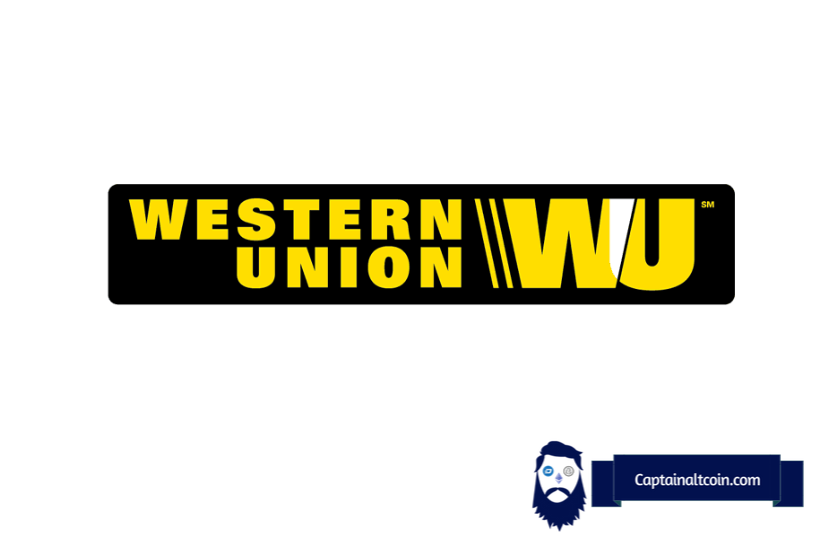 Purchasing Bitcoin with Western Union is accessible and straightforward. This article guides you through the seamless process of acquiring Bitcoin using one of the world's most established money transfer services.
Our step-by-step approach ensures a secure and successful transaction, bringing the power of digital currency right to your wallet. Let's embark on this financial journey together, starting with selecting the right exchange to receiving your Bitcoins.
Quick summary: Buy Bitcoin With Western Union
| Step | Description |
| --- | --- |
| 🔍 Step 1 | Choose a cryptocurrency exchange that accepts Western Union as a payment method. Some popular options include Binance P2P, Paxful, Coinmama, Kraken, LocalBitcoins, etc. |
| 📝 Step 2 | Register an account on the chosen exchange and complete the necessary identity verification process. |
| 🔎 Step 3 | Find a suitable Bitcoin listing on the exchange and start a trade with the seller. |
| 🚫 Step 4 | The seller will provide you with their Western Union account information. Do NOT initiate any Western Union payment until the Bitcoins are in Escrow! |
| 💸 Step 5 | After the seller has escrowed the Bitcoins, you can proceed and send the Western Union payment to the exact account information provided. |
| 🧾 Step 6 | The Bitcoin seller may ask you for a receipt regarding the payment, which you should supply through the exchange's chat. |
| 🔓 Step 7 | After the Bitcoin seller has received the funds, they shall release the Bitcoin Escrow and the trade will be completed. |
| ✅ Step 8 | You have successfully bought Bitcoin with Western Union and you shall receive the Bitcoins directly in your exchange wallet. |
Where to buy bitcoin with Western Union?
---
Western Union is extremely popular way of sending and receiving money worldwide but how can you buy crypto with WU?
In the text below, you can find the top 3 crypto exchanges which support Western Union as a payment method:
Binance P2P
---
A P2P infrastructure for Bitcoin local currency exchange transactions was developed by Binance before the end of 2018. Three years later, the website expanded to provide a wider variety of currencies, including BTC, ETH, BNB, BUSD, DAI, and USDT, by accepting more than 150 different payment methods in local currencies throughout the world. Crypto transactions between users and retailers might take place on a safe network.

Binance P2P allows users to purchase and trade cryptos using several different means of payment. Some examples are local bank transfers, SEPA, e-wallet services, PayPal, Payoneer, Western Union, and local currency are a few of them. Their P2P market is much smaller than Paxful's.
Coinmama
---
One of the most reputable crypto exchange platforms in the world, Coinmama, was established in 2013 in Israel. It doesn't keep the currency in its own wallet after purchase. Before you complete the transaction, you must give the personal wallet into which your money will be deposited. Therefore, since Coinmama servers do not hold cryptos, they are not a target for hackers.
More than 2.5 million people from 188 countries and 48 of the United States utilize it (all except Hawaii and New York). Crypto may be purchased with various payment options, such as major credit cards, debit cards, bank transfers, e-wallets, Western Union, Apple Pay, and Google Wallet.
Localbitcoins
---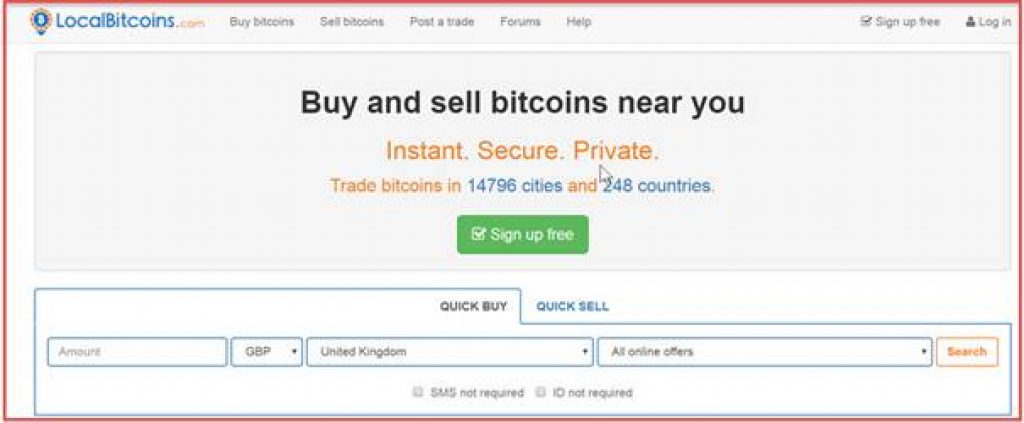 When it comes to peer-to-peer crypto exchanges, LocalBitcoins is at the top of the game in terms of both reliability and safety. It was started by a Finnish guy named Nikolaus Kangas in 2012. It facilitates in-person and online trade by linking those who want to buy Bitcoin with others in their immediate vicinity (or around the globe) who are prepared to sell. Over 200 countries and territories can access its services.
The website supports over 350 different payment options, including the aforementioned three cryptos and a wide variety of fiat currencies. Localbitcoins accepts various currencies and payment methods, like bank transfers, mobile payment applications, gift cards, other cryptos, cash, e-wallets, credit cards, Western Union, and more.
AVOID: Paxful

A lot of scammers that hunt for newbies. They manipulate the system and build a good reputation on the platform by building hundreds of fake profiles that simulate trades and give top feedback to each other.
How to buy crypto with WU (step by step)?
---
As you can see, you can buy crypto through some of the above-texted crypto exchanges. In this case, we use Paxful as an example to explain to you how to buy crypto with Wester Union step-by-step. Following the below-outlined instructions will allow you to successfully purchase crypto using the Western Union payment option:
First, if you already don't have an account, register an account on the crypto exchange (in this case, Localbitcoins) platform. All that is required is you register with an email address and password.
Then, to access your account features, you must authenticate your account through email and phone number. Additionally, once your Localbitcoins account is verified, you will instantly access your free Bitcoin wallet.
Next, in most countries, you'll need to prove your identity before making any monetary transactions on Localbitcoins, including making deposits and withdrawals.
After your account has been confirmed, you may begin searching Localbitcoins for the most advantageous deal. Select Western Union as your preferred mode of payment, decide the fiat currency you'd like to use, and enter the desired Bitcoin purchase amount.
Finally, after deciding on the best offer, you may begin trading on Localbitcoins' platform by initiating a conversation with the seller and completing the transaction. You must make the payment and confirm it per the seller's instructions. If everything goes alright, ultimately, you receive your Bitcoins straight transferred to your Localbitcoins wallet.
What is Western Union?
---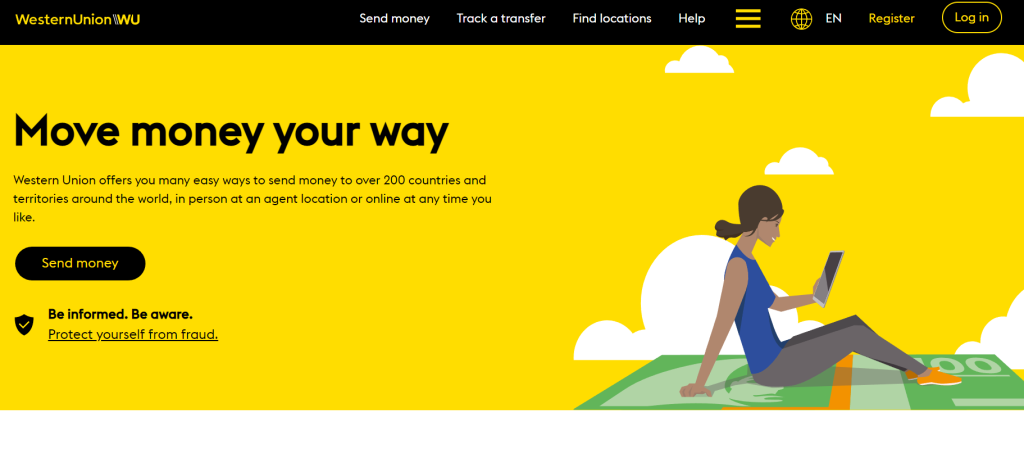 Western Union, headquartered in the United States, is widely regarded as the premier international money transfer service. Western Union has over 200,000 outlets globally and facilitates money transfers to 200 nations and territories. The firm faces stiff competition from well-known money transfer providers like PayPal, E-gold, Xoom, and many more.
The firm disclosed in December 2018 that it would begin accepting bitcoin and other cryptos. It's well recognized as one of the most extensive online communities in the world that accepts Bitcoin as a means of exchange.
Read also:
Pros and Cons of buying crypto with WU?
---
As like every other payment method, Wester Union has some advantages and some disadvantages. To find out what is the pros and what is the cons, read the text below:
Pros ✅
It is one of the most trusted names in the business of money transfer.
When buying Bitcoin, it is a secure option because your privacy is guaranteed.
The maximum quantity of Bitcoin you can buy or acquire is unrestricted.
It supports any US credit card to buy Bitcoin.
You may acquire Bitcoin quickly and easily using it.
Cons ❌
There are several marketplaces where Western Union is not accepted.
Some fees may be significantly greater than the average.
How to cash out bitcoin to Western Union?
---
You must first sell your bitcoins on the exchange site to obtain fiat currency. Then you may cash out your funds to your Western Union account. We may illustrate this with the P2P trade platform Paxful as an example.
Look through the Paxful vendors willing to buy your Bitcoins. If you can't find a suitable offer, you can always make one yourself. There is no way for the buyer to deposit funds into your Paxful account. Buyer pays money immediately to your Western Union account. Once you verify the transaction, you send bitcoins to the buyer.
When using a brokerage platform to sell bitcoins, the broker handles all communication with the buyer on your behalf. Your funds will initially be deposited into your brokerage account, and from there, you may request a wire transfer to your Western Union account.
Can you Buy Bitcoin with Western Union Anonymously?
---
Find a person willing to deal in cash if you wish to acquire Bitcoin anonymously over Western Union.
You may acquire Bitcoin from individuals directly through a P2P internet marketplace. Paxful is one marketplace that does not need you to authenticate your account to sign up. In this way, you can maintain your anonymity, albeit you should know that there are limits to the amount of bitcoin you may purchase on Paxful without revealing your identity.
FAQs
---
Does Western Union work with Coinbase❓
No, the Western union doesn't work with Coinbase. Instead, Coinbase waded into the international money-transfer program in a huge market dominated by Western Union, viz it has launched a program for sending crypto funds to friends and family.
Can you buy crypto with Western Union on Binance❓
No, you can not buy crypto with Western Union on Binance. But Binance has its P2P platform called Binance P2P, which supports Western Union as a payment method.
How can I buy Crypto in the USA with Western Union❓
To buy crypto in the USA with Western Union, you can use some P2P platform, such as Paxful.
Create and validate your Paxful account first, then return to the offers page. Click "Find Offers" after entering the amount of BTC you're prepared to pay and your preferred currency.

Pick an option from the list of available offerings that best suits your trading requirements. Review the seller's offer conditions carefully before beginning the deal to see if you can supply the necessary criteria. Most merchants don't allow third-party transactions, thus, when submitting the money, please provide your name. Some suppliers will additionally demand that you pay the transaction charge.

Click "Buy" after entering the number of Bitcoins you wish to purchase and click "Buy Now" if you accept the seller's terms. A live chat will begin after this. Click "Paid" and let the seller know you've done so after sending the money and a copy of the receipt. Your BTC will be sent from safe escrow to your Paxful Wallet as soon as the seller accepts your payment.
Is it safe to buy Bitcoin with Western Union❓
Yes, buying Bitcoin with Western Union is safe. For example, on LocalBitcoins, the biggest and most reputable P2P Bitcoin marketplace in the world, you can use Western Union to acquire bitcoins fast and securely. It's really simple to purchase bitcoins with Western Union, and every transaction is escrow-protected.

CaptainAltcoin's writers and guest post authors may or may not have a vested interest in any of the mentioned projects and businesses. None of the content on CaptainAltcoin is investment advice nor is it a replacement for advice from a certified financial planner. The views expressed in this article are those of the author and do not necessarily reflect the official policy or position of CaptainAltcoin.com