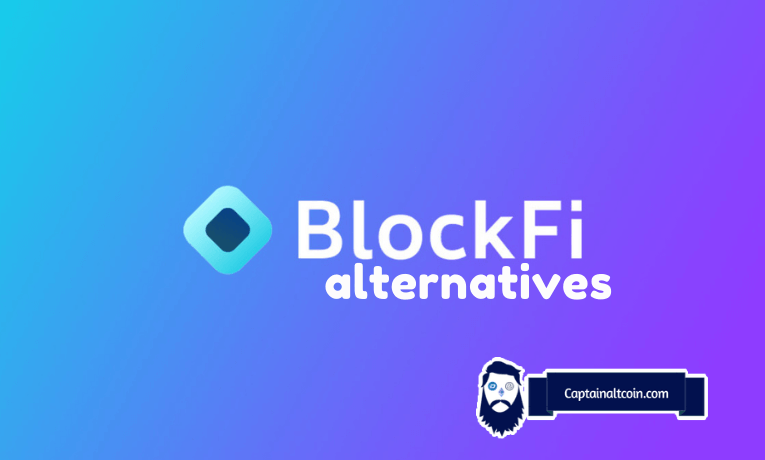 Crypto lending is one of the fastest-growing financial fields and nowadays you have a myriad of lender options to explore. Blockfi is one of the most established platforms among the cryptocurrency lenders as it has backing from some of the top cryptocurrency figures and institutions like Anthony Pompliano,some of the leading companies in the industry: Valar Ventures, Morgan Creek Capital, CMT Digital, Castle Island Ventures, Winklevoss Capital, SCB 10X, Avon Ventures, Purple Arch Ventures, Kenetic Capital, and HashKey to name just a few.
However, Blockfi is not available everywhere and its conditions can be better (and are better on some of the Blockfi alternatives we mention below). But, before we start with the discussion of Blockfi competitors, here is a little more about Blockfi itself.
Here is our complete Blockfi review.
What is Blockfi?
---
BlockFi is a centralized fintech platform that offers crypto loans and interest accounts to owners of crypto assets. It also provides trading and wealth management solutions to individuals as well as companies. It will soon launch its own Blockfi debit card.
With BlockFi, you can earn an interest of up to 8.6% per year on your cryptocurrencies. This is almost 8 times the rate a traditional savings account offers. So if you want value for your money, BlockFi might have what you need.
Crypto lenders are especially important when you have some financial fires to quench. Instead of selling your coins at a lower rate during emergencies, BlockFi allows you to take a loan against your coins and repay the loan once your finances are back in balance.
The provision of maximum liquidity and transparency in the digital financial markets is the genome of this platform. This has led to the development of uniquely curated products that precisely meet the consumers' needs. But this is not without competition!
Read also: BlockFi Vs Nexo Vs YouHodler
What are the top BlockFi competitors today?
---
BlockFi is one of the most well-known crypto-lending platforms. However, you may want to explore other solutions that have different conditions (faster payments, daily or weekly payouts, more coins, available in more regions etc). Here are some of the top BlockFi alternatives to consider;
YouHodler
---
YouHodler offers 12% interest on stablecoins without making you invest in any platform tokens (like Celsius or Nexo). They're also safe, have Ledger Vault as their insurance and from what I can tell, their team is very active in building the blockchain industry through their participation in the Crypto Valley Association.
YouHodler has wide cryptocurrency coverage and a loan value ratio of up to 80 percent (one of the highest in the branche along with ByFi from ByBit).
Additionally, YouHodler is a non-P2P lending platform with extremely fast payment processing time. Borrowers, therefore, do not need to rummage the platform looking for lenders which is the case with P2P lenders. Every step including loan approvals and even KYC checks have been automated to ensure your loan, which you can receive in FIAT or USDT, is processed within seconds.
Generally, YouHodler is more convenient compared to other crypto lending companies due to their almost-instant transfers and bank location in the most crypto-friendly country worldwide.
You get your interest weekly in YouHodler while monthly for BlockFi.
Celsius Network
---
Celsius and Nexo have the nearly-similar crypto-borrowing policies and interest accounts as they utilize the same business model. CEL token holders also receive the added benefit of higher rates just like NEXO token holders.
Celsius offer 2 rates for each asset: in kind, and in their CEL token. Their in kind rates are mostly higher than BlockFi's, and those paid in CEL higher still. US customers cannot receive interest in CEL token and only thorugh in-kind. Therefore US customers can only earn the in-kind rates which is why the redesigned Celsius website now shows United States vs. International for interest rates.
You get your interest weekly in Celsius while monthly for BlockFi.
You have unlimited FREE withdrawal in Celsius while only 1 free withdrawal in BlockFi per month.
Your interest rate is slightly higher when earn in CEL on Celsius as compared to BlockFi (beneficial if you're a whale imo)
Celsius has no minimum withdrawal amount while BlockFi forces you to withdraw at least 0.0051BTC.
You can set up dollar cost averaging on BlockFi which is great for passive investing. Celsius however does have a slight lead in USDC interest (for now, they change it frequently) of 8.69% instead of 8.6%. BlockFi still has higher APY on BTC, LTC, and ETH though.
There's a 24 hours lock when you change your withdrawal address in Celsius while there's a 24 hours processing time (on top of weekends) when you withdraw in BlockFi.
BlockFi allows one free withdrawal a month, whereas Celsius allow unlimited free withdrawals.
If you need high liquidity with your assets, Celsius still seems to be a better choice even though there are inconveniences too.
What does Celsius have for borrowers?
This lender offers ultra-low interest rates of 1 percent on loans to its customers. However, the LTV ratio (the amount you can borrow as a percentage of the value of your collateral) is quite unfavorable, usually around 30%. For better rates, you need to hold CEL. If your LTV is 50%, your interest rate would be around 6%.
Celsius Network investors have to deal with restricted interest flexibility. The stablecoin and cryptocurrency rates are usually within the range of 5-6%. With an option of receiving interest in the platform's CEL coin, you can access better rates.
Nexo
---
Like BlockFi, Nexo is among the crypto lending pioneers that offer reliable loan services. The platform allows you to borrow a minimum of $10 which attracts an interest rate starting from 5.9 percent. Currently, loan collateralization can only be done against 16 cryptocurrencies. But the coverage may be expanded soon which would be a plus for borrowers. In addition to cash loans, Nexo lends both cryptocurrencies and stablecoins to its subscribers.
As an investor, you will earn 5 and 10 percent interest on crypto investments and stablecoins or coins respectively. Noteworthy, you must be holding at least 10 percent of your account value in NEXO tokens to access the 10% interest rate on cash and stablecoins.
Nexo provides on-site support via chatbot and a messaging feature. But they also offer satisfactory call support.
You get your interest daily in Nexo while monthly for BlockFi. The daily crediting of interest in Nexo yields a bit more money with coins that have pretty much similar rates on both platforms, thanks to daily compounded interest.
BlockFi allows one free withdrawal a month, whereas Nexo allow unlimited free withdrawals
In order to get the highest interest rates, you need to hold their NEXO token (highest rates are paid on stablecoins, around 11%).
Coinloan
---
This Estonia-based crypto lending platform offers crypto-backed loans to its customers globally. It is kind of a P2P marketplace for lenders and borrowers. You can set any terms and interest rates you wish, the system matches the appropriate counteroffers automatically. This is a very simple and profitable tool for both parts (lender/borrower).
There is no withdrawal fee on Coinloan, unlike Blockfi.
Connecting the lender and the borrower, the latter is required to deposit crypto assets used as collaterals while the lender deposits their stablecoins or FIAT funds. After matching the lender and borrower, a smart contract is used to warrant the timely repayment of the loan without which the borrower risks the loss of their crypto.
They don't seem to have a lot of transparency regarding the people involved. Founders Page The CEOs of other platforms like Celsius and Crypto.com seem to always be doing AMAs and interacting with their userbase. I think CoinLoan could do more in this area to build trust.
After full repayment of the loan, the lender receives back their principal and interest while the borrower receives back their assets. The interest rate is usually as low as 4.5 percent. CoinLoan allows investors to only award loans to borrowers with verified crypto collateral. The loan period is between 7days to 3 years with no penalty for early repayment.
With a mobile app now available, crypto lending has never been more convenient with CoinLoan.
visit Now
CoinLoan
Check the full YouHodler review here.
Spectrocoin Loans (formerly Bankera Loans)
---
As a crypto start-up, Spectrocoin focuses on integrating the traditional and crypto economies thereby becoming a one-stop-shop for all financial operations in the blockchain era. Spectrocoin offers both crypto and traditional financial services to individuals as well as enterprises. These financial services include payments, exchange, and investment solutions.
One of the standout features with Bankera Loans is that they offer multiple different loan plans alongside one of the highest loan-to-value (LTV) ratios in the market – around 75%.
For investment solutions, Bankera offers Robo advisory solutions, crypto funds, and exchange-traded funds.
FAQs
---
BlockFi vs. the Competition: What Sets BlockFi Apart in the Crypto Market?
---
Modest interest rate
---
You can borrow a minimum of $5,000 against your coins on deposit with an LTV ratio of 50%. Blockfi grants you ample time of 1 year to pay your loan at an interest rate of only 4.5%. Crypto coins you can use as collateral include ETH, LTC, or BTC.
Bonus Offers
---
Blockfi often provides several bonuses to both existing and new clients. For instance, if a new client makes a qualifying deposit of $25 within the first 30 days of registration, they receive a 250-USD Bitcoin bonus without expiry.
Credit Card Rewards
---
Blockfi is set to launch a Bitcoin Rewards Visa Credit Card allowing users to diversify their Bitcoin earnings. With the card, you will earn rewards at the rate of 1.5% in Bitcoin on all purchases. And if you spend $3000 or more in the first 3 months, you qualify to receive a bonus of $250. So apart from cash-back credit cards, there is another way of earning rewards from purchases!
So which BlockFi alternative is best for you?
---
Whether you are borrowing or investing, a clear understanding of all the dimensions of a platform is key before making a choice. Platforms vary in crypto coverage, interest rates, and customer support.
YouHodler is a great alternative to BlockFi if you are from EU or outside of US. Also, YouHodler has MultiHODL and Turbo options that allow you to make a chain of loans and essentially buy bitcoin on a margin thorugh their platform.
Nexo is great if you have ADHD and want your money to be paid out every day.
Celsius is great for smaller loans. If you want a loan, Celsius requires a $1000 minimum loan while Blockfi requires a $5000 minimum loan. So that's great for Celsius if you want a smaller loan.
BlockFi is good for people who don't want to buy the utility coins that Nexo and Celsius require to get top rates. Blockfi withdrawals are slow due to manual processing.

CaptainAltcoin's writers and guest post authors may or may not have a vested interest in any of the mentioned projects and businesses. None of the content on CaptainAltcoin is investment advice nor is it a replacement for advice from a certified financial planner. The views expressed in this article are those of the author and do not necessarily reflect the official policy or position of CaptainAltcoin.com