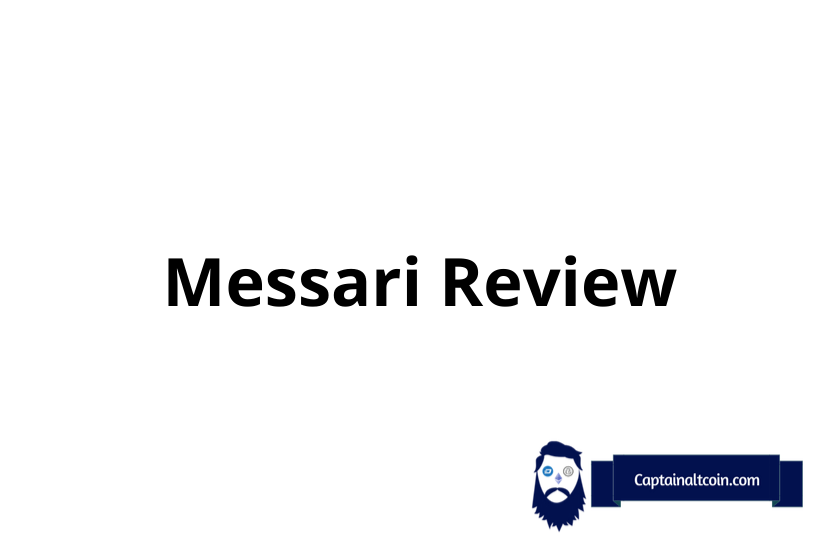 Many turn to platforms like Messari to stay informed about the latest in cryptocurrency trends and insights. If you've ever wondered about the value proposition of Messari or contemplated the features offered in the Messari Pro tier, you're in the right place.
This article delves deep, offering a comprehensive Messari Pro review that sheds light on its offerings, benefits, and potential drawbacks. Moreover, we'll break down Messari pricing to ensure you get the best bang for your buck. So, let's dive into the world of Messari.io and uncover what makes it a go-to resource for many crypto enthusiasts.
Quick summary: Messari.io
| 🔍 Feature | Description |
| --- | --- |
| 🚨 Filtering Intel Alerts | Create custom alerts based on conditions and assets from your watchlist. |
| 📊 Charts | Comprehensive metrics for cryptocurrencies including price, volume, and market cap. |
| 📋 Watchlists | Track specific cryptocurrencies and get detailed info about them. |
| 🔎 Screener | View metrics in one place, categorized by classification and stats. |
| 📄 Reports | High-quality reports on crypto projects by finance experts. |
| 👥 Community & Collaboration | Forums, discussion groups, and sharing of custom dashboards. |
| 🔒 Security & Privacy | Encryption, two-factor authentication, and industry compliance. |
| 💰 Fees | Description |
| --- | --- |
| 🆓 Trial | 7-day free trial to explore features. |
| 💳 Pro Plan | $29.99/month or $300/year. |
| 🏢 Enterprise Plan | $6,000/year to $34,000/year for businesses. |
About Messari
---
Messari is quite a new crypto business, founded in 2018 by Ryan Selkis in New York. The website features a crypto industry online database providing data insights on different crypto assets and information. Messari aims to become the crypto equivalent of the business information website Crunchbase, and the US's EDGAR database, which holds certain business documents on a range of organizations.
Messari is used to disclose multiple features and aspects of different crypto projects, including tokenomics, treasury information, team members, communication links, and more. They are trying to become a recognized industry standard for crypto projects to present themselves and their information.
Messari Features
---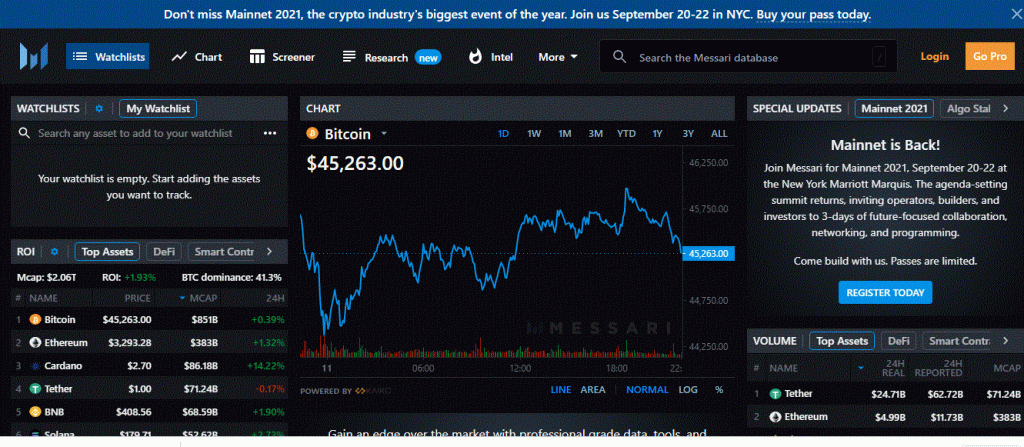 Messari has a wide range of features on their site, one of the factors making them a notable crypto site. They provide a great comprehensive view of different cryptocurrencies.
Charts
---
On Messari's chart section, cryptos are shown in a large array of metrics and statistics, effectively displaying multiple different factors surrounding the coins' current price and situation. They talk about a coin's price, volume, crypto markets cap, volatility, and more, all expressed in their own charts and metrics so you can grasp the full picture. This information helps to give traders and investors valuable insight into the coin's economic position and future.
Watchlists
---
With Messari you can set up "Watchlists" These watchlists shortlist the cryptos you have previously selected and give you in-depth details on those certain coins, giving you the information, you need and fast. This helps crypto investor as he is presented with information specific to their situation and not on coins or projects that are not relevant to them.
This service is quite common among crypto platforms though it could be argued that Messari does it in a greater depth, compared to its competitors.
Screener
---
Your 'Screener' on Messari is used to view all metrics needed, in a singular window. Furthermore, you can choose to view a range of different, categorized information.
Firstly by "Classification", some choices are Defi, Stablecoins, Exchange coins NFT Coins etc.
Next, we have ROI, this will sort information by a coin's percentage increase or decrease in time.
Lastly, we have general stats. This includes things such as Liquidity, On-Chain data, Volume, Supply Marketcap, etc.
A screener is a place where you can get a well-rounded view of the market and see the information you want all in one place.
Reports
---
Messari has a great report system for those new to crypto and experts alike. They present high-quality, detailed information. They have a dedicated team of researchers in the finance field to ensure they are produced to a high standard. They are sorted effectively to improve accessibility.
Pricing
---
Unlike a lot of the crypto trading platforms out there, Messari has quite a simple and reasonable pricing plan. For $29.99/month, you get Messari Pro, which unlocks all of Messari's features, from advanced charting tools to some of the best crypto research in the industry. You can further reduce the cost of your subscription by purchasing a whole year of Messari at once for $300, ($24.99/month).
Messari also offers the plan "Messari Enterprise" for big businesses and other entities, a subscription to this service can go from $6,000 per year to $34,000 per year.
Read also:
Conclusion
---
Messari is a great platform for providing high-quality data and analysis on a huge range of crypto projects and coins. The platform is not completely flawless, and it is not free, so if you do want to use Messari's services, make sure to assess if it's worth the money for you.
Coin Metrics
---
Coin Metrics is a crypto data tracking service that helps its users to effectively analyze different crypto projects. They are well presented with a clean, smooth landing page and describe themselves as "Crypto intelligence for the future of finance" The project was funded in 2017.
In 2019, Coin Metrics raised just under 2 million US Dollars in funding in their seed round, led by Fidelity Investments, a huge multinational financial services organization based in Boston, other large financial entities were also involved.
Santiment
---
Santiment is another popular service that competes with Messari. They provide "On-chain, social and fundamental insights on 1500+ cryptocurrencies" They help to provide their users with numerous trading helpful tools. Such as highlighting good spots to enter and exit positions, identifying key spots in changes of volatility, and much more.
They provide their customers with the Sanbase Studio, which presents on-chain, social and development information that has been visualized for a smooth look and understanding. You can also set up alerts for price changes, on-chain activity, social media highlights surrounding the coin, and the behavior of large buyers/sellers. They provide their users with unlimited market signals.
LunarCrush
---
LunarCrush is the last competitor on this list, they focus more on the social indicators and trends, rather than the technical analysis side of things. They provide different pieces of analytical data. Along with an array of different analytics that computes a score for various cryptocurrencies, based on the crypto community's opinion on the projects. They also display the engagement these projects are getting on social media, how many people are contributing to the conversation relevant to them, and more!
LunarCrush is quite a new service, founded only in June 2018, in Costa Mesa, California. They launched with just over a million US Dollars in funding. The organization is run solely by its two co-founders. LunarCrush is a relatively smaller service than the other entities on this list, though that does not rule it out as an option. They still provide a great product to their customers and host a somewhat unique service in the crypto space.
Read also:

CaptainAltcoin's writers and guest post authors may or may not have a vested interest in any of the mentioned projects and businesses. None of the content on CaptainAltcoin is investment advice nor is it a replacement for advice from a certified financial planner. The views expressed in this article are those of the author and do not necessarily reflect the official policy or position of CaptainAltcoin.com