Breakfree Trading Navigator Review – Is It Legit & Safe To Use?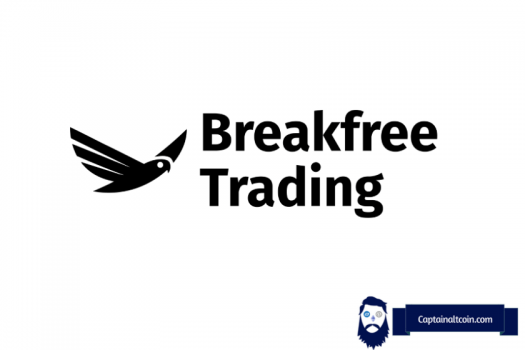 Breakfree Trading Navigator Review – Is It Legit & Safe To Use?
The trading package comes in a 3-in-1 package.
Easy to use
No experience required
Fun and inspiring
Breakfree Trading is the 'new way' of augmenting and increasing your money from anywhere in the world. The forex trading system not only believes in skilled and experienced traders, but beginners too can jump in and get their feet wet.
Asger Emborg and Anto Kann, the service owners, invented a unique way of trading with a cutting margin algorithm at the front of it all. Breakfree Trading program's goal is to create successful traders. Great program!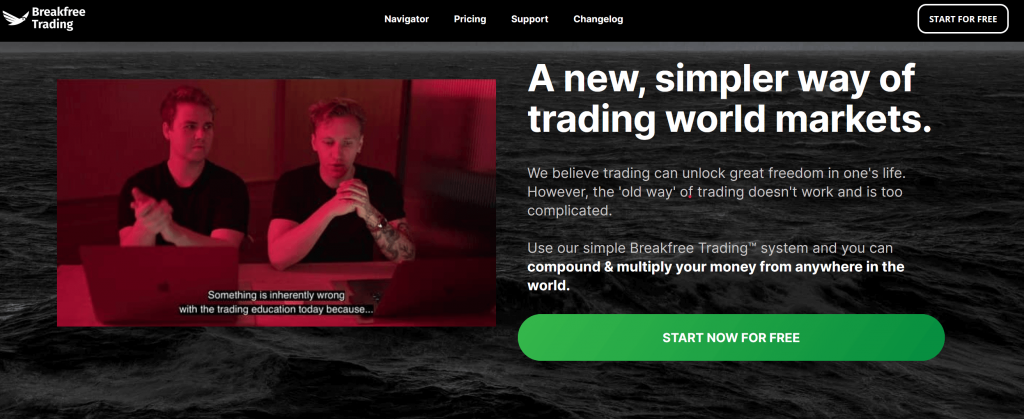 How Does the Breakfree Trading Platform Work?
---
You do know that Productive Trading has never been a walk in the park, don't you? The creators of the service believe that the program is capable of making profitable forex traders. Their three main aspects of their service make it possible. They include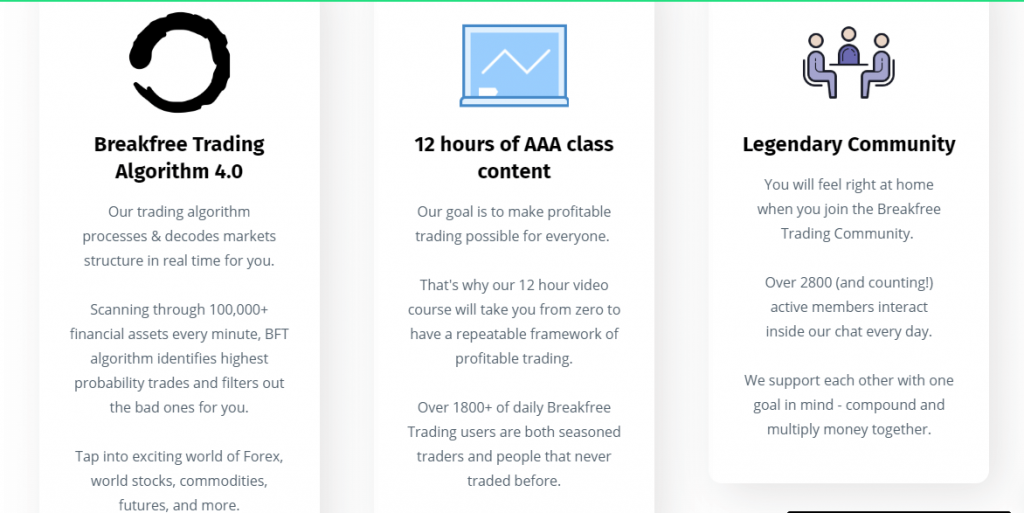 12 Hours of AAA Class Content
---
The creators believe that to be successful; dealers must have a framework to stick to, which is the motive of their video program. Many student students have gone through this project successfully. After the first week's class, you are qualified for a seven-day trial if you are a beginner.
Once you have completed the assessment, you will choose to sign up for a monthly subscription to the algorithm. The monthly subscription includes;
·         A doorway to the algorithm on the BFT Discovery plan
· The second week of training videos
· An invite to the BFT telegram group chat.
· Constant support from the BFT Team.
Some students want to start earning with the algorithm after signing up, but it's crucial to go through week two training videos since they carry all the necessary information required to probability trade with the algorithm.
If you skip the training, it will be hard to keep growing your account with steady profits. It would be best if you were patient to be a successful trader in the future.
Legendary Community
---
A high-spirited community of traders levels up jointly, ready to beat the market. Over 6000 members around the globe interact daily. They believe that it is essential to work as a group, "augment and increase money jointly."
Breakfree Trading Algorithm
---
The algorithm is created to process and untangle market structures for you right away. This Breakfree trading algorithm is in harmony with stocks, forex, commodities, and futures. When identifying a high chance opportunity, it goes through 100,000+ financial assets every other minute.
Rather than using complex trading tools, the Breakfree Trading algorithm scans the market instantly for you. Trading is no longer dull; each interaction in the app gives you experience points.  The game is conversion; whenever you level up, you unlock notable titles, badges, and exceptional trading opportunities.
Breakfree Trading Algorithm
---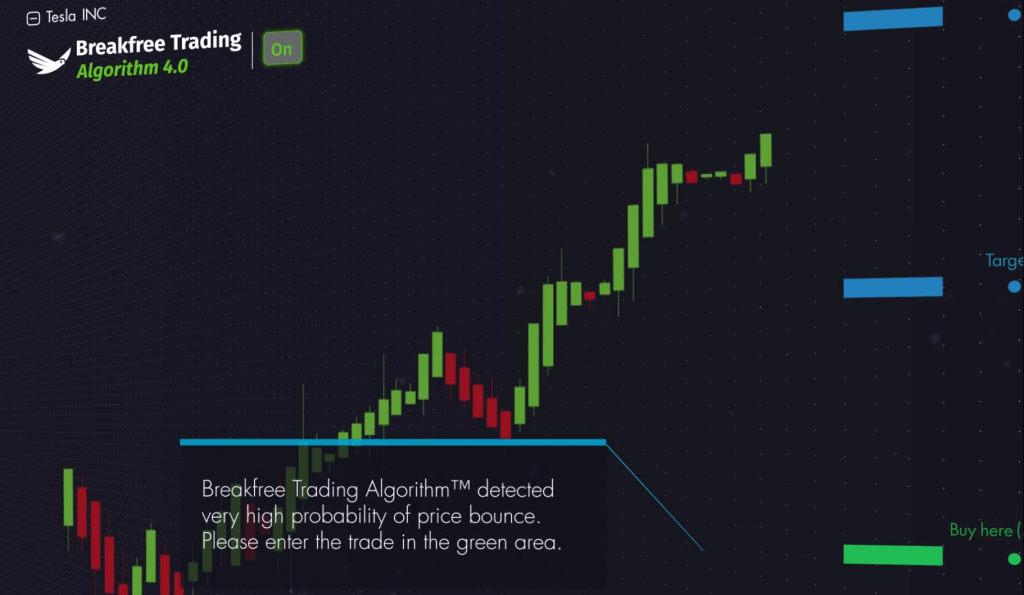 A program built to process and convert market makeup for you in real-time. The algorithm is capable of updating whenever it sees an opportunity for you to execute. It helps you analyze financial markets worldwide and minimizes human mistakes in the process of Trading. If your trades are on a day-to-day timeframe, you can always check your chart a couple of minutes in a day.
If you regularly check your chart, it corresponds to the timeframe you are trading on, but if you are on a lower time frame, then it's recommended that you check the market per the updates. It's essential to stick to the daily (1D) timeframe. You can use the strategy mode of the BFT Algorithm on 15M, 4H, 1H, or Daily timeframe for Pro Plan. You can also use the Daily timeframe for Discovery Plan.
New users can start trading on ID timeframe, and then after a consistent success, they can upgrade to the 4H timeframe. It is hard to make consistent profits from trading on lower time frames. The truth is that Trading on a lower time frame needs you to monitor the screen constantly, which is time-consuming.
Day traders might have little luck initially, but they tend to be the least profitable people in Trading. The mental weariness of trying to make more profits months after months is not long-lasting. Some traders can't stop themselves and end up destroying their gains by overtrading. Others ultimately turn their Trading into gambling.
Breakfree Trading algorithm is not a bot. You get to enter the trades as the algorithm remarkably lessens the amount of time you need to spend in front of your screen. This system aims to make the user a finer trader by helping escalate the odds of them winning and competing in one of the most profitable games in the world.
It is not easy to trust any trading software with your hard-earned money when using algorithmic trading. When you lose your money, trading becomes impossible. The right piece of computer software is crucial to guarantee effective and precise execution of trade orders. On the other hand, software without the required features may usher in huge losses, mostly in the lightning-fast world of algorithm trading.
 Summary points of algorithm;
· A program follows a certain set of instructions based on an underlying algorithm.
· The Breakfree Trading Algorithm is a step-by-step set of instructions that helps you buy and sell orders.
· You can either buy or build algorithmic trading software.
· It is essential to pick the right software when developing an algorithmic trading system.
· Bought algorithmic trading software normally offers free trial versions with restricted functionality.
Breakfree Trading Prices
---
Breakfree Trading cares for everyone; there is always a plan that will suit everyone. If you require a platform to eye your charts, control your risk, and place trades, then you can use the navigator for free. It's vital to start with a demo account as you continue learning about the strategy and getting friendly with the algorithm.
Whether experienced or new to the system, a demo account will give you room to make errors without losing your authentic capital and allows you to master the strategy. Later, you can start on a lower amount even though a smaller trading account requires you to skip some steps used in the strategy.
Once you are ready to switch to live, you can start with at least $500 or $1,000. How do you know that you are ready? After months of profitable Trading.
Let's take a look at the updated pricing plans for the Breakfree Trading algorithm.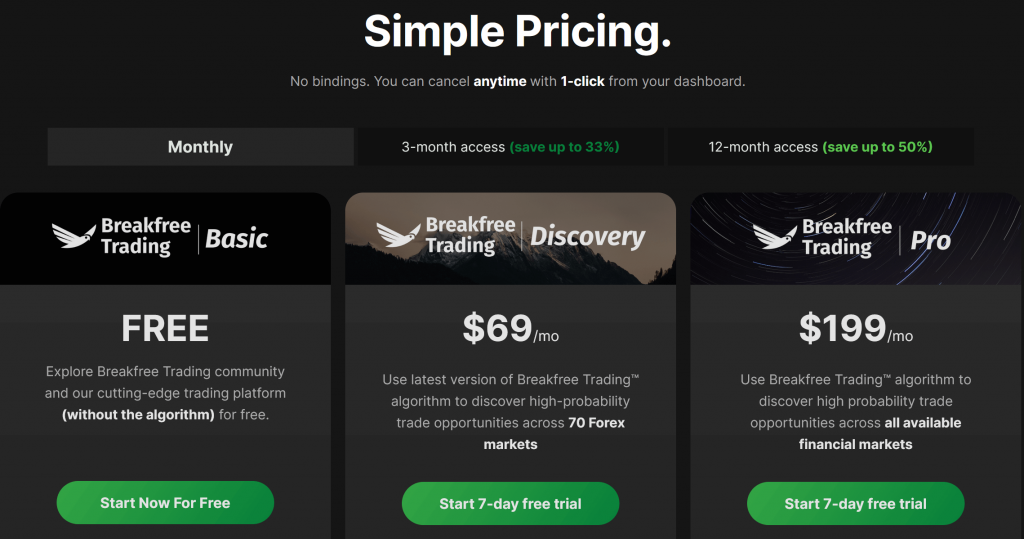 BFT Basic
---
· Free
Features of Basic
1. A trading group with over 6000 traders.
2. Over 10,000 markets data coverage
3. Out-standing trading survey tools.
4. Tailor-made charts and watchlists
5. Breakfree trading navigator
6. Directly places trades from the app to your broker using MetaTrader bridge.
7. Community support.
BFT Discovery
---
· One-Month Access: $69/month
· Three-Month Access: $147 ($49/m)
· One-Year Access: $555 ($46/m)
Features of Discovery
1. Access to all forex markets.
2. Automatic risk management that keeps you from making bad trades.
3. Its strategy mode and X-mode are on 1H, 4H, and 1D timeframe.
4. Real-time trend detection.
5. Seven-day free trial.
6. All features from BFT Basic.
7. Unlocks more trade opportunities once you earn XP.
8. Delivers fresh 1H, 4H, and 1D trade opportunities often.
9. Full-time support.
BFT Pro
---
· One-Month Access: $199/ month
· Three-Month Access: $397 ($133/m)
· One-Year Access: $1,187 ($99/m)
Features of Pro
1. All features from BFT Discovery.
2. Seven-day free trial.
3. Access to forex, futures, stocks, indices, crypto, bonds, and metals.
4. X-mode on all timeframes.
5. 15min Sonar setups
6. 15m strategy mode.
7. 24/7 support.
The Difference Between BFT Pro and Discovery Plan
---
The great difference between the Discovery and Pro plan is that you will be narrowed to Forex markets on the Discovery Plan. On the other hand, you can trade all financial instruments across all timeframes on the Pro plan.
Click here for comparison features between BFT Discovery and BFT Pro.
You can unsubscribe from BTF subscription by completing the following steps;
1. Log in to your account
2. Click on your profile picture on the utmost right
3. Select settings
4. Find the manage subscription and click it
5. Click the cancel plan key.
The cancellation will be practical at the end of your billing cycle. If you are on a trial period and want to cancel, do so before the trial expires, as the system will spontaneously subscribe you to the plan once your trial span is over.
Integrated Brokers
---
An integrated broker tends to be an individual or a company that acts as a mediator between investors and security exchange. Security exchanges only take directives from individuals or companies who are members of that exchange. Investors need brokers. Once the brokers provide the service, they are compensated in different ways, such as commissions or fees.
Breakfree Trading has over 4000 integrated brokers such as OANDA, LMFX, SimpleFX, IC markets, Interactive Brokers, TD Ameritrade, Crypto Exchange, or Crypto Derivative Contract Exchange. The most recommended brokers are Simple FX and IC Markets. Both brokers are mainly reliable with affordable fees.
In North America, LMFX and OANDA are the most popular options. As for OANDA, the leverage is limited and regulated in the US. LMFX is not regulated in the US but provides higher leverage. You can choose between the two, but you should go for a broker that meets your needs. It's essential to check the broker's reputation, leverage and fees too.
TD Ameritrade and Interactive Brokers can come to your rescue if you come with a larger account. They are an excellent option for trading stocks. If you are in crypto trading, Crypto Exchange and Crypto Derivative Contract Exchange are the best.
Pros of Breakfree Trading
---
· The trading package comes in a 3-in-1 package.
· Easy to use
· No experience required.
· Fun and inspiring
Cons of Breakfree Trading
---
· Limited information.
· Unclear statistics.
If Breakfree Trading is not to your liking, check out our other trading platform reviews:
Contact and Support.
---
The platform provides chat support but does not provide dependable phone numbers. Their 'superior' communication service is a major fault.
Breakfree Trading: Scam or Legit
---
Mixed reaction? Sure, they are bound to be there when it comes to your hard-earned money. Breakfree Trading aids investors in achieving financial success, but according to the records, the system gets traffic from affiliate pages. The service is aggressively pitched, making some people question if it's as good as its creators say.
There is limited knowledge or context about Breakfree Trading. The website does not provide users with statistics or details about their prior trading history. Asger Emborg and Anton Kann seem to have no history in forex trading, yet they are so 'ripe.'
The duo pinpointed a few trading methods and convinced users to ditch the 'old complicated methods.' They have made investors believe that their preposition is the only one that works. Their trading scheme is, 'new and easy way to trade global markets.
If you have an eye for detail, you will realize that Breakfree Trading focuses on the benefits of their trading algorithm. There is no real trading strategy description. The creators say that the breaking algorithm identifies the highest probability trades and filters the bad ones for you.
From a sales page covering the trading performance, the results are impressive, but there is no way to prove the authenticity. The algorithm might have won trades in the past, but it does not say whether the winnings are durable or not. Also, no records showing that the vendor is still ranking with this algorithm as it stands.
Breakfree trading posts updates from time to time to make the platform more user-friendly. Eventually, the platform will incorporate artificial intelligence (AI). The Trading could be legitimate because the creators seem professional and straightforward, but future users would like to see their actual trading performance.
With the trading course, you can make better decisions and even trade in the future. After the course, you will have a clear understanding of Trading and get yourself a demo account to hone your skills.
If Breakfree Trading is not to your liking, check out our other trading platform reviews:
Conclusion
---
Breakfree allows you to buy, sell and win. It has the best strategy of Trading that's accessible to everyone in the world, with the algorithm at the forefront. What a game changer!
PROS
The trading package comes in a 3-in-1 package.
Easy to use
No experience required
Fun and inspiring
CONS
Limited information
Unclear statistics.

CaptainAltcoin's writers and guest post authors may or may not have a vested interest in any of the mentioned projects and businesses. None of the content on CaptainAltcoin is investment advice nor is it a replacement for advice from a certified financial planner. The views expressed in this article are those of the author and do not necessarily reflect the official policy or position of CaptainAltcoin.com