Ledgible Review – Pricing, Supported Exchanges, Assets & Wallets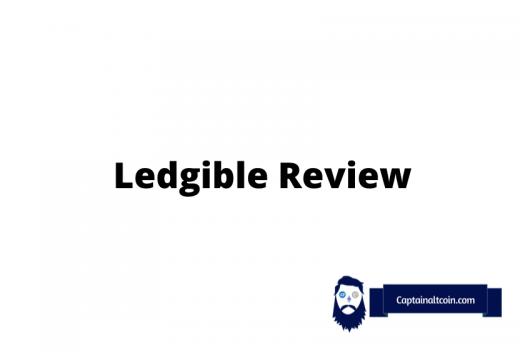 Ledgible Review – Pricing, Supported Exchanges, Assets & Wallets
One of the best platforms for tax reporting and portfolio tracking
Numerous features that make the above-mentioned processes a lot easier for accountants and accounting firms
Simple design and easy to navigate through the platform
Huge variety of supported wallets and exchanges
Currently, it is the only blockchain accounting platform that has certified integrations for accounting platforms
If you are new to digital currency and just starting to learn more about the various platforms in the crypto community, chances are you haven't heard about Ledgible yet.
But don't worry; even some of the professional traders who have been using cryptos for years now still aren't well–informed on what Ledgible really is and how it exactly works.
As a rising star in the crypto community, Ledgible still has a lot to prove, but it seems to be on the right track so far. In simple words, Ledgible provides tax reporting and portfolio tracking for crypto assets. Most of the users of Ledgible are leading accounting firms and big crypto companies around the world. It is mainly purchased by firms that want to make tax reporting easier for their clients.
What is Ledgible?
---
Ledgible is a tax reporting and portfolio tracking crypto platform. It is currently trending as one of the leading choices for many crypto tax and accounting companies. The purpose behind Ledgible is to gather all of the user's digital currency into a single view. By doing this, all of the data stays up to date, and it fuses with the systems that you are already using.
The Ledgible platform also works with some of the biggest names in the blockchainand exchange industries. This makes it easier for users to link their data to the financial platforms they have been using. The data that comes from Ledgible is directly from the source, and it is backed up by enterprise-grade security and various protocols to ensure data safety.
Also, it's important to emphasize that Ledgible is currently the only blockchainaccounting platform with certified integrations for accounting platforms such as Xero accounting and QuickBooks Online. Some of the most popular accounting and tax cryptocompanies worldwide use Ledgible because of these features. Supported exchanges and crypto wallets can be imported directly do Ledgible with substantial integrations, or you can fill in gaps by using the advanced upload and transaction entry feature the platform provides.
Ledgible Features
---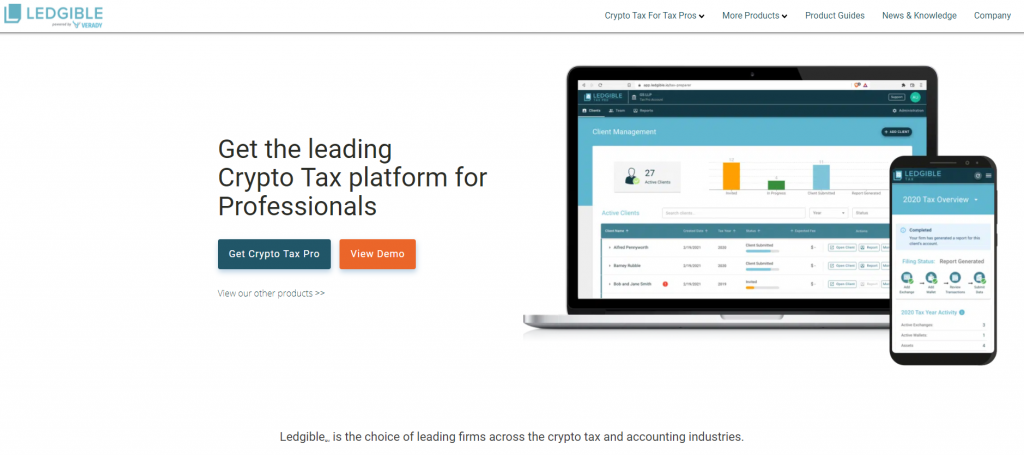 Crypto-assets can be a very confusing area even for the most prominent accountants. The crypto transactions are complicated to process, considering all the data found in different wallets and exchanges. Ledgible found a solution to this by analyzing all of this data and bringing features that can simplify the account transactions. Some of the main Ledgible features are:
Automatic matching for transfers from wallets to exchanges
Client collaboration is done in real-time
Calculating fees for numerous wallets and exchanges on a cost basis so tax can be reduced
Organizing categories for taxable income, capital gains, or gifts
Professionals that use Ledgible can use tax advisory and planning views to make detailed future plans for their clients
Export Transactions
Overview of historical prices
Income overview
Available support for margin and futures
Staking / Lending / DeFi Support
Tax Form Generation
Tax Loss Harvesting
Wallet Integration
Our institutional accounting arm also creates custom solutions for organizations looking to incorporate cryptocurrency into their systems.
We simplify tracking, monitoring, reporting, and risk scoring for both crypto market large and small participants in the crypto ecosystem with the right solution
Supported Countries
---
Ledgible is based in the US, and the majority of its clients are US citizens. On their official website, there is still no information on which other countries are supported. However, Ledgible works similar to SaaS platforms, meaning that most countries around the world can purchase the program and use it. Until official information on their website, we don't know any details about the supported countries.
Supported Exchanges
---
Ledgible has a wide range of exchanges it supports, over 200. Some of the most popular supported major exchanges on Ledgible areGemini,Binance, Binance US,BitBay, Allcoin, Admiral Markets,Coinbase, Coinbase Pro, Einax, 3xBit, Alfacash, BitcoinTrade, Bisq,Bittrex, Coincheck, CREX, DEW, Liquid, Koinex, OmniTrade, and many more.
You can see the full list of supported major exchanges by clicking here.
Supported Wallets
---
When it comes to crypto wallets, there is also a wide array of those supported by Ledgible. XPubs and similar derivation-based protocols are included. Some of the leading hardware and custodial wallets supported areLedger,Trezor, and Bitgo.
How does Ledgible work?
---
Ledgible makes working with blockchain transaction data much easier since it allows users to track, monitor, and report crypto-assets all from one platform. It's great because it provides precise and standardized crypto-asset data. Ledgible works as a bridge between the traditional accounting and finance tools and the latest blockchaintechnology.
To better understand how Ledgible works, we have prepared a brief explanation of how the available dashboards and menu options work once you get the program.
Client Management
---
One of the first pages you can see once you log into Ledgible is the Client Management dashboard. The dashboard can be accessed from any other page by clicking the "Clients" tab on the left side of the menu.
You can use some of the following features on this dashboard:
Add new clients
Check the current status of existing client accounts
Check the payment status of existing client accounts
Managing client accounts
Generating and downloading different files and reports
Editing details about a client
Removing old client's accounts
Manage Team
---
In the top menu, you can access the Manage Team dashboard by clicking on the "Team" tab. Once you click on the tab, you can manage or add other preparers from your company to the platform. While you are in this dashboard, you can:
Add new members of the team
Resend or cancel an email invitation to a team member
Copy a direct invite link that a team member can use to access the platform
If you are the account owner, you can remove certain team members
Client Reports
---
Once you click on "Reports" in the top menu, you can see the Client Reports dashboard. This is the place where managing reports for clients can be done as well as the following actions:
You can generate different reports and tax forms for your clients
Create files that you want to import into the tax and accounting software
Have a preview of the details of previously requested files
Ledgible Pricing
---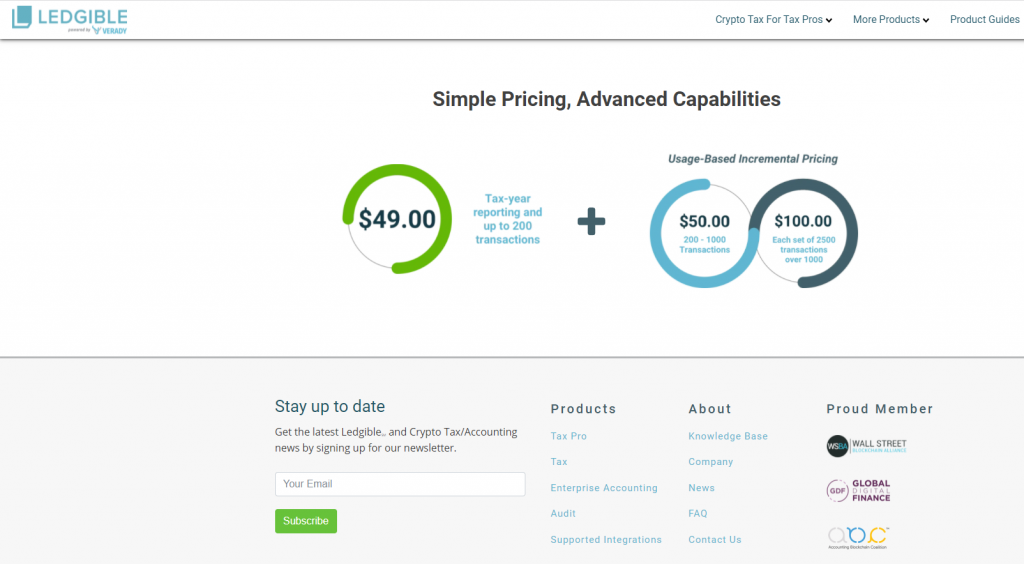 The pricing for Ledgible starts at $49 per month. There is a 30-day trial, however, for first-time users of the platform.
The bronze version is charged $49 per month. The silver version is charged $149 per month. The gold version is charged $299 per month, and it offers numerous benefits such as unlimited wallets, accounting integration, and unlimited historical reporting.
Ledgible Mobile App
---
Ledgible currently only has a desktop version. During the research, we did not find any information that there is a mobile app.
Is Ledgible Legit?
---
Ledgible was founded in 2016, and its primary goal is to help traders get a better overview of tax reporting and portfolio tracking. The platform has a growing community, and the vast majority of users have only had positive feedback so far.
Considering that numerous major accounting solution firms are using Ledgible, we can say with certainty that this platform isn't a scam. Although the platform's features may not be for everyone in the crypto community, there is no doubt that Ledgible is legit and trustworthy.
Conclusion
---
The Ledgible platform is still kind of an odd duck in the crypto community. It is one of the first crypto platforms that have solved some specific problems regarding tax reporting and made the accounting process for crypto-assets easier in bigger firms. It offers a lot of unique features, and it can definitely be useful for companies.
However, individual investors might feel like they are "overpaying" for the platform since they probably won't use all of the platform's features. Ledgible is a safe and trustworthy platform, and although it may not be for everyone, it can definitely do accounting professionals' jobs and calculate taxes for cryptos, a much easier process. It's definitely worth giving it a shot if these are the things you are searching for.
FAQs
---
Read also:
PROS
One of the best platforms for tax reporting and portfolio tracking
Numerous features that make the above-mentioned processes a lot easier for accountants and accounting firms
Simple design and easy to navigate through the platform
Huge variety of supported wallets and exchanges
Currently, it is the only blockchain accounting platform that has certified integrations for accounting platforms
CONS
Limited customer support
The platform is mostly made to tailor to the needs of accounting firms, individual investors may not need all the features they are paying for
A tad expensive if you want to use all of the premium features on the platform

CaptainAltcoin's writers and guest post authors may or may not have a vested interest in any of the mentioned projects and businesses. None of the content on CaptainAltcoin is investment advice nor is it a replacement for advice from a certified financial planner. The views expressed in this article are those of the author and do not necessarily reflect the official policy or position of CaptainAltcoin.com