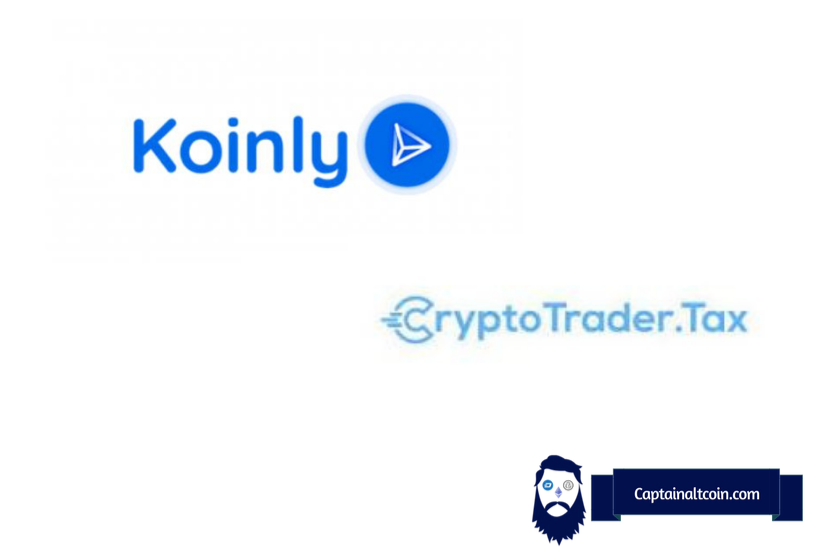 Both Koinly and Cryptotrader.tax (now called Coinledger.io) are crypto tax software platforms. Both of these platforms allow their users to easily calculate any taxes left unpaid in their tax reports, thereby helping crypto traders save money as well.
Koinly is considered to be one of the best crypto tax platforms by a lot of people in the crypto community. One of the main reasons for this is the unparalleled safety it provides its users and extremely accurate tax reports. Although this platform hasn't been around for a long time, it has built a stellar reputation among investors, traders, and accountants.
Cryptotrader.tax is considered to be a more budget-friendly alternative, but it's as good as any other crypto tax software. Similar to Koinly, this software collaborates with all significant exchanges. One of the main features of cryptotrader.tax is its simplicity; it is incredibly easy to use, even for beginner traders.
Visit Koinly Now Visit Cryptotrader.tax Now
What are Crypto Tax Tools?
---
Crypto tax tools are platforms explicitly created for crypto traders to make tracking, managing, and calculating gains and losses much easier. They help users figure out if any tax liabilities will occur. These tools work as third-party data collectors by connecting to the users' crypto exchange andwallet.
After the connection has been established, crypto tax tools restore previous transactions and organize a tax report displaying gains and losses. The reports made are reconcilable with the general IRS guidelines.
Crypto tax software makes cryptocurrency-related taxes a much easier process for crypto traders. Accounting and reporting can be extremely hard to do without these tools. Data collection, tax liability calculation, and creating reports with crypto tax tools are also very good for saving both time and money.
Read also:
Koinly vs Cryptotrader.tax Supported Countries
---
Koinly is known to support taxes for the following countries: USA, Canada, Australia, New Zealand, Brazil, UK, Germany, Sweden, Denmark, Finland, Norway, Netherlands, France, Spain, Italy, Austria, Lichtenstein, Ireland, Czech Republic, Estonia, Malta, Luxembourg, Belgium, Poland, Ukraine, Iceland, Japan, South Korea, and Singapore.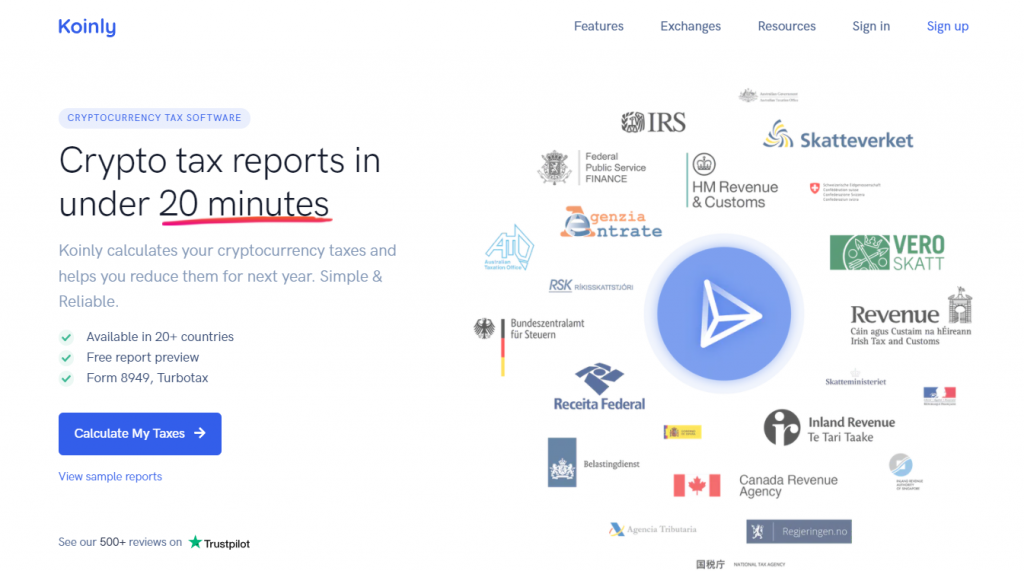 Generally, countries that use any of the following accountancy methods can use Koinly: First in First out (FIFO), Last in First out (LIFO), Highest Cost, Lowest Cost, Average Cost Basis, and Shared Pool.
Cryptotrader.tax does not list any specific countries that they support on their website. Initially, the crypto tax platform was only aimed at those individuals who pay their taxes in the United States; however, they are now trying to branch out into more jurisdictions around the world.
In addition to default support for the United States, Cryptotrader.tax also supports any country that supports the FIFO, LIFO, or specific identification calculation methods.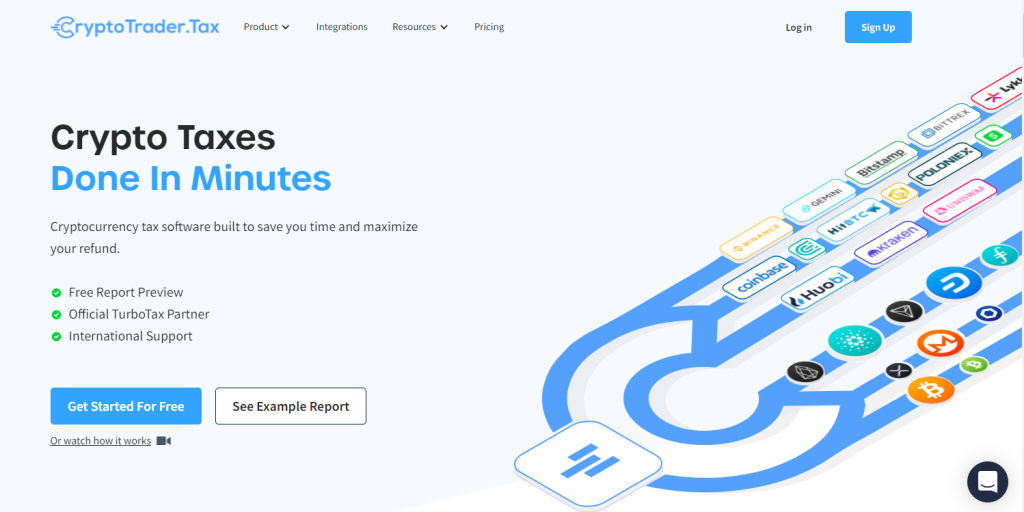 Koinly vs Cryptotrader.tax Supported Exchanges & Wallets
---
Koinly supports around 350+ exchanges and 50+ wallets. Some of the most popular exchanges supported by Koinly are: Binance, Binance US, Bittrex, Coinbase, Coinbase Pro, Kraken,Poloniex, Gemini, Bitstamp, and Phemex.
To check if the crypto exchange you used is supported by Koinly, here is the official list of all supported exchanges on their website.
When it comes to crypto wallets, Koinly supports all major ones such as Uphold, Abra, Blockchain Wallet, Electrum, Exodus, Bread Wallet, and Coinbase Wallet. For a list of all the other supported crypto wallets, you can click here.
When it comes to cryptotrader.tax, this platform also supports various major crypto exchanges and wallets around the world. The most popular crypto exchanges supported by this software are: Coinbase, Bittrex, Bitstamp, Gemini, Poloniex, Binance, KuCoin, Gatehub, etc.
Here you can check out the rest of the exchanges supported by this platform on their official website.
The list of crypto wallets this platform supports isn't as big, but it does include the major ones. Cryptotrader.tax supported wallets are: Exodus, Abra, Metamask, Trust Wallet, MyEtherWallet, Trezor, Ledger, and Jaxx.
Koinly vs Cryptotrader.tax – Other Supported Services (Mining, Staking, DeFi, Liquidity Providing, NFTs etc.)
---
When talking about a variety of supported services, Koinly is one of the most brought-up crypto tax platforms in the crypto community. With Koinly, users can easily connect their wallets and monitor activities such as trading, mining, staking, lending, and airdrops. The substantial service combination that Koinly offers is without a doubt one of the best on the market.
Aside from the 20+ countries and 350+ exchanges that we have already mentioned, Koinly supports more than 6000 blockchains as well. It makes services such as mining, staking,NFTs, and differentDeFi activities incredibly easy to follow.
Cryptotrader.tax doesn't come up short either when it comes to services and features it offers. Some of the most popular features this platform offers aside from mining, staking, and liquidity providing are:
· Exchange Integration – made to analyze the value of each trade done in real-time.
· Tax-Loss Harvesting – this is a feature that allows securities to be sold at a loss to avoid future tax liability.
Koinly vs Cryptotrader.tax Pricing
---
Koinly Pricing
---
There are four available Koinly plans users can get: Free plan, Newbie plan, Hodler, and Trader.


The free plan provides all the basic services without having to pay for them. If you decide to use this plan, you can track transactions and see previews of your capital gain taxes. You also have the option of including your crypto portfolio from different exchanges.
However, there is a limit of 10,000 transactions per year. If the only thing you need is to estimate tax liabilities, the free plan can get the job done. However, if you need more tax features, you are going to have to upgrade to the paid plans.
The "Newbie" plan is the next step, and it costs $49 per tax year. With this plan, you will get a bit upgraded crypto tax trading features such as free account functionality, mechanically created tax reporting, tax software exports, and error propitiation tools like cost analysis.
The "Hodler" plan is very similar to the Newbie plan, but it costs $99 per tax year. The only major difference between the two is the amount of crypto transactions users are allowed to make in one year. Hodler plan offers an upgrade from 100 to 1000 transactions.
The last one is the "Trader" plan that costs $179 per year. With this plan, Koinly will create tax reports for 3000 transactions per year. This number can also be increased to 10,000 for an additional $100. The trader plan is considered to be the premium package, offering every Koinly feature, including priority support. Professional crypto traders that are very successful on the crypto market are typically the ones opting for this package.
Cryptotrader.tax Pricing
---
Cryptotrader.tax also offers four pricing plans for its customers; Hobbyist plan, Day Trader plan, High Volume Trader plan, and the Unlimited Plan.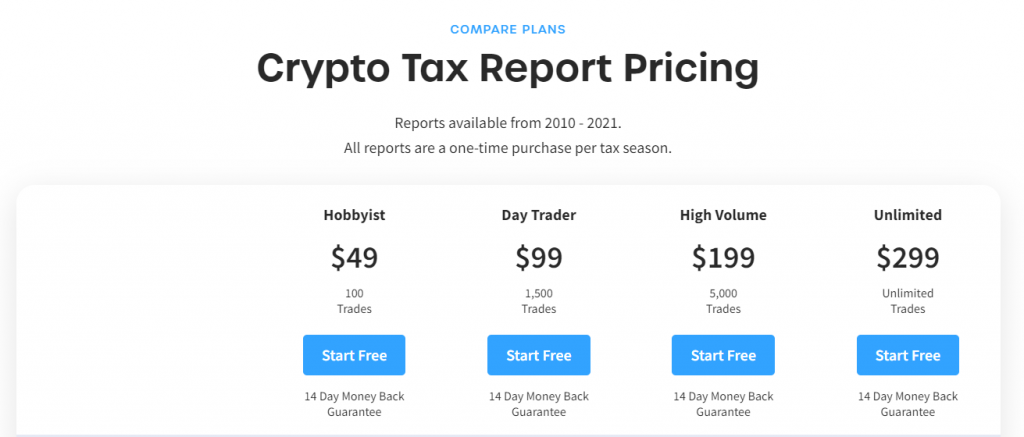 The "Hobbyist" plan costs $49, and it is the most affordable choice on this platform. Beginner traders and casual investors are those that generally get this plan. This plan imports and analyses 100 trades from the exchanges, and that's the upper limit.
The "Day Trader" plan is priced at $99, and it upgrades tax plans for 1500 trades while also offering free report previews and live chat support within the platform.
The "High Volume Trader" plan costs $199 per tax season, and it provides a maximum of 5000 trades. It includes all of the features from the previous two plans, with some additional ones for more experienced crypto traders.
Finally, the "Unlimited" plan is reserved for professional traders that have proven to be extremely successful in crypto trading, and it costs $299 per year. Unlimited trades and priority service are its main features.
Conclusion
---
In summary, both of these crypto tax software platforms seem to offer very similar things. Both support all of the major crypto exchanges and wallets, and they have pretty similar features as well.
So far, it's safe to say that Koinly has been more successful with a tad more features, but cryptotrader.tax is an extremely viable option as well, especially for those who are looking for a more budget-friendly platform. The positive feedback for both of these platforms makes them a safe choice no matter which one you choose.
FAQ's
---
Read also:

CaptainAltcoin's writers and guest post authors may or may not have a vested interest in any of the mentioned projects and businesses. None of the content on CaptainAltcoin is investment advice nor is it a replacement for advice from a certified financial planner. The views expressed in this article are those of the author and do not necessarily reflect the official policy or position of CaptainAltcoin.com