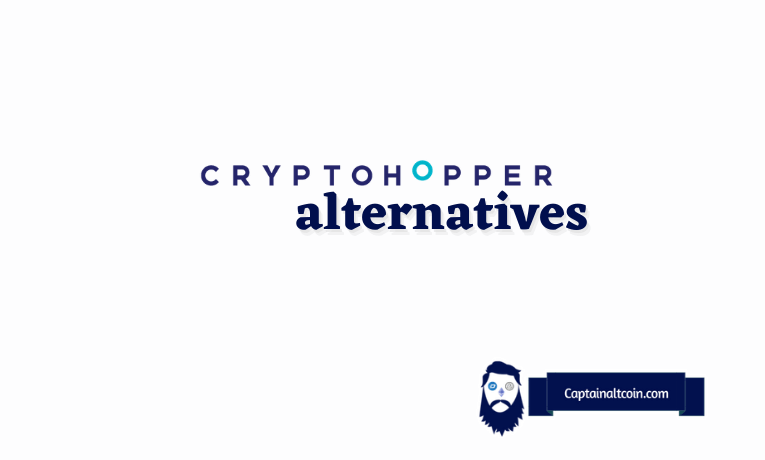 Trading manually in the cryptocurrency market is like traveling in a horse cart when you can easily book an Uber. The destination is the same but the latter makes the journey very easy and efficient.
Having a good trading bot is a must if you want to take full advantage of automated trading. One such bot is Cryptohopper, while it is good it can be tedious to set up individual trading pairs using the bot. The bot treats every pair as a separate strategy which allows control over the trades but at the same time makes it difficult to avoid mistakes.
In this article, we are going to share a few alternatives of Cryptohopper that will make your life much easier. Everyone has a different trading strategy and you can look for the set of features you want in your trading bot.
8 Best Cryptohopper Alternatives You Should Look Into
---
Quadency
---
Quadency markets itself as a professional smart trading platform that supports 13 exchanges and 9 DEXs. Using the platform you can trade with over 3600 pairs. Quadency has more than 100M USD under its management. You can read the direct comparison of Quadency vs Cryptohopper here. We also did a TradeSanta vs Quadency comparison here and Quadency vs 3Commas vs Bitsgap duel here.
Pros
✅ Customizable pre-built trading strategies for the trading bots that help new traders tremendously.
✅ The platform provides you a portfolio overview where you can monitor all your crypto assets under one hood. You can also track the performance of your assets over time.
✅ Various advanced order types with the ability to trade on all the exchanges from a single dashboard.
✅ No KYC is required to use the platform, you can directly signup using an email.
Cons
❌ No margin trading is available which could be a deal-breaker for many,
❌ No mobile app makes the platform inaccessible from everywhere.
Read the full Quadency review here or CLICK HERE to register now.
Bitsgap
---
Bitsgap is an all-in-one cryptocurrency trading platform that allows you to trade on 28 exchanges and has more than 10,000 traders currently using it. You can start using the platform by just verifying your email account or connecting through a Google or Facebook account.
Bitsgap is also one of the top crypto scalping bots and good alternative to Cryptohopper.
Pros
✅ The platform analyzes over 10,000 crypto pairs and provides signals for the pairs with maximum return potential.
✅ You can take advantage of arbitrage through the platform.
✅ You can use the automated trading algorithms of the bot to generate profits on every market move while keeping the risks to the minimum.
Cons
❌ The trading bot has limited functionalities and features which can be a drawback for advanced traders.
❌ No mobile app.
Read the full Bitsgap review here or CLICK HERE to register now.
TradeSanta
---
TradeSanta is a cloud-based cryptocurrency app that lets you trade on top tier exchanges using it's trading bots. It also has a unique feature that allows you to do large volume trading without causing a spike in the prices.
Pros
✅ Mobile apps for Android and iOS operating systems. This makes the trading platform accessible from anywhere and helps you in tracking the bots anytime you want.
✅ Advanced trading tools as well as a beginner-friendly platform.
Cons
Read the full TradeSanta review here or CLICK HERE to register now.
3Commas
---
3Commas is one of the most popular and reputable crypto trading platforms. It supports 23 exchanges and lets you view all your crypto accounts in a single dashboard. With 3Commas you also get access to a public API to build apps to manage your account better. Here is a head-to-head comparison between 3Commas and Cryptohopper.
Pros
✅ Beginner friendly and has a great user interface.
✅ Mobile apps for iOS and Android that make the platform accessible everywhere.
✅ Copy strategies of other bots that are performing well on the 3Commas platform.
✅ Set multiple selling targets.
Cons
❌ The basic plan has very few features and a trader is forced to purchase the Advanced or Pro plans to make the most out of the platform.
❌ New updates can sometimes have bugs.
Read the full 3Commas review here or CLICK HERE to register now.
Gunbot
---
Gunbot markets itself as a community built cryptocurrency trading bot. New traders can use the already popular trading strategies to get started. You can also get a lifetime license for the bot.
Pros
✅ Runs on your device. This is especially great for traders who don't trust the cloud-based crypto trading platforms.
✅ No limit on the number of bots you can run. You are completely in charge of the number of instances of the bot you want to run.
✅ One time license fee and free updates for life.
Cons
❌ Since the software runs on your device and is not cloud-based you can't access it from everywhere.
Read the full GunBot review here or CLICK HERE to register now.
Haasbot
---
Haasbot is a privacy-focused crypto trading bot that offers products that can be run locally as well as on the cloud. HaasScript developed by the Haasbot team can be used to create complex algorithms.
Pros
✅ Stimulate and backtest your trading strategies to avoid unnecessary risks. Paper trading allows you to check the success of your strategy before going live.
✅ HaasOnline Trade Server for running the bot locally whereas HaasOnline Cloud for the hassle-free cloud-based platform.
✅ HaasScript to develop complex algorithms with over 600 commands.
Cons
❌ The bot is not beginner-friendly and it can be a bit technical to run the bot.
❌ Heavy pricing for its plans.
Read the full Haasbot review here or CLICK HERE to register now.
Trality
---
Trality is a secure cloud-based crypto trading platform with the strategies created by traders being end to end encrypted. Trality is also launching a marketplace soon which will allow traders to sell their successful bots.
Pros
✅ Trality allows Python developers to code their own complex trading algorithms which allows great freedom and opens new possibilities for the traders.
✅ Flexible Rule Builder to create bots for those who don't know how to code.
✅ You can also backtest the bots to avoid unnecessary risks.
✅ Upcoming marketplace to sell successful bots.
Cons
❌ No option for future and short trading.
❌ Support for only four exchanges.
❌ Lack of mobile apps prevents the platform to be accessible from everywhere.
Read the full Trality review here or CLICK HERE to register now.
Zignaly
---
Zignaly is a crypto trading bots platform that supports exchanges such as Binance, Kucoin, Bitmex, VCC Exchange and FTX. Zignaly also lets you have control over how much you want your bots to be automated. Something that only Zignaly offers is running completely free trading bots. You simply do not have to pay for running any bots on their platform.
Pros
✅ Simply copy trading of successful traders and trade when they trade.
✅ Automate trading using crypto signals from over 45 providers and by using your own.
✅ No withdrawal access is needed for the APIs which makes the bot safe to use.
Cons
❌ Very few exchanges to trade on.
❌ Not the best in comparison to its competitors although being free makes up for it.
Read the full Zignaly review here or CLICK HERE to register now.
Conclusion
---
Trading cryptocurrency pairs using automated bots is the future. The possibilities it opens are endless and new features are being added to the crypto trading platforms constantly. Most of the platforms offer a free trial period which you can signup for. This will help you get a feel of the platform before becoming a paid member.

CaptainAltcoin's writers and guest post authors may or may not have a vested interest in any of the mentioned projects and businesses. None of the content on CaptainAltcoin is investment advice nor is it a replacement for advice from a certified financial planner. The views expressed in this article are those of the author and do not necessarily reflect the official policy or position of CaptainAltcoin.com