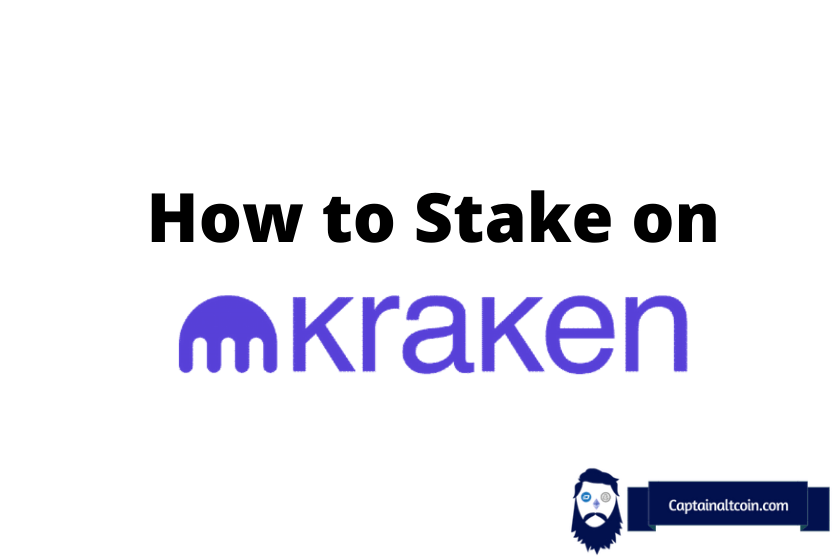 Staking has emerged as the latest way to increase your crypto asset holdings since mining became prohibitively expensive and complicated. By staking your tokens, you will earn a yield, help secure networks, and support emerging projects. We will take a look at the end-to-end process of staking on Kraken, and answer any questions you may have.
How Does Staking Work?
---
The simple answer is that you commit your cryptocurrency to a project to earn a yield. You win in two ways. You earn an 'interest rate,' and your coins become more valuable as the project's network increases in size. Bear in mind that typical bank deposit interest rates are a fraction of a percent, yearly. Yields from staking your crypto tokens tend to be much more profitable.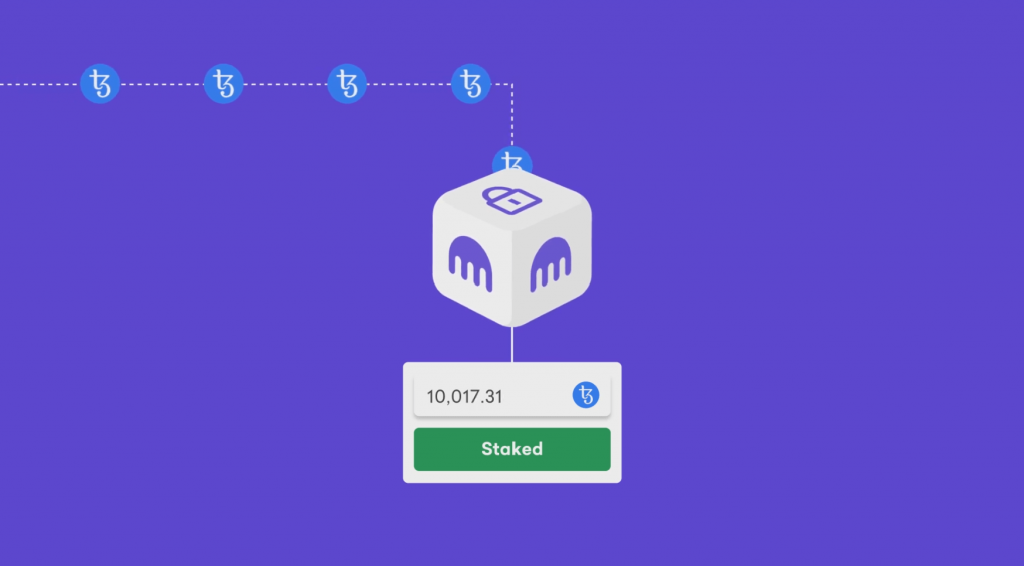 Proof of Work vs Proof of Stake
---
The Bitcoin and Ethereum networks are currently secured by Proof of Work to cryptographically verify the transactions on their blockchains. The 'miners' doing this work use powerful computer clusters to solve simple but laborious equations, and earn block rewards, paid out in cryptocurrency.
This is an expensive and time-consuming process, so it's in the interest of miners to ensure no harm comes to the network by verifying only legitimate transactions. Anyone wanting to subvert the network would have to make such a huge investment in equipment and energy, that it would simply not be viable. Or so the theory goes.
Proof of Stake uses cryptocurrency staked by validators to secure the blockchain. The more coins a validator stakes, the more block rewards they receive. The incentive not to validate fraudulent transactions is that your coins will be forfeited and you will lose your validator status. This, again, theoretically ensures that the network is never compromised.
The average retail investor can stake their tokens on the Kraken platform in a number of different projects. The advantage is that there is no lower limit to how much you can invest. To stake independently on the Ethereum network would cost 32 ETH to set up a private node, equivalent to around $100,000 at today's rates.
Which Coins Can I Stake on Kraken?
---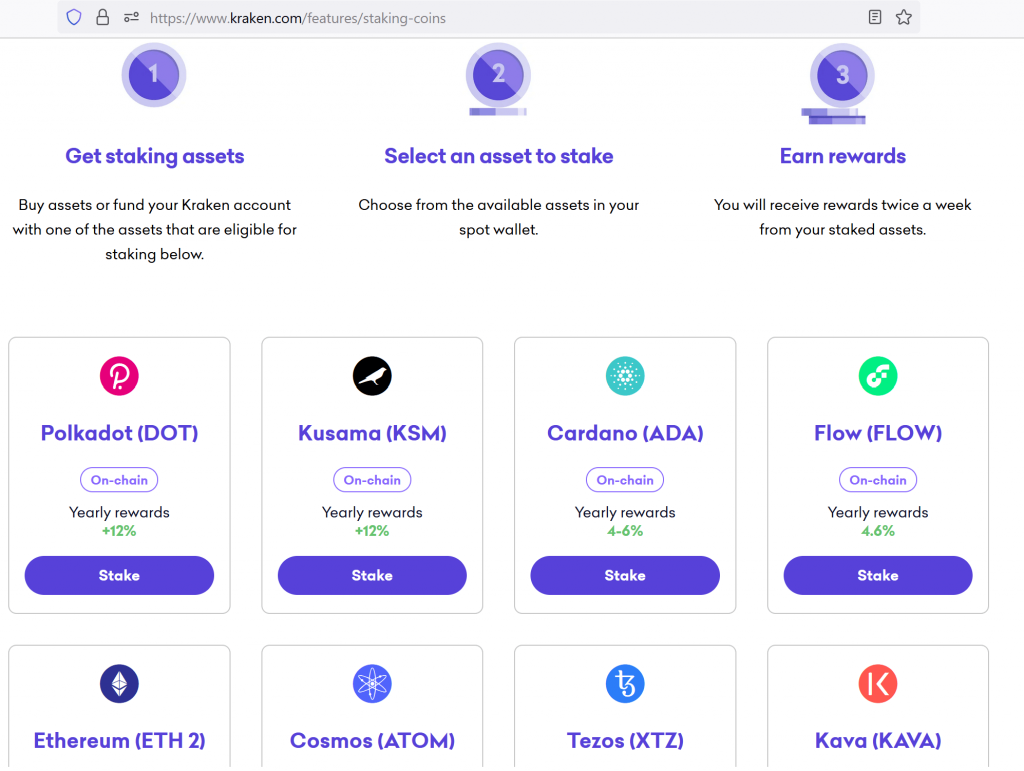 There are several tokens that you can stake on Kraken. These are Polkadot (DOT), Tezos (XTZ), Cosmos (ATOM), Flow (FLOW), Kusama (KSM), and Kava (KAVA). You can buy these with your imported fiat money or swap your cryptocurrency for these coins, directly on the Kraken website.
Staking is also available for the ETH2.0 network upgrade, but strict conditions apply. For example, your staked coins will be locked up until the Ethereum 2.0 upgrade is completed. This could take several years and is not guaranteed to happen at all. Other staking opportunities on Kraken are much more flexible.
You can also stake Bitcoin, Euros, and Dollars off-chain, however, there are further rules and regional restrictions. The details can be found here.
Step 1: Create a Kraken Account
---
Head over to the Kraken website and click on 'create account' in the top right corner. You will be asked to enter an email address, a username, and a password. Kraken will email you an activation code and a link, either is fine to use.
Once you click on the link or enter the activation code, your account is created automatically. Next, you need to confirm your identity as a Starter, Intermediate, or Pro customer. The different levels of KYC information (Know Your Customer) permit access to particular functions on the Kraken website.
⚡️ Starter verification allows you to –
Buy, sell, and convert cryptocurrency
Trade with margin
Earn rewards with staking
Deposit unlimited cryptocurrency to the platform
Withdraw up to $5K equivalent per day in cryptocurrency
⚡️ Intermediate verification allows all of the above, plus –
Trade crypto futures (non-US customers only)
Transfer fiat money to and from your bank account (up to $100k per day or $500k per month)
Withdraw up to $500k per day in crypto
⚡️ Pro Verification unlocks –
Unlimited fiat deposits
Unlimited crypto withdrawals
OTC (Over The Counter) trading.
For the starter verification, I was asked for my name, address, and phone number. This was confirmed as successful within 1 minute. The intermediate verification then asked for my occupation, a photo identity document (Passport, Driver's License, or ID card), and a document that was less than 3 months old, to prove my residency. This can be a utility bill, credit card statement, bank statement, etc.
I completed the intermediate verification process and the response was virtually instant. Within 3 minutes I was good to go as an intermediate user, enabling me to do everything I required for staking purposes.
The process was very smooth, especially considering that I was in East Asia, my home address was in the UK and my phone number was Vietnamese!
Step 2: Fund Your Account With Staking Coins
---
Once you have opened and verified your account, you can transfer USD, GBP, or EUR, and buy cryptocurrency on the Kraken site. You also have the option to import cryptocurrency directly to your Kraken account.
As an intermediate member, I can load up my account with fiat money. This is not possible with the starter verification, but Kraken still allows you to transfer crypto directly to your account.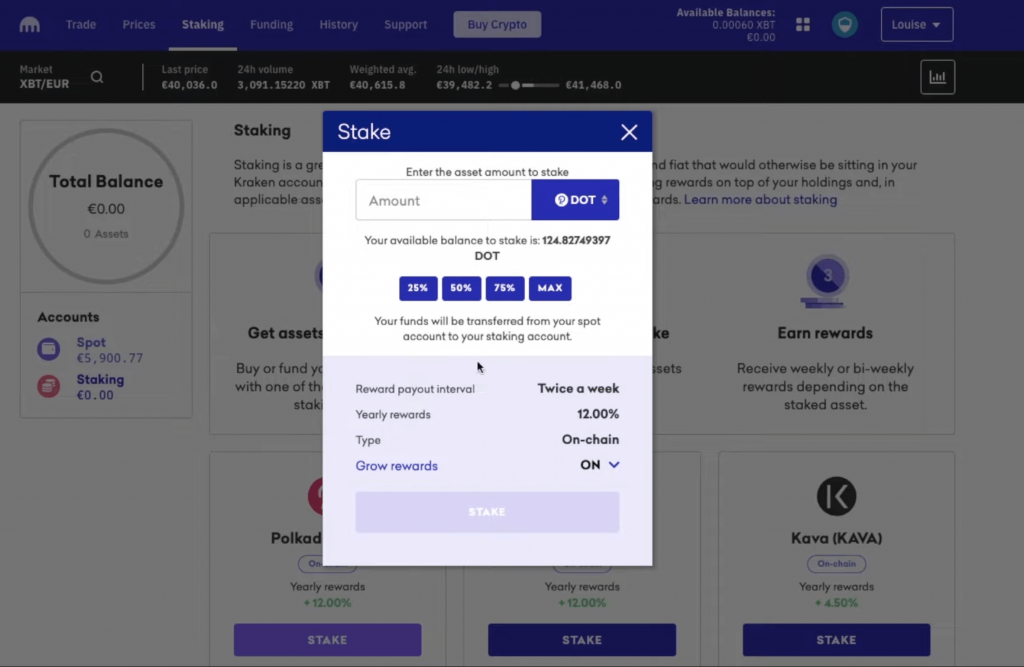 Step 3: Stake Your tokens
---
Navigate to Kraken's staking page where you can choose which token you wish to stake.
Click the staking icon on the right-hand side of the screen to reveal the staking window.
Enter the number of tokens (or the percentage of your available tokens) you want to stake.
Once you click the 'Stake' button your tokens will be 'bonded,' at which point you start to earn the rewards.
Unstake at any time by clicking the (you guessed it) 'Unstake' button.
Staking Rewards on Kraken
---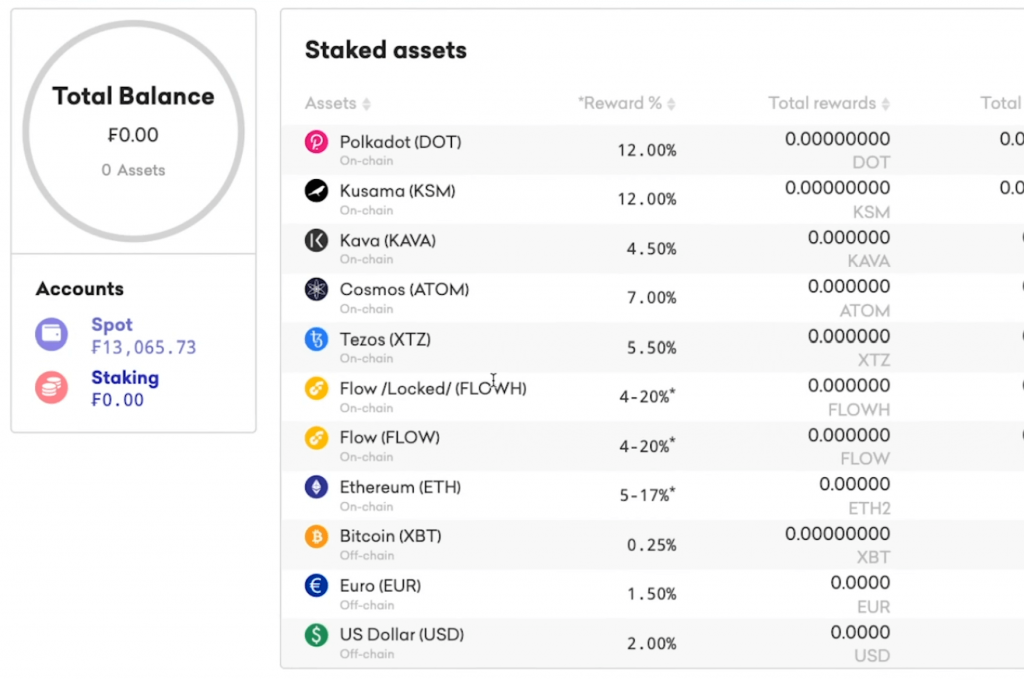 Rewards are distributed twice per week and credited to your Kraken account. Kraken charges a 15% fee on all yields, but there is no charge for the staking/unstaking process. At the time of going to press, the quoted rewards are as follows –
Polkadot (DOT) 12% APY
Kusama (KSM) 12% APY
Kava (KAVA) 20% APY
Flow (FLOW) 4.6% APY
Cosmos (ATOM) 7% APY
Tezos (XTZ) 5.5% APY
ETH 2.0 5%-17% APY (Locked up until network upgrade completion)
By comparison, my fiat bank is offering me a paltry 0.03% yearly interest on my savings account balance. To put that into perspective, if I had a million bucks in my account, I would be earning a whopping $300 per year. The same million dollars could earn me $200,000 on staking Kava on Kraken. With real-world inflation of around 15% per annum, you can see why staking on Kraken is so attractive.
The Pros and Cons of Staking on Kraken
---
The biggest advantage of staking your coins on Kraken is the yield you can earn. This is several hundred times the average fiat bank interest rate.
Pros ✅
---
Much higher yields than fiat banks
Exposure to an increase in the value of your crypto assets even while they are locked up
Cons ❌
---
The KYC obligations mean that your personal information and details of your investments are available to the authorities.
New technology carries the inherent risk of failure.
You cannot trade your tokens while they are locked up.
Your assets are not insured as they would be in a fiat bank account.
Stake coins or Simply Invest?
---
Investing in a cryptocurrency will expose you to the changes in the market price of your chosen asset. Hopefully, the price will rise and you can make a healthy profit. By staking your coins, you get the same exposure to these price fluctuations, but you also earn a yield on top.
Some staking arrangements require you to keep your tokens locked up for a minimum period. Bear this in mind when deciding which token to stake. The tokens mentioned above have no minimum staking period, although the bonding process can take up to 20 days before you start earning.
FAQs
---
Also, check out our other staking guides:

CaptainAltcoin's writers and guest post authors may or may not have a vested interest in any of the mentioned projects and businesses. None of the content on CaptainAltcoin is investment advice nor is it a replacement for advice from a certified financial planner. The views expressed in this article are those of the author and do not necessarily reflect the official policy or position of CaptainAltcoin.com