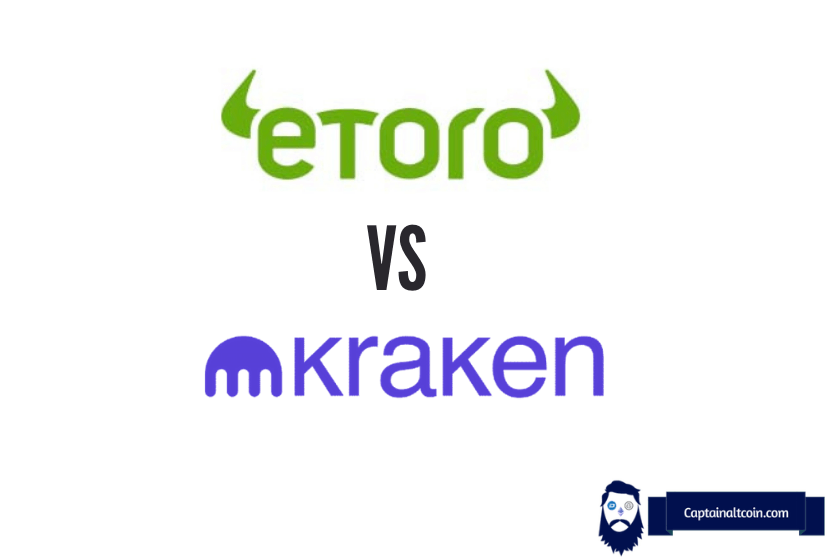 Which Margin Exchange Is Better?
---
These two exchanges come from very different places, ideologically. eToro doesn't even mention crypto on its welcome page, whereas Kraken is all about the cryptocurrency – it mentions nothing else.
eToro is best known as a platform for regular folks to trade regular stocks, currencies, and commodities, etc. but it has moved with the times and is now firmly on the crypto bandwagon. With all its experience of delivering trading services to retail investors, there's no reason this should be a bad thing.
We'll compare the important features, examine some of the small print, take a sideways look at both exchanges, and see where it takes us.
Background
---
Trading cryptocurrency with margin can be a white-knuckle ride, and should only be attempted by those with nerves of steel. Personally, I find the crypto market volatile enough without leveraging my exposure to the massive daily swings. Still, if you are happy to take a few hits along the way, then it's an exciting way to speculate with your crypto profits.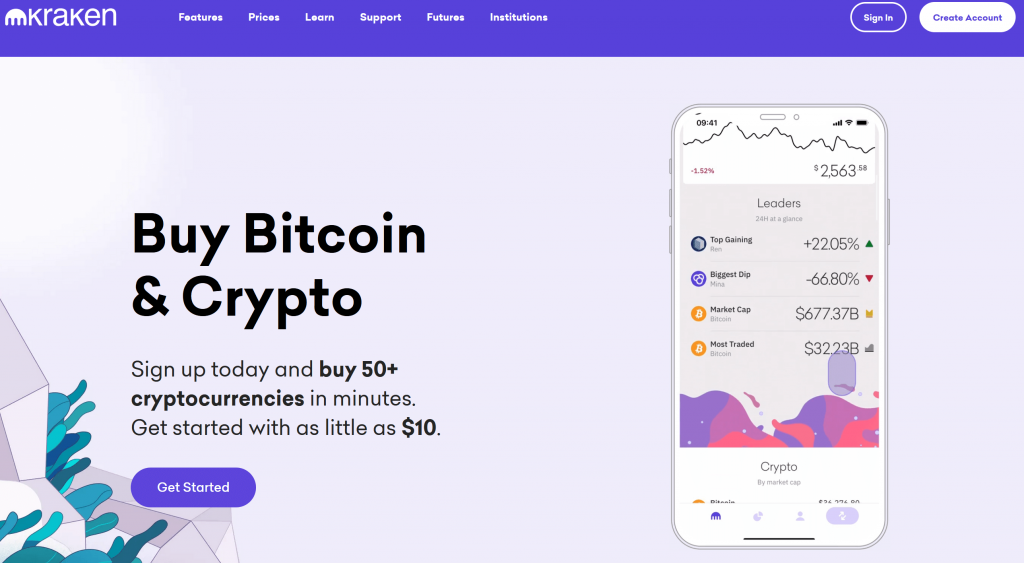 Both eToro and Kraken offer leveraged trading and short positions, so is there any practical difference to using these sites? Yes, there is. There's a radical difference.
Trading Platforms
---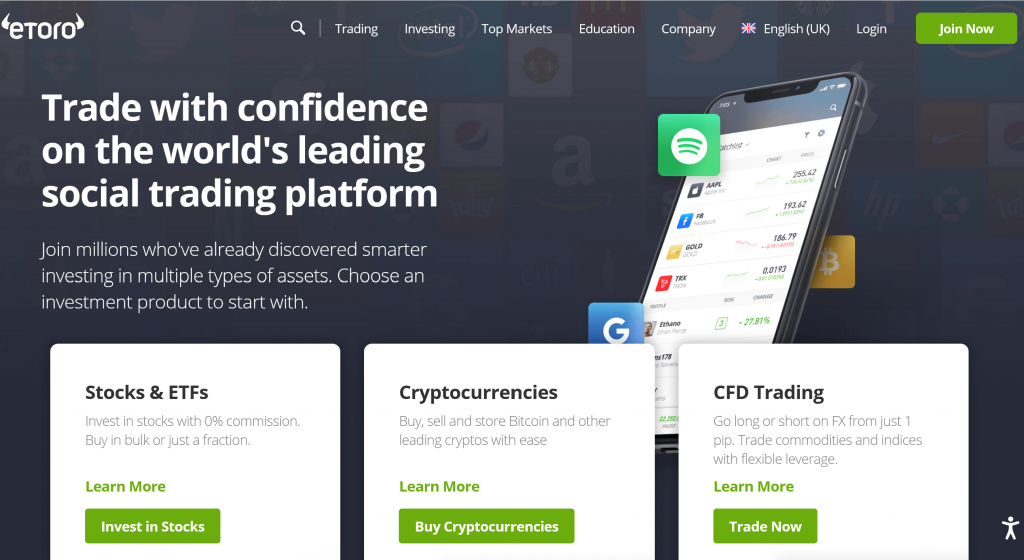 You'd expect both platforms to be super-slick, given retail trading is their core business. They're well laid out and both user interfaces are professional looking and intuitive to use. The difference is that Kraken is a cryptocurrency trading platform, whereas eToro aims to entice first-time speculators into the crypto market.
Don't be fooled into thinking that eToro is more competent, with its slick marketing and saturation levels of social media advertising. Kraken boasts 6 million regular users compared to eToro's 20 million, but Kraken's customer base is all crypto users. Trade volume at eToro is around 1.5 trillion per year across all products. Kraken's crypto volume alone will exceed a Trillion this year.
eToro prides itself on its copy-trading function, and considers itself a "Social Trading Platform." Sorry, not buying it. Firstly, "Social" is the very antithesis of trading. We are all unabashedly trying to make money from the person on the other end of our trades – that's precisely what it's all about. It's adversarial. We're trying to take their money.
It's dog-eat-dog out there, survival of the fittest, capitalism red in tooth and claw!
"Social Trading" is an oxymoron.
Kraken is more subdued and gives all the right information in all the right places. It's easy to navigate and you are never more than a couple of clicks away from the page you need. Kraken inspires more confidence and has a classier look and feel.
68% of retail CFD accounts lose money
Cryptoassets are highly volatile and unregulated in the UK. No consumer protection. Tax on profits may apply.
Available Coins and Contracts
---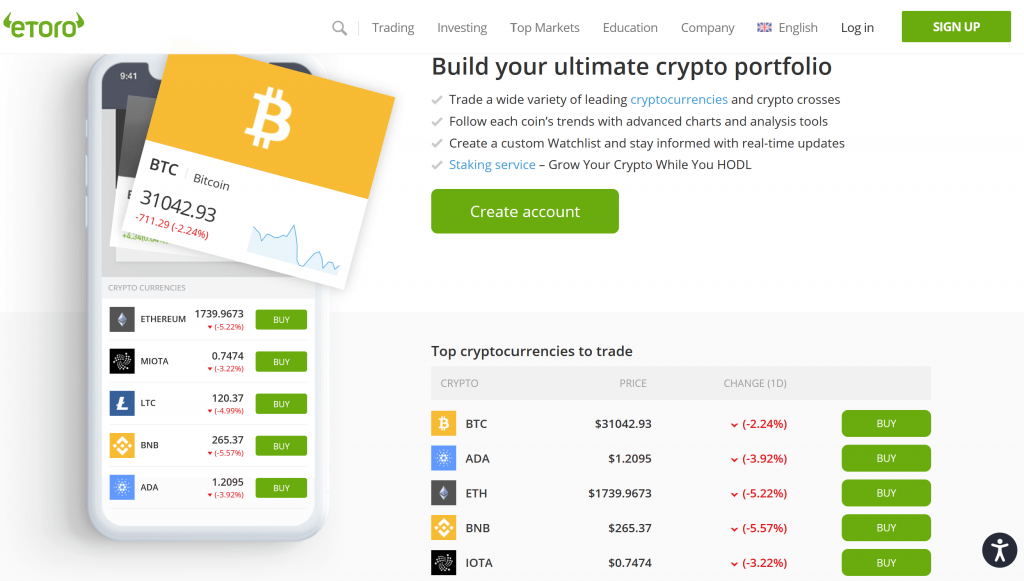 This is where you really start to notice the difference. eToro offers Forex, shares, CFD (Contract for Difference), ETFs, indices, commodities, and some cryptocurrencies. There are 19 tokens to trade, including Uniswap, Cardano, and Chainlink. They have most of the big-caps, but still offer Tron (TRX), Ethereum Classic (ETC), and Bitcoin Cash (BCH). Altcoin connoisseurs will not be impressed.
eToro also offers 'Crosses' that allow you to margin trade crypto against other coins, tokens, commodities, and currencies. You can trade long or short, but again, the spreads are horrific, and I would run a mile.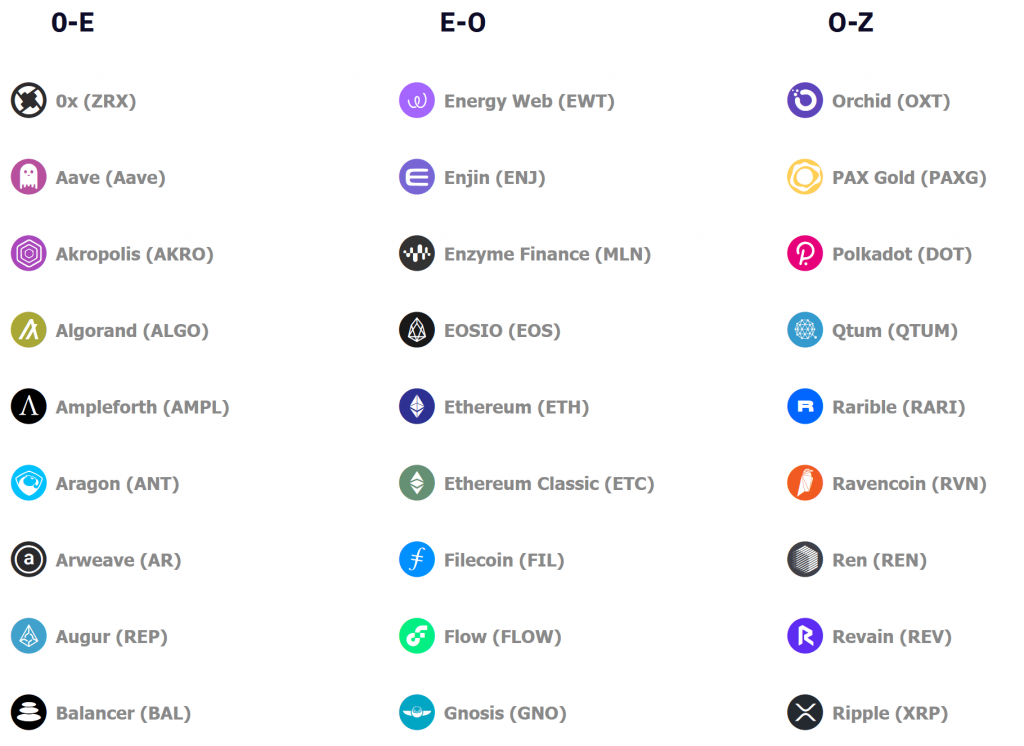 Kraken shows its cryptocurrency pedigree with an impressive roster of tokens, too many and varied to mention here. They totaled 61 when I last checked, and you can get involved in the latest wave of Defi and NFT plays. They also feature margin trading, staking, and swaps.
It's like comparing apples and oranges – Kraken is a cryptocurrency platform designed for people with a passion for crypto. eToro is an overpriced 'everything market' designed to relieve a naive customer base of its hard-earned trading profits.
Trading Fees
---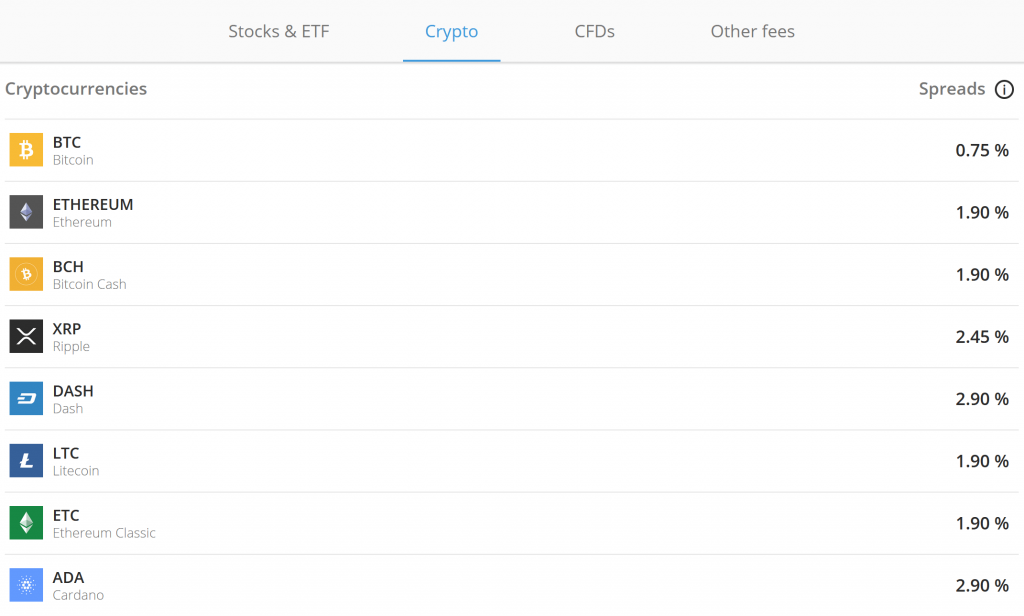 This is where things get really bad. eToro famously boasts about zero-commission trading, but this is not the full story. It imposes a spread – an arbitrary profit margin between the buy and sell prices. This is how it makes most of its money. There's a 0.75% spread for BTC, 1.9% for ETH, and XRP is around 2.5%. That's huge!
This price disparity has to be overcome before your trades even start to be profitable. As day-traders will appreciate, having the first 2% deducted from all your winning trades would be catastrophic for your profit and loss account. It's less onerous for longer-term positions, but they tend to be larger trades.
Be careful to understand all the costs before trading anything on eToro. Look at the buy and sell prices, and calculate the percentage difference. That difference is the effective trading fee.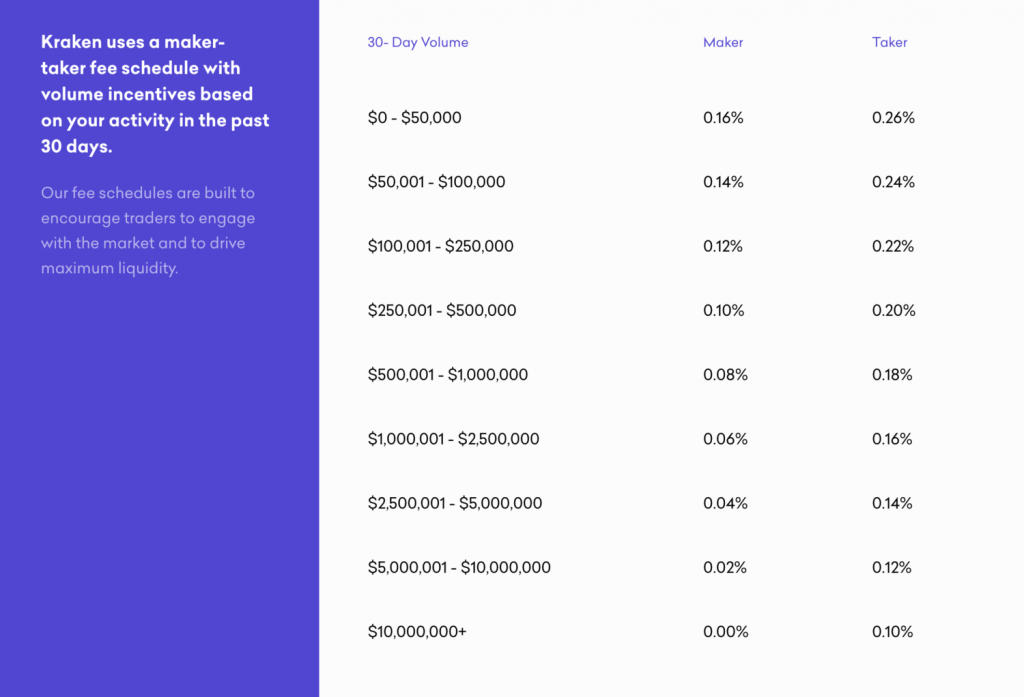 Kraken charges 0.16% Maker fees and 0.26 Taker fees. They are up-front about the costs and there is a sliding discount scale should you trade large amounts. Kraken wins this one easily with fees working out to around one-tenth the cost of eToro's so-called "zero-commission."
Deposits & Withdrawal Methods
---
Both platforms accept fiat deposits. eToro supports Paypal, Credit and Debit cards, Skrill, Neteller, and bank transfers. Kraken accepts cash transfers in Canadian, Australian, and US dollars, plus GB Pounds, Euros, Swiss Francs, and Yen.
There is an eToro crypto wallet for transferring a few cryptocurrencies out of eToro. The problem is that assets cannot be transferred from the eToro wallet back to your account. It's a one-way valve. Also strange is the day wait for assets to appear in your eToro crypto wallet, and the further days before transfers out of your wallet are executed. This is not in the spirit of blockchain technology.
Again, Kraken is a real crypto platform so you can transfer your coins and tokens in and out directly. There's no need to use cash, whereas eToro insists you only use fiat money. This is important as converting between cash and crypto is expensive and has tax implications. Withdrawing crypto from Kraken will incur only the standard network fees.
There are deposit and withdrawal fees for non-US$ transactions with eToro. There's also a standard 5$ withdrawal fee and a minimum transaction amount of 30$. It seems there's no limit to your withdrawals, so the more you withdraw, the better the eToro withdrawal fees look.
Security and Trustworthiness
---
Security should not even be an issue with regulated organizations of this caliber. Trustworthiness is, however. I say this because to access the trading page of eToro, I had to tell them my job, my company, my salary, how much I intend to invest, and my trading experience. You'd normally at least have to buy me dinner to get that far!
Where does all that information go? Is it really just to help them give you the best possible customer journey? eToro writes that "no unauthorized personal information," etc. I'm prepared to bet that signing their agreement gives them authorization, and that your trading data is not even classified as personal information.
I'm not saying that Kraken is any more trustworthy, but I didn't have to give all this information, so it matters much less. That's the point.
Insurance Funds
---
US citizens' cash holdings on eToro are insured by the FDIC (Federal Deposit Insurance Corporation) up to $250,000. Kraken is not insured.
I noticed that the eToro website states that your 'cash' and 'money' are insured – but does that include all your assets, such as your tokens or stocks? If you bought BTC with your USD, are your funds still fully insured? I am waiting for clarification from eToro customer service as this was not clear on their website.
KYC Conditions
---
I supplied personal information to both eToro and Kraken. The depth of information was far greater for eToro, as you might expect. They adhere to the local regulations in each territory they operate, so KYC applies to US customers.
Kraken also adheres to the US AML (Anti Money Laundering) processes, which include KYC (Know Your Customer). The level of information you give dictates your transaction limits. I could trade and transfer more than I would ever need with basic personal information. If you trade hundreds of thousands of US$, you will have to submit further personal and business financial details for review.
Available in the US?
---
Apart from Washington State and New York State, all US residents can use Kraken. eToro has rolled out to 42 states so far, but US citizens not resident in the US cannot access their services.
Customer Support and Education
---
eToro has a live chat service but it's only available to silver eToro club members. You become a member of their club once you have $5000 in your account. So, no live chat for me to ask my questions. There's a brief list of FAQs and a search bar for any questions not listed. There's also a guide that takes you through the various functions, but it was clunky and would not show me information on the tabs I wanted to view.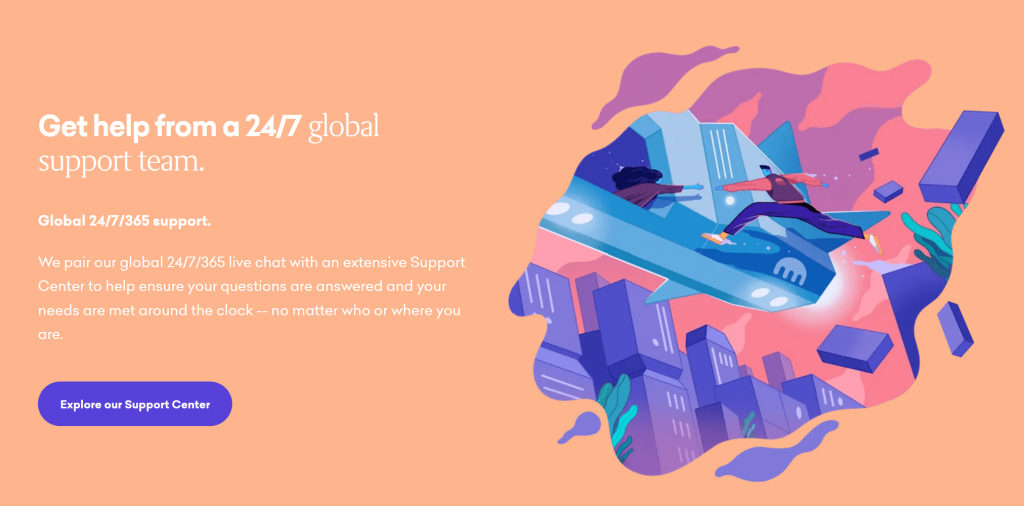 Kraken's support page has all the usual topics to choose from. You can also submit a request if you don't find the answers you were looking for. There are explainers for just about everything.
Kraken also claims to have a live chat function, "accessible at the bottom right of their support pages." It was not present when I looked, and I found a disclaimer that said, "When available." When I needed it, it wasn't available.
Conclusion
---
Throughout the article, we have seen that Kraken and eToro are very different beasts. eToro is a mainstream trading platform for retail traders, whereas Kraken caters to cryptocurrency aficionados. eToro behaves like a CFD (Contract for Difference) service where you don't ever own the asset – you enter a bet with the market makers about which way an asset will move. Etoro is more like a sportsbook than an exchange.
The cost of trading on eToro is far higher than Kraken, even though eToro advertises commissionless trades. Worse, you can only move fiat money in and out of eToro, so you'll trigger a taxable event when you convert crypto to dollars for withdrawal.
Kraken allows you to transfer your actual crypto to an external wallet, avoid the taxable event, and keep the destination private.
I could go on, but the summary is this –
Kraken is a crypto platform – I would use it happily.
eToro is not a crypto platform – I wouldn't use it.
68% of retail CFD accounts lose money
Cryptoassets are highly volatile and unregulated in the UK. No consumer protection. Tax on profits may apply.
In case you want to compare with other exchanges, check this out:
eToro is a multi-asset platform which offers both investing in stocks and cryptoassets, as well as trading CFDs.

Please note that CFDs are complex instruments and come with a high risk of losing money rapidly due to leverage. 68% of retail investor accounts lose money when trading CFDs with this provider. You should consider whether you understand how CFDs work, and whether you can afford to take the high risk of losing your money.

Past performance is not an indication of future results. Trading history presented is less than 5 complete years and may not suffice as basis for investment decision.

Copy trading is a portfolio management service, provided by eToro (Europe) Ltd., which is authorised and regulated by the Cyprus Securities and Exchange Commission.

Cryptoassets are highly volatile and unregulated in the UK. No consumer protection. Tax on profits may apply.

eToro USA LLC does not offer CFDs and makes no representation and assumes no liability as to the accuracy or completeness of the content of this publication, which has been prepared by our partner utilizing publicly available non-entity specific information about eToro.

CaptainAltcoin's writers and guest post authors may or may not have a vested interest in any of the mentioned projects and businesses. None of the content on CaptainAltcoin is investment advice nor is it a replacement for advice from a certified financial planner. The views expressed in this article are those of the author and do not necessarily reflect the official policy or position of CaptainAltcoin.com