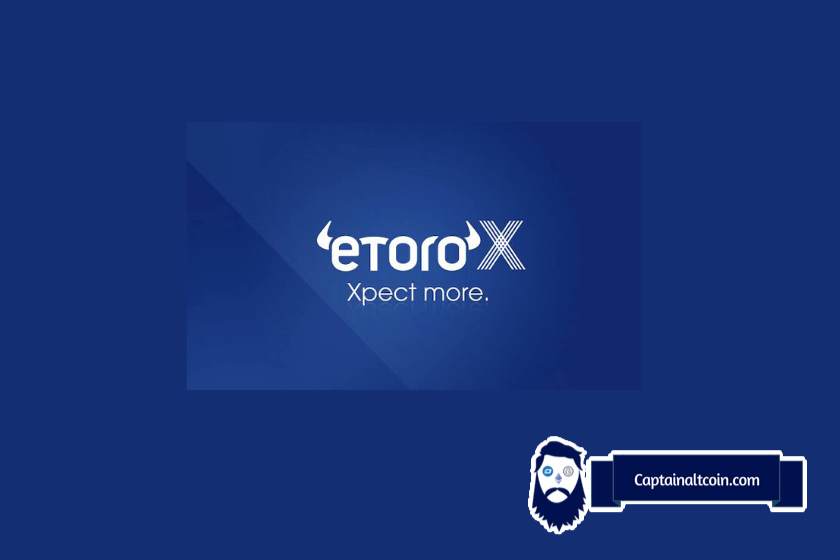 eToroX, a subsidiary of eToro Group and registered in Gibraltar, is a regulated cryptocurrency exchange (unlike many others that are in no man's land when it comes to regulation) that offers trading of various crypto assets on its digital web-based platform. Even though the crypto regulatory framework in Gibraltar, a British overseas territory, was only established recently, there are several major exchanges that are already regulated there (Huobi, ConFloor).
Cryptoassets are unregulated in some EU countries and the UK. No consumer protection.
eToroX is a part of a global eToro Group that is a very popular platform in the trading world. They hold licenses by some of the most reputable regulators in the world of forex – CySEC in Cyprus, ASIC in Australia, and the UK's FCA. Check out this eToro review to learn more about the main platform managed by the eToro Group.
And here is the eToroX vs eToro head-to-head comparison.
Launched in April 2019, eToroX is a new cryptocurrency exchange in the crypto market that suits both beginners and experienced traders.
The exchange is still low on liquidity and can't be considered one of the top bitcoin exchanges. But, with eToro's deep pockets, competent developer, and marketing team, there is always room at the top.
eToroX Overview
---
 eToro originally started out as RetailFX and was founded in Tel Aviv, Israel in 2006 by Yoni Assia and his brothers, Ronen and Davi. eToroX operates as a global digital asset and cryptocurrency company with offices in Tel Aviv, the UK, Australia, Cyprus, and China, and its coverage extends to more than 100 countries. The company employs several hundred people. 
All of this means that eToroX is a legit and trustworthy platform.
Its parent company eToro Group has been operational for more than a decade and they currently boast over 10 million users from all over the globe and hold a distributed ledger technology (DLT) license issued by the Gibraltar Financial Services Commission (GFSC).
Although the exchange was launched recently, eToroX offers a good selection of crypto assets, including BTC, ETH, XRP, LTC, DASH, BCH, as well as a number of the so called "stable coins" – cryptocurrencies that is pegged to a financial asset (e.g. gold – GOLDX, oil – OILX, US dollar – USDX). This list is expected to expand in the future.
eToroX platform offers two main services:
The platform also recently launched a new, domain-specific programming language called Lira. More on that in the second half of this eToroX exchange and crypto wallet review.
They also have their own system of tokenizing assets which is also discussed further below.
Let's move with this eToroX review by examining both of the services. First, the exchange.
How to Trade on eToroX Exchange?
---
Follow these steps to create an account on eToroX:
1) Create an Account
​eToroX exchange has an easy sign-up process and you can easily signup onto the exchange using email. The company takes the security of an account seriously and they use the KYC procedure for clients' verification and two-factor authentication (2FA) to secure the account.
It is even easier if you go through their main eToro platform and then just use the same logins to use eToroX.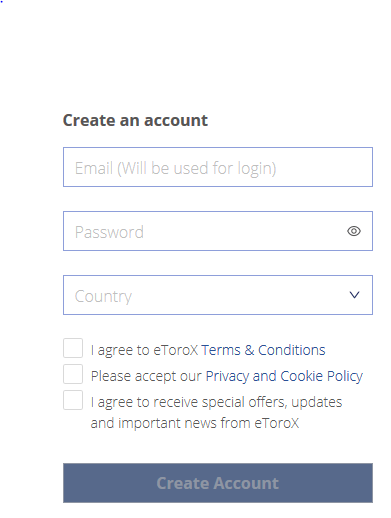 Click one of the prompts on the site for eToroX open account to go to the signup page, and from here you'll be required to enter your email address, password, and country of residence. Also, agree to the terms and conditions privacy policy.
2) Confirm email
You will get a confirmation email in your inbox and to verify your address, click on the link in the confirmation email. From this point, you can sign in to your account. It's important to note that you need to verify your identity in order to start trading.
3) Verify your account
Verify your account by going to "Settings" and selecting "Start Verification". Click on that and follow the instructions for verification. You will need to complete personal information and take a picture of yourself while holding your identification.


If you already happen to have an account on eToro, you can simply login using your existing eToro login credentials.
4) Deposit Funds into your Account
To make a deposit, simply open the Balance page, and choose your preferred coin to deposit and click "Deposit". There is no specified minimum deposit on eToroX, and this is very much like most of the leading global crypto exchanges.
5) Customize your Trading Screen
When you first login to the eToroX social trading platform, you will access a default layout of the user interface, but can be customized to suit your particular preferences. It showcases the order book, portfolio allocation, charts, and market depth. There is an icon on the top left corner which can be used to adjust the size and position of the different components. It's important to note that you cam send an email to customer service at customerservice@etorox.com if you are stuck, and a customer service representative will contact you and address your concerns.


How to Buy Cryptocurrency on eToroX: Step-by-Step Tutorial
---
Here are the steps you need to follow to buy crypto on eToroX:
Login to your eToroX account
Select the crypto asset you want to buy
A pop-up menu will appear, where you can select the "Buy" option
Enter the amount you want to buy
Use your credit card to complete the purchase via Simplex. Note that it only supports the use of EUR and GBP
Confirm the transaction details and hit "Buy"


How to Withdraw Funds
---
Here are the steps you need to follow when withdrawing funds from your eToroX account:
Log in to your eToroX account
Click the "Balance" tab at the top of the screen
From the list of coins that appears, select the coin you want to withdraw. That will trigger a pop-up on which you need to click "Withdraw"
Specify the amount you wish to withdraw and then paste your receiving address into the "Withdraw Recipient ID" box
To initiate the withdrawal, you will require 2FA and once you enter your credential, the transaction will be processed and the funds should reflect in your account
The eToro Crypto Wallet
---
eTorox has a wallet which can be downloaded from the Apple App Store or Google Play Store. It is worth noting that this is a custodial wallet, meaning you don't have access to its private keys or full control of your funds. In this sense, it is similar to Coinbase wallet or Binance wallet (their mobile app).
eToro wallet is one of the few regulated crypto wallets on the market, which is its huge advantage.
Before you can use the eToro Wallet, you must fully verify your eToro trading account.
Another important advantage is the quick and simple way to set up an eToro wallet. It's also important to note that, with the eToro wallet, you only need to enter your eToro user data to be able to buy different cryptocurrencies. You can also use the login data from Google or Facebook for this, which means that you can't use the wallet without having an eToro account.
Can you transfer coins from eToro to eToro Wallet?
Only BUY (long), non-leveraged positions are backed by real coins on eToro and those can be withdrawn to the eToro Wallet. Additionally, Margin Trades cannot be sent to the eToro Wallet.
How to send from eToro wallet to other wallets?
To send coins to your private wallet, please follow the steps below:
Log into your wallet account via your mobile device.
Under the 'Balance' tab, tap the type of cryptocurrency you wish to send.
Tap 'Send'. On this page, you will select the amount to send and input the recipient's public address. Type in the public address or tap the camera icon to scan the recipient's QR code, which will input the public address automatically.
Make sure that the address has been input correctly and then tap 'Send'.
An SMS with a verification code will be sent to your mobile phone. Enter the code you receive and tap 'Verify'.
That's it! A screen will appear, confirming that your send request has been received. You can check on the status of your request by going to the 'Transactions' screen.
eToroX wallet – supported coins
---
At the moment, the wallet supports deposits for:
EURX stablecoin
USDx stablecoin
It's also important to note that the wallet supports the purchase of cryptocurrencies using credit card.
How to Set up eToro Wallet
---
Step 1: Register with eToro
Step 2: Download the eToro app from Apple's App Store or the Google Playstore.
Step 3: Once the registration and verification process is complete, users will be able to see the available crypto credits and can view your own crypto trades.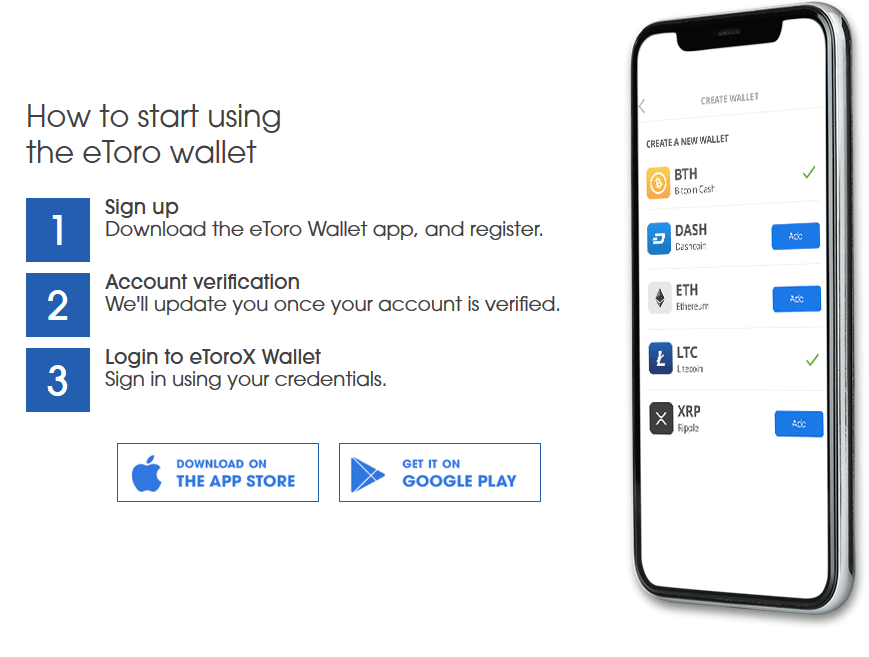 eToroX Wallet Fees
---
eToro does not charge any fees for depositing, but different other fees are charged when using the app. On the one hand crypto owners have to reckon with the fees incurred on the block chain, on the other hand the broker himself charges fees for trading with the eToro wallet.
Crypto-to-Crypto conversion fees
eToroX charges a conversion fee of 0.1% for exchanging from one crypto currency to another, and conversion rates are set according to eToro market rates.
Crypto/Crypto costs
Conversion fee 0.1%
Fiat to Crypto Conversion Fees
eToro Wallet transaction fees for Fiat currencies to crypto currencies are structured differently, and the majority of eToro Wallet transaction fees consist of the fees of the third-party provider Simplex, which account for 4%. The eToro wallet fees are rather low at 1% of the transaction amount, which means that the eToro Wallet transaction fees from Fiat to cryptocurrencies amount to 5%.
Simplex fee 4%
eToro fee 1%
Total 5% of
Different payout fees depending on coin/currency:
Cryptocurrency Costs:
In addition, there are special eToro fees to be paid for transactions.
Fee Type Costs
Maker fee 0,005%
Taker fee 0.05%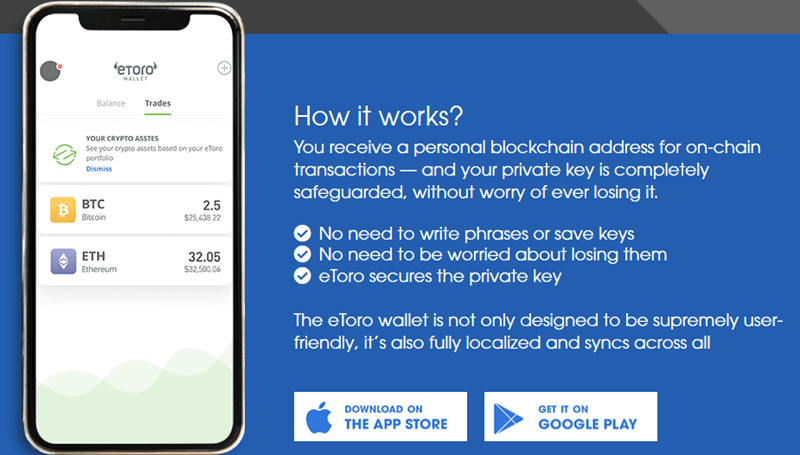 The eToroX Fees and Limits
---
There are no minimum deposit fees when using the exchange. On the other hand, there are eToroX withdrawal fees, which differ for each digital asset and are payable in the same currency:
Currency
Withdrawal Limit
Fee

Bitcoin Cash

Bitcoin

Ethereum

Litecoin

Ripple

AUDX

CADX

CHFX

EURX

GBPX

JPYX

USDX

NZDX



16610278555166,66750,00050,00050,00045,00040,0005,500,00050,00050,000

0.010.00060.0170.0338.53.753.932.652.33.334.25
​eToroX follows a Maker/Taker fee structure, and the trading fees follow a tiered structure with each tier having a different Maker/Taker fee percentage. Makers are people who add limit orders to the order book. They are charged with a fee between 0.1% – 0.03% depending on their order size. Takers are people who fulfill existing orders from the order book. They are charged with a fee between 0.24% – 0.12% depending on the order size.
Note that all trades use the first tier (under a monthly volume of $100,000) by default. When the monthly trading volume grows beyond Tier 1, a rebate will be applied during the first week of the month. Also, depending on the Tier Level, the rebate will be calculated based on the percentages in the following table:

Monthly Trade Volume
Maker Fee
Taker Fee

Less than $100,000

Less than $500,000

Less than $1,000,000

Less than$500,000,000

Less than $10,000,000

Over $10,000,000



0.10%0.09%0.08%0.07%0.06%0.03%

0.24%0.22%0.20%0.17%0.15%0.12%
The traders get rebates as rewards for their monthly trading volume, which is calculated per calendar month and is paid in ETH during the first week of the month.
eToroX Supported Currencies
---
Although the Gibraltar-based exchange was launched recently, it offers a good selection of crypto assets, which is expected to expand in the future. More specifically, clients of eToroX can trade around 20 digital currencies with over 100 ERC-20 tokens scheduled to be incorporated in the near future.
eToroX supports the following cryptocurrencies:
There are also 71 trading pairs (trading pairs are limited) currently available, and eToroX also incorporates ten branded stablecoins – cryptocurrencies that is pegged to a financial asset – that allow professional traders to protect themselves from the volatility of the market without having to "cash out" into fiat.
The branded tokens pegged to fiat currencies include:
USDEX (pegged to the US Dollar) | Total supply: 500,000
GBPX (pegged to the British Pound) | Total supply: 500,000
JPYX (pegged to the Japanese Yen) | Total supply: 56,000,000
RUBX (pegged to the Russian Ruble) | Total supply: 500,000
CADX (pegged to the Canadian Dollar) | Total supply: 500,000
CNYX (pegged to the Chinese Yuan) | Total supply: 500,000
AUDX (pegged to the Australian Dollar) | Total supply: 500,000
NZDX (pegged to the New Zeland Dollar) | Total supply: 500,000
CHFX (pegged to the Swiss Franc) | Total supply: 500,000
GOLDX (pegged to gold) | Total supply: 390
SLVRX (pegged to silver) | Total supply: 33,700
The incorporation of these digital assets helps eToroX to remain a crypto to crypto exchange.
The eToroX app
---
eToro's website is responsive by itself. However, the company has built a convenient app with Android and iOS versions that enables most of the features of the website to mobile users. The app allows users to trade supported cryptos and view digital asset balances.
Cryptoassets are unregulated in some EU countries and the UK. No consumer protection.
Is eToroX safe?
---
eToroX is part of the eToro group which has been operation since 2006. It is one of the more reputable and regulated organisations currently active in the crypto space and they have invested in rare security measures to safeguard the platform and its users.
The security rating of eToroX is considered top-notch by industry experts and there are a number of safety features on the platform that are worth consideration:
Email Verification – When a user signup for an account, the verification system sends an email to the registered email ID and users cannot access the trading platform until this email is verified.
Two-Factor Authentication – eToroX users require 2FA to log in to accounts meaning that users have to go through a double check before accessing accounts.
Unique Infrastructure – The platform uses a native algorithm for safeguarding workstations, which is based on N.N machine learning algorithm which assists in decision making, and incorporate multiple PT and Code reviews as well as a bug bounty program.
Staff Vetting – All eToroX employees are required to pass security clearance before being hired. Also, all employee workstations are protected and verified based on multiple security mechanisms that include deception and traps.
Multi-level Custody – The exchange's custody solution is based on a three level military grade FIPS140 custodian process with multi separation between the different environments, including a warm environment, or process engine secured solution, a cold, secured isolated gap environment, and a deep, military grade secured isolated environment.
KYC/AML requirements – Who you are, where you live, and what you do is captured by most KYC checklists, which means that you need to provide a means of identification-normally a national ID card, Drivers' license or International Passport.
Also, to prevent service disruption due to DDoS attacks, eToro has deployed Incapsula's Infrastructure DDoS Protection. The traffic directed to eToro is filtered by Incapsula which forwards valid requests and takes out spam. Also, the headers are left unaltered in order to ensure source IP address visibility.
User Experience
---
The web trading platform is really well-designed and user-friendly and for users who are already familiar with the handling of social networks, the operation is particularly easy. The platform offers a built-in search function, which works without any problems. Here you can type in any product you are looking for.
For anyone completely new to the world of crypto trading, the team offers tutorials, live training (phone), economic tools and a comprehensive FAQ. They can be contacted by email as well as across their various social media accounts.
eToroX Account Verification
---
eToroX is indeed regulated under the Gibraltar Financial Services Commission (GFSC) and their requirements ensure that each new account must be verified as part of the registration process. It's important to note that the team behind the exchange aims to simplify the verification process as much as possible.
After new users submit all their information and upload all the necessary documents, it can take up to 48 hours to verify their account. Opening and funding a trading account will require the following documentation to be supplied to them:
Proof of Identity (POI) Document – This document must clearly show the following: your full name, your date of birth, expiration date and a clear picture. Accepted forms of POI documents include a passport, national ID Card and a driving license. Note that POI document must have a minimum validity of 6 months before the expiry date.
Proof of Identity and Selfie (POIS) Document – A POIS document must be uploaded. The document must show the client holding the POI document uploaded to the platform.
Proof of Residence (POR) Document – This document must clearly show your full name and your address of residence, which should match the address you entered during your account registration. Your POR document must be a clearly legible copy of any of the following:
A bank or credit card statement
A utility bill for one of the following: water, electricity, phone or gas
Council, State or Country Tax Bill
POR document must be dated within the last 6 months.
The last step in the verification process involves completing a financial questionnaire, which is made up of nine 9 questions and takes just a few minutes to complete. The questionnaire covers your financial suitability for investing.
eToroX Lira
---
Lira is an open source project maintained by eToroX Labs, a developer team supported by eToro Group. The aim of the project is to build the future of decentralised finance. Lira will be "domain-specific," programming language, meaning it can only describe and perform a limited set of instructions. Lira's only function is to enable counterparties to write, verify, and collect on the terms of a self-executing contract. eToro open-sourced the programming language to encourage community development of "anything from simple futures contracts to complex exotic contracts," like collateralized loan obligations (CLOs). Further, the lab intends for the language to be deployed for other decentralized finance (DeFi) projects across different blockchains.
eToroX Tokens
---
Tokenization is a process by which a representation of a real-world asset is created using a digital token, which is made available on the blockchain. We believe any asset has the potential to be tokenized – from property to commodities to paintings.
The tokens are representations of underlying real-world assets which seek to broadly replicate the economic exposure of holding the underlying asset. The value of the tokens is pegged by reference to the value of the underlying asset, however the tokens do not give tokenholders any rights in relation to the underlying asset and they are not securities, derivatives, electronic money or any other kind of regulated instrument.
The eToroX Customer Support
---
Good customer support is a must for many customers. Customer support should be friendly, fast and competent in their own language to ensure that a broker gets the best possible rating. Newcomers value quick answers to basic questions, while experienced traders want to have an accessible contact person at hand, especially when technical problems arise.
For account holders, customer support at eToroX can be accessed using email only, which is perhaps a sore point that the team behind platform might want to improve upon as its operations grow. This makes it difficult to get immediate response to urgent queries, so sometimes eToroX complaints may take longer than expected to get resolved. Customer support at eToro is generally available Monday to Friday 24 hours, and you can expect replies depending on the complexity of the issue you want to address within 24 hours.
Which countries does eToroX support?
---
eToroX supports users from all around the globe. The eToroX Exchange currently supports the following countries:
| | | | |
| --- | --- | --- | --- |
| Aland IslandsAlgeriaAndorraAngolaArgentinaArmenia AustriaAzerbaijan BahamasBahrainBangladesh BarbadosBelgiumBermudaBhutanBolivia BrazilBrunei Bulgaria Cameroon Cayman IslandsChileColumbia Costa Rica Côte d'Ivoire CroatiaCyprusCzech ReupblicDenmark DominicaDominican RepublicEcuador EgyptEstonia | Finland FranceGeorgia Germany GhanaGibraltarGreeceGreenland GrenadaGuadeloupeGuatemalaGuernseyHong KongHungaryIceland,IndiaIndonesiaIraqIrelandIsle of ManIsraelItalyJamaicaJerseyJordanKazakhstanKenyaKuwait Kyrgyzstan LatviaLebanon Liechtenstein LithuaniaLuxembourg | MacauMacedonia MalaysiaMaldives MaltaMartiniqueMauritiusMayotte MexicoMoldovaMonaco Mongolia MontenegroMoroccoMozambiqueNetherlandNetherlands AntillesNigeria NiueNorwayOmanPakistan Palestinian TerritoryPanamaPeruPhilippines PolandPortugal QatarReunion Island RomaniaRussia | Saint LuciaSaint Vincent Saudi Arabia SenegalSingapore SlovakiaSloveniaSouth Africa South Korea SpainSwedenSwitzerland SyriaTaiwanTanzaniaThailand Trinidad and TobagoTunisiaUkraine United Arab Emirates United KingdomUruguay VenezuelaVietnamVirgin Islands |
The following countries do not support eToroX at the moment:
| | | | |
| --- | --- | --- | --- |
| AfghanistanAlbaniaBelarusBosnia and HerzegovinaBotswanaBurundiCanada ChadCongo Republic Cuba | EthiopiaGuineaGuinea Bissau GuyanaIranJapan LaosLibyaMali Myanmar | NamibiaNicaraguaNorth Korea PalauPuerto RicoSamoaSerbiaSomaliaSudanSyria | TurkeyUgandaUnited StatesUS Virgin IslandsYemen |
Conclusion
---
eToroX is a newly-launched crypto exchange and it is extremely useful for anyone interested in trading or investing in cryptocurrency. eToroX includes many of the features expected of a high level crypto exchange and has all the required ingredients to become a hugely successful crypto exchange, such as an intuitive user interface, comprehensive charting tools and a mobile app.
Besides, the platform is a part of a group with global presence that is well-established in the trading world, and has over ten years of experience, which is rare in the rapidly emerging crypto exchange space. This translates into an exchange that makes use of cutting edge security protocol. Other advantages of the broker are the European regulations, the extremely comprehensive educational offer, the wide range of security features and the fast, automated order execution on the trading platform.
This site is great for those looking for a mix of convenience, security, and transparency.
Cryptoassets are unregulated in some EU countries and the UK. No consumer protection.
eToroX alternatives
If you are not fond of eToroX, there are plenty of alternatives we suggest below:
Wallet and Exchange services provided by eToro X Limited ('eToro X'), a limited liability company incorporated in Gibraltar with company number 116348 and with its registered office at 57/63 Line Wall Road, Gibraltar. eToro X is a regulated DLT provider licensed by the Gibraltar Financial Services Commission under the Investments and Financial Fiduciary Services Act with licence number FSC1333B.
PROS
Backed by a highly established company
Wide range of markets
Fully regulated exchange
real cryptocurrency trading
Intuitive user interface
Major altcoins supported
CONS
Lots of personal information to provide
Relatively new exchange
Relatively high fees
Lack of instant customer chat services
No crypto deposits / withdrawals

CaptainAltcoin's writers and guest post authors may or may not have a vested interest in any of the mentioned projects and businesses. None of the content on CaptainAltcoin is investment advice nor is it a replacement for advice from a certified financial planner. The views expressed in this article are those of the author and do not necessarily reflect the official policy or position of CaptainAltcoin.com