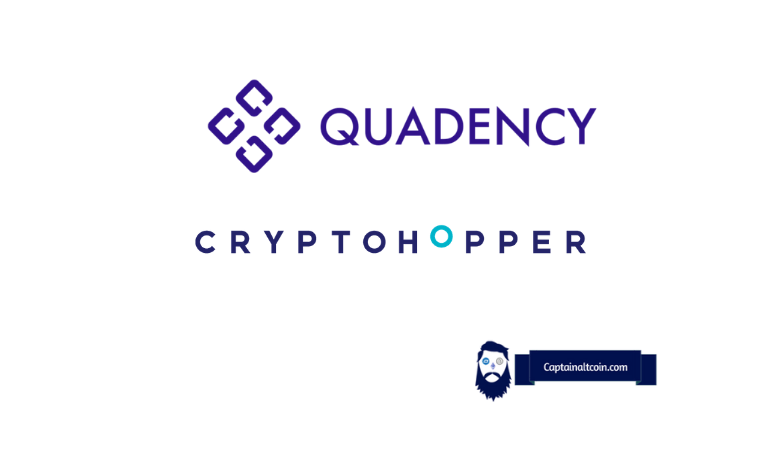 Cryptocurrency is one of the most volatile markets out there, with massive 20% swings in a day not being out of the ordinary. These massive fluctuations provide a lucrative opportunity for traders and investors who think they can turn these spontaneous movements into a profit.
This kind of market really isn't for the faint-hearted as experiencing these kinds of gains and losses can make for an emotional rollercoaster. This is where tools such as crypto bots come in handy, so you can trade without emotional attachment and let the bot do what it needs to do regardless of the price.
They also allow you to trade 24/7, so you can setup the bot and sleep easy knowing you won't miss any opportunities.
In the cryptocurrency trading scene, there are many bot-providing trading platforms but two that we will compare in this article are considered by many to be pack leaders. Quadency is a younger but very ambitious company while Cryptohopper is arguably the best bot on the market for the last couple of years.
Through this article we are going to explore does Quadency stand a chance as a challenger and what makes both of these tools so popular.
Both of these trading tools come with an array of different features and functionalities, so it is important that you understand the difference between the pair, so you can pick your favored bot and its respective supplier accordingly.
IMPORTANT NOTE:

The conditions for profitability are moving targets so bot trading isn't really a 'set it and forget it' type of operation. It's about deploying different bots for different market conditions and being comfortable making adjustments.

You should be familiar with some day trading strategies to be able to employ them for automatic trading.
bottom line up front
👉 If you have the budget and at least some experience with automated trading, Cryptohopper is your choice. It is by far the most potent and developed software on the market. It has marketplace where you can buy signals, copy other traders and their bots are highly customizable. There is also much more material on how to set-up and run Cryptohopper since it has more than 250k users.

👉 If you are new to the automated trading game and don't want to shell out too much money for a bot, Quadency is the tool for you. It is a much simpler platform, but it does what it's supposed to do – Quadency bots are easy to set up and you get 3 months free as soon as you connect their partner exchanges.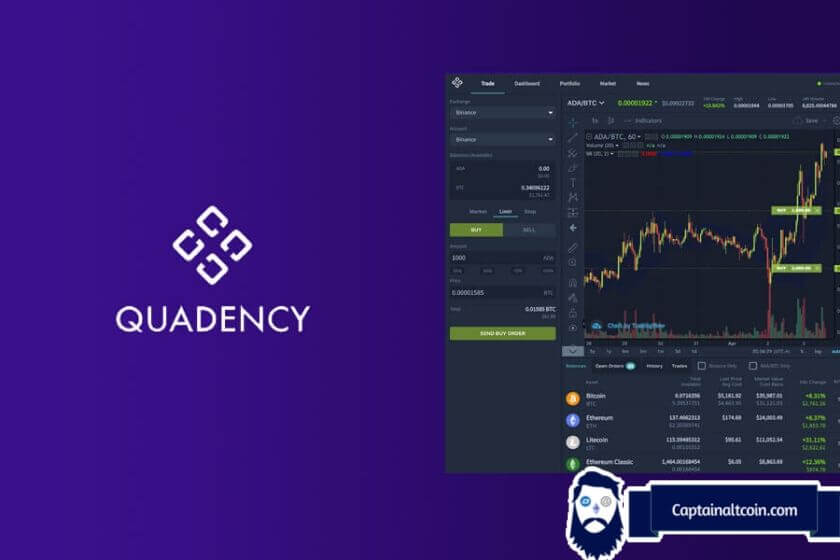 Disclaimer text…
Disclaimer text….
Quadency overview
---
Founded back in April 2018. The New York based company Quadency Inc released their sleek trading terminal, a new piece of kit that keeps all your trading information in one place and allowes you to analyse you trading efforts across multiple exchanges.
Across these multiple exchanges, Quadency provides a plethora of trading bots for you to make use of and maximise your profit.
⚡️ Features
Quadency's many features help to set it out ahead of their competitor's.
First of the interesting features on Quadency we are going to talk about is their news section. This section is curated and hand-picked in order to provide traders and investors with the most relevant and up-to-date information surrounding their favorite cryptocurrencies.
Although this is a feature commonly found on trading software, Quadency's is special because of the way it works – rather than being updated by a bot or a low-level employee googling the word "crypto" every few hours, the news is put together by experts in the industry who are determined to show the most important and high-quality resources to their customers.
Of course, the main section of the platform is their lineup of trading bots. Quadency gives you access to their 11 trading bots, all of which follow different trading strategies.
Aside of these ready-made bots, you can also design a custom-made bot to your specific trading needs and strategies.
Lastly, through Quadency's push to create an all-in-one platform, they have created a portfolio tracker. This allows you to view all of your crypto holdings in one place. This means that no matter where your coins are stored, be it on a hardware wallet, a software wallet, exchanges or some other crypto service., you will be able to view your portfolio and its value in real time as it keeps all your data together and shows you your overall portfolio.
⚡️ Exchanges
Quadency integrates with 11 major exchanges. These are:
Coinbase Pro
Poloniex
Binance
Kraken
KuCoin
Gemini
Bitfinex
Bittrex
HitBTC
OKEx
Liquid
Through Quandency's extensive list of compatible exchanges, it has come to support a huge number of different cryptocurrencies and tokens, a whopping 1270 to be exact. This is a great achievement for the trading terminal, as offering analysis tools and support for so many coins is no easy task.
⚡️ Pricing
Quadency has three different pricing plans available for their service.
The first of these plans is the "HODLER". Named after the iconic cryptocurrency meme, the HODLER plan is a free plan that lets you utilise the more basic features of the terminal, like the portfolio and news.
Unlike Cryptohopper you are able to use one of the trading bots on the free plan and have a trading limit of up to 10,000 US Dollars.
The next on the list is the Pro. As straight-forward as it sounds, the Pro option is for more experienced traders. With this plan you have access to 10 different live trading bots. You also have a trading limit of $100,000. This plan costs $49 per month.
The final plan offered by Quadency is the Institutional plan. Once again, this plan does what it says on the tin. This plan is suited to institutional investors, portfolio managers and other high net-worth individuals looking to open high value accounts.
This service removes the trading limit and provides unlimited use of the trading bots. The pricing for this plan is available on demand from Quadency.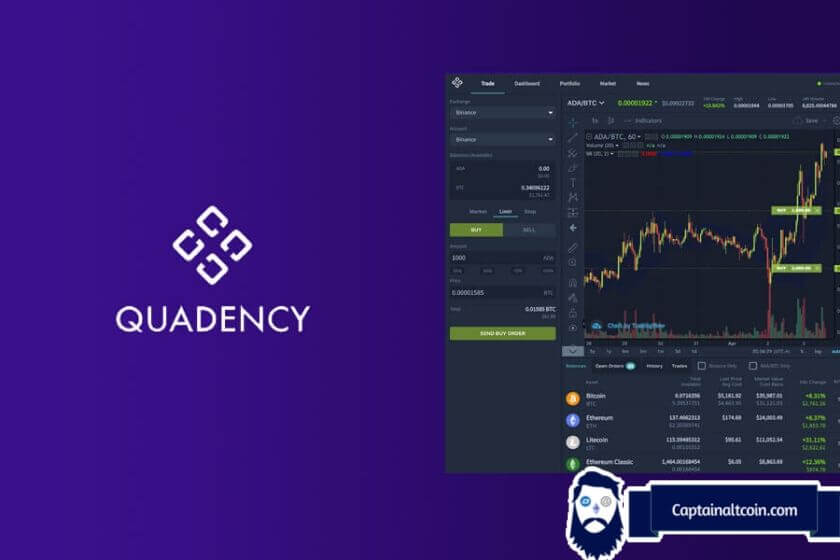 Disclaimer text…
Cryptohopper overview
---
⚡️ Features
Cryptohopper has some great features under their belt, some of which could even be considered benchmarks for the industry. The first of these features worth mentioning is their mirror trading capabilities.
You can use Cryptohopper's mirror trading to copy experienced investors or third parties from Cryptohopper's marketplace and let them do the charting and research! Not only does this mean you can outsource your efforts to someone more knowledgeable than you, you can also easily switch these providers you follow if you are not satisfied with their results.
Another great part of Cryptohopper is Strategy Designer. This is a great feature that allows you to create a trading strategy, whilst making use of their intuitive candle charts and over 130 different indicators.
Although it is quite a common feature of traditional financial services, Cryptohopper offers a service which is rarely seen in crypto, paper trading.
Paper trading gives you the option to make use of Cryptohopper's great site, bots and analysis tools, whilst not risking any money. This is a great way for you to practice and hone your trading skills, so that you are fully prepared to take on the real markets when are ready.
Lastly, Cryptohopper offers fully automated trading, 365 days a year, 24/7. This means you can have a bot doing automatic trades for you whenever you like and for as long as you like. Not only does this free up a ton of time, it also ensures you won't miss any great trading opportunities because you were asleep or unable to get to the computer.
⚡️ Exchanges
Despite also providing support for 11 different exchanges, these exchanges are different to the ones we have seen with Quadency. Cryptohopper features some smaller exchanges such as Bitvavo.
Although they integrate a lot of exchanges letting them trade, Cryptohopper does not allow trading with all pairs listed on them. You can trade only 75 different coins. This is mostly due to liquidity as bots don't do well with low liquidity assets which is essentially a protection mechanism and useful for their users.
Though this number is still more than enough for most traders, and it could be argued that Quadency's massive range simply provides quantity rather than quality in this case.
⚡️Pricing
Cryptohopper has 4 different pricing plans available.
The first of these plans is the Pioneer. The Pioneer is the simplest account and has few liberties or features. You are only able to do manual trading and therefore unable to conduct automatic trading with the bots. You are able to make use of 20 positions when using this type of account.
The second level account offered by Cryptohopper is the Explorer, this account costs $16.58 per month and finally allows you into Cryptohopper's auto trading/bot scheme, giving you one to use. You are also able to make use of 2 triggers, a max of 80 positions and trade in 15 different coins.
The third tiered account on Cryptohopper is Adventurer, this is a more expensive edition of Cryptohopper's packages though it does come with a great array of features.
Explorer costs just over $40 a month and lets you trade with 15 different coins, 200 positions and one of their trading bots. They also allow you 5 triggers and use of their exchange arbitrage.
The final and most advanced account available is the Hero. The Hero is designed for professional traders and comes in at a steeper $83.25 per month, though it does give you value for the price tag.
With it you have access to all the services on the site in an unlimited manner where possible. You also have access to all the bots, trade all 75 coins and are able to open up to 500 positions.
Conclusion
---
Both Quadency and Cryptohopper are cryptocurrency trading platforms that hold their value. Both offer a wide range of services that can cater to both inexperienced and seasoned traders.
It is up to you to know your situation: if you are new, go for Quadency. If you are more experienced and have certain demands, go with Cryptohopper.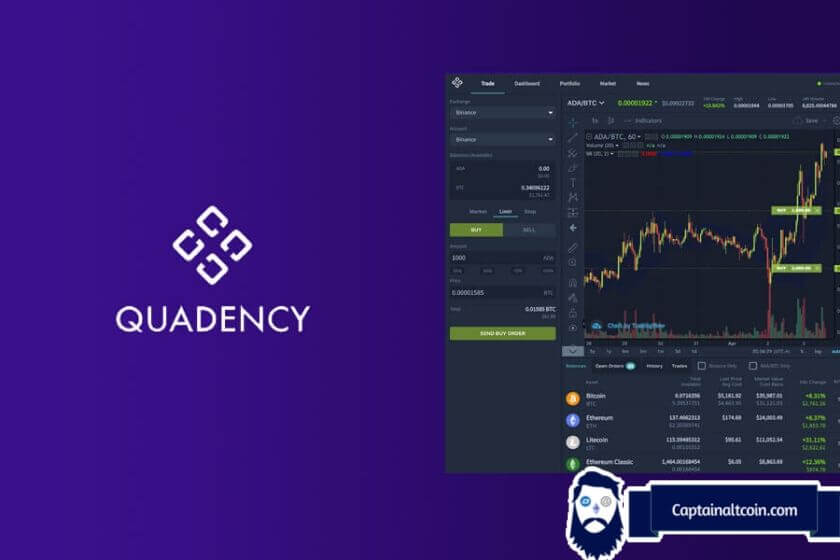 Disclaimer text…
Disclaimer text….
If Quadency and Cryptohopper are not to your liking, check out our other guides on its competitors or a direct comparison of two top bots Cryptohopper against 3Commas.:

CaptainAltcoin's writers and guest post authors may or may not have a vested interest in any of the mentioned projects and businesses. None of the content on CaptainAltcoin is investment advice nor is it a replacement for advice from a certified financial planner. The views expressed in this article are those of the author and do not necessarily reflect the official policy or position of CaptainAltcoin.com