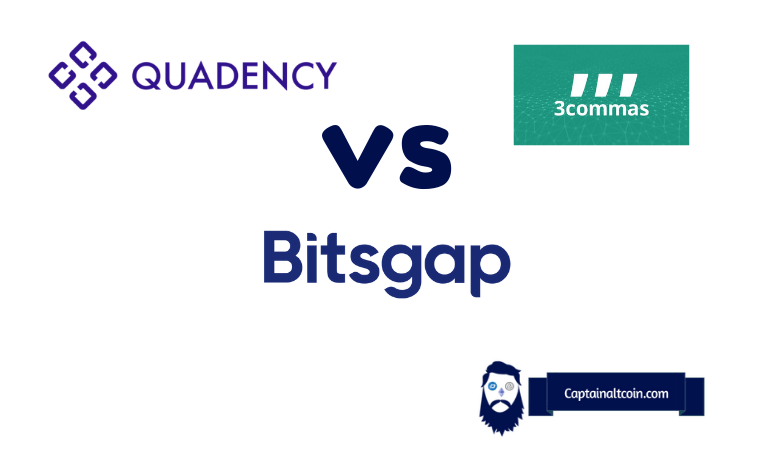 Crypto trading, especially during the crazy bull runs is emotionally and physically exhausting. Luckily, as the whole crypto industry grows, so do the helpful tools and instruments such as auto trading bots. The number of bots has swelled over the last couple of years but Bitsgap, 3Commas and Quadency make up the top bots on anyone's list.
This article will go over the pros and cons of these automated trading software and see how wins the battle between 3Commas vs Quadency vs Bitsgap.
The cryptocurrency market has been growing at a rapid rate over the last few years, with great innovations in the concept of blockchain giving us a glimpse of what the future might look like, both financially and technologically.
Through this rapidly expanding market comes large price increases in a range of promising projects, leading to a huge amount of young, tech-savvy investors trying to buy every dip and sell every high to make their millions. Obviously with a market this volatile and speculative, it is important to have good exit strategies in place and rigorous technical analysis in order to not get burned by the cryptocurrency market.
Many crypto traders experience sleepless nights, their emotions running wild as they try to time this spontaneous amalgamation of technology, hype, inexperience and retail trading, coupling this with crypto's inherent 24/7 tradability, with no days off unlike the stock market, it can be extremely taxing to trade.
This is what makes trade bots tremendously helpful in this market. Not only can they help remove emotion from the trades and base their decisions purely objectively on the facts and figures, but they can also trade 24/7 ensuring that the trader can be enjoying life, away from the computer, and not lose out on their preferred price points and great trades.
This write-up will take us through 3 of the best bots around so you can see their individual features and make an educated decision on which is the best for you.
Before we move forward, just a quick reminder that we did a lot of comparisons among the best crypocurrency bots such as Cryptohopper vs 3Commas, Quadency vs Cryptohopper. We also did a separate article on the best scalping and high-frequency trading bots that you can check out.
Let us now go back to the Bitsgap vs Quadency vs 3Commas trilemma.
Bitsgap intro
---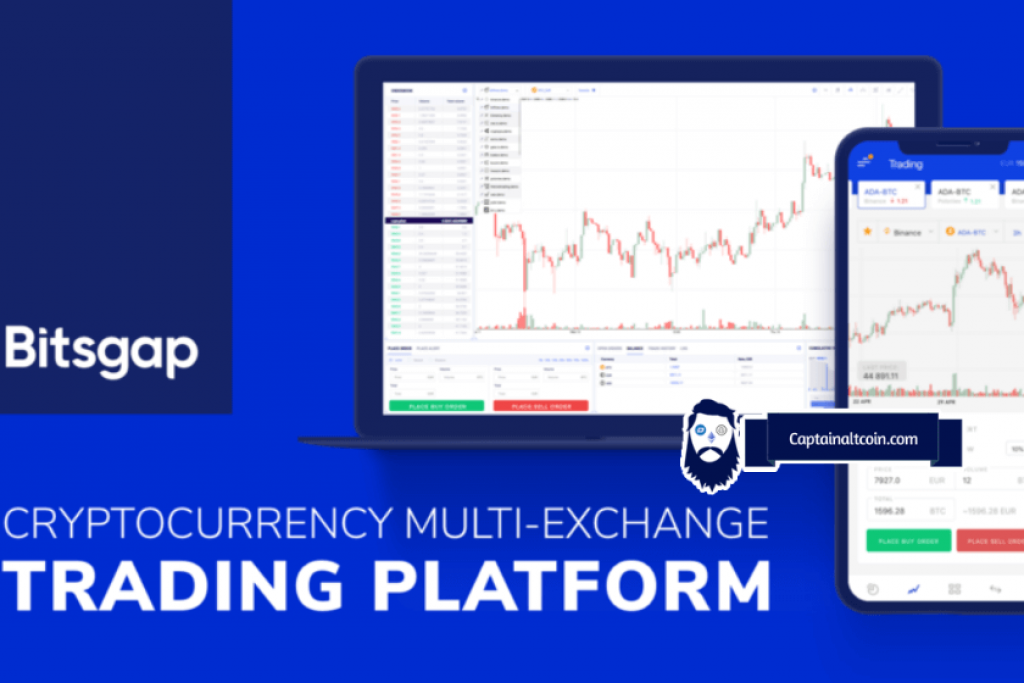 Bitsgap is a trading platform that encompasses a wide range of cryptocurrency trading features, letting you manage and monitor your entire portfolio in one place. They also feature an extensive list of supported exchanges, meaning that no matter how rare your favorite coin is, you can probably trade it on Bitsgap!
👉 Bot features
Bitsgap has a range of features worth noting in regards to their bots:
You can backtest the bots before you use them to ensure that they are profit-making strategies.
Bots and strategies proven to be profitable are provided to you right off the bat so you can hit the ground running.
You can make use of TradingView among other tools to assess how your bot is performing
Bots are easy and fairly simple to create.
👉 Exchanges
Bitsgap supports a phenomenal amount of exchanges, over 25! This is more than any other platform on this list. These include:
Poloniex
Bithumb
Gemini
Binance
KuCoin
BitStamp
Kraken
👉 Security
All funds and sensitive data are not only encrypted, but encrypted with 2048-bit technology, making it tremendously secure. On top of this, they are protected by a strong firewall and promise to share none of their data with third party sources.
On top of this, they have the standard 2FA available which they heavily recommend (we do too!). And most importantly, the funds are never stored on Bitsgap servers and the API keys (that Bitsgap needs to connect with the exchanges) are only allowed to trade and not to withdraw funds from your account.
👉 Addtional features
Bitsgap is cloud based and works on any device – desktop or mobile.
Bitsgap has a very friendly interface that is quite customizable, letting you switch between day and night mode.
Their charting tools are very powerful with 100s of indicators and over 50 different drawing tools.
Bitsgap's Signals function is very helpful as Bitsgap analyzes thousands of pair across dozens of exchanges and picks out trading pairs that signal the largest profit potential
👉 Pricing
Bitsgap offers 3 different pricing plans, ranging from $19 per month all the way up to $110 per month.
The first of these plans is the "Basic" plan. With this plan you are provided with all of Bitsgap's standard features. You are given a trading limit of $25,000, 2 trading bots and access to all supported exchanges. Furthermore, you have access to trading signals, Bitsgap's portfolio tracker, extended order types and demo trading. This package is $19 per month.
Secondly, we have the "Advanced Plan". On this plan you are now allowed up to 5 Active trading bots, a monthly trading limit of $100,000 and access to their Arbitrage system. This plan is available for $44 per month.
Finally, we have the "Pro" plan. This plan is the least restricted plan of the three, as it should be, coming in at $110 per month! You are given an unlimited trade limit letting you buy and sell as you please, along with 15 trading bots and priority support, should you face any issues.
👉 Customer support
Bitsgap has a few options available when it comes to resolving your problems when using the platform. These include a contact email support@bitsgap.com, a public Twitter account you can tweet at, and more uncommonly a Telegram account which lets you connect with Bitsgap directly.
Quadency intro
---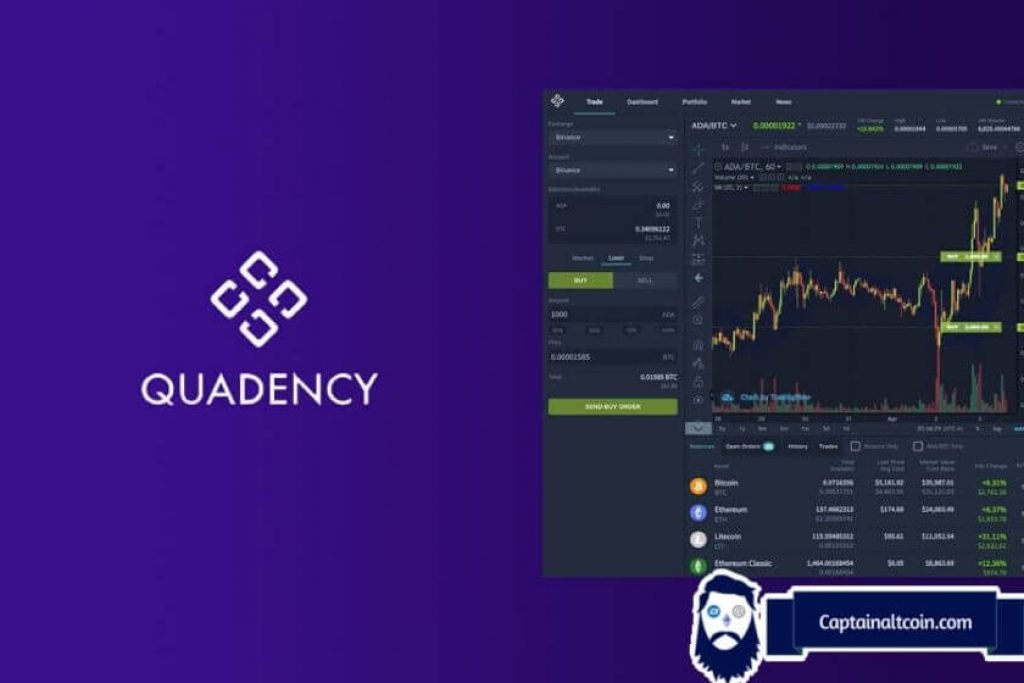 Quadency entered the scene late but outperformed many of its competitors and sits at the very top of the best cryptocurrency bots lists.
Created in New York back in April 2018, Quadency is a platform that makes use of different ideas and concepts when it comes to crypto trading in an attempt to make the most conclusive, all-in-one platform for competitive traders striving to do their best.
👉 Bot features
Quadency is great for getting you trading as fast as possible as they have ready-made bots and also customizable bot parameters at your disposal.
You can backtest your bots to hone your trading skills and strategies.
Quadency has a "Smart Suggest" feature that utilises previous data to try and assign good strategies and parameters to your bot.
Not only providing their higher-paying users with 11 bots to choose from, but they also offer custom-made bots for those looking to use their own, more specific trading strategies.
👉 Exchanges
Quadency supports a large number of popular exchanges to best suit their ever-growing customer base. These include:
Coinbase PRO
Poloniex
Kraken
Binance
KuCoin
Bitfinex
HitBTC
Bittrex
Gemeni
Liquid
OKEx
It is important to note that not only does Quadency a large amount of exchanges, they support an even vaster array of cryptocurrencies, an incredible 1270 to be exact!
👉 Security
Quadency has a few interesting policies which help to ensure the safety of their customers and their finance. The first effective method used is a standard 2FA system, but a more intriguing method they make use of a Transport Layer System (more commonly referred to as a TLS system) which encrypts all the data that hackers might want to get their hands on.
Quadency also regularly conducts pen-tests to make sure their security is working optimally, confirming it is up to date with the current standard necessary to resist attacks.
Similarly to Bitsgap, Quadency also needs just the basic trading API keys so even if they suffered a hacking breach, your funds would be safe on the exchanges connected to Quadency.
👉 Additional features
News Section
Quadency has a few additional features aside from their bots that make it stand out.
The first one you ought to know about is the high-quality news section they offer to users. Most news platforms on cryptocurrency and other financial services are quite unimportant due to often providing irrelevant news and providing it far too late. This is not the case with Quadency's news section. Quadency provides news that is curated and selected by their team of industry experts to make sure only the most valuable information makes it to the front page of the site, enabling you to make accurate and educated trades in the comfort of the platform.
Dashboard
Quadency has put a lot of work into making their platform as usable and customer-friendly as possible through customisation. They offer one of the largest arrays of currencies available to suit those not using the more mainstream currencies, such as the Euro and the US Dollar. They also offer a day/night mode to further pertain to their users.
Lastly, Quadency provide a great dashboard from which you can keep track of all your current trades, bots and holdings. This is regardless of which exchange or wallet they are held on, making it a truly one-stop service for traders. Furthermore, the portfolio section which tracks your current holdings does a great job in breaking down all the current aspects of your cryptocurrency stash, from long term and short-term price movements, portfolio percentages and more information to help you trade effectively.
👉 Pricing
Quadency has kept their pricing plans fairly simple and to-the-point, providing 3 options for traders.
The first of these options is the "HODLER", named after a hilarious forum post from back in 2013 the HODLER program is a free account, suited for newer investors to get their feet wet, with the term "HODLER" suggesting they merely hold coins and this is their first time trying to trade. This account gives you access to a trading bot, the most basic features of the Quadency terminal, and a trading limit of $10,000.
The next plan available to traders is the "Pro" account. Just as it sounds, this account is suited towards professional traders. With this edition of Quadency you are given access to 10 of the terminal's 11 trading bots, giving you a wide range of options to trade. Moreover, your trade limit is bumped up to $100,000. This plan costs $49 per month.
Lastly, we have the "Institutional" plan, this account is aptly named as it is aimed at institutional investors, large portfolio managers and other high-value accounts with a lot at stake. This service fully removes any trading limits and provides fully unrestricted access to the bots. We can assume this account is the most expensive due the array of features, though the price itself is only available on demand from Quadency.
👉 Customer support
Quadency has an email address: support@quadency.com, which you can write too to help resolve your problems on the platform, more effectively they also have a live chat option, though unfortunately this feature is reserved for paying users. Furthermore, they do have a Twitter account you can get in contact with, along with a Telegram channel where you can speak to customer support. Quadency also has an extensive and detailed FAQ where you can try to sort your issues.
Quadency has also created a YouTube channel which has numerous guides and resources to help you with your time on the site. The channel is active with videos being uploaded somewhat regularly; this is a great feature for helping those new to cryptocurrency.
3Commas intro
---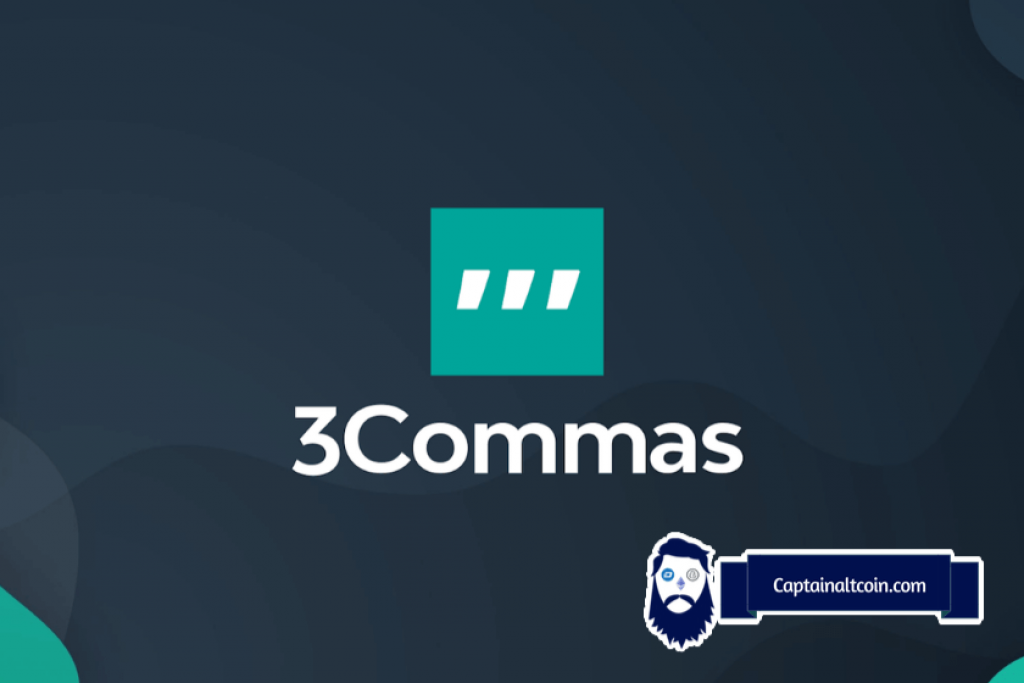 3Commas.io is a Russian-made, Estonian registered cryptocurrency trading bot. Created back in 2017, it is regarded as one of the leading crypto trading bots available on the market. Although it is not as big as other trading platforms out there, such as Cryptohopper, it still brings a range of great features that make it worthy of a spot on this list, and it should not be discounted as a competitor. It helps you get the best of your money through their great trading bots.
👉 Bot features
3Commas has a range different features and functionalities make it a noteworthy platform, for example:
3Commas.io provides you with great APIs that allow you to connect your own tools and combine them with 3Commas bots
They have various "trailing orders", that help you to maximize your profit when operating in a bull market.
They have an array of bots, most notably a "grid" bot, and one specialized for dollar-cost averaging.
They also have a bot that does more than the traditional buying and selling, it is built for you to profit off of options calls.
3Commas provides you with a "panic sell" button, this button is to be used when you need to cancel a trade instantly to prevent any losses.
👉 Exchanges
3Commas offers support for a moderate range of exchanges. These include:
Binance US
Binance
Coinbase Pro
KuCoin
Bittrex
Poloniex
Bitfinex
👉 Security
3Commas security features the standard F2A measures among a range of other protections. Just like with the other two, 3Commas bots use a limited API access to your exchange account and have no ability to withdraw the funds. They use high-strength encryption among other measures to protect the data on their site and make use of a response plan so that in the case of a breach, you are notified immediately of any possibly compromised information.
👉 Additional features
3Commas has made a range of copy bots which you can view and use. You can change the whole config of bots and tailor them to your specific needs, giving you incredible bots tailored to your methods. Not only do they offer the customization but provide you with a range of templates to do it easily and effectively.
👉 Pricing
3Commas has a range of pricing plans, the first of which is free to use and offers you all of the basic features of 3Commas.io. These include the use of 5 different bots, exceptional for a free plan. This comes along with usage of their features section and use of multiple exchanges through their platform.
After this plan, we come to the "Starter" plan. This plan offers use of 3Commas SmartTrade terminal and algorithms for their Short and Long trading. This plan is priced at $14.50 per month
Next, we have the "Advanced" plan, this plan provides you with more bots, and more functionalities on their SmartTrade program, its priced at $24.50.
Lastly, we have the "Pro" plan which comes with a huge number of additional features. It offers bots from a range of different categories, including futures and DCA bots. It also offers some helpful indicators and signals to further benefit your experience, this plan comes in at $49.50 per month.
👉 Customer support
3Commas has a range of different email addresses you can contact to try and speak to the organisation, their main contact address for solving issues is support@3commas.io. They also boast a large FAQ which should hopefully be able to navigate you through the majority of problems.
Along with this they have their YouTube channel where they release tutorials on using the platform. This in addition to their Twitter account and their Telegram channel makes for a pretty conclusive customer service system.
Conclusion – 3commas vs Bitsgap vs Quadency
---
It is quite hard for us to declare a winner amongst these three platforms as they all come with tremendous upsides and often quite minor downsides. It's up to you to decide which tool suits your needs the most.
3Commas is great if you have your own strategies and want a tailor-made bot to fit your specific needs.
Quadency is excellent if you don't want to tweak too much and be set-up quickly. It is also the cheapest option of the three.
Bitsgap is excellent scalping and arbitrage bot that works with a lot of exchanges.
All three of these platforms when used to their strengths can result in massive gains so make sure you do your due diligence and decide which one is right for you. Happy trading!
If none of these are to your liking, have a look at some other popular bots:

CaptainAltcoin's writers and guest post authors may or may not have a vested interest in any of the mentioned projects and businesses. None of the content on CaptainAltcoin is investment advice nor is it a replacement for advice from a certified financial planner. The views expressed in this article are those of the author and do not necessarily reflect the official policy or position of CaptainAltcoin.com