Pricing
---
When it comes to pricing, TrailingCrypto is the clear winner. Cryptohopper and 3commas are very similar in pricing with Coinigy being the cheapest, though this is also due to its lesser features when it comes to trading & bots.
TrailingCrypto is a completely free platform which is why it excels so heavily here. It is free while it is still in its Beta phase. They plan to release a free version with lesser features once the product is finished.
Cryptohopper, 3commas and Coinigy all offer a month free trial so you still have a good chance to test out these platforms.
Supported order Types
---
Once again, Trailingcrypto is a clear winner in this department. The platform offers a wide array of order types to meet the needs of different consumers, from long term investors to your average day trader.
Their list of supported Order Types include "Limit, Market, stop Loss, Step Take Profit and stop Buy with Limit/Market/Trailing, Trailing Stop Sell/Buy, OCO, OSO, Bracket Order, Cyclic OSO for HODL".
In 2nd place we have 3commas who also allow you to place a plethora of order types, such as "Stop Loss, Take Profit, OCO (SL+TP), Stop Buy, Step TP, Trailing Stop Loss, Trailing Take Profit". Penultimately, we have Cryptohopper which only utilises order types with signals which can't be used for day trading. Lastly, we have Coinigy which has very limited functionality in this department.
Exchanges
---
Coinigy has a wide range of exchange support, the best in this list with support for over 40 exchanges. Though it would be unfair to say that 3commas, Cryptohopper and Trailingcrypto were limited. All four of the platforms support these popular exchanges:
Bittrex
BitFinex
Binance
Bitstamp
KuCoin
Poloniex
HitBTC
CEX.IO
Coinbase
ProOKEX
Huobi
YOBIT
Bots
---
---
Could be considered the winner when it comes to bots, though Cryptohopper and TrailingCrypto are strong competitors.
3commas' bot section consists of:
Long bots, with TradingView or your own custom signals
Short bots, these open and close positions automatically, especially helpful in bear markets
Composite bots for multiple pairs
Bots with the QFL method, the QFL bots will trade automatically for you, these are best suited to a stable market.
---
Bots using technical indicators
Telegram signal bots, though these are largely unavailable to the public
TrailingCrypto
---
Email trigger based bot, these bots trigger from emails from TradingView, the bot can also be used alongside technical indicators.
Telegram Bots, unlike Cryptohopper's telegram bots, Trailingcrypto's are usable by the public and generally offer good returns.
Coinigy
---
Unfortunately, Coinigy does not offer any bots, removing them as a solution if it is bots you are looking for.
User Interface
---
When it comes to UI, all the platforms are pretty well equipped. Some may believe that 3commas comes out on top though that is dependent on a user's personal preferences.
UI is a very subjective feature, though we have tried to nail it down to 2 major components.
These are:
How attractive is the overall theme
Ease of use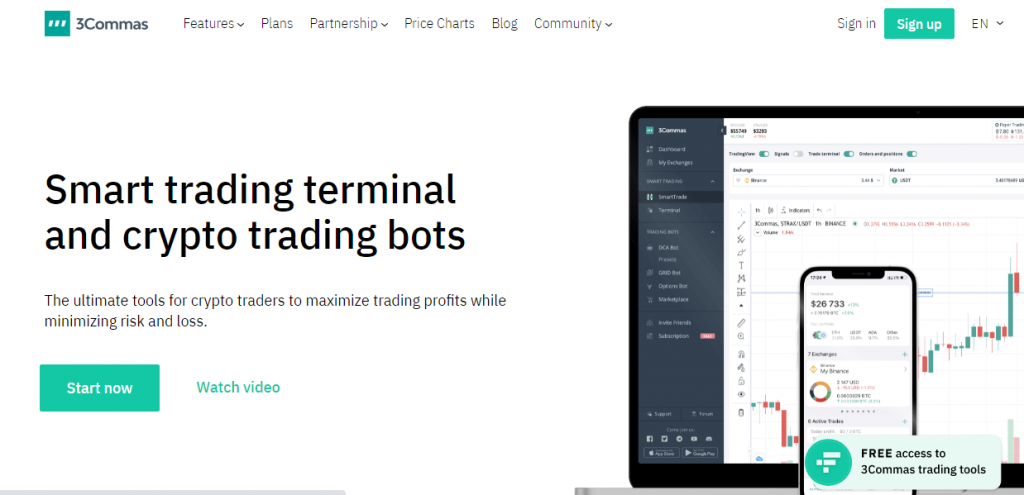 3commas presents a very clean and interactable UI. Not only do they offer the standard "dark mode" they also let you customise different panels and aspects of the screen. Navigation is also very simple, with menu options on a sidebar which is neatly presented. This results in what we would grade as an almost perfect UI.
Cryptohopper's UI is also quite strong, though still behind 3commas. Once again the dark mode option is present here, which is very helpful when trading at night and not hurting your eyes. The reason we have ranked it below 3commas is some could say it is a bit cluttered, 3commas presents a much more open layout. It also doesn't help that the chart is on a different page which makes it difficult to utilise.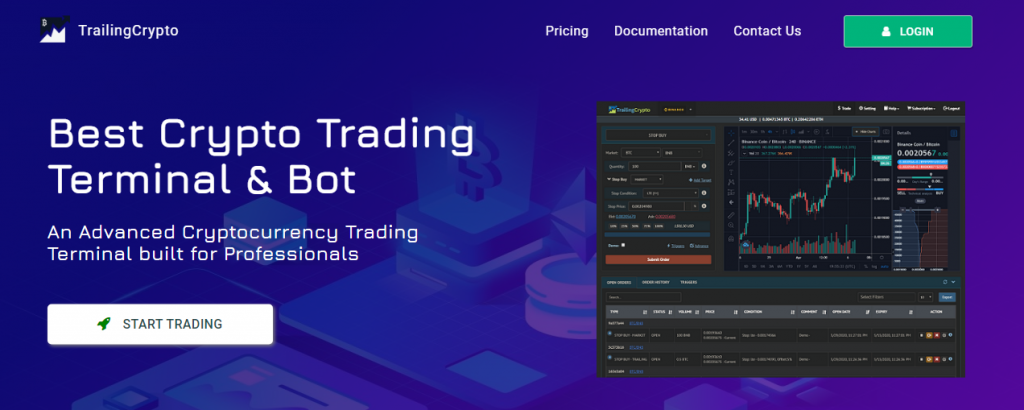 TrailingCrypto's UI struggles with poor colour coordination, though a unique design. Thankfully the UI is quite simple and only shows the most important options, along with panels being collapsible. The benefit of TrailingCrypto's UI is that the market chart is right next to the order form.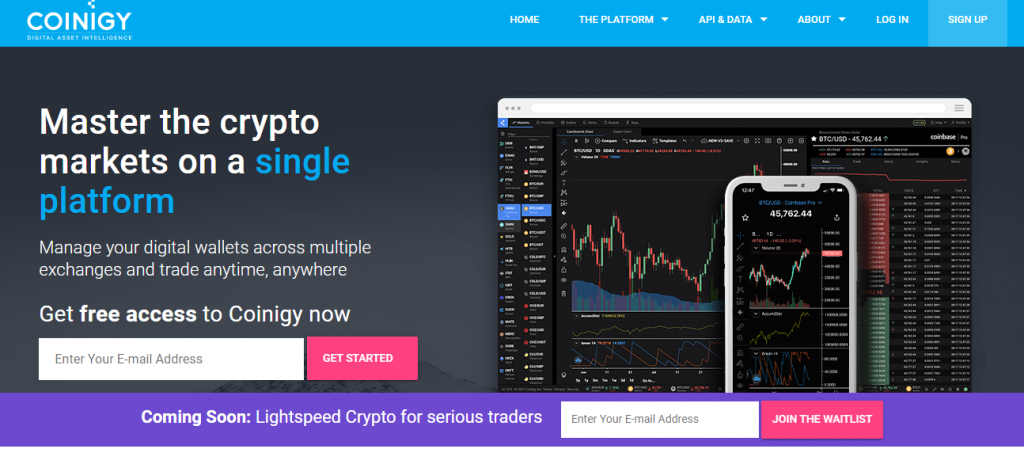 Coinigy's UI is also quite good. The theme is primarily dark and you can change the background to multiple styles.The UI is quite cluttered which is unhelpful.
Charting
---
Except for coinigy, all of the platforms on this list use TradingView for their charting capabilities, therefore excluding the use of the program on some Exchanges not Supported by TradingView. Coinigy uses their own Charting engine. It is high quality, and is the reason that Coinigy stands out from the rest on this list when it comes to charting.
Security
---
After a look through the site's security documentation and what they have available on their whitepapers, along with conversations others have had with their support team regarding the subject. We have made an appropriate analysis on the security present on these crypto trading platforms.
3commas
3commas has a range of security measures including 2 factor authentication, high level data encryption and more. 3commas' downfall is their offering of personal data to advertisers and other organisations, where it is stated on their sites that they will sell your data to third party organisations.
Cryptohopper
Cryptohopper uses encryption though they unfortunately do not specify what kind on their website. They have strong website protection from Cloudflare which provides a firewall and DDoS protection. Their servers are secured by Amazon Web Services, with keys and passwords being stored in the Cryptohopper database.
TrailingCrypto
"Security is paramount for us.TrailingCrypto follow all the best security practices". Furthermore, all sensitive data with TrailingCrypto is stored on 256-bit encrypted servers which are incredibly hard to break through to.They also make use of 2 factor authentication and numerous other security measures.
Coinigy
Although Coinigy doesn't go far into the specifics of their security, they describe their security as being some of the best in the business, with their own dedicated security team constantly making updates and working hard to keep user's data safe. Although some more detailed information would be good, this is a reassuring statement to read.
Notification
---
3commas sends their notifications and alerts through email and Telegram
Cryptohopper has decided to only use emails for their notifications
TrailingCrypto currently offer email and Telegram notifications
Lastly, Coinigy uses email, in-broswer and SMS alerts, which is a unique and helpful feature.
Coinigy is the clear winner when it comes to notifications.
Stability
---
All 4 of the platforms tested had great uptime and only a few minor glitches. It should be noted that TrailingCrypto is in its beta phases so is likely to experience a few more problems, but overall it is not as much of an issue for the platform.
Learning Curve
---
Here TrailingCrypto shows one of its biggest strengths over the other platforms. The platform is designed extremely simply yet effectively, in one page it displays charts, order history, order form, analytics and your wallet balance.
They utilise standard language making it easy for newer traders to understand and keep all of the details and info in the same place. The order types are easy to understand making them feasible tools for amateur users. This is a great application for helping those without much experience.
3commas' is also a very easy to use site. Although they aren't quite as easy as TrailingCrypto, as they use language and terminology that is a bit more complex, though understandable with time. The main feature that could confuse users is the bot section, as it is overly complex for servicing one trade.
CryptoHopper has a lot of their own words and phrases, which makes it hard to understand at initial usage.Their UI is also quite cluttered and obtrusive. It is quite a slow learning curve, especially compared to TrailingCrypto.
Finally, we have Coinigy which is mainly known for its analysis and charts. The learning curve is quite high, with easy navigation and a great landing page which makes it a simple platform to understand.
Documentation
---
When it comes to documentation, Coinigy is a clear winner.
All the platforms are good when it comes to documentation. Though Conigy undoubtedly takes the cake with their video tutorials, long established time in the market and great community support.
Next, we can group 3commas and CryptoHopper together for this one as they have very similar documentation and coverage on different tops. Both have a few tutorial videos to help their users, with Cryptohopper getting a slight edge over 3commas.
TrailingCrypto comes in at the bottom, they have an acceptable level of documentation, consisting mainly of articles, though some of these are quite low quality.
Customer Support
---
TrailingCrypto stands tall over the rest when it comes to customer support.
Customer support is one of the most important parts of any cryptocurrency platform, especially with it being such a new and unfamiliar technology to both those providing it and using it alike.
This makes TrailingCrypto's exemplary support so special, they are extremely prompt in responding to their complaints and queries, and are great when it comes to users suggesting new features for the platform.
Coinigy also has a good support system, providing their users with a 24/7 chat function, along with the ability to file support tickets.
Cryptohopper's customer support is less enticing, they do not feature any sort of live chat function and aren't known to be the fastest when responding to their support tickets. It's certainly not the worst out there though compared to the likes of TrailingCrypto, it could be improved.
Lastly, 3commas has a pretty standard FAQ, though it isn't too deep which leads lots of users to sending an email to their support team. Although the project is quite small which helps a quick response, it would be nicer to see an official ticket system and a 24//7 live chat feature.
Verdict
---
Now that we have gone through all these separate issues and points of interest, it is hard to pick a specific winner as not everybody using these platforms has the same goals, skills, and wants. When it comes to order types then the clear winner is TrailingCrypto.
They are far ahead of the competition with their complex and expansive order types, yet charging absolutely nothing compared to their competitors with monthly and yearly subscriptions.
They also promise that their paid service won't be any dearer than $15 per month which is a great deal for such an effective program.
When it comes to portfolio and charts, Coinigy is simply the best choice, this may be suited best to those not looking to trade as heavily.
3Commas and CryptoHopper are the best options if you are looking for automated bot trading. 3Commas are a bit stronger when it comes to technical analysis, though if you want to use telegram it will need to be on CryptoHopper.
To conclude, these are some of the best crypto bot platforms available on the market. Though it is important to remember this is not always the best way to make money as it relies on limited algorithms in a highly emotional market. Nevertheless, these bots do have potential to make their users money, just make sure to tread carefully.
Read also:

CaptainAltcoin's writers and guest post authors may or may not have a vested interest in any of the mentioned projects and businesses. None of the content on CaptainAltcoin is investment advice nor is it a replacement for advice from a certified financial planner. The views expressed in this article are those of the author and do not necessarily reflect the official policy or position of CaptainAltcoin.com