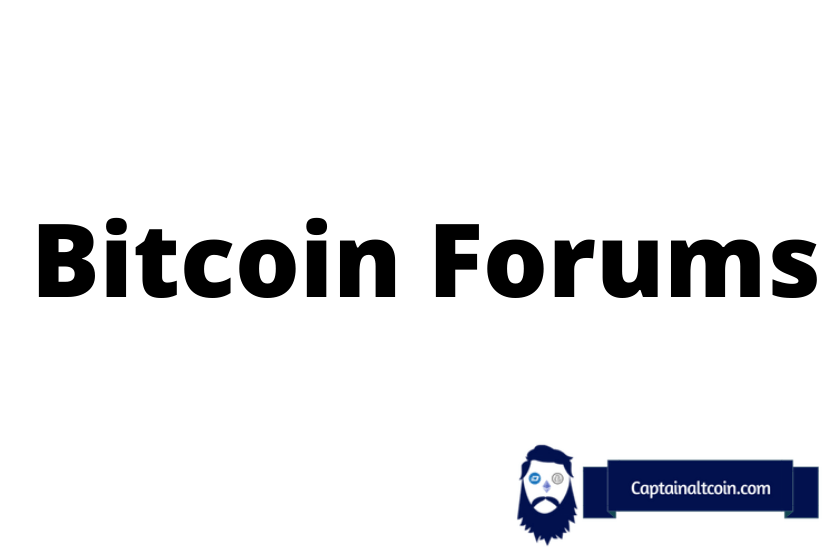 While most of us "enthusiasts" regularly engage in trading, owning, and reading about it, we also enjoy talking about cryptocurrencies. The problem we face is that most of our real-life friends and family simply aren't "crypto-woke" and knowledgeable about Bitcoin and the blockchain enough to stand talking to us about the topic for more than a couple of minutes. Considering that, as well as the growth of social networking and the connection which the crypto world has with the internet, it's no wonder that crypto discussion has over time dispersed across many online communities. For those of you who are looking to exchange crypto-related ideas with similar-minded people, check out the list of best crypto forums and social networks provided below.
BitcoinTalk
---
Original and one of the most popular cryptocurrency message boards. The forum was founded in 2009 by the creator of Bitcoin himself, Satoshi Nakamoto. Prior to creating BitcoinTalk, Satoshi used a SourceForge-hosted forum which has now been lost. The forum was eventually moved onto a new domain (first to forum.bitcoin.org, then to Bitcointalk.org in 2011), with an individual named Sirius being given the role of the lead moderator by Satoshi. Sirius retained his position until 2012, when a user named Theymos took over. Nakamoto account's posts can still be seen on the forums, even though he hasn't been actively posting for years.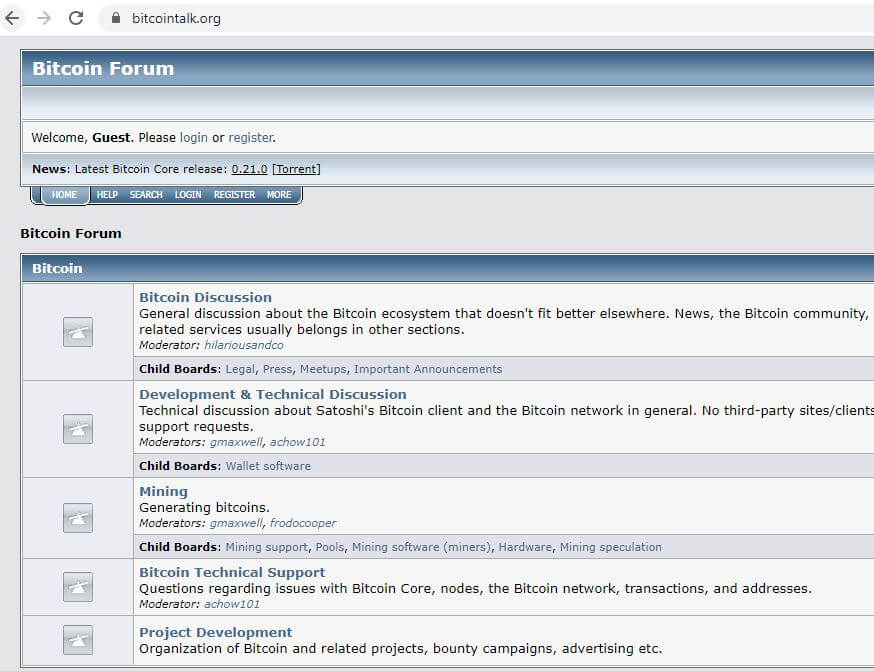 BitcoinTalk is truly a goldmine of Bitcoin/cryptocurrency related information. While there are some users/posts which could be summed up under trolling/shilling/low quality content, the forum is a place where you'll generally find plenty of quality discussion on various topics:
Bitcoin Discussion – General discussion about the Bitcoin ecosystem that doesn't fit better elsewhere. News, the Bitcoin community, innovations, the general environment, etc.
Development & Technical Discussion – Technical discussion about Satoshi's Bitcoin client and the Bitcoin network in general.
Mining – Discussing topics related to network mining and coin generation.
Bitcoin Technical Support – Questions regarding issues with Bitcoin Core, nodes, the Bitcoin network, transactions, and addresses.
Project Development – Organization of Bitcoin and related projects, bounty campaigns, advertising etc.
This isn't all though as you'll find plenty of discussion on the topics of economics, general marketplace discussion, trading discussion, meta discussion, discussion on politics & society, serious and off-topic discussions, as well as a beginners & help and an archival section. Bitcoin isn't the only cryptocurrency you can talk about on the platform; besides a general altcoin discussion board, you'll find boards for announcements, mining, marketplace, and speculation on coins that aren't called Bitcoin. Finally, you'll find several locally adjusted boards which people can go to and discuss cryptocurrency-related topics on their native languages. Languages supported include Arabic, Indonesian, Spanish, Chinese, Croatian, German, Greek, Hebrew, French, Indian, Italian, Japanese, Dutch, Korean, Filipino, Polish, Portuguese, Russian, Romanian, Scandinavian, Turkish; communities that don't have their own boards can navigate to the "Other languages/locations" board.
Interestingly enough, the forum was the place where the first public Bitcoin transaction ever took place, when a software programmer Lazlo Hanyecz offered to pay 10,000 BTC for a pizza. The individual who Hanyecz made the deal with eventually ended up purchasing two pizzas for his Bitcoin; all things considered, he probably didn't regret that extra investment.
To be able to post on the BitcoinTalk platform, you'll need to create an account. Choose your forum username, enter an email address, chose your password, complete the visual verification/recaptcha and click on the "Register" button. The platform has a system of valuing activity/merit which awards quality contributors and at the same time weeds out spammers, shills, and toxic posters. New accounts are considered "newbies" and have limited capabilities; you can read about this system here. Additionally, the forum has a strict ruleset which any new user should familiarize him/herself before posting. BitcoinTalk offers an ability to pay a one-time fee to purchase a Copper account which instantly increases your account's capabilities. The biggest benefit of this payment includes having the ability to post images while still having a "newbie" status on the platform, something that ICOs which have just registered on BitcoinTalk might find the most useful. The fee you need to pay to receive the perks of a Copper account sits at 0.00475768 BTC.
Overall, the forum has managed to avoid controversies in the past, even though many have voiced their concerns about the prolonged development of BitcoinTalk's new interface and software. The software is apparently nearing the end of development, with working implementations already available for testing.
Read also:
r/Bitcoin
---
A popular subreddit dedicated to Bitcoin and cryptocurrency discussion which saw its 1 millionth member subscribe back in 2018, managing to acquire over 600 thousand new users in the middle of the post-2017 bear market. This forum is sometimes confused with the Bitcoin Cash-centric r/btc; while they do share a similar name, there's barely any similarity content-wise between the two. One author described r/btc as a place where "30% of the posts are toxic conspiracy theories on how /r/Bitcoin sucks, 30% of the posts are toxic conspiracy theories on how much Bitcoin developers suck, 30% of the posts are worshiping known scammers, fraudsters, con men and fake Satoshis".
Meanwhile, r/Bitcoin is a place where you'll find interesting discussion on Bitcoin and crypto-related matters. Alongside a daily discussion thread which is auto-created on the message board every day, r/Bitcoin lets its users post individual threads for discussing things that warrant wider community focus and response. Every now and then you'll see AMAs (ask-me-anything) threads posted, where standout crypto folks will address the community and answer their questions.
The subreddit links to resources which will show you how to get started with Bitcoin; from explanations what Bitcoin is, how it's created/mined/secured, to instructions on how to purchase your first BTC and spend/store it, there's plenty of material for those willing to learn. R/Bitcoin also links to the Bitcoin.org website (entity whose main intention is remaining a neutral informative resource of anything which pertains to Bitcoin) and even to this interesting "Bitcoin obituaries" article which documents every time someone claimed that Bitcoin is dead. While there were accusations from its younger brother of foul play and censorship on the subreddit, most of those have been explained and dismissed by the community. Overall, r/Bitcoin remains one of the most popular crypto communities out there.
Other Subreddits
---
Second most popular cryptocurrency-related subreddit out there is called r/CryptoCurrency and currently has more than 2 million subscribers. This one has an auto-created weekly thread where you can discuss anything and everything about crypto. The topics are more diverse than those on r/Bitcoin and you'll find plenty of noise about the market's various altcoins. As with the subreddit above, you are free to create your own individual threads to talk about anything you want, as long as it's related to cryptocurrency. Other subreddits you should consider are r/ethtrader (mostly focused on Ethereum and Ethereum-related tokens) and r/BitcoinMarkets (focuses on the trading aspects and technical analysis of cryptocurrency).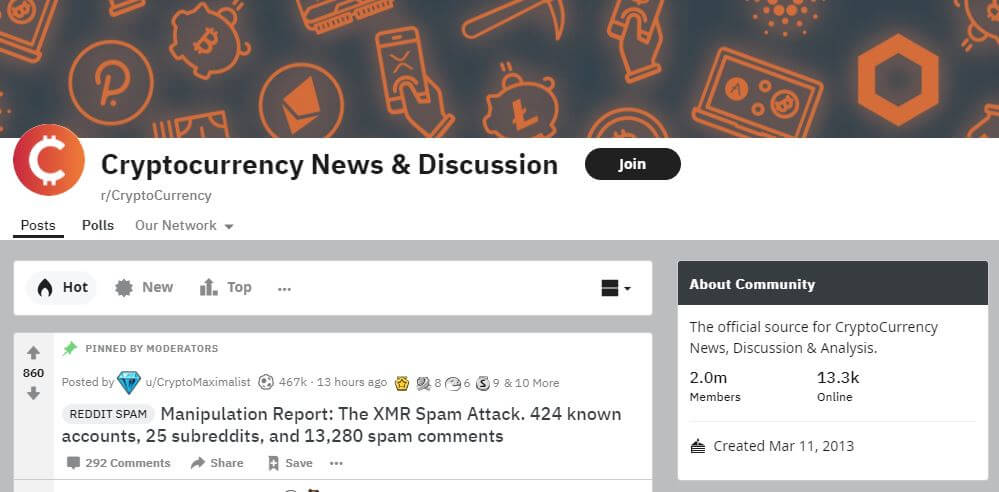 Other Forums
---
Honestly, you don't really need to visit any other cryptocurrency-related forum to get your fix of crypto. The platforms we named above are more than enough to give you the information and the discussion you need. That being said, there certainly are more places where you can exchange crypto ideas. Social messaging platforms like Telegram, Discord, Slack, usually have communities which you can join to talk about cryptocurrency with similar-minded people. Bitcoin StackExchange is another popular forum/message board which should be best suited for developers and more tech-savvy individuals. Similar can be said about GitHub; Bitcoin has a repository on the platform with thousands of commits (code contributions) from over four hundred Bitcoin core developers. Social media platforms like Twitter, Facebook, LinkedIn have public groups, personalities and threads you can follow and take part in. Imageboards like 4chan have business-oriented boards where community members can initiate crypto-related discussions; however these are often populated by people who enjoy trolling and flame wars which makes the overall quality of the discussion relatively poor. Finally, you can sometimes find seminars, hackathons, and real-life discussions in your area which you can visit and talk crypto-related stuff with likeminded individuals in person.
Good signs that the platform you're on is reputable and well-suited to your needs include:
historical longevity of the forum
presence of active members with good reputations
existence of major cryptocurrency projects and their developers on the forum
a strict but fair ruleset that encourages constructive discussion and free exchange of ideas
One thing worth mentioning here is that you should always keep your wits about you when visiting these platforms. Even the major ones we mentioned can be populated by scammers and shills looking to sell you your own shirt off your back. Be careful what you share with people you meet on these forums and make sure not to fall for phishing scams, overly helpful community members, and Nigerian princes looking to share half of their wealth with you for a small crypto loan and your social security number.

CaptainAltcoin's writers and guest post authors may or may not have a vested interest in any of the mentioned projects and businesses. None of the content on CaptainAltcoin is investment advice nor is it a replacement for advice from a certified financial planner. The views expressed in this article are those of the author and do not necessarily reflect the official policy or position of CaptainAltcoin.com