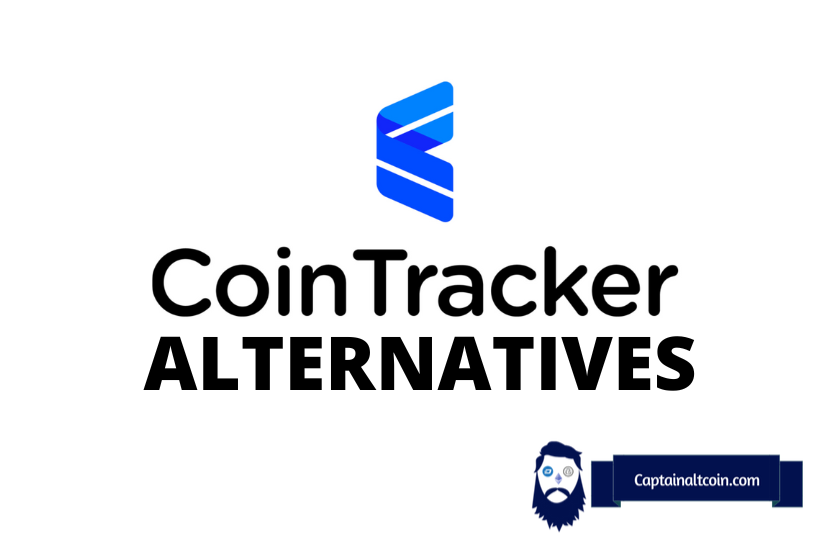 As the name easily gives away, Cointracker is a platform that tracks your crypto activities and helps you calculate and implement tax payments. However, it is not the only platform that does that. There are many others, some better, some worse. In this article, we will examine some of the better alternatives to Cointracker as well as some other things to keep in mind. 
THE BEST COINTRACKER ALTERNATIVES
---
KOINLY
---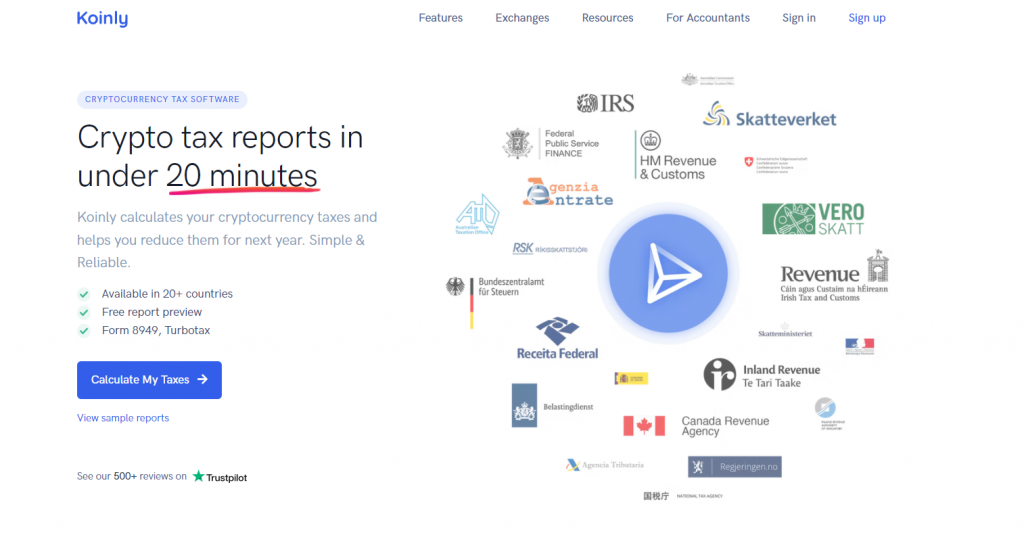 Koinly was founded in 2018 by Robin Singh. It is one of the most established platforms in that niche, with physical offices in the United Kingdom, the United States of America, Sweden, and Germany. It also has a business registration certificate issued by the state of California. Therefore, you can see that it is a well-grounded platform.
Koinly provides a comprehensive tax calculation and reporting system with a lot of features that make it the choice platform in over 20 countries. It integrates thousands of blockchains and more than 350 exchanges and wallets. In addition, it also helps users to generate localized tax forms specific to their living regions, such as form 8949, K4, Rf1159, etc.
Koinly is also easy on the pockets. For one thing, there is a free account option that tracks up to 10,000-lifetime transactions. However, you won't be able to download tax reports. If you want to download tax reports or want to transact beyond that, you will need to subscribe to a paid plan. There are four paid plans on Koinly. They are:
The NEWBIE plan ($49 per tax year) is for beginners and includes 100 transactions.
The HODLER plan ($99 per tax year) includes 1000 transactions.
TRADER plan ($179 per tax year) includes 3000 transactions and priority support.
PRO plan ($279 per tax year) includes over 10,000 transactions and priority support.
ZENLEDGER
---


This is another crypto tax tool that's quite efficient. It has been on the scene since 2017 and has been right there with the top platforms in this niche. On the positive side, it has a very user-friendly interface as well as a supportive customer care service. It is also naturally compliant with the IRS due to its alliance with TurboTax.
Zenledger is favored among DeFi enthusiasts as it focuses largely on that, making it easy to calculate and report taxes on DeFi activities like mining, staking, airdrops, forks, etc. It also offers a 'done for you' tax reporting system where licensed tax professionals help you complete your tax statements for a fee.
The 'done for you' system comes in three different payment packages, making it easy for you to choose the one that suits you. The packages are:
The cheapest is the consultation package, which includes 30-mins consultation and goes for 195 dollars.
The next is the $3,500 package which offers you consultation services for a year.
Lastly, the $6,500 package, the most expensive, offers you a two-year consultation service.
However, it falls behind when you consider that it doesn't offer localized tax support for customers from non-US countries, unlike many other top tax reporting platforms. Zenledger allows some of these countries to use its services but doesn't prove helpful if they have to download the tax forms for their region.
In terms of pricing, Zenledger also comes with a free account which is useful enough for those who do not carry out many transactions. If you transact more than 25 times in a tax year, you must pay to continue using the platform. The payment ranges from 49 dollars on the starter plan to 999 dollars on the highest premium plan. Essentially, Zenledger has a package for everyone.
COINTRACKING.INFO
---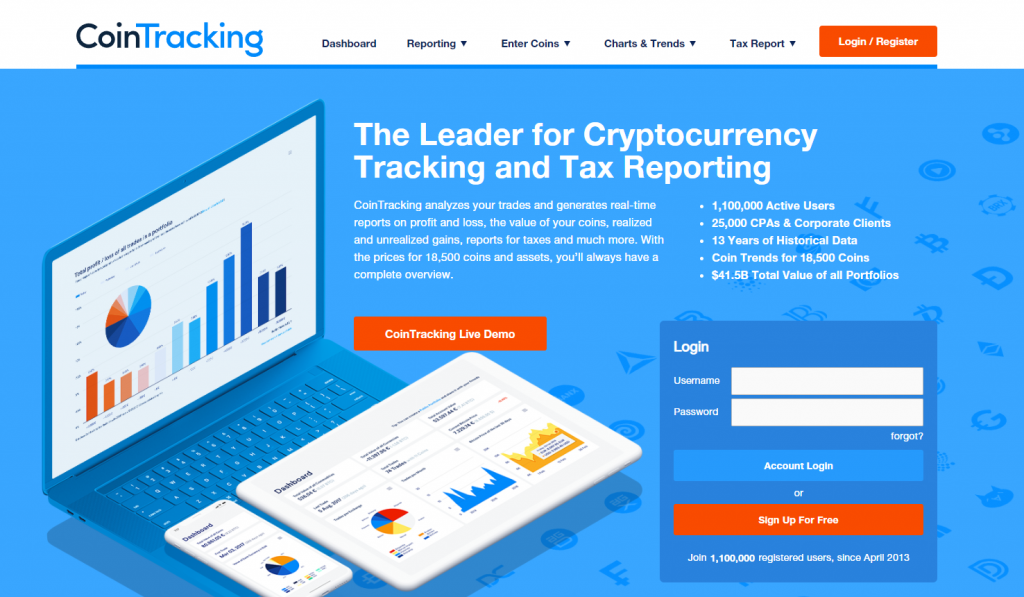 This platform comes as a two-in-one package. Apart from being a tax reporting powerhouse, it also doubles as a portfolio manager for cryptocurrencies. It supports all the popular exchanges and wallets and has broader API support than many of its competitors
There are three payment packages on Cointracking. The first is the free plan which is rather cumbersome as everything has to be done manually. The second is the Pro plan, which goes for $166 per year and offers automatic help for up to 3,500 transactions. Lastly, there is the unlimited package which, as the name implies, offers to track for an unlimited number of transactions. It also has prioritized support and service features. You can get this package for $302 per year.
Cointracking also offers an option for power traders who make multitudes of transactions per year. They can opt for the lifetime package. In the pro plan, the lifetime access costs $434, while it costs $3,459 for the unlimited plan. If you are in that category and can spare the expense, it will be beneficial in the long run.
CRYPTOTRADER.TAX:
---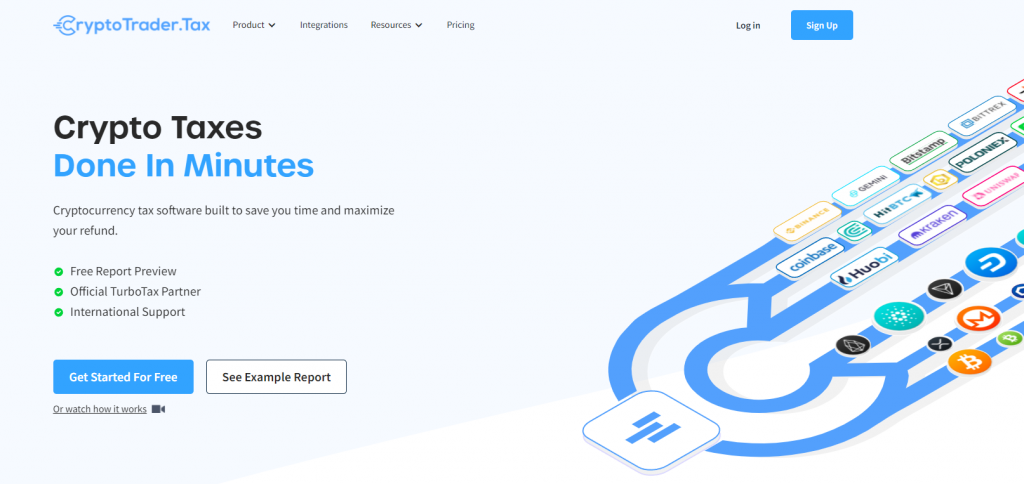 This platform was founded in 2017 in Kansas City and has already won many awards because of its efficient tax reporting skills. Like Zenledger, it uses IRS-compliant tools like TurboTax and TaxAct to compile tax reports that are tenable at all levels.
Unlike many of its competitors, Cryptotrader.tax does not offer a free plan. It only offers a free trial period for its prepaid plans. However, you would need to pay before you can download the tax reports. That is the major drag of the platform.
There are four prepaid plans offered by Cryptotrader.tax. The plans are tiered based on the number of transactions completed in a tax year. The plans are:
The Hobbyist plan: 100 transactions for $49
The Day Trader plan: 1,500 transactions for $99
The High Volume plan: 5,000 transactions for $199
The Unlimited plan: Unlimited transactions for $299.
To assure users of the quality of their service, the platform offers a 14-day money-back guarantee if you're not satisfied with their services.
One other noteworthy feature of Cryptotrader.tax is that it provides proper documentation regarding taxes and tax activities. This makes it easier for those not familiar with the concept to understand what it involves.
Now that we have considered the four main alternatives to Cointracker, we will talk about some of its major drawbacks that users need to be wary of.
WHAT ARE THE MAJOR DRAWBACKS OF COINTRACKER?
---
This is not going to be an exhaustive list, as Cointracker is one of the best crypto tax tools in the system right now. However, it could do better in these areas:
It doesn't offer support for Solana and tokens based on the Solana blockchain. As you know, the Solana ecosystem is one of the fastest-growing in the crypto world right now. Therefore, this is a big drawback
It only offers its services for spot trades. It doesn't cover margin or futures trades.
It is more expensive than some of its competitors. It also offers a less intuitive service and generally weaker service than some of the big guns in the department.
It doesn't have an API service. However, it has an automatic import service from all the major exchanges
HOW TO IMPORT DATA FROM COINTRACKER TO OTHER TAX TOOLS
---
Since Cointracker does not have API integration, you can't import data to other platforms automatically. It doesn't have to be a cumbersome process, though. You can easily download the CSV file from Cointracker and import it into other tax tools. There is also a direct integration with Coinbase on the platform too.
Read also:
Accounting has a whole range of competitors, most of which we already covered in our reviews:
HOW TO SWITCH FROM COINTRACKER TO KOINLY
---
Koinly is generally considered one of the best alternatives to Cointracker. Therefore, they have made it easy to migrate from Cointracker. Consider the following ways you can do that easily:
First, if you do not have many transactions on your Cointracker profile, you can consider adding the transactions directly on the other platform's website.
You can also download your transactions from Cointracker in CSV format and upload them on the other platform's website. This way, the platform integrates all your past transactions with little stress
If the platform you plan on migrating to has API integration enabled, you might skip Cointracker altogether and simply add your exchanges, wallets and transactions to the platform using your API keys. That's the easiest way to go about the process.
IS THERE A FREE COINTRACKER?
---
Yes, Cointracker has a free plan. The free plan covers up to 25 transactions and offers cost basis and capital gains, error reconciliation, and forum support. If you want anything beyond that, you have to subscribe to any of the paid plans.
Apart from the free plan, Cointracker also offers the following plans:
The Hobbyist Plan which goes for $59 dollars per tax year and offers tax services for up to 100 transactions.
The Premium plan which goes for $199 per tax year and offers tax services for up to 1,000 transactions with added DeFi functionality and chat support.
The unlimited plan, which is priced individually based on the number of transactions and offers more custom features than the other plans.
There is also a 30-day money-back guarantee for each of those packages, in case you're not satisfied with their services.

CaptainAltcoin's writers and guest post authors may or may not have a vested interest in any of the mentioned projects and businesses. None of the content on CaptainAltcoin is investment advice nor is it a replacement for advice from a certified financial planner. The views expressed in this article are those of the author and do not necessarily reflect the official policy or position of CaptainAltcoin.com