Cointracker Review – Pros & Cons Of Cryptocurrency Tax Tool Uncovered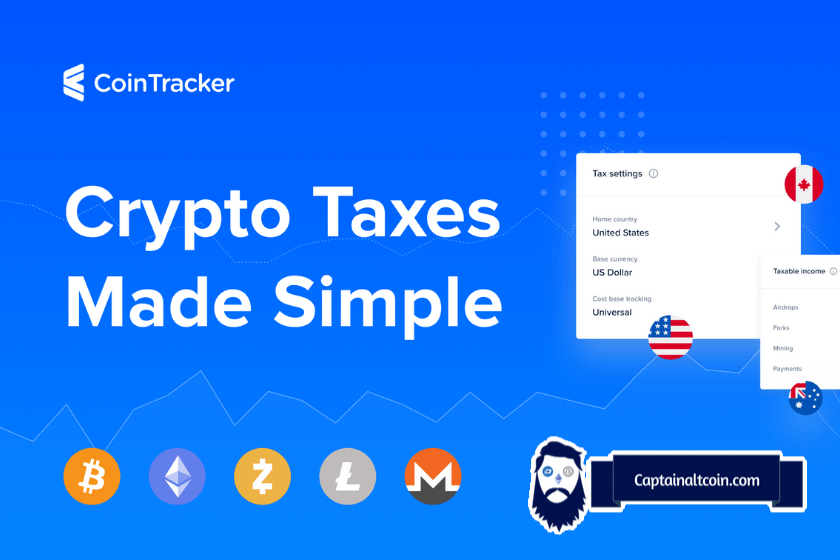 Cointracker Review – Pros & Cons Of Cryptocurrency Tax Tool Uncovered
The App Generates IRS form 8949
Generates tax reports using 12 different methods
Covers your basic tracking needs at no cost
Supports over 7000 currencies
Has a mobile app
It automatically syncs with major exchanges
For every trader, a cryptocurrency tracker is one of the essential apps that are very useful because they pull information from all your exchanges and crypto wallets, which allows you to quickly see how your entire portfolio is performing at a glance.
In line with this, there is a tool that is considered to be the most complete portfolio tracker on the market that has an added utility to its core function- it can also be used as a comprehensive and precise crypto tax software. The tool is the topic of this review and is called Cointracker.
A crypto portfolio tracking and tax form generation service founded in 2017 by Chandan Lodha and Jon Lerner
Tracks over $20 billion in crypto assets and supports over 8,000 crypto assets
Offers wallet and exchange tracking for over 300 wallets including Ledger, Coinbase, Binance, and TrustWallet
Provides real-time prices, historical data, deposits, withdrawals, market caps, and performance details
Currently lacks support for Solana wallets
Tax Compliance, Integrations and Accounting Optimization:
Takes care of tax compliance and optimizes cost basis accounting methods
Integrations with TurboTax and TaxAct
Available on App Store and Google Play Store
Features and Pricing:
Four price points: Free, Hobbyist, Premium, and Unlimited
Process of opening an account starts at CoinTracker.io and requires two-factor authentication
SSL encryption, read-only setup, and two-factor authentication tokens
Never sells user data to third parties
Platform designed to track cryptocurrency and NFT transactions, as well as prepare tax forms like Form 8949
Tax Loss Harvesting available with Premium plan or higher
30-day refund policy
Customer service, mobile app availability, and web/desktop account access available.
Cointracker.io Review – Overview
---
Founded on August 22, 2017, by Chandan Lodha and Jon Lerner, Cointracker is breaking the stereotypes of one-dimensional apps by becoming a leading portfolio AND tax manager application.
The tool has an automatic import from exchanges built-in and offers a dedicated and unified dashboard that displays everything that is happening around the user's crypto asset. The dashboard shows real-time token prices, tokens historical data, deposits, withdrawals, market caps, and further presents your portfolio's performance in a most concise manner.
Cointracker.io is based in San Francisco, California, and has made its name in the market for unparalleled features such as historical data, market caps, tracking prices, and much more.
The company's services are available to users all around the world, offering accounting, fintech, blockchain, digital currencies, and some other financial services to their users. The platform currently supports over 500,000 users and supports/tracks over 2,500 crypto coins, including the likes of Bitcoin, Ethereum, Ripple, Litecoin, Binance Coin, and many more.
In addition, Cointracker also has a very high ability to read CSV import files, which will allow you to import and export CSV files to other devices. You can try out CoinTracking with a free account (manages up to 200 trades). However, you'll need to upgrade your account to unlock all its great features.
Cointracker is a decent tool but there are two much more powerful and cheaper (per trade) tax calculators:

Koinly

and

Cointracking

. Click on the links to check them out.
Cointracker Features
---
Wallet Tracking – This awesome feature allows you to watch your crypto wallets for incoming and outgoing transactions. You can set this up for over 200 other altcoins, including BTC, BCH, BSV, ETH, and many others.
Multiple Cost Basis Methods – Cointracker provides its users with five various accounting methods to generate their tax forms, including First In First Out (FIFO), Highest In First Out (HIFO), Last In First Out (LIFO), Share Pooling (AS), and Adjusted Cost Base (ACB).
Note: Be sure to check with a professional tax advisor before you submit because if you choose the wrong method, your chance of getting audited may increase.
Auto Wallet Sync – This is another handy feature that comes with each subscription package. It automatically synchronizes the user's portfolio data across thousands of crypto tokens and adjusts the user's portfolio value based on real-time developments in the crypto market.
Tax Form Generation – This interesting feature tracks developments around crypto portfolios and helps users to generate a capital unrealized gains report and the IRS form 8949– the form used to report capital gains for tax purposes. This application helps users to lower the crypto taxes they pay by wisely harvesting the losses made by crypto tokens, which allows them to spend their trading profit more wisely.
Fee Tracking – This awesome feature allows users to see the fee that they have paid per transaction and per exchange.
Trade Reports – Cointracking offers its users a wealth of information that they can glean from their dashboard and reports. All your transactions are tracked in one place, which will help you to make better, more informed decisions about whether to buy/sell something (or do nothing).
Investment Performance – Cointracker offers powerful technology to their users such as cost basis tracking, automatic detection, and price history detection. This allows them to get an accurate view of their investment performance and your Return on investment (ROI) over time and other information.
Cointracker Pricing
---
Basically, Cointracker works for free for portfolio tracking. On the other hand, users who want to use the tax creation feature will have to spend according to the amount determined by the platform. It's important to note that upgrading your account to unlock all the features isn't cheap.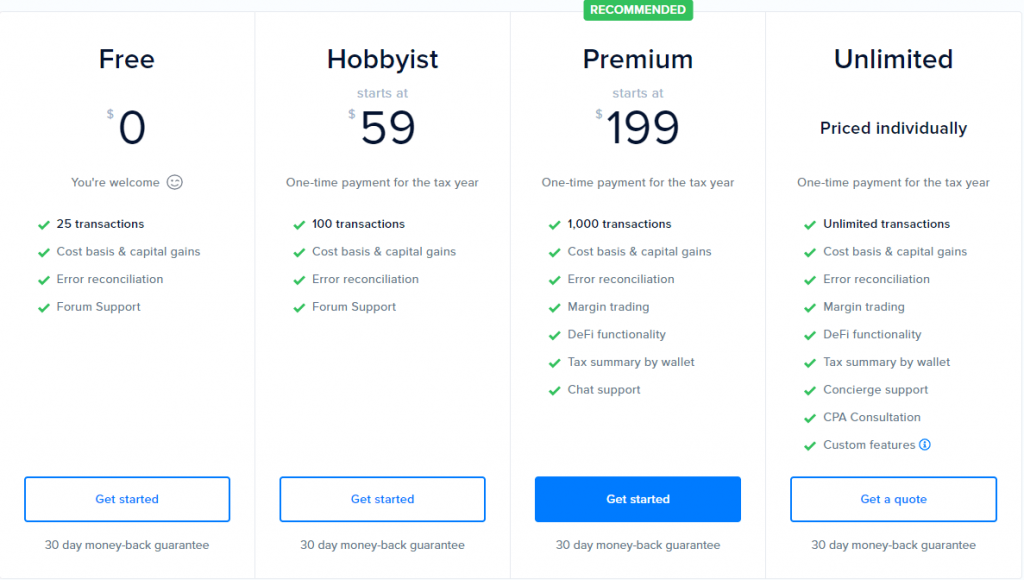 Here is what you get with each subscription plan:
Free Plan
✅ 25 transactions
✅ Cost basis & capital unrealized gains
✅ Error reconciliation
✅ Forum Support
Hobbyist Plan
✅ 100 transactions
✅ Cost basis & capital gains
✅ Error reconciliation
✅ Forum Support
Premium
✅ 1,000 transactions
✅ Cost basis & capital gains
✅ Error reconciliation
✅ Margin trading
✅ DeFi functionality
✅ Tax summary by wallet
✅ Chat support
Unlimited Plan – Priced individually
✅ Unlimited transactions
✅ Cost basis & capital gains
✅ Error reconciliation
✅ Margin trading
✅ DeFi functionality
✅ Tax summary by wallet
✅ Concierge support
✅ CPA Consultation
✅ Custom features
As you can see, it was not cheap. But there are alternatives like those we mention below that might be a better fit for you.
Cointracker is a decent tool but there are two much more powerful and cheaper (per trade) tax calculators:

Koinly

and

Cointracking

. Click on the links to check them out.
How To Use Cointracker
---
Here are the steps that you must follow so that the platform can work for you:
1. Visit the Cointracker.io website, and click on the "Get Started" icon.
2. You can sign up using your Coinbase account or your Google account. In case you do not have Coinbase or Google account or you do not wish to associate those accounts with Cointracker, you can also use direct email signup in.
3. Once you enter your Google account or your email, the next step would be to go to your email inbox and click on the link that has been sent there to complete registration.
4. Once you successfully log in, you will see your dashboard with options to add exchanges and wallets.
5. The next step is to secure your account by setting the 2FA (Two-factor Authentication). Click on the user icon on the top right, select the settings section and then select enable the two-factor authentication.
6. Add exchanges and wallets, which you selected in the prior step. For example, if you decide to add a Coinbase account, you will be directed to a page where you would be asked for authentication.
7. You will get a verification code on your mobile via SMS. Enter it to complete the process.
8. The process can be repeated for other exchanges and wallets you hold, and voila you are good to go.
Coin Tracker Review – Supported Exchanges
---
CoinTracking supports 300+ major crypto exchanges and wallets, including:
Binance
BitMax
Bittrex
CEX
Coinbase
BitFinex
LocalBitcoins
CoinSpot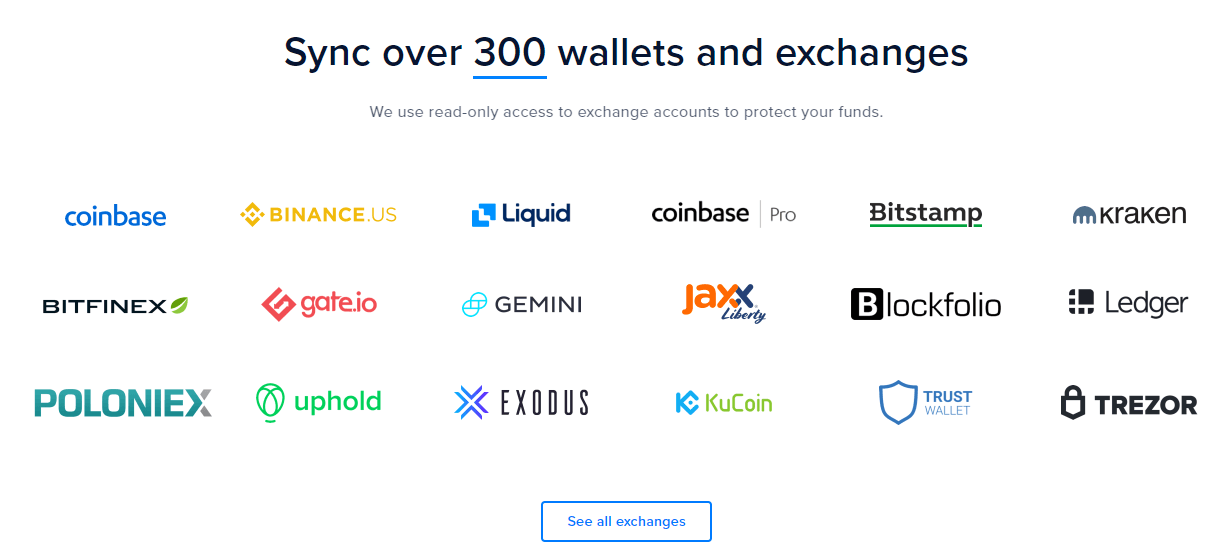 Setting this up is quick and easy because Cointracking provides step-by-step instructions to help you out with each exchange. You just need to allow the platform read-only (so it can't withdraw or make trades) API access to an exchange.
Once you've set this up, your trades and transactions will automatically be imported by the Cointracking app, which is super-convenient because you'll never have to manually enter transactions you make on that exchange again.
Users can also add any public address to any wallet that holds Bitcoin, Ethereum, Litecoin, and Dogecoin, and the platform will read the balance and update other info in real-time. When it comes to adding coins from a non-exhaustive list of 2000 coins, you can do this task manually (names and the amount held, when you purchased and how much you paid them for) so that it helps you to track value. The platform detects when you transfer crypto between exchanges or wallets. This will allow you to track cost basis and capital gains for the portfolio.
If you are filing for the tax, this feature will allow you to calculate capital gains tax reports using FIFO, LIFO, or HIFO accounting. However, to be able to use this service you have to pay a fee of around $ 29.99. The price for tax reports services is less than 100 transactions. As for enjoying unlimited transaction reports including prior years, you can choose this service by paying a fee of around $ 999.99.
This feature will archive all data from the stock and wallet that you connect with a Cointracker account. The platform will also display a summary of your tax and track the number of transactions from time to time.
Supported Wallets
---
You can also manually import incoming and outgoing wallet transactions. A few of the supported wallets are:
Cointracker Security – Is Cointracker safe?
---
Cointracker uses SSL certification and various other encryption tiers to secure the app from potential threats. Also, users don't have access to the exchange when using this application. It's also worth noting that Cointracker comes with complete documentation as soon as a user signs up for it. Another great feature is that you can put up a request for email reports.
Mobile App
---
CoinTracking mobile app (Android and iOS) was recently revamped and it helps you to keep an eye on your portfolio while on the move. This app will help you to keep an eye on your portfolio while on the move. Users can also set price alerts for any coin of their choice using the mobile app and they will be notified when the price reaches their target. Another great feature is that users can see the price movement of any cryptocurrency via a mobile app.
Comments about the app are generally positive and users claim that it offers everything they expected:
Get an overview of your portfolio value and recent price changes.
Crypto price trends.
Unrealised and realised gains (summarised).
Also, users who tried the apps out praised their fast and easy-to-use interfaces.
Cointracker Team
---
Cointracker Company was created by a company named Nino finance. The platform was founded by two great people who were once Google employees: Chandan Lodha and John Lerner. They are talented and experienced individuals in their fields.
Chandan Lodha (Co-founder) – Before starting the Cointracker platform, Lodha was an intern at Microsoft, joined Google as Associate PM in a rotational program, and then he moved to Google X working on Project Baloon.
Jon Lerner (Co-founder) – Before starting the platform, Lerner was a Software Engineer at Google. Prior to working at Google, he founded the IP telephony provider TextNow in 2009 before he finished his final year as a computer engineering student.
Customer Service
---
Cointracker provides its customer support through a live chat window, where they can ask for any kind of assistance related to the platform.
Also, there are other resources, including a crypto tax guide, blog, and an FAQ section that covers a variety of topics, from explaining the different accounting methods that Cthe platform supports to general information about investing in crypto. Also, you can message the team directly. It usually takes one business day for the team to respond.
If you need more information you can visit:
Cointracker is a decent tool but there are two much more powerful and cheaper (per trade) tax calculators:

Koinly

and

Cointracking

. Click on the links to check them out.
Cointracker vs Cointracking
---
When comparing these two crypto asset tracking platforms, Cointracker.io seems to be inferior to Cointracking.info for several reasons including; more expensive per trade, less intuitive to use, weaker brand presence, etc.
Cointracker vs. CryptoTrader.tax
---
When we compare Cointracker.io to CryptoTrader.tax, both seem to be on par on many grounds with a slight edge for CryptoTrader.tax including better customer support, more supported exchanges, more supported blockchains, etc.
Cointracker vs other competitors
---
The main competitors of Cointracker.io are listed below. We reviewed all of them and can safely say that crypto tax tools are a neck and neck race with all tools following each other in lockstep when it comes to features and pricing.
Is Cointracker legit – Conclusion
---
In our opinion, Cointracker is the most complete portfolio tracker currently available on the market. The Cointracking app offers additional features that are hard to find anywhere else and is a complete solution for any seasonal or pro crypto traders/HODLers. They have automatic import from exchanges built-in, their support is amazing and the interface is very clean. Best of all, everything is free for those with few transactions. Also, Cointracker integrates with the most popular crypto tax softwares programs and all the major crypto exchanges, which is another major plus.
Today, it's very difficult to find competent accountants who understand crypto. That's why it's well worth it to pay for a tool like this that prepares everything for you. Cointracker calculates the crypto taxes every year for you. Users can review their tax summary at any point and download the reports they need to file their taxes. One more thing worth noting is that Cointracker uses read-only access to your exchange accounts to protect your funds, which is extremely important as it means that the platform will never have any permission to operate with your crypto.
PROS
The App Generates IRS form 8949
Generates tax reports using 12 different methods
Covers your basic tracking needs at no cost
Supports over 7000 currencies
Has a mobile app
It automatically syncs with major exchanges
CONS
Does not support margin trading, derivatives, swaps, or futures

CaptainAltcoin's writers and guest post authors may or may not have a vested interest in any of the mentioned projects and businesses. None of the content on CaptainAltcoin is investment advice nor is it a replacement for advice from a certified financial planner. The views expressed in this article are those of the author and do not necessarily reflect the official policy or position of CaptainAltcoin.com