Bexplus Review – Fees, Deposits & Withdrawals, Security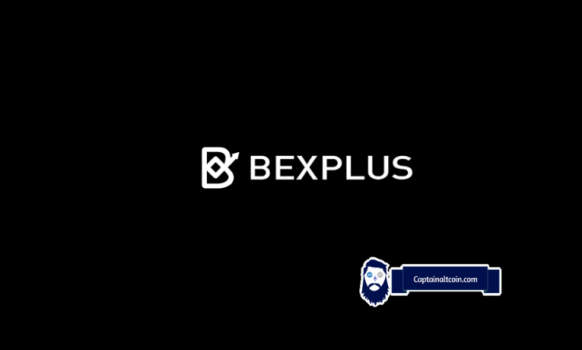 Bexplus Review – Fees, Deposits & Withdrawals, Security
Interest earning wallet
100% welcome bonus
No forced KYC
Bexplus is a Hong Kong-based cryptocurrency futures exchange that offers crypto traders leverage of up to 100x on select token pairs. The exchange is registered in Saint Vincent and the Grenadines, and offices in Singapore, Japan, the U.S. and Brazil. Bexplus has been around since late 2017, offering BTC, ETH and LTC perpetual contracts with 100x leverage. Bexplus offers some neat features for those who are new to leveraged trading.
Bexplus has expanded to the USA, Russia, Australia, India, etc, supporting 21 languages (English, Chinese, Chinese Traditional, Spanish, Portuguese, Portuguese (Brazil), Japanese, Korean, Thai, French, German, Indonesian, Vietnamese,  Russian, Italian, Malay, Turkish, Arabic, Polish, Swedish, Danish, Czech and Hindi with alleged 10 million dollars financing by famous venture capital associates in Hong Kong and America.
Bexplus exchange app for Android and iOS are also available for 36 countries, which is great for those who people out there that prefer to do their digital currency investments via mobile.
Bexplus was created by seasoned blockchain architects, experienced financial experts, and Internet professionals. The platform is operated by team who has over 50-year experience in the field of finance and futures trading and provides fast order execution speed and low latency. By virtue of strong technical and operating strengths, Bexplus has completed tens of millions of US dollar fundraising and financing. This guarantees the solid foundation as well as long-term development of Bexplus exchange platform.
Bexplus provides BTC, ETH, LTC, EOS and XRP perpetual contracts for futures trading. The exchange uses Tether (USDT) as the other side of the trading pair for all of the above-listed tokens. This basically means that their clients are trading the tokens against a cash position in US dollars. Every trade will incur a charge when it is opened. This varies based on the token trading pair.
How Does Bexplus Work?
---
You can easily sign up an account with email registration. Enter the verification code received in the registered email mailbox and your registration will complete in a second. All you have to do now is deposit a sufficient amount of BTC with the exchange and you can start trading in Bexplus.com.
It's also important to note that there's NO KYC requirement now and every registered user can feel free to trade on Bexplus.com. Bexplus is a crypto-only exchange, which means that if you want to use it, you will have to turn your fiat into BTC at another cryptocurrency exchange, and then send the BTC to Bexplus.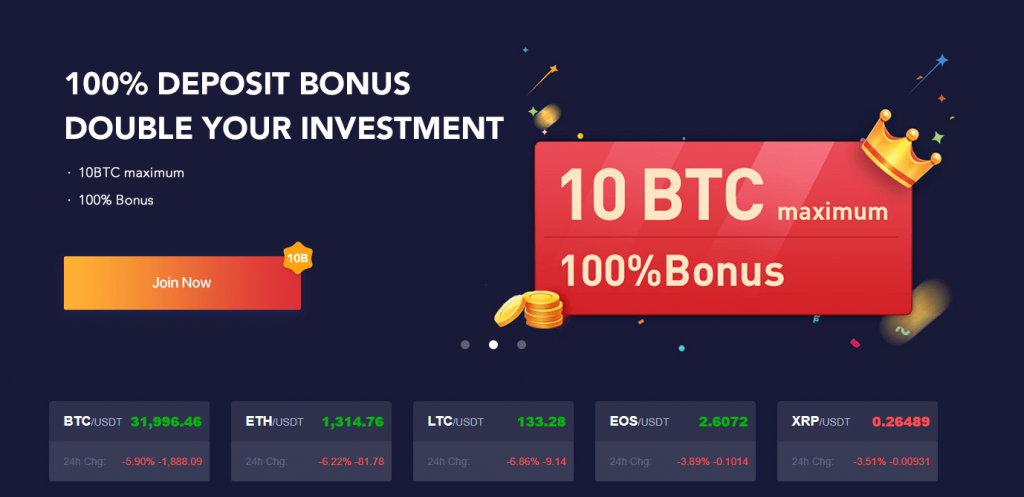 Leveraged Trading
---
Bexplus provides a 100x leverage trading tool on its trading platform, which means that you can receive a higher exposure towards a certain cryptocurrency's price increase or decrease, without having the assets necessary. You do this by "leveraging" your trade. This in simple terms essentially means that you borrow from the crypto exchange to bet more.
For instance, if you open a long position, when the price of BTC rises 1%, you can earn 100% profits, and in reverse, if you open a short position, you can also make 100% profits when BTC's price goes down 1%. Also the minimum amount of cryptocurrencies in Bexplus's futures trading is: 0.1 BTC, 1 ETH and 10 LTC, which is quite friendly for investors and beginners who hold a small amount of BTC, ETH and LTC. One more thing worth noting is that Bexplus has created safeguards for traders that allow the use of leverage, but keep them safe from unforeseen consequences, which is extremely helpful from the standpoint of usability, even for traders that have loads of experience. So, as you might imagine, the balance between risk and reward in leveraged deals is quite fine-tuned.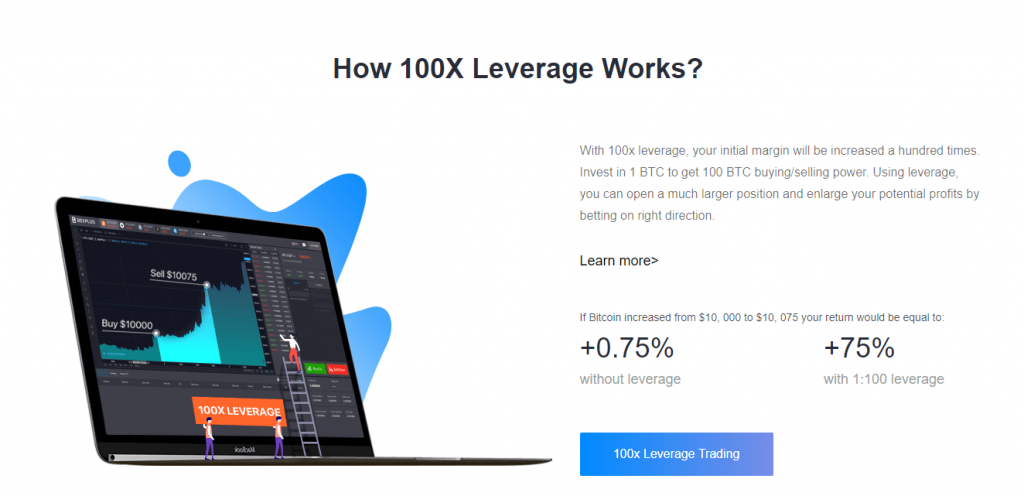 Bexplus Fees
---
The fee structure at Bexplus is a bit better than the options one would find at most traditional CFD brokers, and is basically in-line with the rest of the leveraged crypto trading options out there. Traders only have to pay the transaction fee as long as a position isn't held past 00:00 UTC.
Trading Fees
---
Many exchanges charge taker fees and maker fees. Takers are the people removing liquidity from the order book by accepting already placed orders, and makers are the ones placing those orders. The main alternative to this is to simply charge "flat" fees, which means that the exchange charges the taker and the maker the same fee.
The transaction fee for a BTCUSDT trade is listed at 0.075% on Bexplus' website, so Bexplus's fee is competitive but not much more. The majority of exchanges today offer derivatives trading actually charge 0.075% in taker fees.
For reference, have a look at other crypto exchanges where you can trade with leverage and their fee systems:
Withdrawal fees
---
Many exchanges today have competitive trading fees, but they often have extremely high withdrawal fees to compensate. For example, you have reached your investment goals and you are looking to buy house with bitcoin, so you need to withdraw the funds. And when doing so, the exchange can charge you high withdrawal fees to make up for its low trading fees.
Not Bexplus though. They charge a withdrawal fee of 0.0005 BTC when you withdraw BTC, which is far below the global industry average of 0.000812 BTC.
Minimum Deposit
---
This is a negative when it comes to Bexplus. The amount is 0.02 BTC and it may seem acceptable but considering Bitcoin's price appreciation, when converted to the US dollars, it starts to put on some weight – 0.02 BTC is equal to almost $600. That is just a lot of crypto and is a deal breaker for almost all trading novices.
How To Start With Bexplus
---
To start trading with Bexplus you first have to sign up for an account by following the steps below.
Click on the "Login/Signup" link on the top right hand Corner of the Bexplus website.
In the form, fill in your first name, last name, mobile number, email ID and password.
If you have a referral code, enter the code while creating your account.
Submit the form and wait for an activation email to be sent to you.
Click on the "Confirm Email" link in the activation email.
After your account is activated, you'll be sent a 6 digit One Time Password (OTP), which you have to enter after logging into your Bexplus account.
Bexplus Trading Platform
---
Bexplus's trading platform is simple to understand and use. It offers a clear view of the tokens that can be traded, with interactive charts so you can see how they have performed over time. It's important to note that both long and short trades are allowed. There is a section about trading below for those who want to know more about what that means.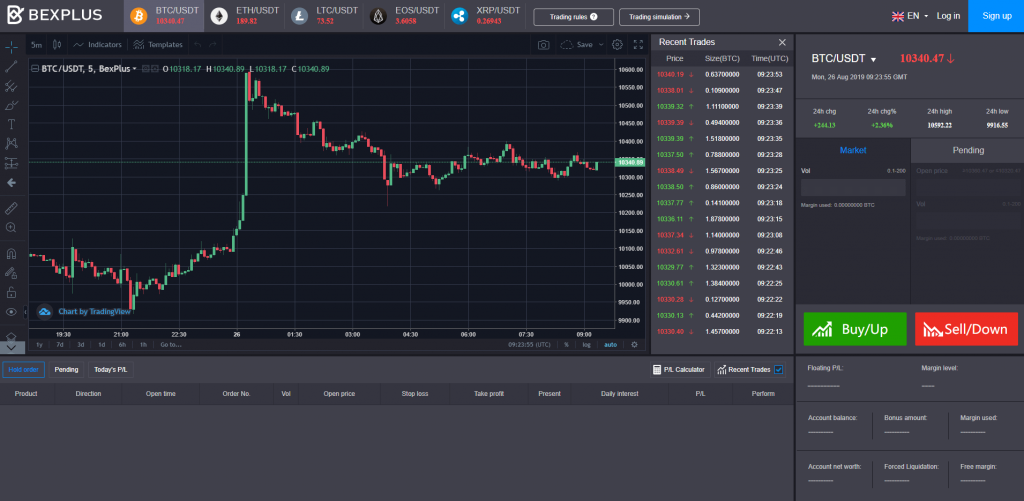 Bexplus also has some good features that can keep traders from getting into trouble with margin trading.
Bexplus Security
---
Bexplus offers high security and is equipped with multi-signature encrypted cold wallet storage technology, which means that all your digital assets deposit or trade in Bexplus will be securely stored in the cold wallet. This feature guarantees the high security of your cryptocurrency and not being hacked.
Any trader who uses leverage needs to learn how to manage risk because if you use borrowed money, you can lose a lot more than the value of your account. Fortunately, Bexplus has integrated a forced liquidation feature into its trading platform. This feature will close out any trade that has eliminated the value of a margin account.
For example, if you used .5 BTC, which was the entire value of your account, to open up a long trade worth 10 BTC, you would be using leverage of 20x, which means that if the market falls by 5%, your margin would be gone. Bexplus offers a great feature that will help you in this case. They would close the position so that your account doesn't fall into a negative balance.
In fact, Bexplus offers a no negative balance guarantee, which means that you can trade with the confidence you'll never lose more than your deposit.
Bexplus order types
---
Bexplus Market Orders
---
Margin trading is more common with Forex than cryptos, but during the one and a half year long "Crypto Winter", with tight margins and stagnant markets across most crypto, there is a huge demand to trade leveraged cryptos.
The volatility of the crypto market is huge, and cryptocurrency can increase or decrease 15% or even 50% within a single day. With margin trading, you will make profits as long as you bet on the right price movement direction (will it rise or fall?)
Bexplus Limit Orders
---
A limit order allows you to limit either the maximum price you will pay or the minimum price you are willing to accept when buying or selling a specific amount of a token pair. The order will be executed if the market hits the price level that you specify.
There is no way that you would buy or sell the token pair at a price other than the one you specify with limit orders. However, the amount of exposure you gain may not be as much as you ordered. There is only so much liquidity in the market, and your order may not be filled completely if the market turns the other way.
Of course, you will gain no exposure whatsoever if the market doesn't go to the price level you specify in the limit order. You can also use stop-loss orders (an order that will sell your investment if the price has fallen to, or below, the trigger price you have specified), as well as take profit orders (orders that allow you to set a price where some or all of your currency is sold automatically at a profit if reached).
Long and Short Trades
---
There are two types of trade: long trade and short trade.
Long trade is a term used when a purchase occurs at a low cost, and the trader hopes for the market to rise, enabling him to sell his purchase at a higher price than he paid for it.
In short trade, a person hopes to sell a cryptocurrency, hoping that the market would fall, allowing him to buy back his trade back for a lower amount. Short sales are thought to be riskier, because a token or stock could theoretically rise in price forever. However, don't be scared to go short because a limit order can protect you from this.
Advantages of Bexplus Exchange
---
✅ Easy Registration
You can easily sign up an account with email registration. Just enter the verification code received in the registered email mailbox, and your registration will complete in a second.
✅ Free Futures Trading Simulator
Beginners can try Bexplus trading futures using simulator, which allows you to try to trade cryptocurrency futures with a preset limited amount of BTC, ETH or LTC. The simulator reflects the real market conditions and allows you to learn how to beat on price direction. This feature is designed for beginners who are not familiar with cryptocurrency futures trading.
✅ Bexplus Wallet
Besides trading, Bexplus also offers an opportunity to gain profits by using its built-in BTC interest-bearing wallet. Those users who make a deposit can enjoy up to 30% annualized interest rate which calculates daily and can be withdrawn to your own wallet. However, if you want to earn interest on your crypto, we recommend checking out our article on the best crypto loans platforms as they feature more proven and established companies.
✅ Commission
If you invite friends to register and trade in Bexplus, you can share 30% transaction fee of your invitees as commission. It's also important to note that also both you and our invitees can enjoy 10% OFF service charge.
✅ Mobile Support
Most people do their trading on desktop, but there are also a fair share of people out there that prefer to do their crypto investments via mobile. If you're one of those people, you'll be happy to know that Bexplus is also available as a mobile application and can be downloaded from both the AppStore and Google Play.
Is Bexplus scam or legit?
---
Have a look what our colleagues came to conclude in their review of this exchange on insidetrade.co
The broker, according to its About us page, has been established in 2017 under the license provided by the Financial Services Authority of St. Vincent and the Grenadines.
To be fair, there are many Forex brokers who claim to have the same SVGFSA regulation. However, it doesn't make Bexplus scam suspicions any less feasible. In fact, when it comes to the online brokers, their main incentive is to somehow transfer their businesses to the distant islands. This way, they'll be able to hide their earnings from taxation, as well as cover any illegal activities that they're part of.
We believe this is certainly the case for Bexplus. St. Vincent and the Grenadines is a perfect destination for the broker to avoid taxes and legal implications from stronger governments. With no political or economic prowess whatsoever, St. Vincent has virtually no ability to oversee the broker's financial activities.
In other words, the SVGFSA license is as good as no license at all. Well done, Bexplus!
As we explained on the top of the article – there are just too many crypto scams floating around, preying on your coins, that a deposit to a fairly unknown and unregulated exchange like Bexplus is too big of a risk. And an unnecessary one as well since you can use Kraken, ByBit or PrimeXBT as some of the more established and better reputed places where you can trade on a margin.
Conclusion of Bexplus Reviews
---
Bexplus advantages are simplicity, lack of spread, availability of a simulator, security, quick withdrawal and recharge, as well as additional bonuses (for example, they offer an annual interest rate for a deposit) and responsive 24-hour technical support.
Bexplus has some great features for those who are looking to trade major tokens with leverage, or want to earn interest on your trading balance when you aren't using it somewhere else.
No matter you are a beginner or sophisticated investor in crypto futures market, Bexplus crypto futures exchange has some great features for traders who want to be able to use leverage with the largest tokens in the world.
Bexplus alternatives
---
As we mentioned above, there are other places where you can trade on crypto on margin and here is a list of potential crypto margin exchanges that can be good alternatives:
PROS
Interest earning wallet
100% welcome bonus
No forced KYC
CONS
not regulated
fairly unknown with little online reviews
limited trading pairs
hefty deposit minimum

CaptainAltcoin's writers and guest post authors may or may not have a vested interest in any of the mentioned projects and businesses. None of the content on CaptainAltcoin is investment advice nor is it a replacement for advice from a certified financial planner. The views expressed in this article are those of the author and do not necessarily reflect the official policy or position of CaptainAltcoin.com