BaseFEX Review – Is BaseFEX Scam or Legit?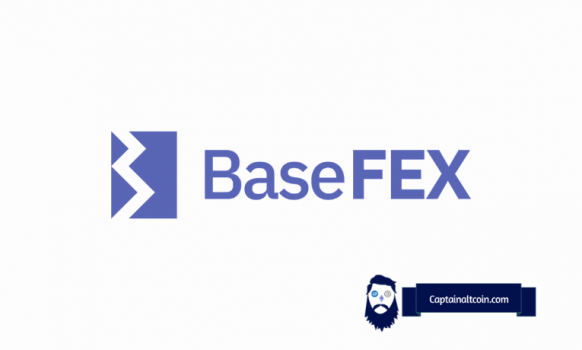 BaseFEX Review – Is BaseFEX Scam or Legit?
Well-Designed and Intuitive Interface
Offers BTC and USDT Settled Contracts
Reasonable Fees Structure
Great Risk Management
Margin Trading up to 100x
Testnet Version
Great Security
BaseFEX is a new cryptocurrency derivatives exchange that provides a contemporary trading experience and offers traders the option of 100x leverage for Bitcoin and Altcoin leverage on a very high level. The exchange offers traders a platform to trade crypto with low fees, and high security, as well as provides perpetual contracts for BCH, BNB, BTC, EOS, ETH, LTC, and XRP
BaseFEX Overview
---
The platform's company is based in Hong Kong, but it is registered in Seychelles for regulatory purposes. This country is known for its favorable regulatory landscape for blockchain and crypto businesses. BaseFEX is registered as Base Investing Corporation, with company number 205276. The company is in business since 2018 and is striving to be one of the extremely transparent, progressive, and genuine crypto exchanges.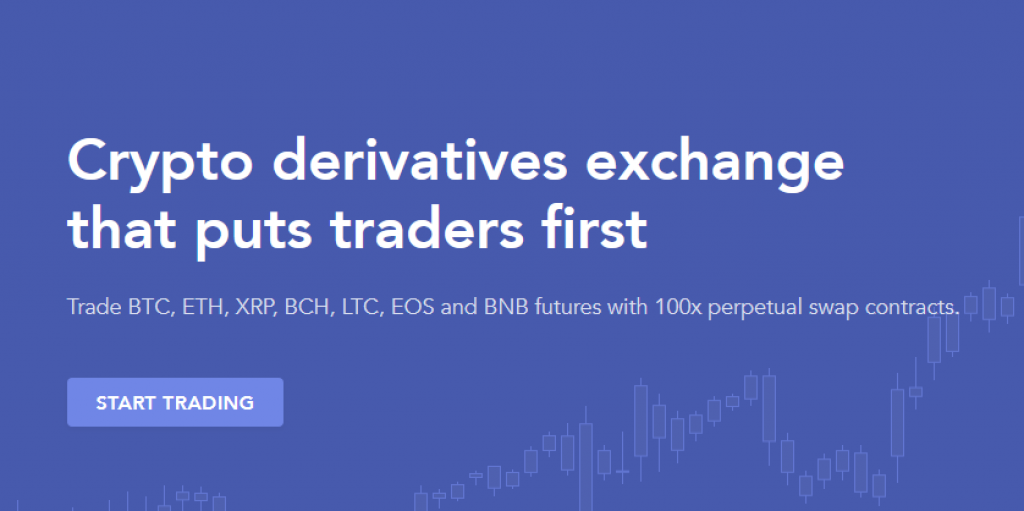 The exchange has been developed by professionals using cutting-edge technologies from the ever-evolving internet industry.
The two people responsible for running the company are Jesse Wu (CEO), and Isaac Zeng (CTO), and they claim that it is the mission of BaseFEX to be the "most reliable, transparent and advanced cryptocurrency derivative exchange, and make trading smooth, secure and accessible for traders worldwide." Jesse Wu is a serial entrepreneur with in-depth experience in IT and forex trading. Isaac Zeng has been working as a software engineer at Huobi crypto exchange before joining BaseFEX's team.
It's important to note that the BaseFEX exchange is backed by several industry heavyweights, including big.ONE – a global digital asset trading platform and prominent venture capital firms, including the likes of blockchain and Ceyuan Ventures, a Beijing-based early-stage venture capital firm focused on IT and emerging growth companies.
As a derivatives trading platform, BaseFEX allows customers to trade a type of financial instrument known as a perpetual futures contract, which tracks the price of an underlying crypto asset and can be used to speculate on the market and hedge without necessarily holding the underlying crypto asset being tracked. 
BaseFEX features a clean, simplified user experience and mobile trading options and can be considered a platform that mostly targets beginner traders.
The platform is currently available to users in almost all countries. However, the exchange does not accept US traders, due to its lack of US regulation. Also, customers in several other countries, including Quebec (in Canada), China, Crimea and Sevastopol, Cuba, Iran, North Korea, Sudan, and Syria are prohibited from holding positions or entering into contracts on the platform. A very positive trait of this exchange is the availability of languages. 10 languages are supported, including English, French, Italian, Spanish, Portuguese, Chinese, Japanese, Korean, Russian, and Turkish.
BaseFEX Trading Dashboard
---
For crypto traders, the interface is one of the most important considerations when selecting a crypto derivatives exchange. The trading interface is where most of your time will be spent, so make sure you are happy with it.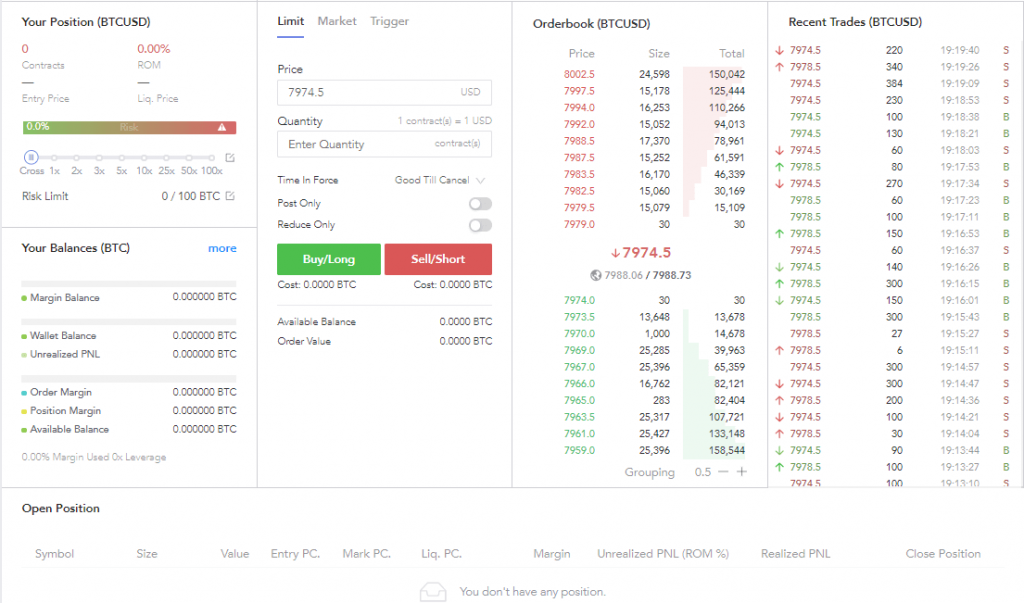 The BaseFEX exchange offers a sleek, easy-to-navigate user interface that is accessible to both novice and expert traders alike. BaseFEX makes use of the popular third-party trading tool known as TradingView for its charting interface, which provides a huge variety of charting features, including a variety of trendlines, dozens of built-in technical indicators, and a wide range of chart parameters to help customize your market view. The TradingView charting system is renowned for smooth, intuitive, and responsive charts, which offer a wide range of time frames and tools to draw trend lines, add indicators and draw chart patterns to perfectly time a trade order using a market, limit, or stop order.
On the left, you will see the asset and contract type. The platform offers a variety of perpetual futures. However, it only supports deposits in either Bitcoin (BTC) or Tether (USDT), so all futures are settled in either BTC or USDT. There are tabs for USDT settled and BTC settled on the left, and below them, you can see all the cryptos available as pairs, each with their last price and percent change.
When you are logged into BaseFEX, below this you can see the current positions for the pairs selected, and under this section, you are able to view your balance in Bitcoin.
The main trade graph can be found to the right of these sections. Just above the graph, you can find the asset and its change in both BTC and USD. You can see the 24-hour change, 24-hour volume, open interest, and funding rate to the right of this.
It's worth noting that the graph can be adjusted in order to be fully convenient for the user. The price chart is default but can easily be changed to a depth chart. The time intervals can also be changed to 1, 5, 15, or 30 minutes; 1, 4, or 12 hours; or even a day. Indicators, settings, and a full-screen option can be found to the right of these options. Different values such as open, low, high, and close can be found above the graph's placement.
It's important to note that the website is available in five different languages – English, Japanese, Korean, Chinese, and Russian. This allows users to trade in their native tongue, which further improves the accessibility of the BaseFEX exchange.
There is also a testnet function that doesn't use real cryptocurrency for trading. It only serves to test out new trading strategies and exchange features with zero risks. The platform also features a range of market, limit, and trigger order options. However, it lacks some advanced order options such as trailing stop losses.
Creating an Account at BaseFEX
---
Registering on the BaseFEX trading platform is pretty straightforward and quick (actual registration only takes a couple of seconds). Head on offer to the signup page and provide your email address, a password, a nickname, and the country where you reside.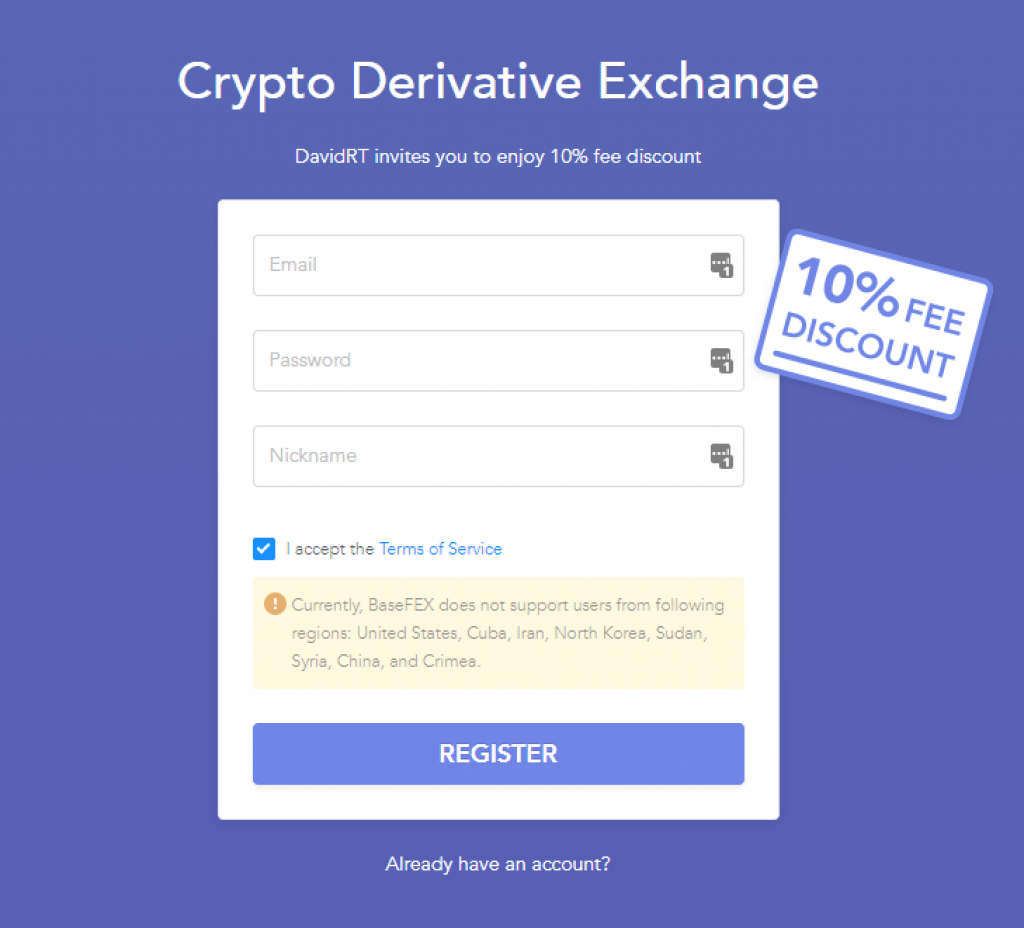 You will receive a six-digit code in the email address you used, which you need to enter into the box provided on the account creation page to verify your email address. Once you feed this code back into the registration loop, you are logged in automatically.
Note that this code expires within 10 minutes, so make sure you enter it in due time.
How to Place an Order?
---
There is a basic order form below the left side of the graph. Here, you can enter quantities and prices. There is also an option to choose between Limit and Market orders. Enter the needed information, click on the Sell/Short or Buy/ Long buttons and you will be presented with updated details on costs for each action, order value, and available balance.
To place an order on BaseFEX, follow the steps below:
– Go to the Trade dashboard
– Choose either the Sell/Short or Buy/Long button. The BaseFEX system will automatically confirm that there is sufficient balance available to maintain your initial margin. What happens if there is a case of existing positions? In that case, the system will also automatically confirm that your available balance covers changes to margin maintenance and PNL. If you have enough funds the order will be placed. It's important to note that if you have a net active order that is not canceled or filled, it will be accounted for, which will reduce your available balance by the net orders' initial margin.
The orderbook for your given trading pair can be found to the right. This is a color-coded section, and it's divided into Buy/Long and Sell/Short columns for each, there is the price, size, and total information. To the right of this you can see recent trades for the pair, which are also color-coded green or red based on whether they are Buy or Sell. These are based on the time that shows price, size, time, and whether it was a Buy or Sell. You can find your open positions below the graphs and order books on the Trade page. Below this, you have the orders for the current pair, including active orders and order history.
What Are Order Types on BaseFEX?
---
There are several different order types available from BaseFEX, including:
– Market Order: These are orders that are executed immediately when entered into the order book at the best possible price available on the market at the moment the order is placed. This order type is perfect for those who want to urgently execute their order.
– Limit Order: These are orders that allow users to specify the minimum or maximum they will sell or buy at. This order type is perfect for those who want to minimize the costs of trading. However, this can also lead to unexecuted orders or orders that take a long time to execute, which happens if your price is far from the market price. There are three different variants of this order type at BaseFEX:
Good Till Cancelled: This is the default option here. These orders have an indefinite order live and are left open as long as the trader decides to leave them there.
Fill or Kill (FOK): These orders tell the system to execute the order completely and immediately, or if unable to do so, to cancel it entirely.
Immediate or Cancel: These orders will trim all unfilled portions of your order immediately after placement.
You also have additional Limit order parameters to select a "post-only" order, which will keep your order from being executed against the market. Your order will be canceled if opportunities arise for its execution in the shape of resting orders. They also have the "reduce only" option that will only execute your order if it reduces your position. The order will be canceled if it stands to increase it.
There is also an option to adjust the leverage on your position. The Entry Price, the Liquidation Price, and Return on Margin are also displayed.
Indicators That Can Be Used on BaseFEX
---
There are over 50 available indicators in total on BaseFEX, including Aroon, Average True Range, Balance of Power, Bollinger Bands, Chop Zone, Connors RSI, EMA Cross, Sure Thing, Money Flow, Moving Average, Price Oscillator, and many others. Click on the wave line above the trading graph to find the different indicators. Here, you will see several indicators which you can scroll down or search by name.
Settings That Can Be Adjusted on the Trade Graph
---
Here, you can make both minor and major changes to the way your graphs are displayed. There are four tabs inside the properties window:
Style – This option includes choices like candle colors, borders, wicks, and scale location.
Scales – This tab features placement, types of scales, margins, and decimal places.
Background – This tab offers choices like indicator arguments, titles, and values, bar change values, patterns for lines, and many others.
Timezone/Sessions – Here you can find the time zone and your choice of session breaks.
BaseFEX Margin Requirements
---
BaseFEX allows its users to participate in margin trading and increase their chances of making more profits, in which case, traders make use of funds that are provided by a third party to trade. Compared to ordinary trading accounts, margin accounts give traders access to additional amounts of capital. This enables them to take advantage of their positions on a bigger scale.
On BaseFEX, traders can enjoy up to 100x leverage for the BTC and 20x for the rest of the altcoins. BaseFEX also offers margin funding for investors who are not risk-averse. This allows them to trade on the margins themselves, and during margin funding, users can commit their money to fund transactions of other users' margins.
There is also an option to have an isolated or a cross-margin account at BaseFEX. The Isolated margin is the margin that applies to a particular position and is hence restricted to that amount, while the Cross margin is shared between your open positions and could be netted.
BaseFEX Liquidation Information
---
The Open Position tab allows you to check the liquidation price of positions. Users can also adjust the liquidation price using this page. They can do it indirectly by adjusting the risk limits or leverage sliders.
Because of market liquidity and price manipulation, BaseFEX takes steps to minimize liquidations. This includes the use of the Fair Price Marking mechanism, which involves setting the Mark Prices of contracts to Fair Prices instead of using Last Prices.
BaseFEX Data Section
---
This section contains historical data in various sections.
The Funding History section can be helpful for creating a trading strategy because it shows historical funding rates for every symbol that can be traded on BaseFEX, including the time and date, funding interval, symbol, and funding rate.
The ROE Leaderboard shows the top 25 traders based on ROE and for each position, the chart displays the nickname and ROE.
The Insurance Fund page displays the Daily Insurance Fund Balance, a system the platform uses for taking over unfilled positions, so they do not go to the Auto-Deleveraging System. This page also has a simple list of the Insurance Fund balance in Bitcoin on a daily basis, including historical records, with 145 entries at the time of writing.
There is also a section called Indices, which contains a page for each crypto that can be traded on BaseFEX. There are also different tabs for each index that affects the price/rate on BaseFEX at the top of the page.
There is also the Affiliate Leaderboard that displays the top 25 affiliates in order of payouts in BTC, their nicknames, and the number of referrals they have made.
Futures Contracts vs. Perpetual Contracts
---
Futures contracts expire, which means that traders need to turn over their expired positions. This entails certain costs. However, futures contracts do not incur funding fees.
Perpetual Contracts, on the other hand, are like the traditional futures contract in the way they are traded. However, as their name suggests – they do not expire, which means that users can hold a position for as long as they want. Perpetual contracts are perfect for those looking to make use of leverage because their obvious advantage is that it does not need to be turned over. However, the drawback is that this contract type lacks transparency, so traders won't know in advance what their potential funding profits/costs look like.
In the future, there are no such problems, because the parties involved know the price in advance.
It's important to note that perpetual contracts are the only contract type that BaseFEX currently supports. The Docs section of BaseFEX shows the contract specifications for each perpetual contract offered, including BTCUSD, ETHXBT, XRPXBT, LTCXBT, EOSXBT, ADAXBT, BNBXBT, HTXBT, OKBXBT, GTXBT, and ATOMXBT.
What Cryptos Does BaseFEX Support?
---
BaseFEX allows customers to trade a variety of different perpetual futures contracts, separated into two categories: BTC settled and USDT settled. Currently, the exchange supports the following cryptocurrencies – six BTC settled products: Bitcoin (BTC), Ethereum (ETH), XRP, Bitcoin Cash (BCH), Litecoin (LTC), and Binance Coin (BNB), and three USDT settled ones: BTC, ETH, and EOS.
BaseFEX Deposits and Withdrawals
---
As I already said, you can trade with 10 different altcoins on BaseFEX. However, only Bitcoin deposits and withdrawals are available on the platform. The exchange only accepts BTC deposits. Making such a deposit is a very straightforward process and a matter of a few clicks. To deposit BTC on the BaseFEX exchange, follow the steps below: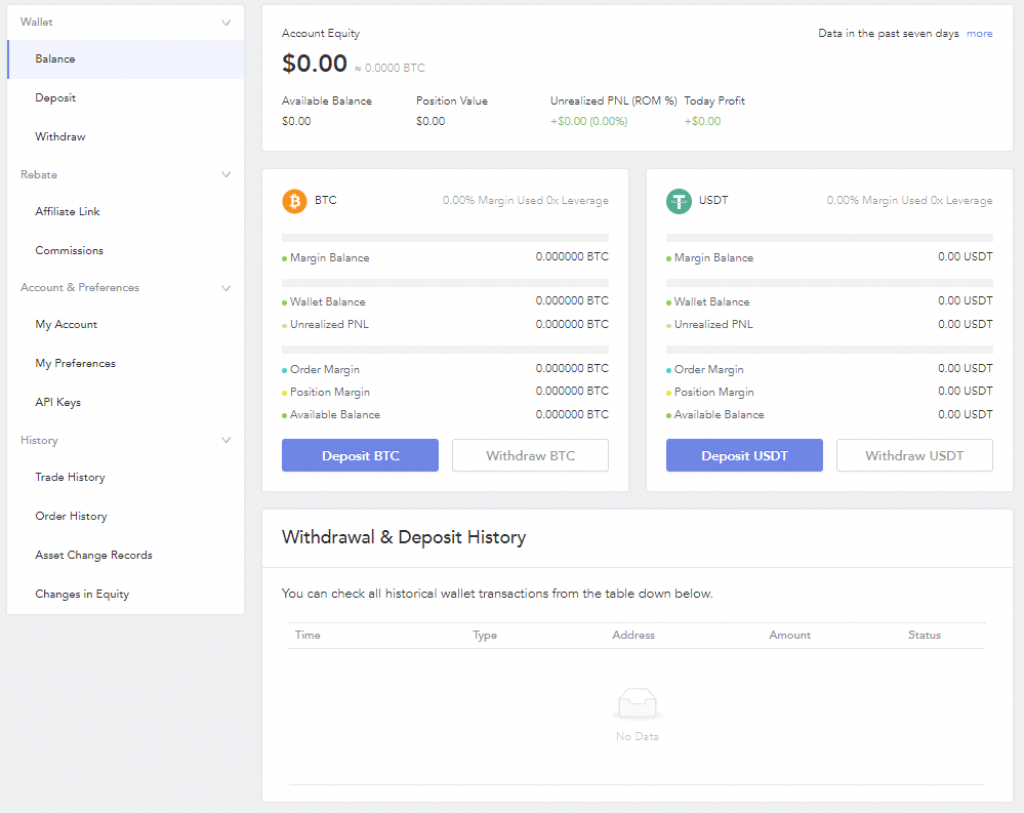 1. Log in to your account and click on the "My Account" link on the right.
2. Click on "Deposit" on the left.
3. You will see a multi-signature wallet address.
4. Send the funds you want to deposit to this address.
5. Following one confirmation, the funds get credited to your BaseFEX account.
The minimum deposit amount is 0.0001 BTC on BaseFEX and there is no deposit fee on the platform.
Withdrawing is just as simple and done in a similar manner via the Accounts tab of BaseFEX. Given that they store 100% of their coins in cold storage, your withdrawal request will have to be completed manually before sending and requires the coordinated actions of multiple BaseFEX employees. To withdraw, follow the steps below:
1. Head on over to the withdraw section
2. Insert the address of your offline wallet.
3. You will be given the fee that will be applied to the withdrawal which is the network fee.
4. After you submit your withdrawal request, you will have to first approve it in a confirmation email that will be sent to you.
The minimum withdrawal is also 0.0001 BTC. It's worth noting that the only fee applicable is the miner fee you need to pay to the network to process your transaction.
It's also important to note that the platform processes all Bitcoin withdrawals before 7:00 UTC+00 daily, so make sure to have submitted before.
BaseFEX Fees
---
When choosing a crypto exchange, the trading fees are often one of the most important considerations in the decision-making process, and this becomes even more critical when trading larger position sizes and on a futures exchange where you are paying a trading fee on positions that are much larger than your margin.
Trading Fees
---
| Level | Trading Volume Last 30 Days (BTC) | Maker Fee | Taker Fee |
| --- | --- | --- | --- |
| LV 0 | >= 0 | 0.0200% | 0.0600% |
| LV 1 | >= 100 | 0.0200% | 0.0500% |
| LV 2 | >= 500 | 0.0150% | 0.0500% |
| LV 3 | >= 2000 | 0.0150% | 0.0400% |
| LV 4 | >= 8000 | 0.0100% | 0.0400% |
| LV 5 | >= 25000 | 0.0100% | 0.0300% |
| LV 6 | >= 60000 | 0.0050% | 0.0300% |
Funding
---
| Contract | Long Funding Rates | Short Funding Rates | Funding Interval |
| --- | --- | --- | --- |
| BTCUSDT | 0.0432% | -0.0432% | every 8 hours |
| BTCUSD | 0.0100% | -0.0100% | every 8 hours |
BaseFEX is well-known for offering customers competitive fee rates, which are clearly outlined on the BaseFEX's website via the Fees page. BaseFEX fees are slightly cheaper compared to its main competitors. The model the platform operates is the "Maker-Taker," and in this model, market makers are charged relatively lower fees than liquidity takers from the order books.
The maker fee on BaseFEX is 0 for most altcoin contracts and -0.02% for the BTCUSD trading pair, which means that if a trader is adding liquidity to the Bitcoin market they are paid for placing such an order in the order book. On the other hand, the taker fees are either 0.2 percent or 0.05 percent, depending on the contract.
It's important to note that BaseFEX offers a discount fee for big traders. However, in order to qualify for this feature, an account must have a total order value in seven days of over $35 million, which entitles the account to a discount of 50% on commission fees. There are six levels of trading fee discounts for high-volume traders. Level 1 users (trading in excess of 100 BTC per 30 days) are charged a maker/taker fee of 0.02% and 0.05% respectively. However, this can be reduced to as low as 0.005% and 0.03% respectively for level 6 traders (>60,000 BTC in 30-day volume).
Users will also need to calculate paying or receiving funding fees, which are calculated every 8 hours based on the lending index of each coin and it is usually between 0.01%-0.3%. These rates are paid between long and short position holders. The funding rate for each contract is calculated using the following formula: F = P + Clamp(I – P, -0.05%, 0.05%). In this formula, the values for each variable are shown in the contract spec of each product. The funding rate for each contract is clearly displayed in the trading interface, and you can see a detailed log of historic funding rates here. 
One more thing worth noting is that the platform does not charge users any fees on deposits or withdrawals. Nevertheless, if you are withdrawing Bitcoin or USDT the minimum Bitcoin or USDT Network fee is charged on blockchain load.
BaseFEX Testnet
---
BaseFEX offers a testnet platform at testnet.basefex.com, which allows you to trade on the BaseFEX platform in a non-threatening way without risking any real funds. Both, a testnet-based trading option as well as a live one, are web-based and they have the same features and functionality, so when using the testnet platform, you are getting the exact feel of how it would look when you are trading with the live account. However, you will not be able to log into the testnet version with your live version login/password, so you will need to create separate accounts for the testnet version to be able to access it.
You will be given demo funds of 10BTC, which carries no monetary value, so you will be able to put the platform to the test risk-free through it.
BaseFEX Security
---
The platform has never been hacked and employs a number of security features to ensure it stays that way. BaseFEX has very high-security levels and features, including 2FA (two-factor authentication) to ensure accounts are safe and prevent unauthorized access to users' funds, periodical stress tests and security audits to take care of new possible susceptibilities, cryptographic hashing of all passwords, and encrypted SSL to encrypt and secure all traffic to the website. In addition to these, BaseFEX offers the bounty bug program to encourage users to report any security issues that they find, which allows the problem in question to be addressed immediately.
Looking at the service-side security features, BaseFEX stores all customer assets in multi-signature cold storage wallets. All storage stays offline every time, so even if BaseFEX receives a cyber attack and the security is compromised, the funds will be safe. The platform also obtained an A+ security rating in Mozilla's Observatory Test. BaseFEX received a score of A+ in this test, which is an incredible score and represents a strong achievement by the dev team at BaseFEX. Out of over 400 cryptocurrency exchanges examined, only 4 exchanges have scored A+ in Mozilla's Observatory Test, which itself is a testament to the inherent security features that will provide comfort to new traders that wish to join BaseFEX.
The platform also takes additional precautions when it comes to withdrawals. Every single withdrawal gets audited by hand, which is done by a minimum of two employees at BaseFEX before the withdrawal is sent. The majority of the funds have no individual keys stored on any cloud servers. Security for deposits includes verifying all deposit addresses the BaseFEX system sends, which is performed through a service external to the platform.
As I already said above, BaseFEX takes the safety and security of the users seriously and the people behind the platform review the platform's security protocols regularly and use periodic stress tests and security audits to stay up to date with potential vulnerabilities.
It's also important to note that BaseFEX does not reveal all the security measures it has in place for protecting its client's funds from compromise. The platform also maintains an insurance fund to protect traders against automatic deleveraging. This is an insurance policy to protect traders as a fail-safe mechanism in the event BaseFEX cannot liquidate a position at bankruptcy price, in which case the BaseFEX insurance fund will use the balance to cover the shortfall. The platform shows the current balance of the Insurance Fund on the website, which allows everybody to see it at any time, ensuring a very transparent system.
BaseFEX Mobile App
---
BaseFEX has taken a further step in enhancing user experience by adding a mobile app to cater to the needs of millions of mobile users. The highly-responsive mobile app allows its users to monitor trades and manage position risk while on the go and is available on Apple Store, Google Store and Beta BaseFEX. The apps can be downloaded on the App Download page.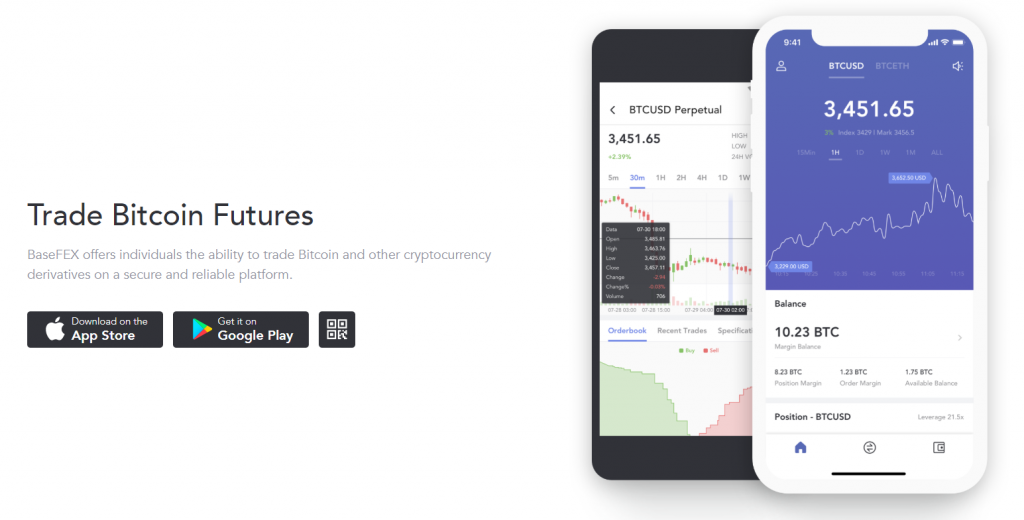 BaseFEX Customer Support and Educational Information
---
BaseFEX offers a wide variety of support options to ensure customer queries are resolved promptly. The platform features an expansive suite of guides and articles in the 'FAQ section,' where users can find tips on how to use the exchange. This section also includes some basic education. Users can find definitions of futures and perpetual contracts as well as mark prices, information on how BaseFEX calculates settlement prices and perpetual contract prices.
The FAQ page is also dedicated to explaining concepts related to perpetual contracts, as well as liquidation, explaining how and why it happens. There are also explanations of insurance fraud, leverage, Auto-Deleveraging, and related concepts. There are also clarifications related to fees, deposits, and security, including how to deposit, minimum amounts, wallet information, and support.
There is also the option to contact the customer support team using the live chatbot, which can be found at the bottom left corner and is available 24/7. This can be done via email and Twitter. The BaseFEX also features a help center, which contains basic details on how to use the platform, as well as a selection of short guides and reference materials.
Much of the team can also be reached on LinkedIn and there is a BaseFEX Trading Chat on Telegram. Customers can also get answers from their blog, where several topics are handled. There is no support phone number listed on the BaseFEX website and some take this as a disadvantage.
The platform also provides educational content to help traders better understand futures and perpetual contracts.
The Futures Contract Overview section explains what futures contracts are. It also goes into detail about the key mechanisms within the futures market, including multipliers, position marking, maintenance, and initial margin, basis, and settlement.
The Perpetual Contract Overview section provides an overview of the main difference between perpetual and future contracts. There are also explanations for the funding rate and market features, including position marking, maintenance, initial margins, funding, and funding timestamps. There is also a description of funding and its timing on BaseFEX, including the equation for calculating funding, position value x funding rate plus an example calculation.
The platform also has a Reference section, which has descriptions for Isolated and Cross Margins, Order Types, and Fair Price Marking. This section is within the Docs tab and also offers descriptions for Auto-Deleveraging, Profit and Loss, Risk Limits, and Margin Terminology.
There are also formulas and examples for those who have problems related to calculations. And if you need overviews of the relevant terms and concepts, you can find them at the top of the page.
This is the warning we mention in our title:
BaseFEX is one of the many crypto exchanges that sprung up in 2017-18 and it stacked quite a few scam allegations during this time. We are not saying that you should blindly trust unknown users yelling scam at the slightest problem they encounter with a crypto service, but we STRONGLY ADVISE against putting any significant amount of money on this type of exchanges (relatively new, semi-anonymous founders, off-shore based with no clear regulative status).
Crypto is a minefield and wandering off the well known paths (exchanges) can often result in loss of funds.
BaseFEX Wallets
---
BaseFEX stores Bitcoin in a wallet that offers different security measures to secure its users' funds, including:
Storing the assets of users in multi-signature cold wallets only – This measure requires several signatures for any transactions to take place. For example, before an expense on BaseFEX takes place, five out of the seven partners must sign for the transaction.
All addresses are multi-signature – This measure helps prevent theft of funds, providing security of user funds.
Keeps all storage offline
Conclusion – BaseFEX Reviews
---
BaseFEX is a newly launched exchange that offers very low trading fees and a user-friendly platform. It also offers margin trading with high leverage and has great security systems. The trading platform is very user-friendly, well designed, easy to use, and fully featured, including indicators and multiple chart types. The platform also provides users with the necessary tools to perform their futures contracts, futures trading, perpetual contracts, crypto derivatives, and margin trading. BaseFEX is a great platform for new and experienced traders who are familiar with trading volatile risk assets and exposure to margin trading.
Of course, there are areas for improvement but the exchange is still fairly new to the market. The platform will need some time until it gets a track record and can prove it is an honest business. However, it is likely that the exchange can easily implement these changes and become a well-respected and trusted cryptocurrency derivatives platform.
BaseFEX alternatives
---
If you are not fond of BaseFEX, here is a list of potential crypto margin exchanges that can be good alternatives:
PROS
Well-Designed and Intuitive Interface
Offers BTC and USDT Settled Contracts
Reasonable Fees Structure
Great Risk Management
Margin Trading up to 100x
Testnet Version
Great Security
CONS
Relatively New Platform
Residents of China and the US Cannot Use the Platform
Limited Number of Cryptocurrencies
No Live Support

CaptainAltcoin's writers and guest post authors may or may not have a vested interest in any of the mentioned projects and businesses. None of the content on CaptainAltcoin is investment advice nor is it a replacement for advice from a certified financial planner. The views expressed in this article are those of the author and do not necessarily reflect the official policy or position of CaptainAltcoin.com