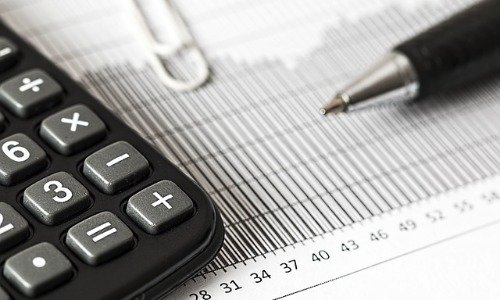 Here is an SEO optimized intro paragraph for a blog post titled "Most Undervalued Crypto To Invest – Coins With Potential":
With over 19,000 cryptocurrencies in existence and counting, it can be overwhelming for investors to identify hidden gems with massive upside potential. While cryptocurrencies like Bitcoin and Ethereum grab most of the headlines, savvy crypto investors know that sometimes the most undervalued altcoins offer the biggest investment opportunities.
Finding these diamonds in the rough early is the key to massive gains. According to CoinMarketCap data, the global crypto market cap stands at $1.02 trillion, leaving plenty of room for multiple cryptos to surge in value. This guide will analyze some of the most promising yet undervalued cryptocurrencies that could be poised for a major breakout.
By focusing on fundamentals like real-world utility, adoption metrics, developer activity and other key factors, we've identified the most overlooked crypto assets with space to grow exponentially. These cryptocurrencies are considered significantly underpriced relative to their potential value and long-term disruption capabilities. Read on for our picks of top cryptos to invest in while they still remain undiscovered and affordable for retail investors.
The criteria
---
The criteria for the list are not too strict but we used a couple of rules of thumb to pick our coins. First and foremost, the legitimacy of the team – it all starts with people. Most of the projects are at least 1 year old so we do have some track record of the team's behavior to judge them. Other important factors are use case, token fit (does the token have a reason to exist in the first place), community, and potential partnerships.
Read also our suggestions for the best altcoins and the best penny crypto to buy.
Most undervalued crypto
---
The coins listed below are way below their fair value when we take into account their utility or protocol value. Most of them already have a real-world application unlike the majority of other altcoins or NFTs that is garnering a lot of attention in the last couple of months.
⚡️ Basic Attention Token – BAT
---
The founder is a Mozilla Co-founder and creator of JavaScript. Enough said. The use case is excellent as digital advertising in its current form is completely broken from all aspects (aside from the middlemen's view, they profit nicely). Brave Browser is already boasting big numbers of active users: 25+ million. The team is professional and very reactive to community feedback so the product is improved almost at a daily pace.
Have a look at our BAT price prediction.
✅ Buy it on Binance ✅ Store it on Ledger Nano X
⚡️ Cardano (ADA)
---
Even though it is a very known project, ADA is extremely low in terms of price. However, Charles Hoskinson led team is one of the most active and competent crews in the crypto industry which is reflected in the progress the whole Cardano project made in the last years.
It is now to be seen how will market react to the actual usable projects that will pop up on the Cardano blockchain.
Here is our ADA price prediction.
✅ Buy it on Binance ✅ Store it on Ledger Nano X
⚡️ Polygon – MATIC
---
Formerly known as Matic Network, Polygon is interoperability and scaling framework for building Ethereum-compatible blockchains.
It seeks to address some of Ethereum's major limitations—including its throughput, poor user experience (high speed and delayed transactions), and lack of community governance—using a novel sidechain solution.
As part of the new strategy, the project also included prominent Ethereum developers and influencers such as Hudson Jameson, Ryan Sean Adams, Anthony Sassano, and John Lyric as advisors.
Polygon's SDK and platform transform Ethereum into a multi-chain system. This is the same as other projects such as Polkadot, Cosmos, and Avalanche.
The MATIC token is used for a variety of purposes in the Polygon ecosystem, including participating in-network governance by voting on Polygon Improvement Proposals (PIPs), contributing to security through staking, as well as paying gas fees.
✅ Buy it on Binance ✅ Store it on Ledger Nano X
⚡️ Algorand
---
Algorand is a self-sustaining, decentralized, blockchain-based network that supports a wide range of applications. These systems are secure, scalable, and efficient, all critical properties for effective applications in the real world. Algorand is currently in the top 20 coins by market cap but it definitely has room to grow and enter the top 10 in the upcoming period.
✅ Buy it on Binance ✅ Store it on Ledger Nano X
⚡️ THETA
---
Theta (THETA) is a blockchain-powered network purpose-built for video streaming. Launched in March 2019, the Theta main net operates as a decentralized network in which users share bandwidth and computing resources on a peer-to-peer (P2P) basis. Its current position on the CMC rankings is in the top 50 coins but it is definitely capable of entering the top 25 in 2023.
✅ Buy it on Binance ✅ Store it on Ledger Nano X
⚡️ Crypto.com Coin
---
Crypto.com Coin CRO has seen a huge growth in the last quarter of 2021 but considering the pace at which the Crypto.com exchange is growing, CRO is easily a top 10 coin for 2023.
Crypto.com is a cryptocurrency exchange and consumer financial services company whose coin serves as the token for Crypto.com's chain, a decentralized open-source blockchain.
CRO is used for staking, payments, and settlements and many experts think it is underrated.
✅ Buy it on Binance ✅ Store it on Ledger Nano X
⚡️ Enjin Coin – ENJ
---
ENJ is a coin that aims to enable true ownership of in-game digital assets trading and exchange infrastructure for virtual gaming goods.
It offers developers an easy and cost-effective way to leverage blockchain technology. Enjin Coin SDK includes a decentralized payment gateway.
Ethereum's scalability weakness may hinder the capacity of ENJ to achieve mass adoption. Additional complexity for developers in integrating free-market models into an in-game economy.
Why this is one of the most undervalued cryptocurrencies:
The projects seek to disrupt the $152 billion USD gaming industry that continues to grow and create revenue-generating allied industries.
It serves the ever-increasing gaming community a way to establish true ownership of virtual items and characters that they have spent money and time to accumulate.
ENJIN enables gamers to earn and profit from their game assets or re-use them in other games
The Enjin platform provides a "trust" layer into the space of gaming and game development adding interesting, unique, and value-adding dynamics in gaming.
✅ Buy it on Binance ✅ Store it on Ledger Nano X
⚡️ Synthetix
---
Synthetix is a decentralized synthetic asset platform that provides on-chain exposure to real-world currencies, commodities, stocks, and indices. These synthetic assets (Synths) are backed by Synthetix Network Tokens (SNX) locked into a smart contract as collateral. Synths track the prices of various assets, allowing crypto-native and unbanked users to trade P2C (peer-to-contract) on Synthetix Exchange without liquidity limitations. Previously, this project was launched as Havven (HAV), a decentralized stablecoin protocol. The published white paper still refers to the previous project, Havven.
Synthetix is the project that is experimenting with the most progressive idea on the synthetic token and the protocol economy.
We believe that Synthetix is a team that is vigorously testing the protocol economy concept with its SNX token reward model. The participants of the Synthetix platform are being rewarded with SNX, and liquidity providers of Synthetix to liquidity pools such as Uniswap or Balancer are getting SNX rewards. This model, if executed in the right manner, could encourage the network participants to eventually become stakeholders who pursue long-term network incentives. With the introduction of the protocol economy, Synthetix network participants are rapidly increasing. Along with this growth, the token price of SNX also increased significantly. Other projects are joining the wave of the protocol economy too.
✅ Buy it on Binance ✅ Store it on Ledger Nano X
⚡️ Holochain – HOT Token
---
Holochain is a post-blockchain technology that is an energy-efficient decentralized app development platform that is truly peer-to-peer without the scalability issues of existing Blockchain projects.
Holochain is like having access to all of the capabilities of all of the Internet apps simultaneously without needing an API because the languages are entirely compatible. Holochain is the equivalent of having an IFTTT layer built underneath the entire Internet.

Because the information isn't forced to sit uniquely in each application, the end-user can create a customized experience with the parameters of their choosing. The possibilities for data mining and consensus-building are endless. End the data-monopolies of Facebook and Google. If we choose to use Holochain, we choose how our information is shared and empower the commons to utilize it for collective growth and understanding. The source for this wonderful description of Holo is this guy.
When you hear the description of Holochain, you get excited. The project is bleeding-edge tech and it grabbed the attention of some mainstream media that reported about it. Right now it is still closer to an idea rather than to an actual realization but the potential is immense.
Here is the HOT price prediction in more detail.
✅ Buy it on Binance ✅ Store it on Ledger Nano X
⚡️ Ravencoin
---
Ravencoin, a fork of Bitcoin, is a relatively young token; it's only since January 3, 2018, that it's been hovering among the cryptocurrencies.
Ravencoin blockchain is designed to serve specific purposes. On the one hand, it should help to determine ownership of assets in a flawless manner. On the other hand, Ravencoin, similar to Bitcoin, wants to make direct payments possible. As the open-source project on the homepage emphasizes, it is completely decentralized: Neither master nodes nor especially no ICO is behind the project.
Two faces of RVN
Bruce Fenton, the high-profile expert from the traditional finance sector, is the father of Ravencoin. Bruce is known as an early Bitcoin advocate, who worked as Executive Chairman of the Bitcoin Foundation from 2015-2016. His experience led him to discover the future of blockchain's potential for the financial securities industry.
Tron Black is one of seven lead developers of Ravencoin works for Medici Ventures, a wholly-owned subsidiary of Overstock.com. Bruce was friends with Patrick Byrne, Overstock.com's CEO, and this is how Tron became involved with Ravencoin.
✅ Buy it on Binance ✅ Store it on Ledger Nano X
That is about it as far as the shitcoin list 2023 goes. Now, two more suggestions about the most undervalued cryptos, I am sure they are familiar to you …
⚡️ Ethereum
---
Yes, Ethereum. The title is most undervalued, not unknown. At current prices of around $1300-1900 per token, ETH is extremely undervalued. Especially if you consider its price denominated in BTC which is around 3 million satoshis where a realistic value of ETH to BTC should be at 0.10 or 10 million satoshis. If you are in crypto for any decent amount of time, you know a lot about Ethereum but some of the points that work to its advantage:
huge developer pool
brand recognition
first mover advantage in one of the most popular applications of blockchain technology
huge, above-average crypto educated community
rapidly growing dApps ecosystem and many more reasons
With ETH 2.0 moving on smoothly, Ethereum token value has no other way to go but up.
Read our Ethereum price prediction in more detail here.
✅ Buy it on Binance ✅ Store it on Ledger Nano X
⚡️ Bitcoin
---
Of course, the king is actually the most undervalued coin on the market.
When we consider that 95% of altcoin projects are either misplaced ideas, scams, or pipe dreams of incompetent but greedy "entrepreneurs", BTC is the actual heart pump that keeps the whole industry alive.
I am not gonna parrot all of the standard bitcoin maximalists mantras about censorship, decentralization, trustlessness, capped supply, and controlled inflation, but I am going to say this: there is a generational flux that is happening right now as the baby boomers shift from the active to elderly population cohort, leaving their posts and decision making instruments to the new generation.
That new generation is much more apt in the digital world – it is the world they entered as very young, some of them (millennials) even born into it. For this new, decision-making generation, is perfectly normal to carry around the knowledge of the whole world, billions and billions of books, millions and millions of libraries, in their pocket. Why wouldn't it be normal for them to carry a bank, an instant value transferring machine, in their pocket as well?
To finish it up, just take a look at this simplistic and optimistic but still not unrealistic daydreaming projection of one Bitcoin maxi: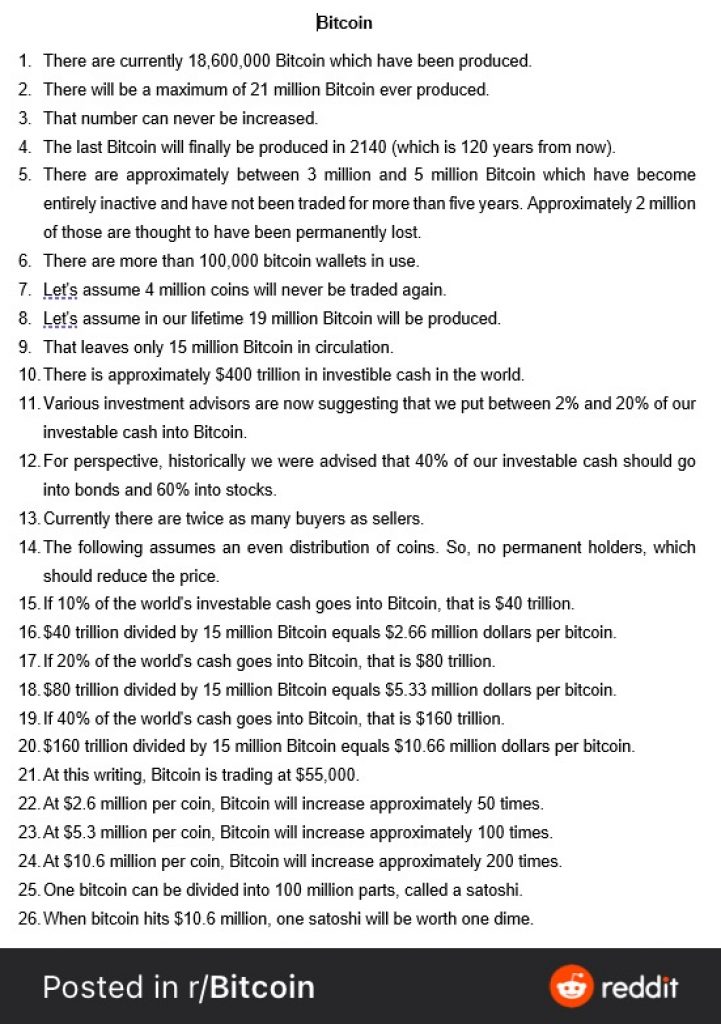 Check out our BTC price prediction.
✅ Buy it on Binance ✅ Store it on Ledger Nano X
Conclusion of this most undervalued crypto list
---
The market is never wrong and the market is currently weeding out the worthless pollutants like Substratums, Apollos, Oyster Pearls, Verges, etc of the world. This deadweight will sink into oblivion and clear the air for the small, but sound group of projects worth investing in.
The list is fluid and we will update it with new tokens and projects as the market dynamics change and technological breakthroughs happen.

CaptainAltcoin's writers and guest post authors may or may not have a vested interest in any of the mentioned projects and businesses. None of the content on CaptainAltcoin is investment advice nor is it a replacement for advice from a certified financial planner. The views expressed in this article are those of the author and do not necessarily reflect the official policy or position of CaptainAltcoin.com