LakeBTC is a Shanghai based crypto exchange, owned by a British Virgin Island registered company Lake Investments Limited.  The name "LakeBTC" stems as an abbreviation of "Lake Banking Technology Company", which is the official name of their project. Since its foundation in 2013, the exchange has been a mainstay on the list of most popular Chinese platforms out there.  Understandably most of its popularity comes from the Asian market, although it accepts a wide range of currencies from around the world. The exchange is accessible worldwide except from the state of New York, which requires exchanges to apply for a special business license called Bitlicense. LakeBTC and many other popular exchanges still avoid doing so as the requirements to get the license are quite strict. LakeBTC prouds itself as being one of the best bitcoin platforms around the globe, citing "years of risk management and internal control experience in financial industries" as the foundation of their ability to keep their customers' funds safe and secure. It is a member of a group of four exchange platforms that are used to determine CoinDesk's bitcoin price index(BPI).However, it seemed initially like the exchange hasn't taken this responsibility as serious as it should, as it was caught a couple of times posting inaccurate data about Bitcoin prices. This resulted in exchange being temporarily suspended from the BPI Big Four in late 2014 and early 2015. Since then, they have straightened up and managed to stay controversy and hack free, which serves as a good testament to the overall safety of their service. The company also has an offshoot project called LakeBanker which allows users to "become an exchange of their own" and sell cryptocurrency to people in their local area with increased convenience. LakeTrader is an in-browser (and hence cross-platform) app that allows traders to view order book data, trade history and open orders, along with a number of powerful charting tools that allow both technical analysis and one-click trading. The project has its own token called BAC which can be traded on both LakeBTC and LakeBanker platforms. This feature is suitable for more advanced traders looking to day-trade.
Payment and trading options

Currently the exchange populates 50th spot on the total daily volume ranking supplied by coinmarketcap.com, with its daily volume staying just short of 15 million USD. One of the main selling points of this exchange is its liquidity. It offers more than 20 tradable fiat cryptocurrencies which can be deposited on the exchange account, including all of the following (and several others that aren't listed): USD, CNY, GBP, CAD, AUD, EUR, JPY, SEK, HKD, SGD, CHF, ZAR, KRW, ARS, BRL, XOF, XAF, KES, NGN, VEF, TRY, RON, THB, MYR, IDR, NZD, INR, MXN. However, this liquidity is somewhat limited by the fact that it currently has active markets for only six cryptocurrencies: BTC, LTC, ETH, BCH, XRP and the exchange token BAC.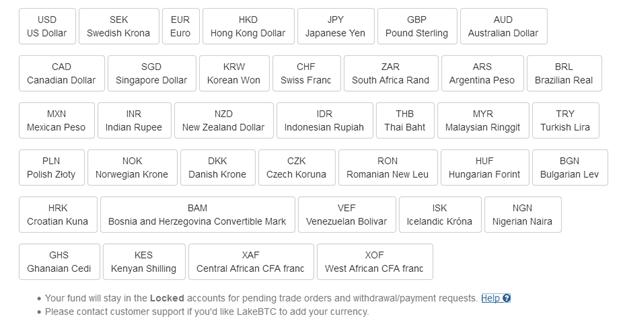 In terms of payment methods LakeBTC boasts a wide range of those, as they offer the following: bank wire transfers, cash transfers, CHATS, LakePay, Leupay, MoneyGram, Neteller, OKPAY, PayPal, Payza, Perfect Money, Skrill and Western Union. However, some of these payment methods, as well as fiat deposits/ fiat-for-crypto trading, aren't available to all users. Also after seeing all of these options, the lack of Credit/Debit Card support is rather disappointing. LakeBTC provides a wallet service to all the accounts. Users can choose to withdraw their coins to their own cold storage or just to leave them sit on LakeBTC wallet (which is never recommended). These funds are protected by mechanisms which include SSL encryptions, 2-step verification, cold storage, SMS withdrawal confirmation, and trade notification. According to their website, LakeBTC currently supports the following trading options:
Limit orders – good until cancelled. Easy to use and suitable for beginners
Darkpool – if you are buying or selling a large number of coins, you may select this checkbox to make your trade order invisible in the orderbook to minimize the impact on the market. Darkpool orders will be charged a higher trading fee.
Maker Only – if you only want to pay the maker fees, select this checkbox so your order will be automatically canceled if it's a taker.
They also offer OTC (over-the-counter) trading, which basically peer-to-peer trading done directly by two parties. It's flexible but also comes with counterparty credit risk. All in all, LakeBTC offers exchange trading service which is safe, liquid, and easy to use. back to menu ↑
Account types

Currently LakeBTC offers three different account types to its users; unverified account, individual account, and corporate account. The basic unverified level allows you to trade crypto-for-crypto without verifying your ID, as long as your operations do not involve fiat currencies.  You can deposit a cryptocurrency onto the exchange wallet by sending it from a different wallet. As an anti-scam, anti-money-laundering measure, this level doesn't have support for fiat-for-crypto trading. Verification will be required only for fiat currency trading. You can verify your account as either individual or corporate, in accordance to your background. As the exchange is KYC/AML compliant, you can expect the verification process to be similar to the industry standard. To get verified by LakeBTC, you'll need to provide the following:
Full name and address. Withdrawals can only be performed by the named owner of the account, to accounts under that same name.
Photo of a government-issued ID, including a passport or driver's license. The document needs to be photographed from both sides.
Verified mobile phone number.
Proof of residency within three months, some sort of utility bill will do. If you don't have proof, the exchange will accept other government-issued photo ID in exchange.
A selfie with your identification documents may be required if you're trading high volumes, or if you're a resident of certain countries.
The verification process will be slightly different with the corporate accounts and will require data such as your CEO name and a utility bill proving your business exists. There are no trading volume limits for all accounts. back to menu ↑
LakeBTC Fees

For takers, the applicable trading fee is 0.2%. For makers, the trading fees are as follows:
0% for trading volume exceeding 20,000 BTC per calendar month
02% for trading volume exceeding 15,000 BTC per calendar month
04% for trading volume exceeding 6,000 BTC per calendar month
06% for trading volume exceeding 3,000 BTC per calendar month
10% for trading volume exceeding 500 BTC per calendar month
15% for trading volume less than 500 BTC per calendar month
LakeBTC lets you deposit digital currencies free of charge. For fiat deposited currencies your fees will be dynamically determined by supply-demand, the market, your reputation, currency, the amount, payment method, and more. Typically, LakeBTC's fees are below the industry average. All fees are shown before you deposit your currency. You can also wire transfer money to the exchange. International wire transfers take from 2 hours to 5 business days and can be quite costly, as total charges can go between $15 and $65 USD. Bank/3rd-party fees are usually not the responsibilities of LakeBTC or your LakeBanker, unless otherwise agreed upon beforehand. If you register your account with one fiat currency, then you can only deposit and withdraw money using that currency. You "register" a currency with your initial fiat deposit – you will only have the option to withdraw fiat in that same currency. However, you're free to trade for any currencies from within your account. Withdrawal fees are typically priced at 0.3%. Here's how withdrawals break down:
Volume below 6000 BTC: 0.3% + $5 USD
Volume between 6000 and 15,000 BTC: 0.2% + $5 USD
Volume above 15,000 BTC: 0.1% + $5 USD
Withdrawals in bitcoin are free.
back to menu ↑
LakeBTC Features

Like all other exchanges, LakeBTC promises to have high security, good liquidity, fairness, and friendly customer service. Here's a breakdown of the LakeBTC advertised features: The company claims to provide excellent liquidity with high trading pairs availability and fast trade matches, even under a lot of volume. While LakeBTC claims to be one of the top four exchanges in the world in volume it is difficult to find data which supports these claims. LakeBTC offers trading APIs for advanced users who prefer arbitrage, market making, or algorithm trading. The platform has a great minimalistic design with two different interfaces for trading Bitcoin – the standard trading interface and the "LakeTrader" interface, which allows advanced users to access various trading options easily. Still, the website does seem slower than the industry average. The whole platform was developed in html5 and is therefore entirely user-friendly on mobile devices, which supplements the lack of an official trading app. EgoPay was compromised in a hacking attack. There are email notifications, and email encryption is used as well, making the security top-notch. LakeBTC has a market surveillance program, comprehensive risk management, carefully designed products, and strict internal controls. The exchange claims that they have no co-los, no under-the-table deals, no privileged access, and no back channels, meaning it offers a fair and equal platform to its users. LakeBTC's customer support team is available via email, SMS, instant messaging, social networks, and telephone. There's phone support for Mandarin speaking users, while International users will have to contact the support by email. Their FAQ page is rather extensive and provides vital information for the users. Service is available in English, Chinese, Portuguese, Japanese, French, Spanish, and Swedish. As with any exchange there are reports of unsatisfied users but in general the service seems fine. There are some complaints related to the locking users out of their accounts, and the company's location (China) raises suspicion, but overall this is a reliable exchange. back to menu ↑
Conclusion

LakeBTC offers a solid exchange for novice traders who are looking for their initial foray into the crypto market. Its registration process is easy and the simplified interface is user-friendly. It's a trustworthy exchange, safe and secure. An important factor to consider could be the lack of "buzz" around the exchange, as both the LakeBTC and LakeTrader official Twitter accounts haven't tweeted since October 2017 and there is very little info about it in general. However the LakeBTC team does stay in contact with its users through a regularly-updated news section on their website. It would be good to see some more activity online regarding the exchange which would supplement its status as one of the Big Four exchanges. Also, it is obvious that additional resources need to be allocated to product improvement and enhanced user functionality as the website and its functions seem somewhat dated. Still, LakeBTC remains a top exchange with good fees and excellent liquidity that will be a decent choice for any crypto beginner. Added links:
Read more about other exchanges
---
Join Our Telegram Channel
or
Follow @CaptainAltcoin

CaptainAltcoin's writers and guest post authors may or may not have a vested interest in any of the mentioned projects and businesses. None of the content on CaptainAltcoin is investment advice nor is it a replacement for advice from a certified financial planner. The views expressed in this article are those of the author and do not necessarily reflect the official policy or position of CaptainAltcoin.com