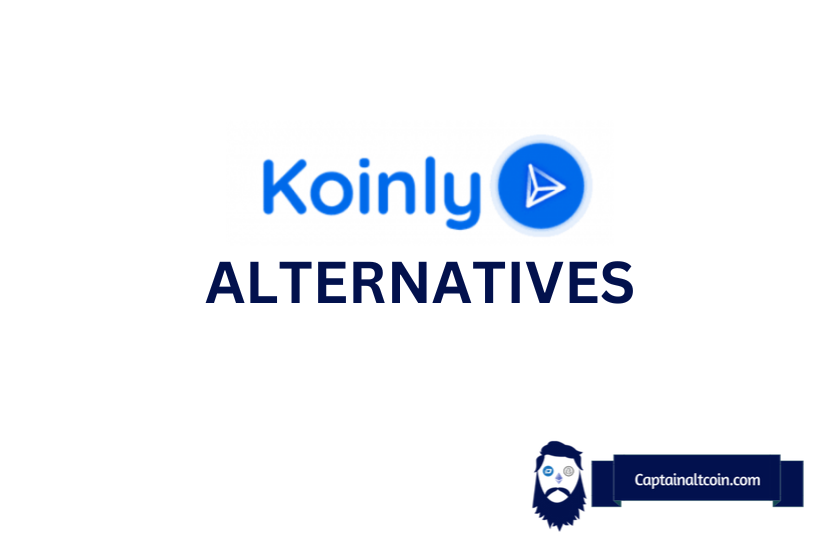 What is Koinly?
---
Koinly is a London-based software company founded in 2018 that offers crypto tax solutions for digital assets. Used by investors, traders, and accountants worldwide, Koinly is one of the leading companies in the field. 
The platform simplifies calculating crypto-related taxes by allowing users to generate tax-compliant reports based on their crypto wallets or exchange activity. Koinly has integrated more than 350+ centralized exchanges and 50+ wallets, a feature that has allowed it to become one of the top players in the crypto tax software sector. 
Why is Koinly one of the best crypto tax tools?
---
Koinly is one of the best solutions for calculating taxes for all crypto-related activity, including DeFi and NFTs. The tax accounting platform has a user-friendly interface, supports users from many countries (100+), and covers a wide range of tax reports, such as airdrops, mining, trading, stacking, lending, borrowing, swapping, and more. 
Other Koinly advantages include reasonably priced plans based on the needs of each user and the ability to import and track crypto activity from more than 350 exchanges and 50 wallets. The documentation for connecting your wallets or exchanges to the platform is intuitive and does not require advanced technical knowledge for the average internet user. 
Why might you want to seek an alternative to Koinly?
---
Koinly pricing plans are tailored towards users with a medium to a low number of transactions, so if you are a frequent or active trader, the prices might be expensive.
Another drawback would be that their "free" trial program does not allow you to download your generated tax report, so you can't enjoy the platform's full functionality in a free manner. Koinly also lacks other more complex features, which are subjective depending on the user.
Top Koinly alternatives.
---
Some of the top alternatives for Koinly are as mentioned below:
Zenledger.io
---
Zenledger is a tax preparation tool similar to Koinly that allows users to calculate their crypto taxes and generate various tax reports. It supports over 400 exchanges and wallets, 40 blockchains, and 30 DeFi protocols.


It notably supports Binance, Kraken, SushiSwap, Nexo, eToro, BlockFi, and Cash App.   One of Zenledger's main features is its downloadable tax reports for a variety of crypto-related income, such as Dividends, forks, airdrops, mining, staking, miscellaneous rewards, gifts, and more.
Another feature highly appreciated by its users is tax-loss harvesting, which involves selling digital assets at a loss and replacing them with similar ones in order to lower taxes. Price-wise, Zenledger's plans are flexible, with a basic free plan that only allows you to track your portfolio (no tax reports downloads).
Zenledger's pricing plans: Starter – $49 (100 txs), Premium – $149 (5000 txs), and the Executive plan at $399 (unlimited transactions).
Coinledger.io
---
Coinledger is also one of the leading tax reporting platforms on the market, which focuses on allowing its users to prepare and manage tax reports for cryptocurrencies, NFTs, and DeFi protocols such as Uniswap or Pancake Swap.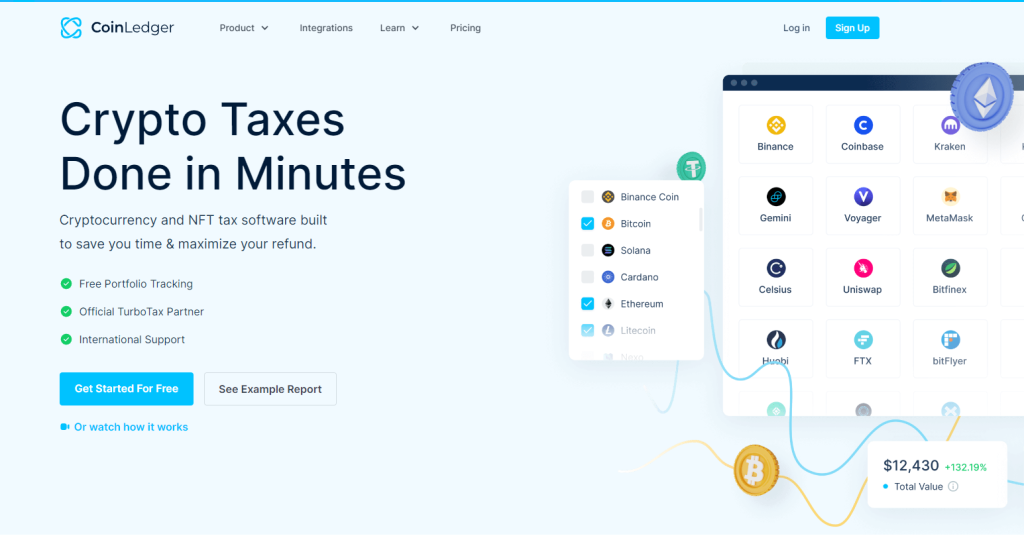 Similarly to Koinly and Zenledger, the platform has integrated over 300+ exchanges and has integration support for several crypto wallets (Metamask, Trust Wallet, Trezor, Exodus, and more). 
Coinledger's pricing plans are as follows: Hobbyist – $49 (100 txs), Day Trader – $99 (1,500 txs), High Volume – $199 (5,000 txs), and Unlimited – $299 (Unlimited Transactions).
Cointracking.info
---
Cointracking is a tool designed to help its users track their crypto transactions and prepare tax reports. Back in 2013, when it was launched, it was the world's first crypto tax reporting and portfolio manager software.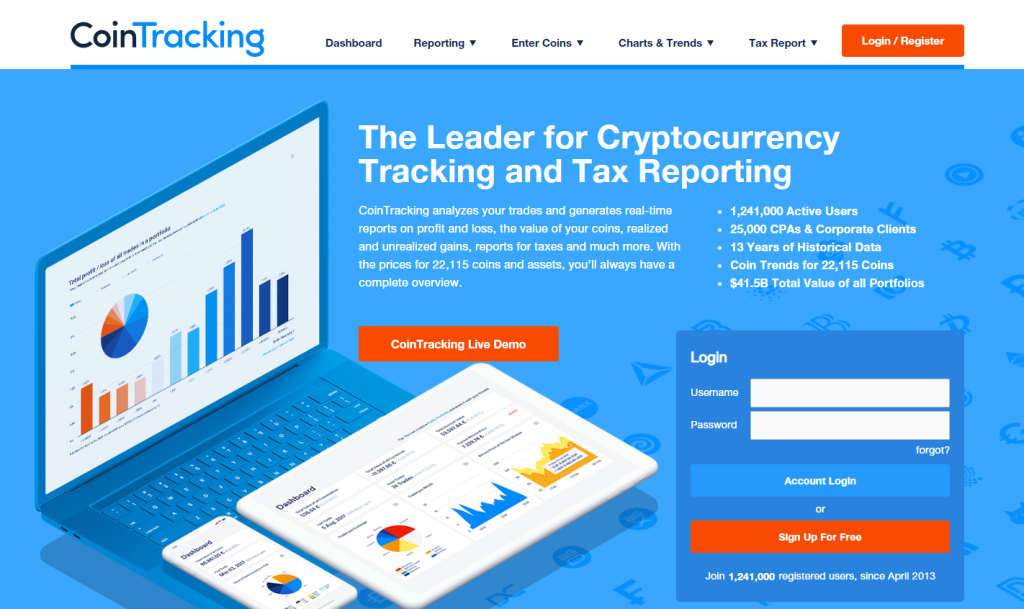 A good feature that helps Cointracking differentiate from the crowd is its "CoinTracking Corporate" feature, which allows accountants and businesses to manage crypto taxes for their clients effortlessly.
Cointracking's pricing plans:
Pro – $10.99 per month (3,500 txs), file imports capped at 20 MB, 5 auto-imports, 5 backups, unlimited manual imports, API, and more.
Expert – $16.99 (20,000 txs), $21.99 (50,000 txs), and $27.49 per 100,000 txs. Other features include 10 backups, 10 auto imports, API.
Unlimited – $54.99/month for unlimited transactions, files up to 200 MB, 50 auto imports, and access to various export formats and advanced tools.
Blockpit.io
---
Blockpit is a platform that allows users to manage their cryptocurrency tax reporting and track their portfolio, which focuses on the compliance factor. Blockpit's Cryptotax platform supports all major crypto exchanges and wallets and has competitive price plans, especially for active traders, with many crypto transactions processed yearly.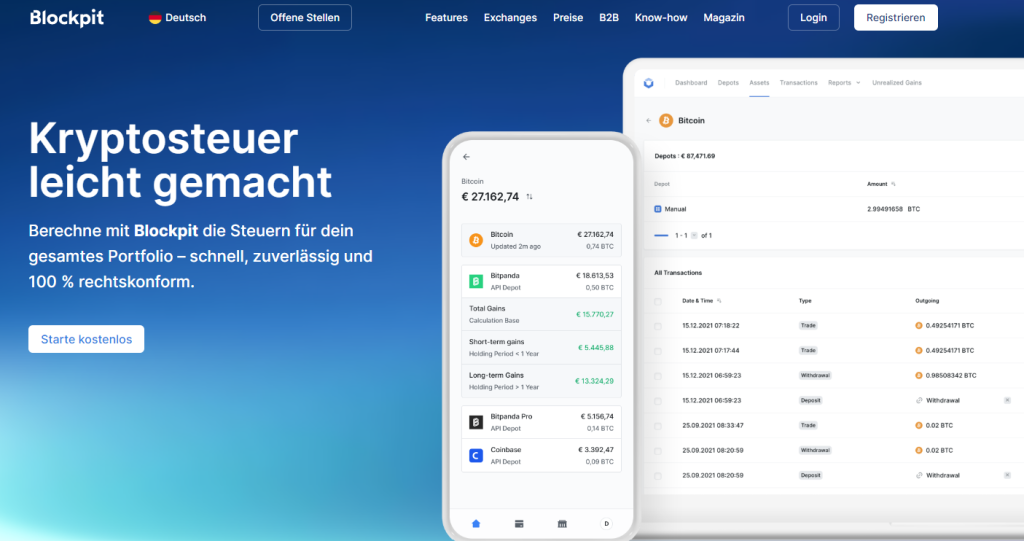 Blockpit is available for users from the USA and dozens of other countries. Worth mentioning is also that the company has an app called "Blockpit Cryptotax – Portfolio" on Google Play, with a lot of good features and more than 10,000 downloads.
Blockpit.io has the following yearly pricing plans: Free (25 transactions, no Export CSV option), Basic – $79 (1,000 txs), Advanced – $199 (up to 25,000 txs), and Professional – $599 (with unlimited transactions).
Coinpanda.io
---
Coinpanda is a crypto tax software firm used by crypto investors and accountants from around the world. The platform comes with an impressive set of features and has received good feedback from the crypto community.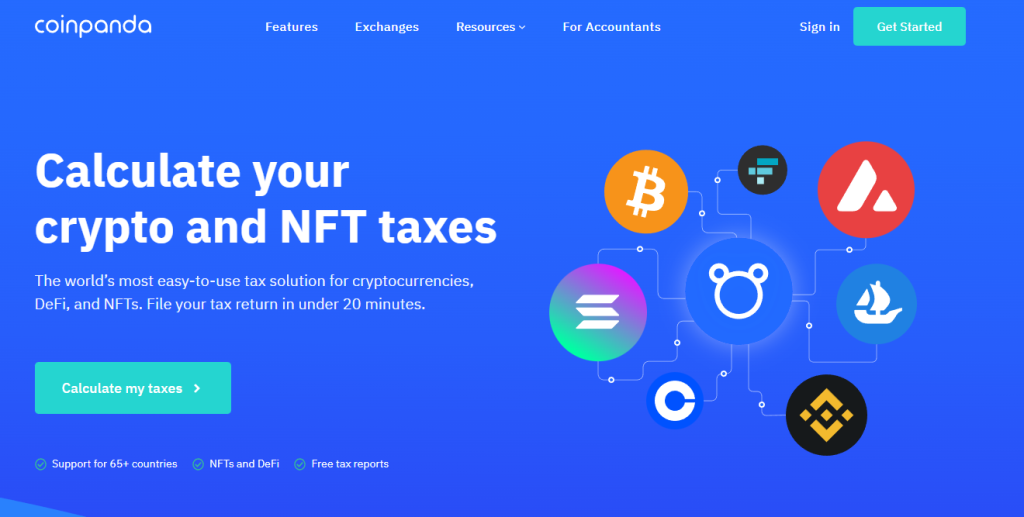 Some of Coinpanda's most important features include support for 500+ crypto exchanges, 75 digital and hardware wallets, 125 blockchain networks, DeFi, and NFT's tax reports.
Coinpanda has the following one-time fee pricing plans: Free (25 txs), Hodler – $49 (100 txs), Trader – $99 (1,000 txs), and the Pro plan – $189 (3,000+ transactions).
Cryptotaxcalculator.io
---
Cryptotaxcalculator is an efficient and cost-effective tax reporting platform with more than 100k crypto users. One of the platform's main features is the ability to sync 600+ wallets, including the most popular on the market. Support for DeFi, NFTs, staking protocols, and other DEXs is also offered.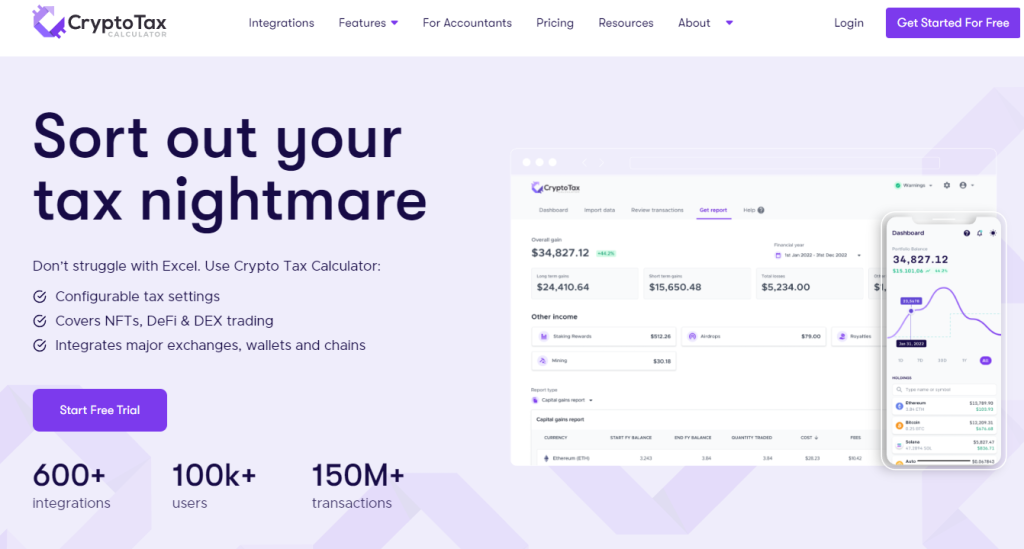 Cryptotaxcalculator.io features four pricing plans: – $49 (for 100 transactions), – $99 (2,500 txs), – $189 (10,000 xs), and $299 for 100,000 txs.
Are there any free Koinly alternatives?
---
Crypto.com's free tax tool is a very good alternative to other paid solutions. The company offers similar features to paid alternatives, such as support for major crypto exchanges and wallets.
FAQs
---
What is better than Koinly❓
Some users consider other crypto tax report alternatives to be better than Koinly, a normal thing considering everyone's needs in terms of transactions number or type of taxes are different. 
Is there a free version of Koinly❓
If you only need to track your cryptocurrency portfolio, Koinly is totally free. However, downloading your tax reports is a paid feature that can be activated by purchasing one of Koinly's pricing plans.
Is Koinly.io legit❓
Yes, Koinly.io is considered one of the market's best crypto tax report tools.
Is Koinly a portfolio tracker❓
Yes, tracking your crypto portfolio on Koinly is a popular free (forever) feature.
How accurate is Koinly❓
Koinly's accuracy is excellent. Based on internal tests, they have an accuracy of %98, using general matching techniques and time-based heuristics. Anyone can check transactions in their Koinly account to see if they match the ones in the synced wallet or exchange.
Is it safe to connect Coinbase to Koinly❓
Yes, Koinly needs read-only access (it can only read your trading history), which makes it safe. It cannot execute trades or transfer funds.
How do I fix missing transactions in Koinly❓
Koinly's documentation covers this chapter very well; the issue of the missing transaction can be fixed by following instructions for the wallet or exchange used.
How do I fix the missing Koinly purchase history❓
You can fix this issue by following the instructions on the help.koinly.io website.
Do you have to pay for Koinly❓
In order to use one of Koinly's paid features (like downloading your tax reports), you have to purchase one of the following yearly plans: Newbie – $49 (100 transactions), Hodler – $99 (1000 txs), and Trader – $179 (10,000 txs).
Is it safe to give API keys to Koinly❓
Yes, since they only use read-only access to read data, it is safe to give Koinly's your API keys.

CaptainAltcoin's writers and guest post authors may or may not have a vested interest in any of the mentioned projects and businesses. None of the content on CaptainAltcoin is investment advice nor is it a replacement for advice from a certified financial planner. The views expressed in this article are those of the author and do not necessarily reflect the official policy or position of CaptainAltcoin.com