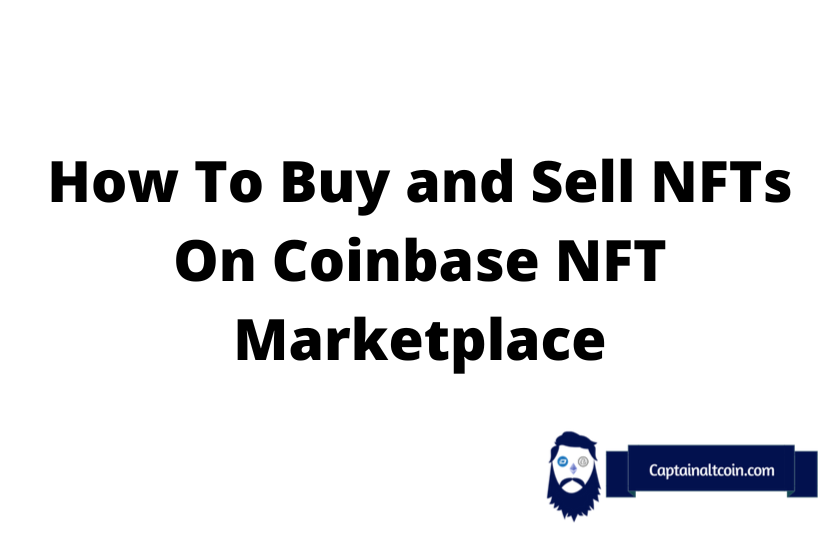 The gaming industry, music industry, and even the fashion industry already recognized the power of NFTs. The new forms of ownership and creativity that NFTs provide are remarkable. Now it is only a matter of time before all platforms included in the crypto sphere will join the world of NFTs.
In October 2021, the world-famous and one of the largest cryptocurrency exchanges, Coinbase, announced for the first time that it would launch its NFT marketplace called Coinbase NFT. On Coinbase NFT, you will be able to mint, buy, sell or trade NFTs.
What is Coinbase NFT marketplace?
---
In the beginning, Coinbase helped millions of people worldwide gain access to Bitcoin in an easy and secure way. As this exchange has grown, it has kept pace with events in the crypto community and provided its users with more and more opportunities and choices, regularly keeping up with the times. Now Coinbase wants to do the same with NFTs.
Coinbase NFT marketplace will be a P2P marketplace that allows its users to discover, mint, buy, sell and show NFTs easier than ever.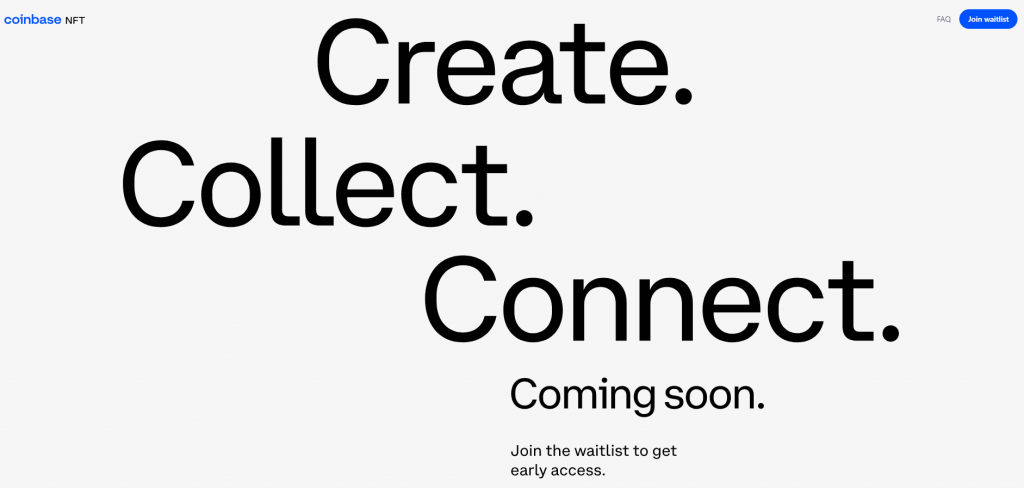 Coinbase NFT's idea is to make a simple and easy-to-use app, allowing even beginners to use it, just like they did with cryptos. With this NFT marketplace and their crypto exchange and well-known Coinbase Wallet, Coinbase will control all three main pillars of crypto. We will surely see some considerable cost savings using Coinbase exchange, NFT marketplace, and their wallet altogether.
Please read our full review of Coinbase Wallet.
The very important thing you need to know about the Coinbase NFT marketplace is that at launch, this marketplace will be only available for U.S. users, and it will support ERC-721 and ERC-1155 standards. In addition, all their NFTs will be on-chain, but soon after launch, they plan to add multi-chain support. They have the same plan for users, i.e., Coinbase intends to expand its NFT marketplace to be available globally.
How can join Coinbase NFT marketplace?
---
Since the Coinbase announcement in October 2021, more than 3.6 million people have joined the waitlist. And that is an impressive number.
Let's compare this figure with the number of active users of OpenSea, which currently has just over 1 million users. We see that the interest in the Coinbase NFT marketplace is more than huge. With these numbers, we can easily assume that Coinbase will do the same with NFT as they did with the cryptocurrencies.
To join the waitlist, all you need to do is to click here and enter your email address. After that, you will get the verification email, and that is that. The moment the Coinbase NFT marketplace goes live, you will be notified.
If you want to be first in the line to join the Coinbase NFT marketplace, you can do that by referring others. You will move up the leaderboard whenever someone joins the waitlist through your referral link.
Note: We will say this once again: the Coinbase NFT marketplace will be available only to U.S. users at launch.
Coinbase NFT marketplace fees
---
As of today, Coinbase has not announced the fees that will be applied on Coinbase NFT. However, since we know that they will only support Ethereum based ERC-721 and ERC-1155 standards in the beginning, we can assume that in addition to possible fees, it will be necessary to pay gas fees for transactions related to theEthereum network. So, when you decide to buy NFT, make sure that you have some ETH to cover gas fees.
How does it work?
---
According to videos posted by Coinbase in November 2021 and early February 2022, we can see what the Coinbase NFT interface looks like and how it works. To sign up on Coinbase NFT, you'll need to click on the Sign-in button on the top right corner of the screen.
You will be offered 3 options: Connect Wallet, Sign in With Coinbase and Create New Wallet.
If you want to connect your Coinbase NFT account with your wallet, you need to choose the first option – Connect Wallet. In this option, you can choose to connect your account with your Coinbase Wallet, Metamask, or WalletConnect.
Once connected, you will be prompted for some basic information: the username you want to use and your email address. Done.
You can watch a detailed video about this by clicking here.
FAQs
---
Can you trade NFTs on Coinbase
---
Unfortunately no. We have to wait for the launch of the Coinbase NFT marketplace.
Can Coinbase Wallet hold NFTs
---
Yes. When you buy NFT on some platform like OpenSea or Rarible, you can store that NFT on Coinbase Wallet (Ethereum based).
Coinbase NFT launch date
---
The official date has not been announced yet, but we sincerely hope it will be very soon.
Read also:

CaptainAltcoin's writers and guest post authors may or may not have a vested interest in any of the mentioned projects and businesses. None of the content on CaptainAltcoin is investment advice nor is it a replacement for advice from a certified financial planner. The views expressed in this article are those of the author and do not necessarily reflect the official policy or position of CaptainAltcoin.com