You're looking to, but you're not sure who to trust because there are seemingly endless places to purchase Bitcoins with your hard-earned fiat currency. How to know which company is reputable, secure and safe?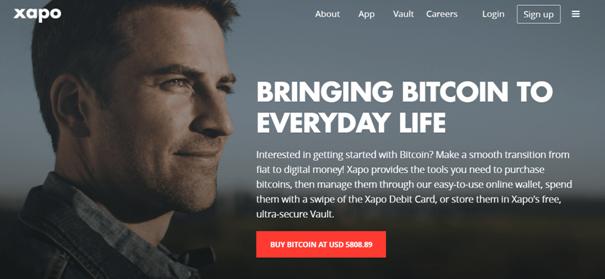 Well, Xapo is one of the most reputable companies in the Bitcoin world and it takes pride in having been once described by the The Wall Street Journal as the Fort Knox of Bitcoin storage.
Recently, they've raised $40 million in funding from a variety of investors, including Index Ventures,  Pantera Capital, Benchmark, Ribbit Capital, Fortress Investment Group, Greylock Partners, Emergence Capital Partners, AME Cloud ventures, Benchmark, and Digital Currency Group. This helps showcase their legitimacy.
Xapo also offers a Bitcoin debit card that is associated with your Bitcoin wallet. This allows you to spend Bitcoin easier than most other services.
In this Xapo review, we'll be examining their reputation and diving into their company to see if they're worth the hype, or if you'd be better off with another exchange.
Xapo Key Information
Xapo was founded in 2014 in Palo Alto, California. It operates on a global level, supporting a multitude of fiat currencies and serving customers or clients in different parts of the world.
Not long after, Xapo began to grow rapidly and the team decided to relocate to Switzerland due to international neutrality and regulatory stability. Now, Xapo is incorporated in Hong Kong but has an office in the US, in Palo Alto, California.
The CEO of Xapo is Wences Casares. He is an international entrepreneur with over 20+ years in building and selling technology businesses. Essentially, this guy has been forming and selling companies for most of his life, and he founded Argentina's first ISP in his 20s. After that, Casares founded Patagon, an online brokerage firm, which he sold for $750 million.
The COO of Xapo is Federico Murrone, and he also worked as the CTO of Patagon. He has focused his career on technology his entire life.
The President of Xapo is Ted Rogers. He brings over fifteen years of experience in business and finance to Xapo.
As you can see, Xapo is operated by legitimate entrepreneurs and businessmen who have a long history of building companies that are successful, and all of their reputations are on the line with Xapo. Another great thing is that they've made themselves available to public scrutiny, and in a world where many exchanges and companies have very little publicly available information about the teams, this is worth mentioning.
How to Use Xapo to Purchase Bitcoin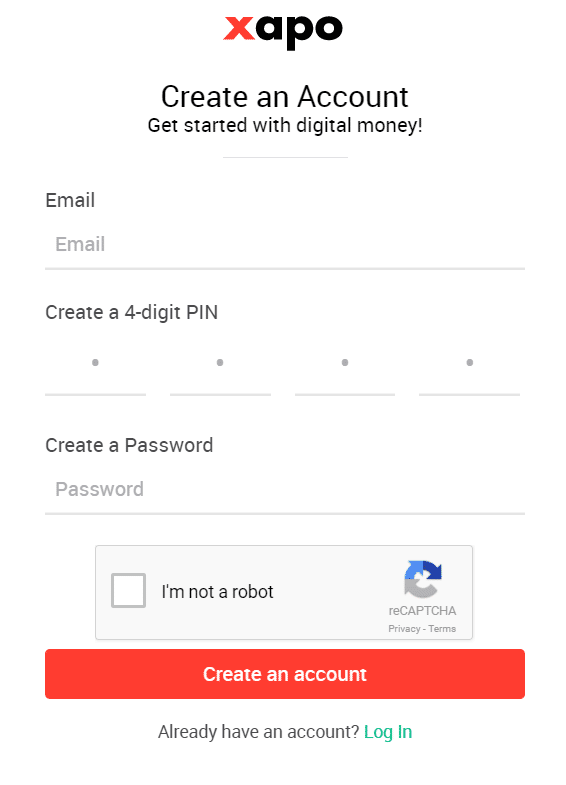 The process begins by completing the signup form that you can see above. You'll then answer a few questions about yourself (your first name, last name, country, email address, password, and a four-digit PIN). You will also have to disable AdBlock. One more thing worth noting is that you'll have to be over 18 years of age to use Xapo. Your account will be created only after completing these.
There is an email verification step required. However, you will likely promptly receive the email from Xapo regarding your account registration, so you should be able to quickly complete the verification process.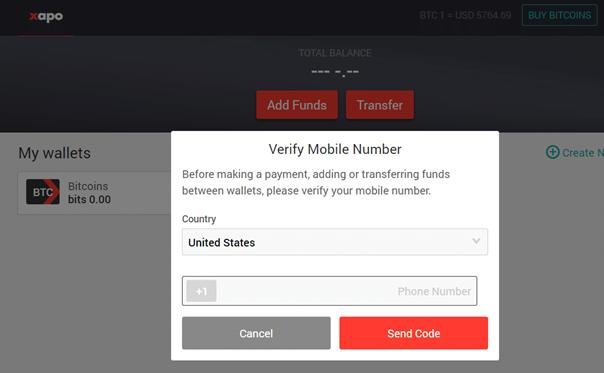 As you can see, before you can do anything with your wallet, you'll need to verify a mobile number. Once you've provided your phone number, check a box to enable 2FA under 'Security Settings'.
You'll have to upload a driver's license and Proof of Residence before you can actually purchase Bitcoin with your new account. You'll be declined if the information on your documents doesn't add up.
Once you've been approved, you'll be able to purchase Bitcoin with your FIAT currency.
IMPORTANT: There will be times when the PIN you correctly enter is not accepted by XAPO, but if you are really sure that you are entering the correct PIN, just proceed to entering it a few more times until you are able to log in.
Xapo Account Dashboard, User Interface
The Xapo account dashboard is easy to use and intuitive, and once you log in, you will see your total balance on top with buttons for adding funds and making fund transfers below it. There are the wallets in middle portion of the dashboard for the different currencies you have. By default, you will see at least 4 wallets here: one for Bitcoins, one for US dollars, one for the currency you chose (when you indicated your country during account registration), and another one for your bitcoin vault or bitcoin cold storage. One more thing worth noting is that under the wallets is the button for getting your Bitcoin debit card.
Click on the Account button (the button beside the notifications button) near the upper right corner of the site if you want to make changes in your account settings. Click on your name to go to the profile page. Click on the Security Settings option to go to the Security page.
In the Profile page, you can do changes in your personal details (except your name), you can verify your phone number, set your language, change the currency you use in your account, and add your city. In the Security Settings page, you may reset your password, change your PIN, and enable second factor authentication for login.
Another great future is the notification button near the Account Dashboard as clicking it shows the activities you have been doing with your account so far, which is a great way for monitoring your Xapo actions and for detecting if someone had been using your account without your permission or knowledge.
Overall, the Xapo account dashboard or interface is simple and responsive, and we did not have any problems with it while doing this review. It occasionally asks for a PIN when accessing some pages. However, this is a good security measure after all so it's nothing to complain about.
Is Xapo Safe?
There are three factors that should be considered when it comes to discussing the safety of a Bitcoin-based service – personal account security, safekeeping of funds, and company legitimacy.
Safekeeping of Funds – Xapo claims to, "Combine the convenience of an everyday Bitcoin wallet with the security of a deep cold storage vault," which essentially means that your Bitcoin is incredibly safe due to never being online.
Company Legitimacy – Xapo has an amazing reputation in the Bitcoin world, and they are incorporated in Hong Kong and have offices all around the world. You can find some complaints on Bittrust about their customer support. However, they appear to be a legitimate company.
Personal Account Security – You create a PIN and a password when you create your Xapo account, and this helps keep your account secure. You can also enable 2FA to protect your account.
Xapo prioritizes security above all-else. This means that your personal information, Bitcoin and fiat currency are likely to be safe with them. The fact that someone has to upload a proof of residency and a driver's license in order to become their member gives me added faith in them as a company.
Xapo comes with various security measures to ensure the protection of the funds stored and it claims to be the "world's secure Bitcoin wallet." There's the standard SSL encryption for the website to ensure that users' data are well guarded. It also uses offline encrypted servers, highly secure servers housed in a decommissioned Swiss military bunker, a system of restricted and monitored physical vault access, multi-signature technology, and a redundant global network of storage vaults designed to be able to quickly detect security breaches.
Supported Countries
Xapo operates globally, and the team has worked hard to support a massive amount of countries and FIAT currencies, including:
Bhutan – Bhutanese Ngultrums (BTN)
Botswana – Botswana Pulas  (BWP)
Belize – Belize Dollars  (BZ)
Canada – Canadian Dollars  (CAD)
Vietnam – Vietnamese Dong (VND)
Kuwait – Kuwaiti Dinars (KYD)
Kazakhstan – Kazakhstani Tenges (KZT)
Laos – Laotian Kips (LAK)
Suriname – Surinamese Dollars (SRD)
Democratic Republic of São Tomé and Principe – São Tomé and Principe Dobras (STD)
Yemen – Yemeni Rial (YER)
Switzerland – Swiss Francs  (CHF)
Cambodia – Cambodian Riels (KHR)
Comoro Islands – Comorian Francs (KMF)
South Korea – Korean Republic Wons (KRW)
Sweden – Swedish Kronas (SEK)
Singapore – Singapore Dollars (SGD)
Somalia – Somali Shillings (SOS)
Chile – Chilean Pesos  (CLP)
China – Chinese Yuans  (CNY)
Japan – Japanese Yens (JPY)
Kenya – Kenyan Shillings (KES)
Kyrgyzstan – Kyrgyzstani Soms (KGS)
Colombia – Colombian Pesos  (COP)
Saudi Arabia – Saudi Arabian Riyals (SAR)
Solomon Islands – Solomon Islander Dollars (SBD)
Seychelles – Seychellois Rupees (SCR)
Uzbekistan – Uzbekistani Soʻm (UZS)
Vanuatu – Vanuatu Vatu (VUV)
Venezuela – Venezuelan Bolívar (VEF)
Iceland – Iceland Kronas (ISK)
Jamaica – Jamaican Dollars (JMD)
Jordan – Jordanian Dinars (JOD)
Serbia – Serbian Dinars (RSD)
Russia – Russian Rubles (RUB)
Rwanda – Rwandan Francs (RWF)
Costa Rica – Costa Rican Colon  (CRC)
Cape Verde – Cape Verdean Escudos  (CVE)
Iceland – Iceland Kronas (ISK)
Jamaica – Jamaican Dollars (JMD)
Jordan – Jordanian Dinars (JOD)
Czech Republic – Czech Korunas  (CZK)
Djibouti – Djiboutian Francs  (DJF)
Paraguay – Paraguayan Guaranis (PYG)
Qatar – Qatari Riyals (QAR)
Indonesia – Indonesian Rupiahs (IDR)
Israel – Israeli New Sheqels (ILS)
India – Indian Rupees (INR)
Romania – Romanian Leus (RON)
United Kingdom – British Pound (GBP)
United States – US Dollar (USD)
Uruguay – Uruguayan Peso (UYU)
Denmark – Danish Krones (DKK)
Croatia – Croatian Kunas (HRK)
Haiti – Haitian Gourdes (HTG)
Hungary – Hungarian Forints (HUF)
Philippines – Philippine Pesos (PHP)
Pakistan – Pakistani Rupees (PKR)
Poland – Polish Zlotys (PLN)
Dominican Republic – Dominican Pesos  (DOP)
Uganda – Ugandan Shilling (UGX)
Ukraine – Ukrainian Hryvnia (UAH)
Oman – Omani Rials (OMR)
Hong Kong – Hong Kong Dollars (HKD)
Honduras – Honduran Lempiras (HNL)
Peru – Peruvian Nuevo Soles (PEN)
Papua New Guinea – Papua New Guinean Kinas (PGK)
United Arab Emirates – United Arab Emirates Dirham (AED)
Algeria – Algerian Dinars  (DZD)
Egypt – Egyptian Pounds (EGP)
Ethiopia – Ethiopian Birrs  (ETB)
Norway – Norwegian Krones (NOK)
Nepal – Nepalese Rupees (NPR)
New Zealand – New Zealand Dollars (NZD)
Tunisia – Tunisian Dinar (TND)
Turkey – Turkish Lira (TRY)
Tuvalu – Tuvaluan Dollar (TVD)
European Union – Euro  (EUR)
Mozambique – Mozambican Meticals (MZN)
Namibia – Namibian Dollars (NAD)
Nigeria – Nigerian Nairas (NGN)
Fiji – Fijian Dollars  (FJD)
United Kingdom – British Pounds (GBP)
Georgia – Georgian Laris (GEL)
Ghana – Ghanaian Cedis (GHS)
Togo – CFA Francs (XOF)
Malawi – Malawian Kwachas (MWK)
Mexico – Mexican Pesos (MXN)
Malaysia – Malaysian Ringgits (MYR)
Tonga – Tongan Paʻanga (TOP)
Trinidad and Tobago – Trinidad and Tobago Dollar (TTD)
Gambia – Gambian Dalasis  (GMD)
Papua New Guinea –  Guinean Francs (GNF)
Guatemala – Guatemalan Quetzals (GTQ)
Tajikistan – Tajikistani Somonis (TJS)
Mongolia – Mongolian Tuqhriks (MNT)
Mauritius – Mauritanian Ouguiyas (MRO)
Republic of Maldives – Maldivian Rufiyaas (MVR)
Turkmenistan – Turkmenistani Manats (TMT)
Pakistan – Pakistani Rupees (PKR)
Guyana – Guyanese Dollars (GYD)
Moldova – Moldovan Leus (MDL)
Malagasy Republic – Malagasy Ariarys (MGA)
Macedonia – Macedonian Denars (MKD)
Salvador – Salvadoran Colons (SVC)
Swaziland – Swazi Lilangenis (SZL)
Thailand – Thai Bahts (THB)
Sri Lanka – Sri Lankan Rupees (LKR)
Lesotho – Basotho Lotis (LSL)
Morocco – Moroccan Dirhams (MAD)
Zambia – Zambian Kwacha (ZMK)
As you can see, Xapo supports everything from less popular fiat currencies to popular ones such as USD, GBP, CNY, RUB, JPY, and EUR.
Customer Support
For customer support, you have to be logged in to your Xapo account in order to use the ticket system. Click on the persistent Help button (the black button with a speech bubble and question mark inside) on the lower right corner of the site to open a support ticket. You will be directed to the Xapo knowledge base as you do this. Here, you can ask questions or browse through the collection of questions and answers therein.
Notice that there is no ticket form here and we actually couldn't find the Contact Us button or link on the site.
Xapo attempts to provide great customer support via Facebook, Twitter, and email.
On the other hand, if you have legal concerns, use the following email address: legal@xapo.com to send an email directly to Xapo's legal team.
The great thing about customer service on Xapo is that is available 24/7.
Buy and Sell Limits
There isn't any publicly available information about purchasing limits. Before you make any purchases, make sure that your account is fully verified. Xapo charges a 1% fee on all purchase orders, with additional processing fees based on your payment method. This is disclosed when making your purchase.
Xapo does not allow you to sell Bitcoin for a FIAT currency directly. Instead, they recommend using their Xapo Debit Card to spend your Bitcoin.
Receiving Bitcoin to Your Xapo Wallet
Obtain your wallet address from within your Xapo account in order to receive Bitcoin to your Xapo wallet from an external source, and then use this Xapo address as the 'send to' address in your external wallet.
It's important to note that Xapo does charge a fee for receiving small amounts of Bitcoin. That's why it is recommended to check their fee page before you send to make sure you won't be charged extra.
Sending Bitcoin from Your Xapo Wallet
Bitcoins that are bought on Xapo can be sent to any Bitcoin wallet and this process is done from within your Xapo account. However, there are fees for sending Bitcoin from Xapo to your wallet, and instead of breaking down their ever-changing fee structure, take at their fee breakdown directly.
55 bits, (also known as 0.000055 BTC) is the minimum amount that can be sent from Xapo.
Conclusion
Xapo is a reputable company that prioritizes security, and if that's important to you (hint: it should be), then Xapo is well worth your time.
Most of the complaints revolve around their customer service not granting every request and being slow to respond. However, this isn't necessarily a bad thing. It means that they care about the overall security of their business.
The Xapo Bitcoin Debit Card is a unique feature that presents an interesting way to bring Bitcoin into the real world. The card isn't available with many other wallets and exchanges. It supports an extensive range of currencies and accepts users from almost all parts of the world. The card price is reasonable and its fees and charges are competitive. The card can be delivered to you for free within 25 days.

CaptainAltcoin's writers and guest post authors may or may not have a vested interest in any of the mentioned projects and businesses. None of the content on CaptainAltcoin is investment advice nor is it a replacement for advice from a certified financial planner. The views expressed in this article are those of the author and do not necessarily reflect the official policy or position of CaptainAltcoin.com