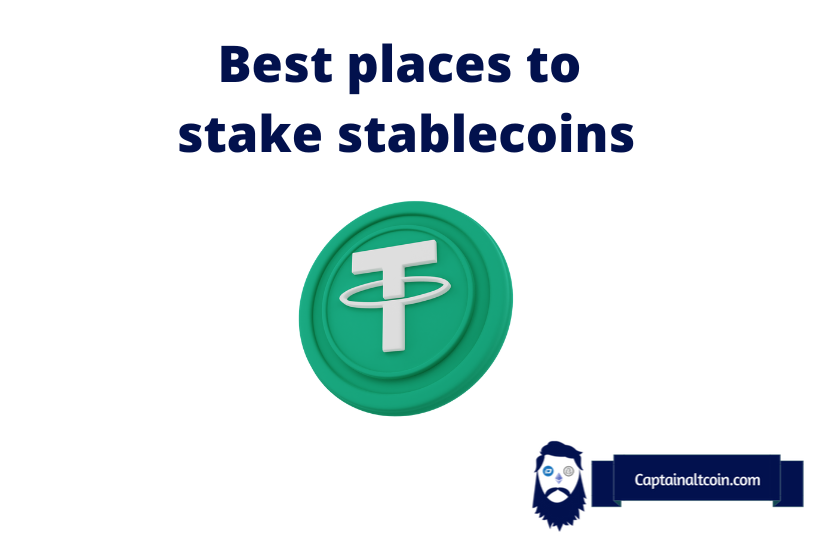 Where can I stake stablecoins and make money while I sleep? A unique look at the top stablecoin staking (liquidity mining, yield farming) places is provided in this guide.
Since the advent of cryptocurrencies, one of the main deterrents for major investments in this novel class of assets has been the excessive volatility of the market. While they continue developing and growing, cryptocurrencies like Bitcoin and Ethereum are still relatively speculative investments.
In reality, DeFi has played a significant role in the evolution of the cryptocurrency market into a new asset class. Additionally, investing in cryptocurrencies doesn't mean you have to trade all day like a maniac or just hodl like a mummy until your portfolio soars to the moon. There are other, easier and profitable ways to grow your crypto portfolio.
Today's market offers a wide range of additional alternatives for generating passive income or increasing the value of your cryptocurrency holdings.
Stablecoin "staking", liquidity mining, yield farming and many other fancy words that make you dizzy mean, in essence, one thing: earning interest on your stablecoins while doing nothing.
I'll outline the 12 ideal locations to stake stablecoins in this article. I will also give a more thorough explanation of how to lend cryptocurrencies like DAI or USDT while earning interest on the money.
Where To Stake Stablecoins (USDT, USDC)
---
You can stake stablecoins like USDC or USDC on both centralized and decentralized platforms. This article will show both ways, so let's dig in.
Where to stake USDC/USDT on centralized staking platforms
---
Pemex
---
Phemex is a newer crypto exchange that has been on a rise thanks to its spotless reputation, great UI and innovative features.
One of such features is Phemex Earn which offers by far best APYs among centralized platforms for stablecoin staking. You can earn up to 25% on USDT and up to 18% on USDC on Phemex.
They offer flexibe (lets people earn interest on their cryptos without having to commit to anything for a long time.) and fixed (Users must sign up for this option for a set amount of time before they can cash out their earnings) savings accounts.
YouHodler
---
YouHolder is mirroring lending and borrowing business model from traditional banks: you can earn interest rate (of up to 12% on certain coins) or borrow money by putting up your crypto holdings as collateral with a LTV of up to 90%.
Yields on stablecoins on YouHodler come up to 8.2% per year.
YouHodler has a couple of unique services like the turbocharger, where you can set in motion a cascade of loans that the app automatically makes for you. You set the initial collateral and number of loans the platform should create: from 3 to 10.
Another one is a MultiHODL, a chain of loans (similar to turbocharger) invested into risky crypto assets that can blow up or break down. You set your conditions for risk (for example, how much can your chosen portfolio drop in price before you stop your losses and close positions).
In case of a crypto bull run, your coins value will multiply and the profit will go directly to your account. In the case of a decline in prices, you will get your initial fiat or crypto deposit back minus the factual loss.
KuCoin
---
At first (and second and any following) glance, KuCoin appears to be the finest choice for an experienced and active cryptocurrency trader. Users of the exchange have access to hundreds of tokens, can trade futures, use margins, trading bots, staking features and many more. All of this plus low fees make KuCoin one of the best places to do anything crypto (not only staking or trading).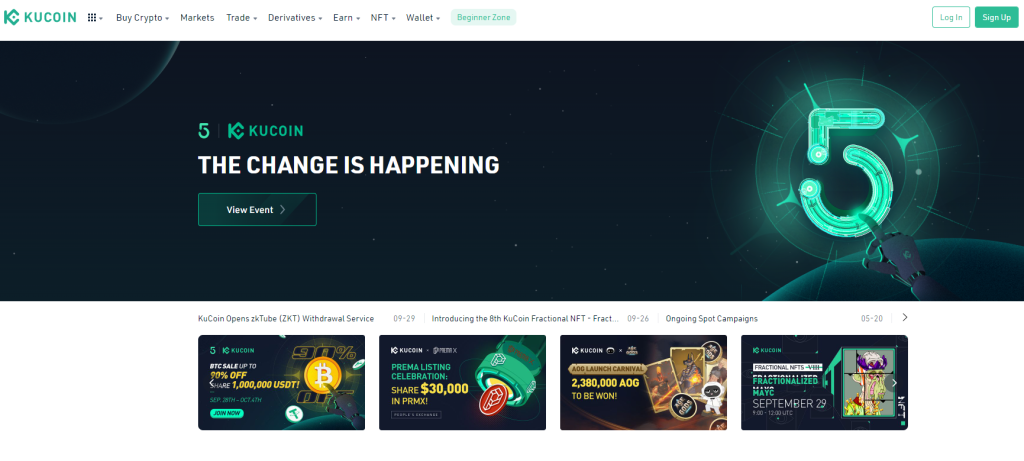 KuCoin supports more than 700 coins, and trading fees start at 0.1%. You will save 20% if you pay using KCS coin, and big-volume dealers will pay even less. The range of trading options available to KuCoin users, such as spot trading, margin trading, P2P trading, and futures trading, are the highlights of what the exchange has to offer. Users can also use the crypto borrowing, lending, and staking services.
As an illustration, KuCoin offers up to 3.12% APY on USDC staking. Not bad, but you can get more on some other places. Read on.
ZenGo
---
ZenGo is one of the newer cryptocurrency savings accounts on this list. You can earn up to 8% per month, if you deposit less than $100k. If you deposit more than that, the rate is slashed to 4%.
If you want to borrow crypto, you can use the platform to lend to others.
They offer both fiat and crypto loans, with rates starting at 4%. You can set your loan terms, such as how long you want to borrow. Loans are paid out daily, and there is no lockup period.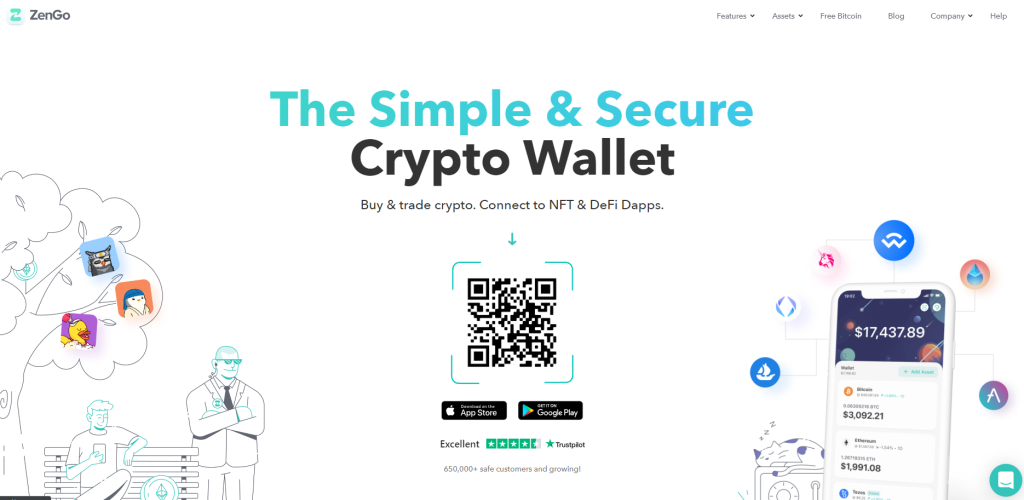 You can also stake some coins like Tezos on ZenGo, earning 2% monthly.
Binance
---
Binance is the most popular cryptocurrency exchange which is founded by Changpheng Zhao, a well-known blockchain industry expert, and expert in setting up trading systems.
The platform has been around for quite some time now, and it's one of the most trusted exchanges out there. It offers a wide range of cryptocurrencies to trade on its platform and also allows users to buy crypto with fiat currency.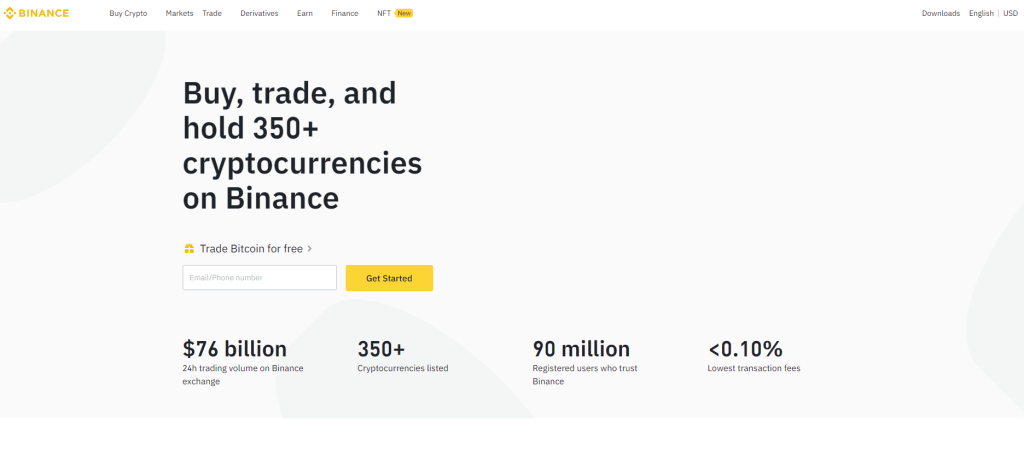 Besides being a leading exchange, Binance is also a very big market maker, which means that they are buying and selling cryptocurrencies in the markets.
On Binance, lending a stablecoin like USDT is quite flexible, and you have two choices. The first is called "Flexible Savings," and it allows you to transfer USDT as well as redeem coins whenever you need them (at an interest rate of roughly 5.77%).
In addition, you can transfer stablecoins and lock them for 7, 14, 30, or 90 days using "Locked savings." Additionally, depending on the time frame, you will receive rewards with interest that ranges from 6 to 7% on average.
Finally, trading on Binance may be done for nearly no cost (0.075%) if you sign up through this link. You will receive a further 10% lifelong discount as a result.
Crypto.com
---
A well-known cryptocurrency exchange that accepts a variety of crypto assets is called Crypto.com. The platform also gives you the chance to use your stablecoins to generate passive revenue. The stablecoin yield, however, depends on how much of CRO tokens you lock to stake on Crypto.com and the amount of stablecoins you deposit. Maximum APY you can get is 8.5%. But for most users the APY will hover around 5%.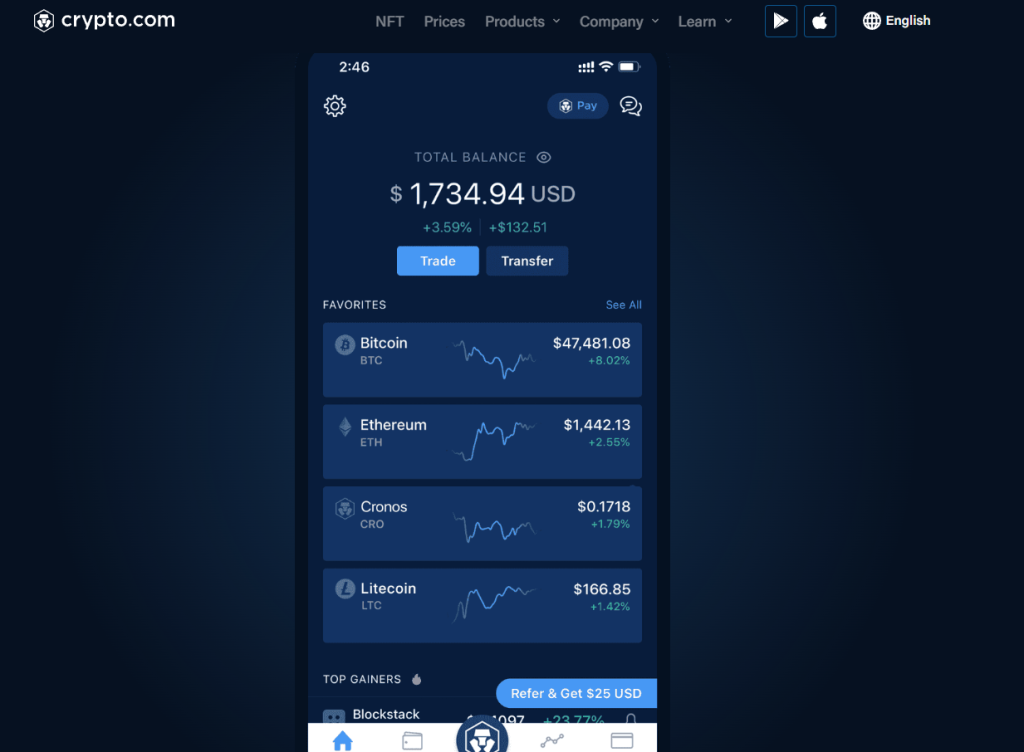 You must select the locked deposits and have as much as possible of CRO tokens staked on their platform in order to receive the best stablecoin interest rate. The highest APY for interest rates can reach 8.5%.
DeFi platforms for high APYs on stablecoins (USDT, USDC, FRAX, MIM)
Rewards and interest you can earn on DeFi protocols are much higher. Many of these centralized services are actually putting your deposited coins into these protocols and shave off majority of APYs for themselves while paying you 3-5x lower rates then what they get.
Be aware of the inherent risks that come with all of these DeFi protocols. This is a highly experimental technology and hacks, security breaches, poor code practices, rotten team members, rug pulls and many other pain points plague this sector of crypto markets.
However, those with higher risk appetites will definitely enjoy the high APYs (and hope the protocol they chose won't suffer some of the scenarios we listed above).
---
Pickle Finance (30%) – on Polygon
---
Built on the Ethereum network, Pickle Finance is a multi-layered, multi-chain yield aggregator. Yield aggregators are DeFi platforms that assist farmers with raising capital and maximizing profits via the use of various DeFi protocols and strategies.
You can have up to 30% APY for stablecoins on the Polygon network on this platform.
Beefy Finance (29.76%) – on Fantom
---
A multi-chain decentralized yield optimization platform is called Beefy Finance. Compound interest can be earned on users' cryptocurrency holdings. Simply speaking, Beefy Finance functions as an autocompounder. It reinvests your yield earned in order to boost your gains.
You can have up to 29.76% APY for stablecoins on the Fantom network on this platform.
Sunny (27%) – on Solana
---
On the Solana blockchain, Sunny is a DeFi yield aggregator that enables third parties to create protocols and apps on top of the system. It facilitates compounding tactics for increased revenues and streamlines the management of all yield farming positions. Composability is Sunny's main strength.
You can have up to 27% APY for stablecoins on the Solana network on this platform.
FAQs
---
What are the best stablecoins to stake❓
The best stablecoins to stake are Tether (USDT), USD Coin (USDC), Binance USD (BUSD), and True USD (TUSD).
Can you stake stablecoin❓
Yes, you can stake stablecoins on all major centralized exchanges but also on many DeFi protocols. Stablecoins can be staked to remove the risk of market price volatility. The value of stablecoins, which are anchored to fiat money, remains constant. Because of this, staking a stablecoin like USDC should completely eliminate all volatility risk while still generating interest.
What is the most secure stablecoin❓
The most secure and well-known stablecoin globally is Tether (USDT). It's called Tether because it "tethers" itself to the US dollar value. Gold, conventional money, and cash equivalents all serve as its collateral. Tether is renowned for its security and easy interaction with platforms that convert cryptocurrency into money. Even though their collateralized assets and peg to USD has been under suspicion many times, the coin works as intended for the whole time since its inception.
What is the most stable stablecoin❓
The most "stable" stablecoin is Tether (USDT). 
Where can I stake my Usdc❓
Here are 7 places you can stake your USDC tokens:
Nexo
Crypto.com
Binance Earn
Phemex
Blockfi
Hodlnaut
Midas
Why are stablecoin yields so high❓
Stablecoin supply is constantly outpaced by demand. Therefore, those with stablecoins to lend can demand higher interest rates, and cryptocurrency exchanges in need of stablecoins will also charge high-interest rates in an effort to draw in more stablecoin lenders. The high-interest rates on stablecoins are due to this. It is just basic economics.
How do you make money off stablecoins❓
There are multiple ways to earn stablecoins:
Earn Interest on Stablecoins
Lending Stablecoins on Your Own
Staking Stablecoins
Is there risk in staking crypto❓
The danger of the market is higher when investing in cryptocurrencies. Staking may be connected to lockup periods in some cryptocurrency projects. Your stake rewards may also be lowered by mistakes and fees.

CaptainAltcoin's writers and guest post authors may or may not have a vested interest in any of the mentioned projects and businesses. None of the content on CaptainAltcoin is investment advice nor is it a replacement for advice from a certified financial planner. The views expressed in this article are those of the author and do not necessarily reflect the official policy or position of CaptainAltcoin.com