Bybit vs Phemex: Which Margin Exchange is Better?
---
If you've looked for cryptocurrency derivative trading sites that offer margins, then chances are you've seen Bybit and Phemex listed or mentioned on the same page. But how do these two exchanges differ, and which one is more suitable for you?
Background
---

The two exchanges were founded a year apart; Bybit was established in the March of 2018[1], and Phemex was founded in the summer of the following year[2].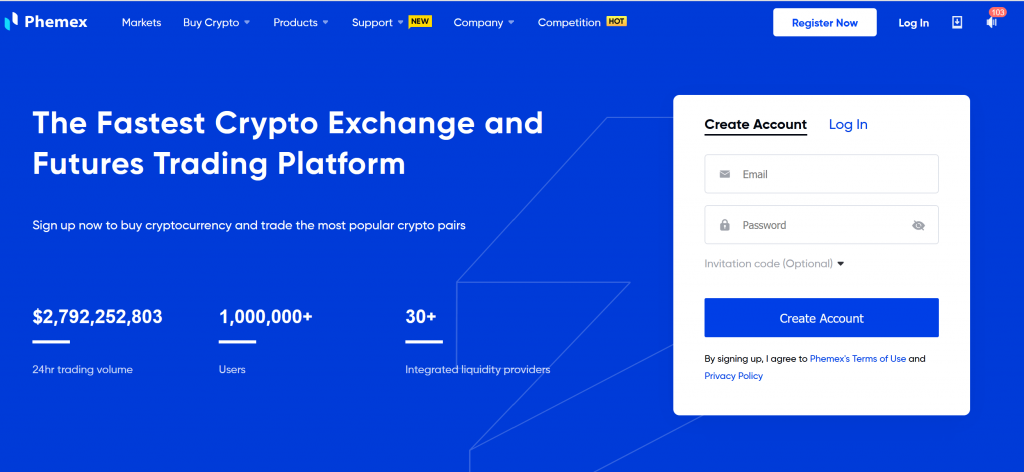 Although two different companies, they're both led by similar core values centered around transparency and fairness, with a focus on user-experience. Behind both exchanges are teams of experts in the field of trade, investment and cryptocurrency.[1][2].
Trading Experience
---
Bybit
---

With a focus on technicality, Bybit built their website from the ground-up to allow for constant innovation in the world of crypto trading. This emphasis on efficiency has resulted in a very fast and secure platform with several mechanisms in place to ensure stability[1].
Phemex
---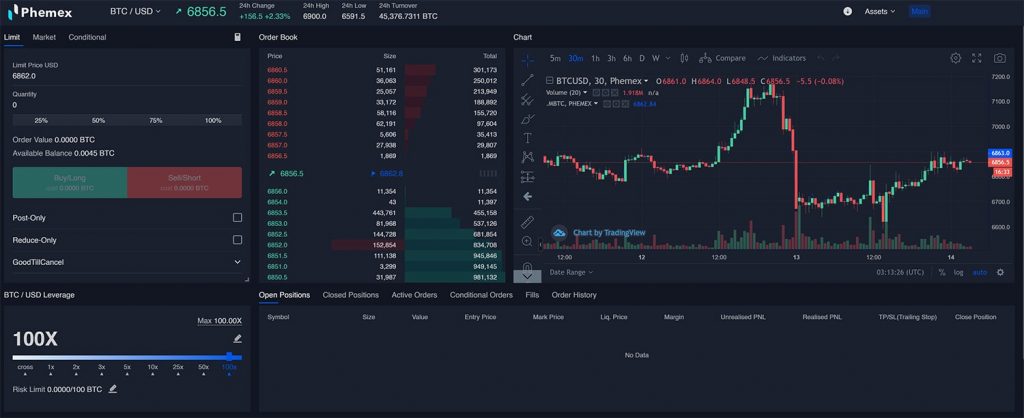 Phemex pays attention to the user-experience, and offers a simple UI to ensure a smooth and easy trading experience without having to sacrifice any trading features[3]. It offers a wide variety of tools for traders of all backgrounds on an inviting platform.
Visit Bybit Now Visit Phemex Now
Available coins and contracts
---
Bybit
---
Bybit supports a total of 13 coins on its platform[4], and allows users to trade in inverse perpetuals (4 coins), USDT perpetuals (12 coins) and inverse futures (BTC only)[5].
Phemex
---
Phemex supports a total of 24 coins on its platform, and allows users to trade in spots (21 coins) and perpetuals (24 coins)[6], which can be traded with USD and BTC[7].
Trading Fees
---
Bybit
---
Bybit rewards makers with -0.025% fees (they earn a 0.025% rebate), and takers pay 0.075%[8].
Phemex
---
On Phemex, for spot trading, full premium and premium trial accounts pay 0 fees, standard users pay 0.1% in transaction fees, and all API traders regardless of account status pay 0.1% in transaction fees. For perpetual contracts, makers are rewarded with 0.025% rebates, and takers pay 0.075%[9].
Deposits & Withdrawals
---
Bybit
---
Currently, users can only deposit BTC, ETH, XRP, EOS and USDT on Bybit without any deposit limits or fees. Withdrawals have both minimum limits and fees, and they are as follows[10]:
| | | |
| --- | --- | --- |
| Coin | Minimum Withdrawal | Withdrawal Fee |
| BTC | 0.001 BTC | 0.0005 BTC |
| ETH | 0.02 ETH | 0.01 ETH |
| EOS | 0.2 EOS | 0.1 EOS |
| XRP | 20 XRP | 0.25 XRP |
| USDT | 50 USDT | 30 USDT |
Withdrawal requests are processed 3 times a day, at UTC Time 0800, 1600 and 2400, and withdrawal request cutoff times are 30 minutes before the scheduled withdrawal processing time[10].
Users can also purchase BTC, ETH and USDT with fiat, with more coins planned for the future. These purchases are handled by Bybit's Fiat Gateway partners: Banxa, XanPool, MoonPay and Mercuryo[11].
Phemex
---
Currently, users can deposit 27 coins on Phemex, as well as USD, USDT and BTC in trading accounts. There are no deposit fees, however there are minimum withdrawals and withdrawal fees and they are as follows[9]:
| | | | |
| --- | --- | --- | --- |
| Coin | Min. Deposit | Min. Withdrawal Limit | Withdrawal Fee |
| BTC | 0.00000001 BTC | 0.001 BTC | 0.0005 BTC |
| USDT – TRC20 | 0.00000001 USDT | 2 USDT | 0 USDT |
| USDT – ERC20 | 0.00000001 USDT | 2 USDT | 18 USDT |
| ETH | 0.00000001 ETH | 0.02 ETH | 0.008 ETH |
| XRP | 0.00000001 XRP | 0.5 XRP | 0.45 XRP |
| LINK | 0.00000001 LINK | 0.5 LINK | 0.25 LINK |
| XTZ | 0.00000001 XTZ | 1 XTZ | 0.5 XTZ |
| LTC | 0.00000001 LTC | 0.002 LTC | 0.001 LTC |
| ADA | 0.00000001 ADA | 2 ADA | 1 ADA |
| TRX | 0.00000001 TRX | 2 TRX | 1 TRX |
| ONT | 0.00000001 ONT | 2 ONT | 1 ONT |
| BCH | 0.00000001 BCH | 0.002 BCH | 0.001 BCH |
| NEO | 0.00000001 NEO | 1 NEO | 0 NEO |
| EOS | 0.00000001 EOS | 0.2 EOS | 0.1 EOS |
| DOGE | 0.00000001 DOGE | 100 DOGE | 20 DOGE |
| BAT | 0.00000001 BAT | 32 BAT | 32 BAT |
| CHZ | 0.00000001 CHZ | 92 CHZ | 46 CHZ |
| MANA | 0.00000001 MANA | 44 MANA | 22 MANA |
| ENJ | 0.00000001 ENJ | 16 ENJ | 8.4 ENJ |
| SUSHI | 0.00000001 SUSHI | 2.8 SUSHI | 1.4 SUSHI |
| SNX | 0.00000001 SNX | 3.36 SNX | 1.68 SNX |
| GRT | 0.00000001 GRT | 22 GRT | 11 GRT |
| MKR | 0.00000001 MKR | 0.002 MKR | 0.007 MKR |
Trading accounts don't have any withdrawal fees, but USD trading accounts have a maximum deposit of 10 BTC / 100,000 USDT, and a minimum deposit of 0.002 BTC / 1 USDT[9].
Users can also directly purchase a variety of cypto on Phemex with a bank account, credit card, debit card and ApplePay. Fiat purchases are handled by their fiat partners: Simplex, MoonPay, Coinify, Banxa and Mercuryo[12].
Security & Trustworthiness
---
---

Bybit invests far more than average into security, even for cryptocurrency exchange standards, and are planning to increase these spendings by 5-10% in the future. They routinely hire well-known security consultants for penetration testing, and run bounty programs for white hat hackers to spot vulnerabilities.
They've also invested in zero-trust architecture that is in constant development, and a cold-wallet system with an in-built solutions hierarchy.
Every aspect of a user's data is protected, from logins to trades, and every employee of Bybit is subject to thorough background checks and security training and assessment.
Since it is a derivative trading platform, it is naturally immune from fiat-crypto exchange risks as well as ICO/IEO related securities policy risks. On top of that, they operate debt free with sustainable profits.
Bybit is transparent about their data, which is analyzed and disclosed by an independent third party. They are proponents of fair trade, and have taken measures to protect traders from wrong liquidations caused by market manipulation.
---
Trades on Phemex take place on high performance trading engines, each one of which runs with multiple hot and warm backups at the same time. These measures give users super fast trading speeds and 99.99% high availability.
The platform is secured by multiple firewalls for different zones and machines for different trading purposes, and multiple layers of security and internal network access management protocols.
The wallets Phemex has designed are Hierarchical Deterministic Cold Wallets, which assigns different deposit addresses to each user. Each withdrawal made is processed and scrutinized by operators and founders to detect any malicious actions.
User accounts are protected with two-factor authentication, and all important actions trigger the authenticator to ensure every action taken was meant to be taken by none other than the user.
Phemex was founded when they observed a lack of professionalism and trustworthiness in the world of crypto trade, and upon establishment, have had a vision of becoming the most trustworthy and honest financial services provider in the industry[2].
Insurance Funds
---
Bybit
---
As of today, Bybit's insurance fund balance is around $32,639,158.8347, and the full insurance history can be found here. Funding intervals are at every 8 hours.
Phemex
---
Likewise, as of today, Phemex's insurance fund balance is about $5,885,113.31, and the full insurance history can be found here. Similar to Bybit, funding intervals are at every 8 hours.
KYC Conditions
---
---
Currently, users don't require KYC to register or use Bybit, however, Bybit may require documents for KYC in some cases for security and risk assessment purposes.
KYC is only required for fiat deposits on third-party providers' websites.
---
Phemex recently introduced KYC as an optional process. Users can still trade without KYC, but they cannot withdraw more than 2 BTC a day.
To verify, users will require taking a live photo of themselves, and one of either of these documents: ID, passport, driver's license, residence permit.
Available in the US?
---
Bybit
---
Unfortunately, Bybit is not available in the US, and although US users may be able to access Bybit through a VPN, misrepresenting your location goes against their terms of service and may result in account termination and liquidation of any open positions[16].
Phemex
---
While the Phemex OTC service does support the United States[17], when it comes to spot or contract trading, the US is on the restricted list[18], and violating their terms of use may result in account termination.
It is not at the fault of these exchanges that the US is supported in limited or no capacity, rather, strict regulations make trading crypto derivatives a complicated process.
Native Token Availability and Benefits
---
Some crypto exchange platforms have their own tokens that traders can utilize for different purposes, these tokens offer traders benefits such as lower trade fees.
Neither Bybit nor Phemex have native tokens as of present.
Customer Support and Education
---
Bybit
---
Bybit offers 24/7 multilingual customer support[1], and a help center where users can find helpful articles for their inquiries.
Their getting started section helps users set up their accounts and contains articles that facilitate a user's familiarization with the tools and features that the platform offers.
Bybit has a learn section as well, where people can read and learn all about crypto news and basics.
Phemex
---
Phemex's support page contains a series of user guides that help with setting up accounts and understanding different trade concepts, as well as links to their 24/7 customer support, product feedback, bugs report and complaint forms.
Users who report security issues to Phemex are rewarded based on the severity of the issue[14].
Lastly, there's the Phemex Academy that contains a large selection of articles that explain and cover concepts and news in the world of crypto.
Visit Bybit Now Visit Phemex Now
You go with Phemex in case you plan to do volume trading in which case a premium account on Phemex will save you a lot of money on fees. It also has more trading pair offered. However, everything else speaks in favor of ByBit.
In case you want to compare with other exchanges, check this out:
References:
[2] Phemex.com/about
[4] Bybit.com
[8] Blog.bybit.com/trading-fees
[9] Phemex.com/fees
[10] Help.bybit.com/deposit-and-withdrawal
[11] Help.bybit.com/fiat-gateway
[14] Phemex.com/security
[15] Phemex.com/kyc
[16] Help.bybit.com/restricted-countries
[17] Phemex.com/supported-countries

CaptainAltcoin's writers and guest post authors may or may not have a vested interest in any of the mentioned projects and businesses. None of the content on CaptainAltcoin is investment advice nor is it a replacement for advice from a certified financial planner. The views expressed in this article are those of the author and do not necessarily reflect the official policy or position of CaptainAltcoin.com