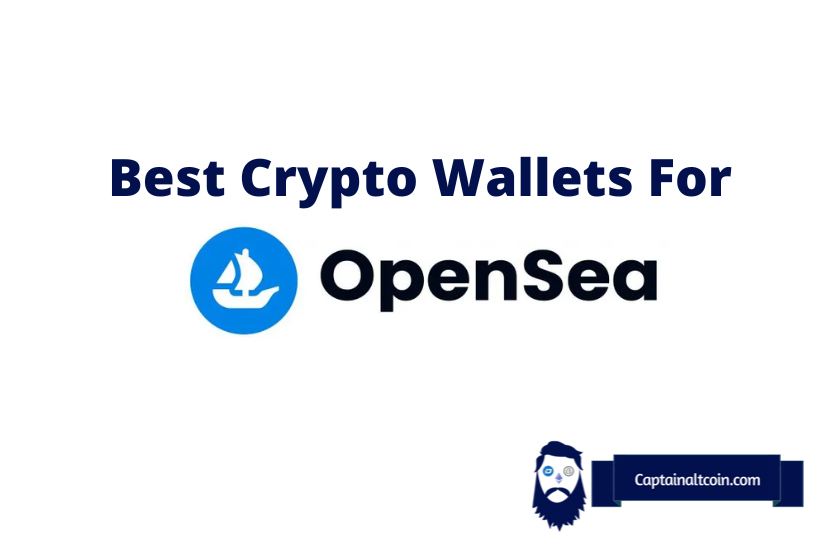 Best crypto wallets for OpenSea
---
OpenSea is a decentralized digital marketplace platform for trading NFTs. An NFT (Non-Fungible Token) represents a collectible digital asset such as an in-game item, trading cards, and types of digital art.
Headquartered in New York City and founded by Devin Finzer and Alex Atallah, OpenSea was the world's first and largest platform of its kind.
OpenSea is still known as the "biggest NFT marketplace" in the world. This is because it has launched successful NFT collections like Bored Apes, CryptoPunks, and more, which have sold for more than $1 billion. 
Users of the OpenSea NFT platform can connect to it without signing up, using only a digital crypto wallet (MetaMask, Trust Wallet, or other wallets). The option to use OpenSea without being asked to disclose your name or other sensitive data makes it a decentralized platform.
Anyone with a crypto wallet can connect to OpenSea using their Ethereum, Solana, Avalanche, Arbitrum, Optimism or Polygon Network account. This makes it possible to upload NFT collections without having to pay fees to mint the tokens. When an NFT sells on OpenSea, the marketplace keeps a 2.5 percent of the sale price, and the rest goes to the creator. 
Best Wallets to use with OpenSea
---
OpenSea can be used on a multitude of digital wallets, including the most popular ones on the market, such as MetaMask, Coinbase Wallet, or Trust Wallet. Other OpenSea-compatible crypto wallets include Math Wallet, Portis, Dapper, WalletConnect, and more. You can get these wallets as Windows programs, apps for Android or iOS, browser add-ons, or web wallets.
MetaMask
---
MetaMask is an easy-to-use cryptocurrency wallet available for both mobile and desktop devices that allows users to interact with all major blockchain ecosystems (Ethereum, Polygon, BNB etc).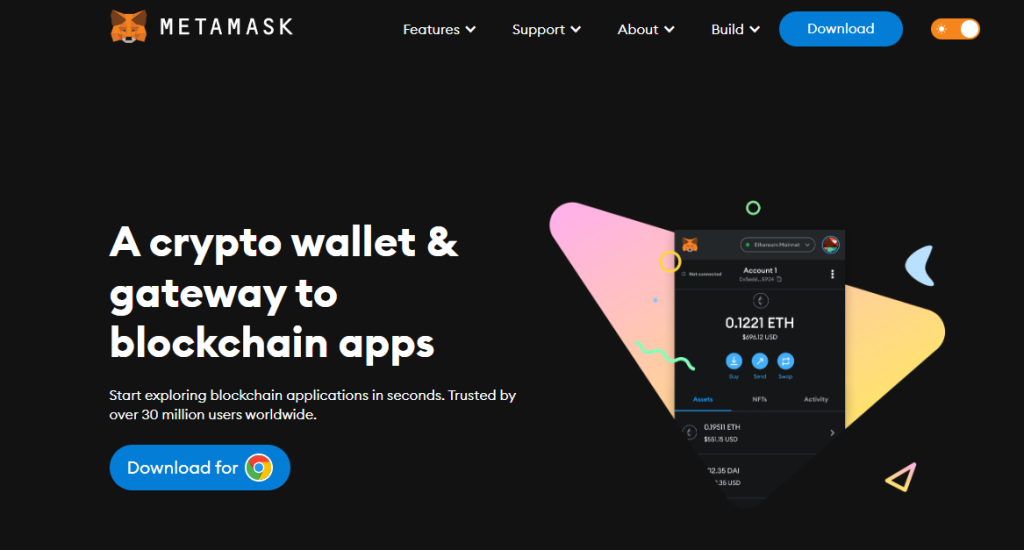 The Metamask Ethereum-based wallet is fully compatible with the OpenSea NFT platform and has more than 30M users, which makes it one of the most widely used Defi and NFT wallets worldwide. 
Trust Wallet
---
Trust wallet is a popular mobile (Android, iOS and more recently desktop) non-custodial crypto wallet which allows users to securely store, send, and receive cryptocurrencies and NFTs. The wallet is owned and run by Binance. It lets you access DeFi apps and NFTs on different blockchain networks, such as ETH, Avalanche, Arbitrum, Optimism, and Polygon, which OpenSea also supports.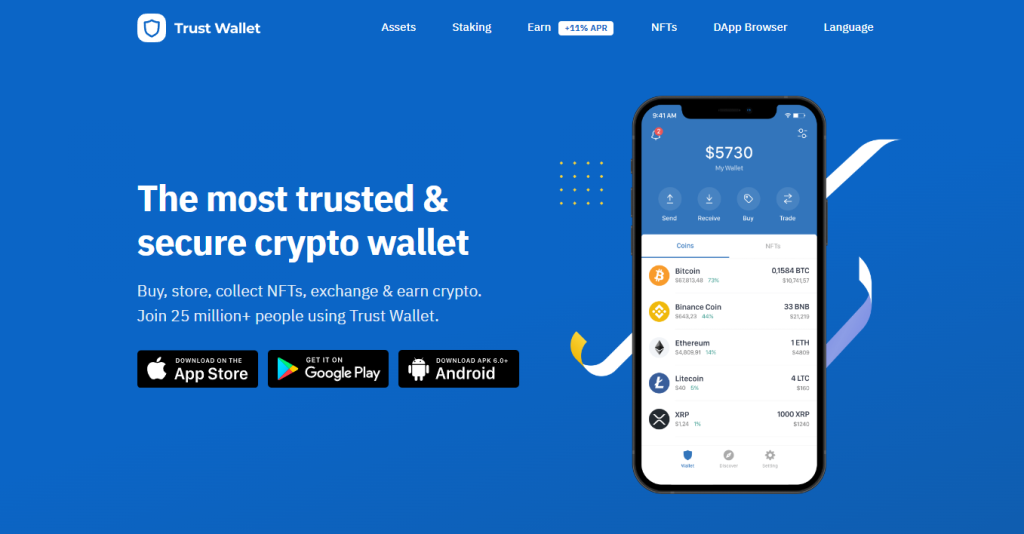 Trust wallet also has its digital token called "TWT", which has seen a growth in popularity on multiple cryptocurrency exchanges lately, trading at around $1 on average.
Coinbase Wallet
---
Similar to how Trust Wallet works for Binance.com, Coinbase Wallet is a self-custody decentralized cryptocurrency wallet developed by Coinbase.com, which doesn't require a user account, and allows full ownership of digital assets by storing private keys on a device instead of a centralized server.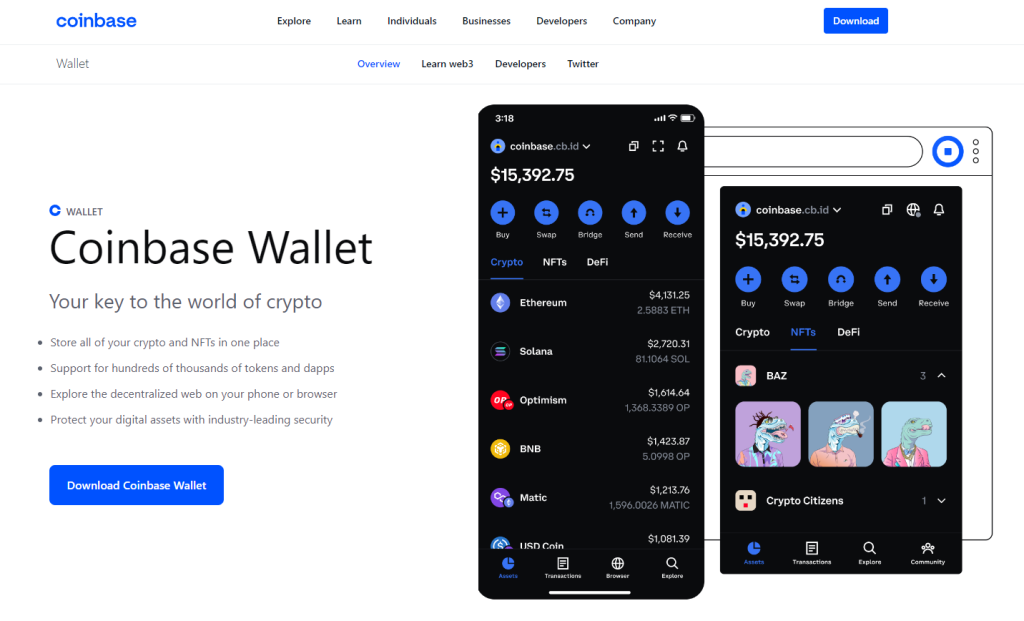 Coinbase Wallet is compatible with OpenSea and all ERC-20 tokens, as well as many other Defi protocols, NFT platforms, and blockchain networks (Avalanche, Polygon, Optimism, BNB Chain, Solana, and more). 
Dapper
---
Dapper is a web wallet that allows users to buy and store collectibles and other digital assets on Flow (a multi-role architecture and developer-friendly blockchain designed for apps, games, and NFTs. Dapper works similarly to conventional payment service companies, such as Steam Wallet or Paypal.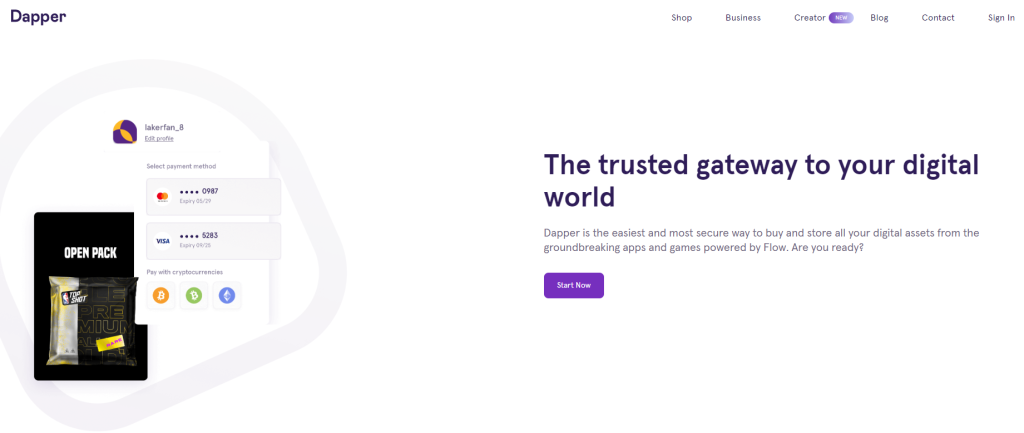 Dapper Wallet is compatible with OpenSea because, although developed for the Flow blockchain, it will continue to support the Ethereum ecosystem, a project that is important to the team behind Dapper (Dapper Labs), as stated on the dapperlabs website.
Considering its focus is on the Flow blockchain, we recommend choosing some of the other wallets we listed in this article. Avoid Dapper.
Portis Wallet
---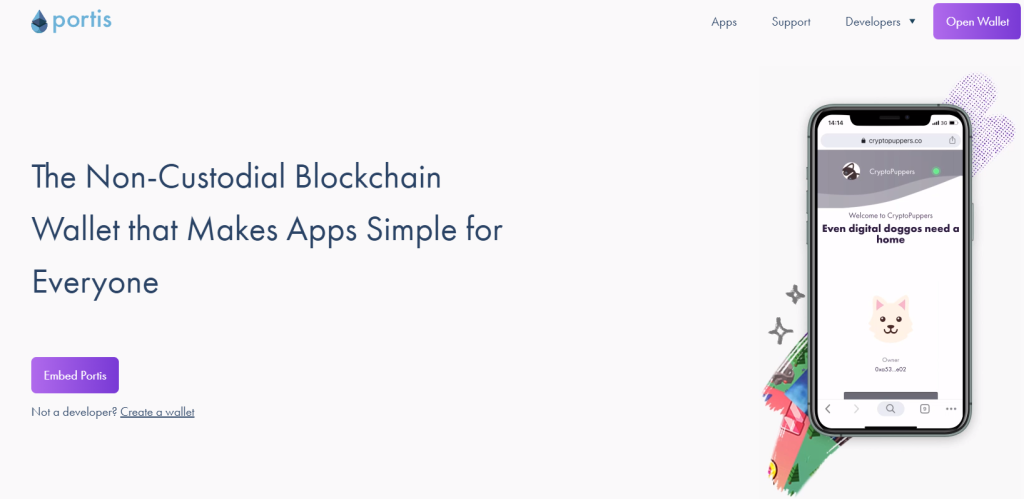 Portis Wallet is another non-custodial blockchain web-based wallet that allows users to connect with dApps on the Ethereum blockchain. One of the things that makes Portis stand out is that developers of decentralized applications (dApps) can use the Javascript SDK as a safe way to access the Ethereum ecosystem.
Math Wallet
---

Math Wallet is a multi-platform crypto wallet that enables access to decentralized apps on over 100+ blockchains. Eric Yu, a former developer & security specialist at Hewlett Packard, founded Math Wallet in Singapore in 2017. The app has been praised by users for being "easy to use" and "highly functional."
Phantom
---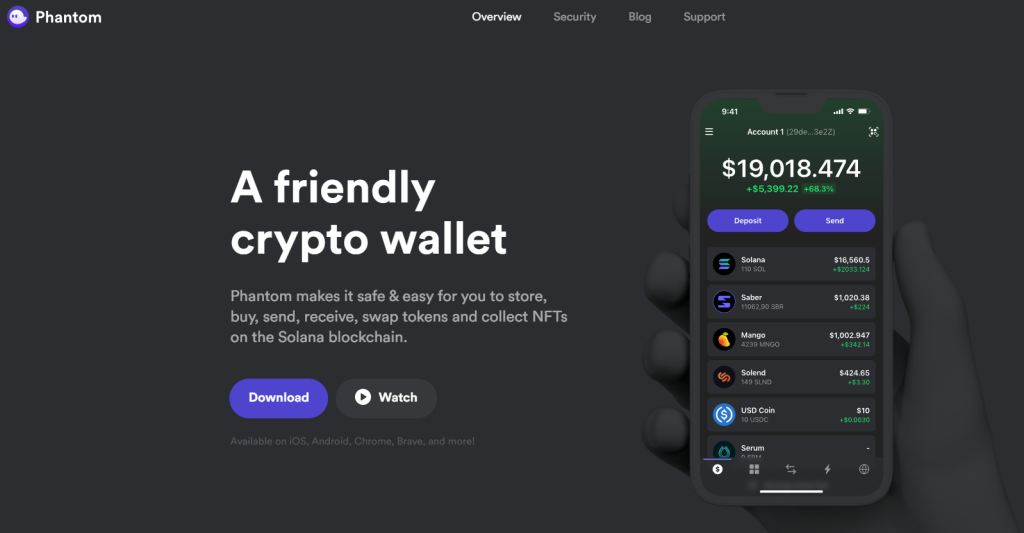 Phantom is a digital wallet that was built to allow access to the Web3 crypto world through Defi, NFT, and Solana-friendly tokens support. Since Solana is on a separate blockchain from Ethereum, OpenSea requires a wallet that is compatible with the Solana network. Phantom Wallet is available for Android, iOs, and Google Chrome as an extension.
WalletConnect
---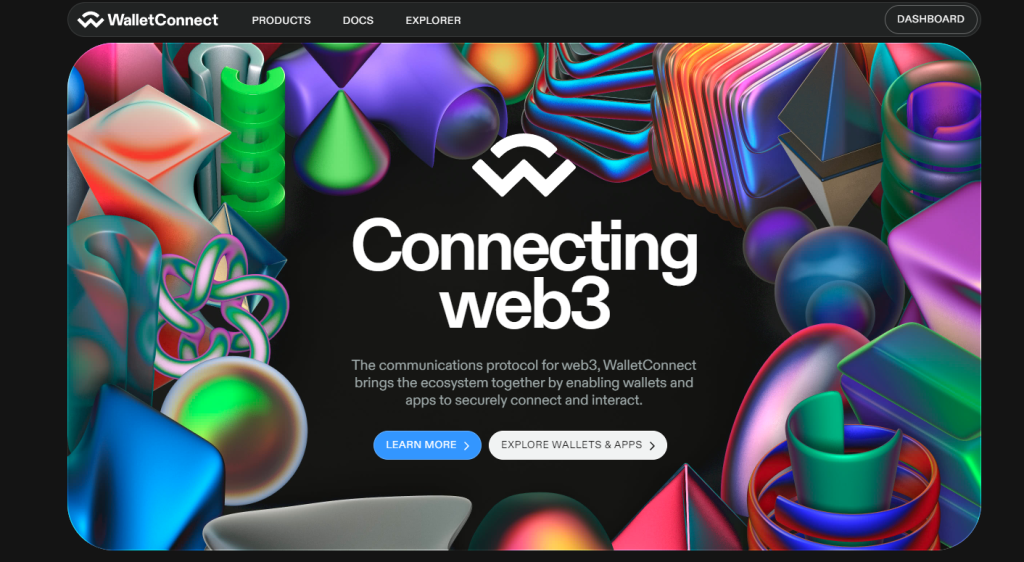 WalletConnect is a single-integration, open-source protocol that works as a bridge between a wallet and decentralized apps or other wallets. It allows users to connect to over 166 wallets and dApps and can be used to connect and interact with the OpenSea NFT marketplace.
All of the wallets we cover below can be used with hardware wallets such as Ledger Nano X or Trezor T. We highly recommend you use them in combination with these devices to ensure your NFTs are safe from hackers and online scams.
Buy Ledger Nano X
Buy Trezor T
FAQs
---
What is one of the best wallets for OpenSea❓
Metamask is one of the best and most popular cryptocurrency OpenSea-compatible wallets. 
Do I need a crypto wallet for OpenSea❓
Yes, a cryptocurrency wallet is needed to trade NFTs on OpenSea.
Should I use MetaMask or Coinbase Wallet❓
Coinbase Wallet is a  viable alternative to MetaMask, but that doesn't mean it can compete with it, considering MetaMask's background (run by a small team of hardcore crypto enthusiasts in contrary to Coinbase wallet which is funded by the 'big, evil' corporation).
Is Coinbase Wallet or MetaMask better for OpenSea❓
It depends on your needs as a digital collector or NFT creator. Judging by the feedback from the crypto community, MetaMask is one of the best digital wallets to use on a desktop, while Coinbase Wallet is better for mobile users.
Do I need MetaMask for OpenSea❓
To connect to the OpenSea NFT marketplace platform, you need a digital crypto wallet, such as MetaMask or Trust Wallet.
Is Coinbase wallet good on OpenSea❓
Yes. Coinbase Wallet is one of the best wallets to use with OpenSea, especially for mobile users. It is thought to be a safe wallet that works well on mobile devices and follows the best practices for keeping digital crypto assets safe.
Is MetaMask wallet free❓
Yes, but not completely. MetaMask is a free-to-use wallet, but they charge a fee that ranges from 0.3% to 0.875% on ERC-20 token swaps, and users have to pay blockchain fees on transactions when using MetaMask.

CaptainAltcoin's writers and guest post authors may or may not have a vested interest in any of the mentioned projects and businesses. None of the content on CaptainAltcoin is investment advice nor is it a replacement for advice from a certified financial planner. The views expressed in this article are those of the author and do not necessarily reflect the official policy or position of CaptainAltcoin.com