Phantom Wallet Review – Is It Safe & How To Install It?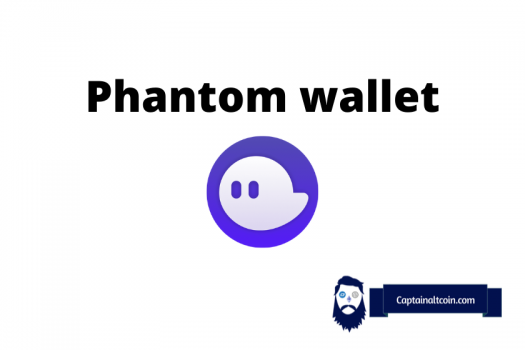 Phantom Wallet Review – Is It Safe & How To Install It?
Available on several browsers
Features a built-in token swap feature with Ethereum support
Supports linking hardware wallets such as Ledger
Non-custodial wallet
Benefits from Solana's extremely low fees
Traders still need to store their digital assets in a wallet, even though the DeFi space allows them to transact without a third party. The wallet must be secure enough while offering ease of use and access to various decentralized applications. 
Thus we have the Metamask wallet fulfilling that role for Ethereum transactions while Trustwallet does the same for BSC transactions. What about the Solana blockchain? Is there a wallet best suited for transactions on this fast-growing network?
That is what this article will cover. We will discuss the Phantom crypto wallet, its various features, and whether or not it may be suited for your crypto needs. Let's start.
WHAT IS PHANTOM WALLET?
---
The Phantom wallet is a software or hot wallet that acts as an intermediary between crypto users and the Solana blockchain. It was released recently and functions as a website extension, with plans already made to introduce its mobile version early next year. 
It is available for free download as a plugin on popular websites like Chrome, Brave, Firefox, and Edge. It bears a lot of resemblance to the Metamask wallet and has often been described as the Metamask of the Solana blockchain.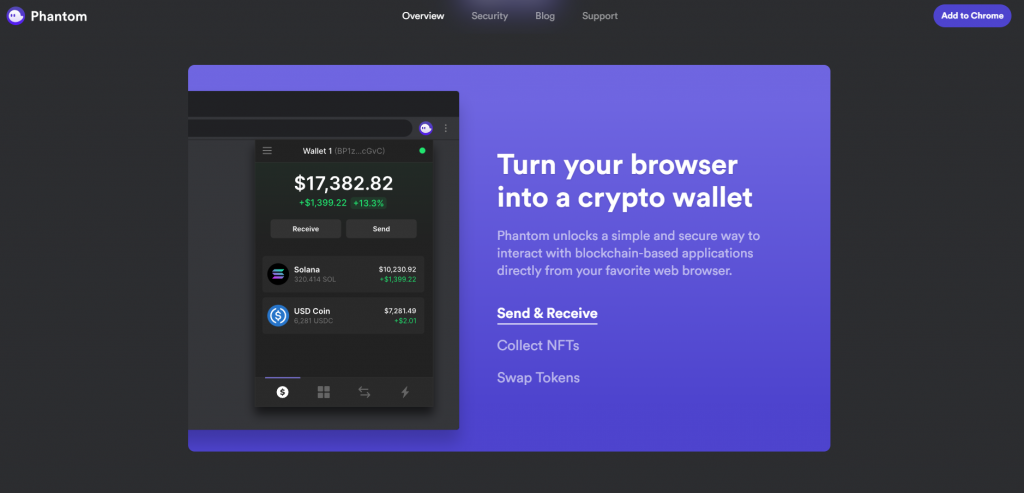 Recently, it announced that plans are already underway to introduce support for Ethereum and ERC-20 tokens. This shows that the wallet is not settling. It's gradually making its way up to the top through a plethora of decentralized wallets.
Due to its potential for growth in the DeFi sector, the Phantom wallet has seen financial backing from some big names in the industry. On July 14, 2021, it announced the successful completion of a $9 Million Series A funding backed by the Solana Foundation, Variant, DeFi Alliance, Jump Capital, and Andreessen Horowitz. This funding will be used to improve the platform and roll out new updates.
HOW TO USE PHANTOM WALLET
---
Being a web extension, the Phantom wallet is free to download and easy to use. After installing the plugin on your browser, the wallet would ask you if you want to create a new wallet address or import an old one. Upon creating a new one, you will be given a 12-word seed phrase, followed by the creation and confirmation of a password. You can now use your wallet.
To access the wallet on your browser, press ALT + SHIFT + P, and the wallet will pop up, displaying your portfolio balance and giving you access to send and receive coins as well as partake in the other functions of the wallet.
HOW DO I INSTALL THE PHANTOM BROWSER EXTENSION ON MY DESKTOP OR LAPTOP
---
Open the Phantom website (phantom.app) on any of the four supported browsers(Google Chrome, Brave, Edge, or Firefox). There is an 'Add to Chrome' button(If you're using Chrome). Once you click that, the website ushers you into a web store containing a number of plugins. Click 'Add to Chrome' on the Phantom plugin, and it downloads the wallet(about six megabytes or so). Once done, it installs automatically and can be accessed from the list of downloaded browser extension.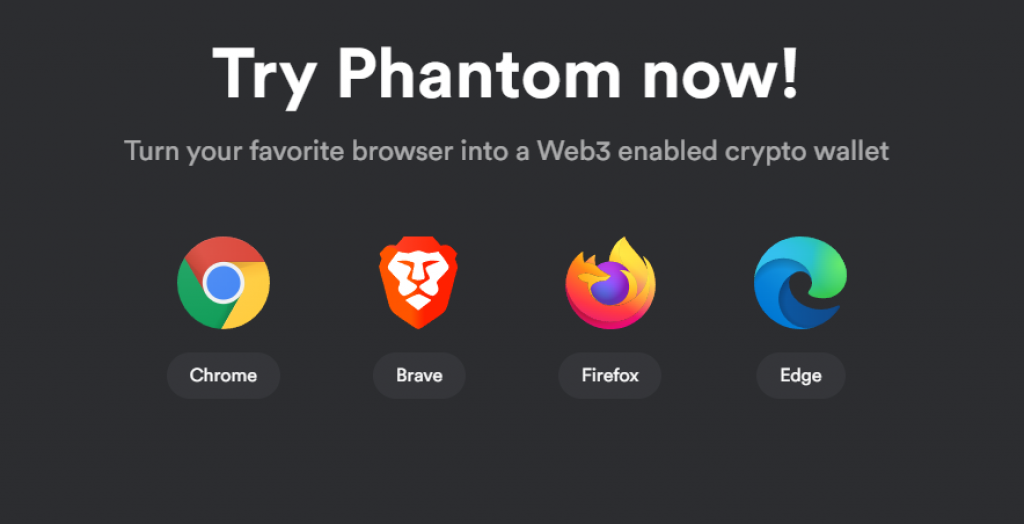 PHANTOM TOP FEATURES
---
NON-CUSTODIAL
---
This is the most decentralized type of wallet. A non-custodial wallet is one in which you are in total control of your assets. Your security is in your hands and not delegated to a third party. Phantom is an example of such. This type of wallet is advantageous since no one else controls your assets but you. However, the disadvantage is that if you lose your recovery phase, your assets cannot be recovered. They are gone forever.
TOKEN SWAPS
---
The Phantom wallet has a built-in decentralized exchange where you can make instant swaps of tokens on the Solana blockchain. The swap feature interface is similar to that of Metamask. When making swaps, it displays the rate, slippage tolerance, and estimated fee.
Phantom wallet launched its Swap feature in June of this year. More than one billion dollars in trade has been transacted since then. For such a young exchange, this achievement is impressive. The wallet hopes to improve on the average DEX experience by addressing the scalability and UX issues that often plague other in-app swaps
NFTS AND COLLECTIBLES
---
This is another exciting feature of the Phantom wallet, which makes it even more appealing considering that NFTs are hot in the crypto world now. To make accessibility easier, the wallet includes a feature to group similar NFTs automatically to save you the stress of having to come through hundreds of NFTs to find what you're looking for.
We should note here that the only form of NFTs that the Phantom wallet supports are Solana NFTs. Also, NFTs are displayed as collectibles on the wallet, but if the wallet can't identify the token as an NFT, it would be displayed as a main SPL token instead.
LEDGER SUPPORT
---
Ledger Nano X is one of the most secure wallets available today. Being a hardware wallet, it is air-gapped from the online world, leaving little space for hackers. Fortunately, there is a way to integrate your phantom wallet with Ledger Nano X. The connection wtih Ledger provides additional security.
This integration can only be done with the Chrome, Edge, and Brave browsers. You would need to connect your Ledger wallet to your computer after setting it up to interact with Solana. From there, open your phantom wallet and follow the on-screen prompts on the menu page as they guide you to connect your phantom wallet with a hardware wallet.
WEB3 SUPPORT
---
Web3 is the decentralized concept of the internet. It is a merging of blockchain technology with internet technology that allows applications to be run on decentralized blockchains. Those applications are known as decentralized applications or DApps.
Altogether, there are about 500 different ecosystems on the Solana blockchain, including about 93 web3 applications. Some of those applications are Audius, Affliarium, Soldate, Apexit, Acumen Protocol, among others.
SOL STAKING
---
The Phantom wallet also allows you to stake Sol tokens and receive rewards. The rewards are not fixed and depend on the validator you choose to stake with. The Phantom wallet itself does not offer staking services; it only acts as the middleman between holders and validators.
Staking on the Phantom wallet is not stressful at all. The wallet has made it an easy process that involves just five clicks. It goes thus:
Deposit some Solana tokens into your Phantom wallet
Click on your Solana balance
A 'Start earning SOL' button will come up. Click on it
It will bring up a list of hundreds of validators with varying APYs. Pick one.
Click 'Stake'
You're good to go!
PHANTOM VS METAMASK COMPARISON
---
There are certain similarities between both wallets. For example, they are both software wallets, and both include support for other hardware wallets. Also, they are both non-custodial wallets, and both support Chrome, Brave, Edge, and Firefox websites.
However, there are certain differences. For example, Metamask already has an app on the Android and iOS systems, while Phantom does not have such at the time this article was written. On the other hand, the Phantom wallet has built-in NFT support and benefits from the low network fees of the Solana platform, while that is more than we can say for Metamask.
Truth be told, Phantom is not on Metamask's level in terms of reputation and trade volume. But with its mobile app along with support for ERC-20 tokens on the way, the Phantom wallet is not to be underestimated.
Read also:
WHAT FEATURES ARE LIKELY TO COME SOON FOR PHANTOM
---
The most eagerly anticipated feature is the release of the mobile application, which is scheduled to launch in January 2022. The following features are also likely to debut in the near future:
Support for Ethereum and ERC-20 tokens
Addition of more markets to the Phantom Swap feature
Multi-chain support. This feature will utilize the recently launched Solana wormhole.
SECURITY
---
With the amount of funding that has been deployed to back the Phantom wallet, one expects that it would give the best in terms of security. It doesn't fall short of expectation. Consider why:
Your private keys are not accessible to anyone, not even the Phantom team
The Phantom code has been independently audited by a top crypto audit firm, Kudelski security. The audit report is found here.
There are bug bounties in place for white hat hackers to identify and address security errors. The rewards are juicy enough, with 50,000 dollars being the grand prize for detecting critical security issues.
The wallet includes some security tips on its blog to assist users to be more security conscious to avoid attacks.
FREQUENTLY ASKED QUESTIONS
---
PROS
Available on several browsers
Features a built-in token swap feature with Ethereum support
Supports linking hardware wallets such as Ledger
Non-custodial wallet
Benefits from Solana's extremely low fees
CONS
The mobile app is still in development
Limited to the SOL ecosystem
Relatively new wallet

CaptainAltcoin's writers and guest post authors may or may not have a vested interest in any of the mentioned projects and businesses. None of the content on CaptainAltcoin is investment advice nor is it a replacement for advice from a certified financial planner. The views expressed in this article are those of the author and do not necessarily reflect the official policy or position of CaptainAltcoin.com