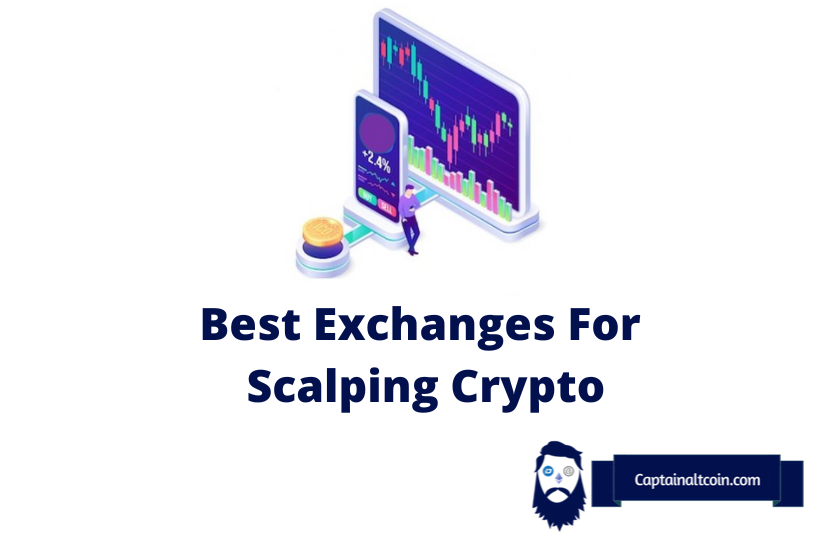 Scalping is a great strategy to record profits during a bear market. Since bear markets are bad for investors but great for traders, scalping helps you record profits without a long-term commitment. In this article, we compiled a list of the best exchanges for scalping crypto.
Knowing the best exchanges for scalping is crucial because this can improve your chances of getting more profits. Because cryptocurrencies are highly volatile, traders can buy crypto assets low and sell them at a higher price within different periods. 
What exactly is crypto scalping? How does it work? And why should I care?
---
Scalping crypto is a short-term trading strategy whereby traders profit from small price movements. This strategy requires you to closely monitor market movements to get the best entry and exit. During scalping, traders earn small gains. These gains become substantial when accumulated.
Scalping is common in sports betting, where gamblers bet on the outcome of sporting events such as horse races or football matches. The term was also applied to the practice of trading securities during the financial crisis of 2008.
The best market structure for scalping
---
It's best to use this strategy when the market is unstable or flat. An unstable market is unpredictable, so you need to lower your commitment by entering and exiting the market at safe points.
Presently, Bitcoin has not recorded substantial profits in months. Still, you can make small profits daily by buying Bitcoin when it's low and selling it when it gains value.
Scalping requires you to observe the market continuously. You can safely determine the best time to buy and sell an asset with this. This strategy also requires you to keep buying and selling till you are satisfied with your profits. This allows you to accumulate profit even during poor market conditions.
The best crypto for scalping
---
Before you start scalping, you need relatively stable cryptocurrencies. Because digital assets are naturally volatile, it may not be easy to find one that remains stable but still assures profits.
Bitcoin is one of the best cryptocurrencies for scalping because it is not as volatile as others. It moves in ranges, so you would likely predict its next movement. This helps you find resistance and support. You can determine if the coin will rise or fall when you find these points.
While Bitcoin is a great cryptocurrency for this strategy, you can also scalp with altcoins if you are willing to take some risks. Altcoins are usually more volatile, which may assure you more profits during your trade. However, things may also go sideways because of high volatility.
What is the best exchange for scalping?
---
Choosing a good exchange for scalping helps you access the best market tools to maximize profits. Below are some of the best platforms for this strategy.
Binance
---


Binance is one of the biggest crypto exchanges globally. This platform has many altcoins you could choose from to start your trade. Because it supports numerous coins, you can access better trading options. It also has great tools for traders looking to scalp or day trade. Another perk of using Binance is liquidity. Liquidity is important for every exchange because it makes it easier for you to sell your coins.
KuCoin
---
KuCoin is another exchange that has a wide range of altcoins. You can also trade using peer-to-peer on the platform. With advanced trading tools and high liquidity, trading is straightforward. One of the most important things you need as a trader is an exchange that has great tools that would assist the process. You can find good trading tools on KuCoin and integrate them with other tools like Altrady. The platform is also secure, so you can comfortably start scalping without worrying about your digital assets.
Gate.io
---
This exchange touts as the world's leading assets platform. Using Gate.io assures you competitive transaction fees and high liquidity. You also access some of the best coins in the industry. You will find the trading platform easy to use if you are new to trading. Professional traders also enjoy a plethora of trading tools to maximize profit. This makes it great for scalping.
What makes an exchange a good place for scalping?
---
It would help if you looked out for some features when choosing an exchange for your trade. Here are some of them:
Low fees
---
One of the key features you need to look out for is the platform's transaction fees. Fees can significantly affect the profit you get when you exit a trade. If transaction fees are too high, you will lose a substantial part of the profit. This makes it crucial to choose an exchange that charges competitive fees.
When fees are low, you can easily enter and exit the market within minutes while retaining your profits. Since profits from scalping are usually small, high transaction fees can make you lose out on profits.
High-liquidity
---
Liquidity is the ease with which an asset can be converted into cash without affecting market value. Exchanges like KuCoin and Binance have high liquidity because of the large trading volumes. You should lookout for a crypto exchange that has large trading volumes. A large trading volume shows that the business is healthy and stable and can readily turn assets into cash for traders.
Good API for scalping tools like bots
---
Scalping bots are great for opening and closing a series of small trades. Since the market can go sideways within seconds, it's hard to always close trades at the preferred price point. This is why you should trade on an exchange that supports bots. To make substantial profits as a scalper, you need a scalper bot to close your trades.
Tools for crypto trading strategy implementation
---
To maximize your profits while trading, you need some trading tools. These tools make it easy to close trades at the right price point and determine market movements.
Bots are one of the best tools for crypto trading. They amplify profits and automate trades, especially when the market is volatile. Some of the best bots for trades:
Bitsgap
---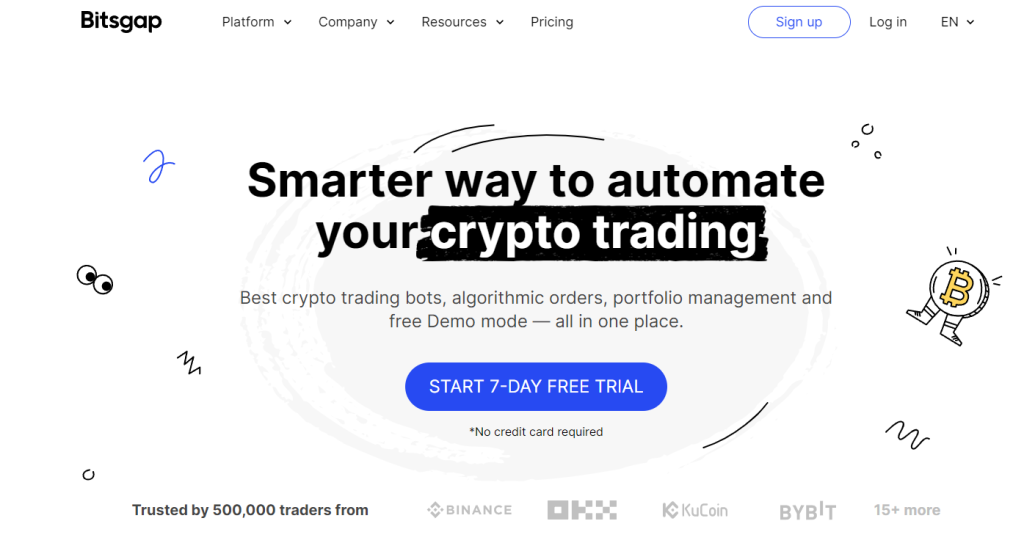 If you need a trading tool to automate your trades, you should check out Bitsgap. This platform has various tools, such as crypto trading bots and demo trading. You can also use it to manage your crypto portfolio.
It is not easy to keep track of all your assets and scalp when the coin reaches your target. But with Bitsgap's trading bot, you can make it work. Since crypto prices can change within seconds, you can use the bot to secure your trades.
Cryptohopper
---
Cryptohopper is another great trading platform. Besides providing you with a bot, you also get to manage your portfolio in one place. People with numerous cryptocurrencies may find it challenging to monitor asset movements and sell/buy at the preferred price point. Thankfully, tools like Cryptohopper makes completing a trade easier.
All scalpers need trading bots for effecting trades and amplifying profits. And since you need to scalp continuously to record substantial profits, you can always have your bot do all the hard work.
Coinrule
---
You can also use Coinrule to automate your trade. Coinrule is a platform that both new and professional traders can use. With a clean and easy-to-use interface, traders can easily start automating trades with it.
Manually scalping crypto is time-consuming, and you may find it impossible to close the trade at your preferred price point. This is why getting a bot is crucial for trading. The bot automatically helps you buy or sell your coins at a particular price. With this, you may enjoy a greater profit margin.
Charting tools
---
Charting tools are also necessary for predicting your coin's movement. Technical analysis gives a better view of the market. When you understand the coin's movement, you can use your knowledge to close trades. Below are some of the best charting tools in the crypto market.
Tradingview
---
Tradingview is a charting tool that shows asset movements and can be used to predict future moves. One of the core features of Tradingview is its wide range of tools. You can access some of the best charting tools in the industry on the platform.
Because of the advanced tools available on Tradingview, it may be more suitable for professional traders. It also provides real-time data; you can also use a free account to get started on the charting platform.
Altrady
---
Altrady is one of the best trading platforms in the asset space. You can manage your portfolio at a go with it. This subscription-based platform is easy to use. Even new traders should be able to navigate seamlessly.
Similarly, professionals would have the advanced tools helpful for entering or exiting the market. With a user-friendly interface and support for numerous exchanges, you can automate trades to start scalping crypto.
Coinigy
---
Similar to Altrady, Coinigy allows traders to manage their portfolios from one interface. Managing many digital assets can be challenging, especially when you are scalping. You can also automate trades across multiple exchanges, helping you save time.
Professionals and new traders can use this tool because of its user-friendly interface. The platform supports some of the biggest exchanges in the market, so you can easily connect it to your preferred exchange.
Crypto scalping signals
---
Scalpers often use signals to determine when to enter, take profits or exit the market. The best traders usually note signals to successfully scalp crypto. Sometimes, traders pay to get manually derived signals or opt for bots that generate trading signals.
While you can easily find lots of free signals on the internet, you may also choose to subscribe through a trusted channel. This may improve your chances of understanding and profiting from the market. Manually generated signals may also be more accurate than signals generated by bots.
Best crypto scalping strategies
---
If the market goes sideways, using a good scalping strategy would maximize your profits while minimizing your losses. Trading without a good strategy may affect your success as a trader, so you should prioritize finding the best strategy for your risk tolerance.
Crypto scalping range trading
---
Range trading is one of the best scalping strategies for new traders. You can use this strategy to find opportunities to enter and exit the market, even during bear markets.
The coin has to move in ranges to trade with this strategy. A range is between two definite price points. In this situation, the price points show resistance and support. One of the biggest advantages of range trading is that you can use it for short-term and long-term trading.
The best time to leverage this strategy is when the market lacks direction, but the coin moves within definite price points. For instance, if a coin ranges from $60 to $65, buying would be $60, while the best time to sell is when it hits $65. This assures you enough profits to close the trade and wait for another entry.
Crypto scalping bid-ask spread
---
You could also leverage bid-ask spread as your trading strategy. With this position, traders profit from the difference between the ask and bid prices. Often, it's the difference between the highest price the buyer can pay for a particular asset and the lowest the seller can accept.
You can measure a market's liquidity with the bid-ask spread. To profit from this strategy, you need to buy at the lowest price possible and sell high.
Leverage
---
Using leverage is high-risk since the market's volatility makes it easy for asset value to drop. You can increase position size, thereby increasing possible profits with leverage. Leveraging allows you to increase your deposit, enabling greater returns.
Traders who leverage borrow funds from a broker to increase their exposure. It's safe to mention that leveraging should be left for professional traders, who have adopted strategies to minimize their losses even in a volatile market.
When you close your position, the lender gets the borrowed funds, and you take your returns. It's important to note that you are also exposed to risks, which may cause financial losses. When leveraging, you should understand the market to predict future price movements.
1-minute crypto scalping strategy
---
1-minute charts are great for short-term trades like scalping. The chart gives you the latest information concerning the pricing, and you may need to identify trends before taking action.
However, it would help if you were precise with your technical analysis for this strategy. You may see a buy or sell opportunity within minutes when you find patterns. And because digital assets are usually volatile, you can quickly close the position at the highest price point.
Scalping is not easy because it requires you to do a lot of technical analysis. Still, you can end up with a substantial profit at the end of the day.
5-minute crypto scalping strategy
---
A 5-minute chart shows your crypto's position every 5 minutes in a session. While this position is also best for a short-term commitment, it shows more accurate patterns than 1-minute charts.
With this strategy, you can find the best entry and exit. Like 1-minute charts, 5-minute charts are best for scalpers or day traders who plan to close their position within some minutes/hours.
To use the 5-minute chart, you select it as your preferred time frame. From there, you can see the asset's short-term patterns.
FAQs
---
Conclusion
---
One of the most important things that determines your success as a scalper is your preferred trading platform. Choosing a platform that charges low fees while offering high liquidity and advanced tools can improve your profit margins. With these tools, you can successfully accumulate substantial profits as a scalper.

CaptainAltcoin's writers and guest post authors may or may not have a vested interest in any of the mentioned projects and businesses. None of the content on CaptainAltcoin is investment advice nor is it a replacement for advice from a certified financial planner. The views expressed in this article are those of the author and do not necessarily reflect the official policy or position of CaptainAltcoin.com