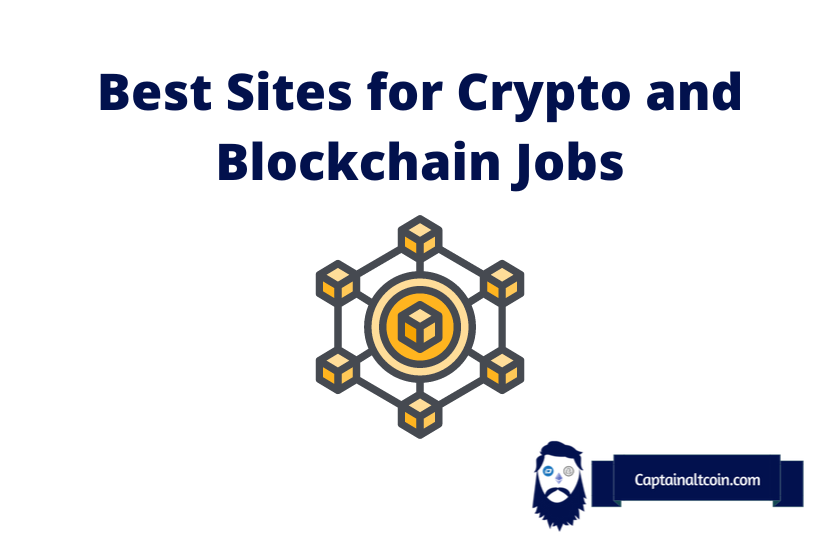 There are thousands of blockchain jobs posted daily, so there's no shortage of options available. However, if you're looking for a specific role, try searching through the websites listed below.
Plenty of other resources are available online for anyone interested in learning more about blockchain technology and cryptocurrency. Whether you're looking for a career change or want to learn more about the industry, there's no shortage of opportunities!
How Much do Blockchain Experts Earn?
---
According to PayScale, the median salary for experienced blockchain developers is $150,000 annually. However, salaries vary greatly depending on experience level. Beginners can expect to start at $50,000, while those with five years of experience can earn upwards of $175,000.
According to Glassdoor, the average salary for entry-level developers is $96,676 annually. However, mid-level developers with four to nine years of experience fall within the range of $104,800 to $110,100. Senior developers with ten or more years of experience can expect to earn anywhere between $115,000 and $130,000 annually.
So if you're interested in working at a cryptocurrency startup, consider applying for a job at one of these companies. You'll find that most of them pay well and provide great benefits.
What Skills are Required for Blockchain and Cryptocurrency Jobs?
---
If you want to find the right crypto jobs, you should consider learning the skills required for the position. 
You can start by checking out our list of the top 10 skills needed for crypto jobs. These include understanding blockchain technology, coding, and smart contracts, user experience design and web development, data analysis, security, and cryptography.
To land a job in cryptocurrency, you'll need to master several programming languages, including Java, JavaScript, Python, C++, Ruby, PHP, HTML5, CSS3, SQL, Linux, Git, and others. You'll also need to be familiar with databases, APIs, cloud computing, cryptography, distributed ledger technology (DLT), and other topics related to cryptocurrencies.
Once you know what skills are needed for a certain job, you can narrow your search by looking for jobs that match your skills. This will give you a clearer idea of what types of roles are available and where you can apply.
What Are the Best Blockchain and Crypto Job Sites?
---
CryptoJobsList
---

Cryptojobslist was established in September 2017 and is one of the oldest online portals devoted solely to posting cryptocurrency and blockchain-related job openings. With CryptoJobsList, businesses and blockchain organizations have a straightforward, easy approach to tap into a sizable pool of blockchain talent, while job-seekers in the blockchain and crypto industries have a single site that provides all the jobs currently accessible on the market.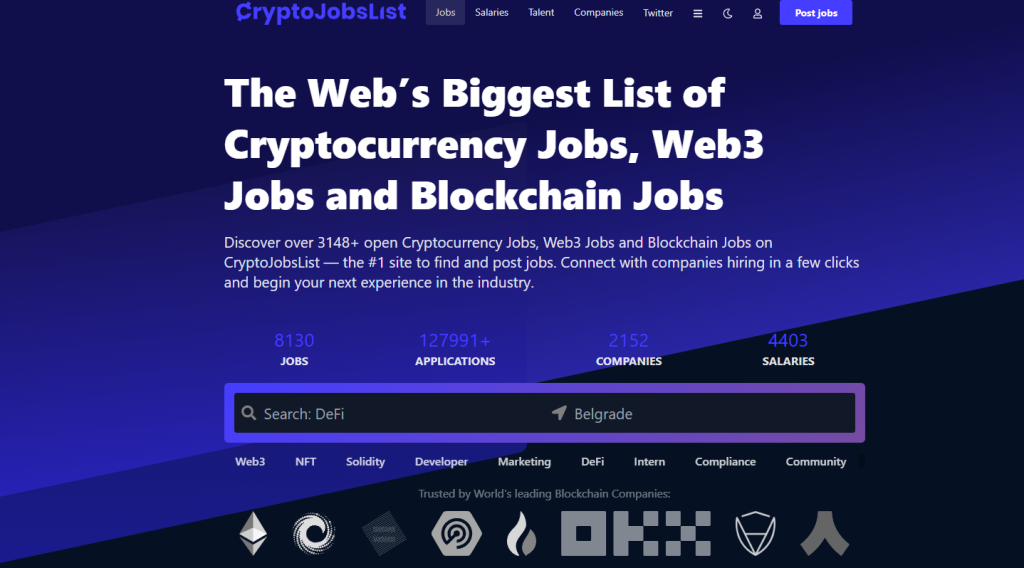 CryptoJobsListAs one of the most visited sites of its kind, CryptoJobsList frequently adds dozens of fresh openings and advertisements for employment every day. Job seekers in the blockchain and cryptocurrency industries can narrow their search by selecting the desired location, job kind (remote, developer, marketer, intern, trader, community member, designer, salesperson, analyst), and skill set (e.g., Solidity knowledge).
Circle, OKEX, Huobi, ShapeShift, and ByBit are examples of organizations that use CryptoJobsList to advertise open positions. To apply for crypto employment, visitors to CryptoJobsList fill out a short webform with their contact information, answers to any questions related to the job offer, a cover letter, and their resume.
CryptoJobsList displays cryptocurrency and blockchain job openings in reverse chronological order, with the most recently posted openings appearing first. Users can easily figure out how many people are applying for a job by looking at the total number of applications for that posting.
Crypto.Jobs
---

CryptoJobs positions itself as the leading blockchain employment platform. There are currently 1,527 open positions on the platform from companies worldwide that use blockchain technology.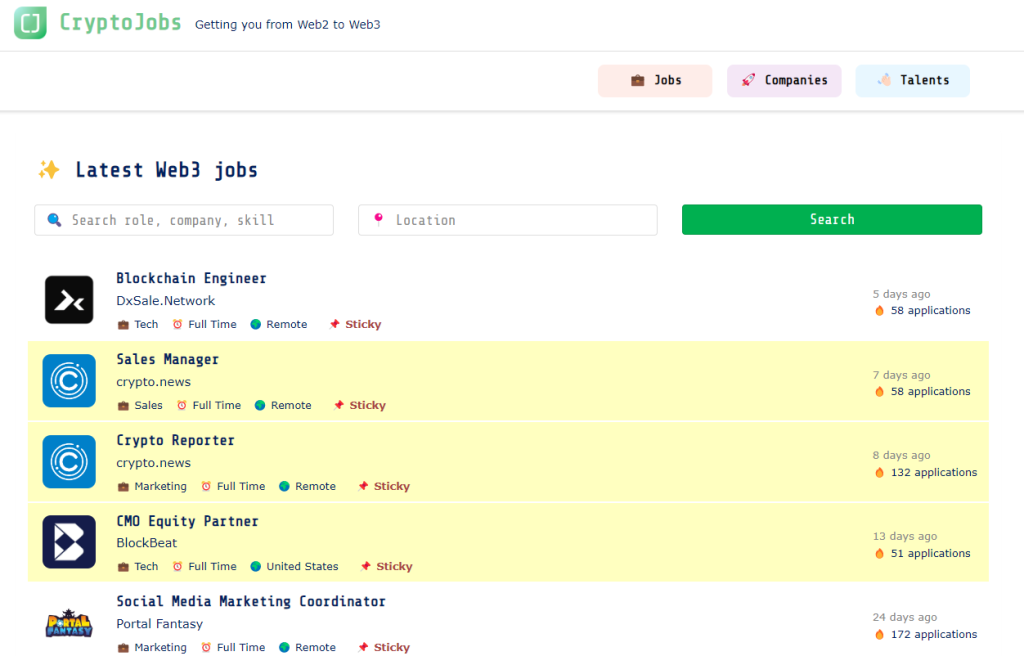 Positions range from those in customer service to those in design, writing, marketing, and more. The vast majority can be done remotely, and if you're good enough, you may land many assignments through the web as a freelancer.
CryptocurrencyJobs.co
---

This is a blockchain-based website for finding work, with a special emphasis on technical blockchain abilities; jobs posted there are often with enterprise-level companies or ambitious blockchain-based projects. Smart contract engineers, architects, technical leads, user experience designers, and C-suite positions in business development, marketing, and sales are typical of the positions advertised on CryptocurrencyJobs.co.
There is no need to sign up for an account to apply for jobs on CryptocurrencyJobs.co, just like there is on CryptoJobsList. The majority of CryptocurrencyJobs.co's job postings direct interested candidates to other application sites like LinkedIn or include an email address for sending in a resume.

CryptocurrencyJobs.co provides a useful tool through a Startups site, which helps job-seekers locate openings with startups. Job collections on CryptocurrencyJobs.co are categorized by blockchain networks, internships, and positions that pay in cryptocurrency and are published alongside a job board that accepts cryptocurrency payments.
Crypto-Careers.com
---

There is a good selection of blockchain jobs available on Crypto Careers. The site highlights prominent businesses like Binance and Storj, and you can filter the results to show solely remote job positions if that's what you're looking for.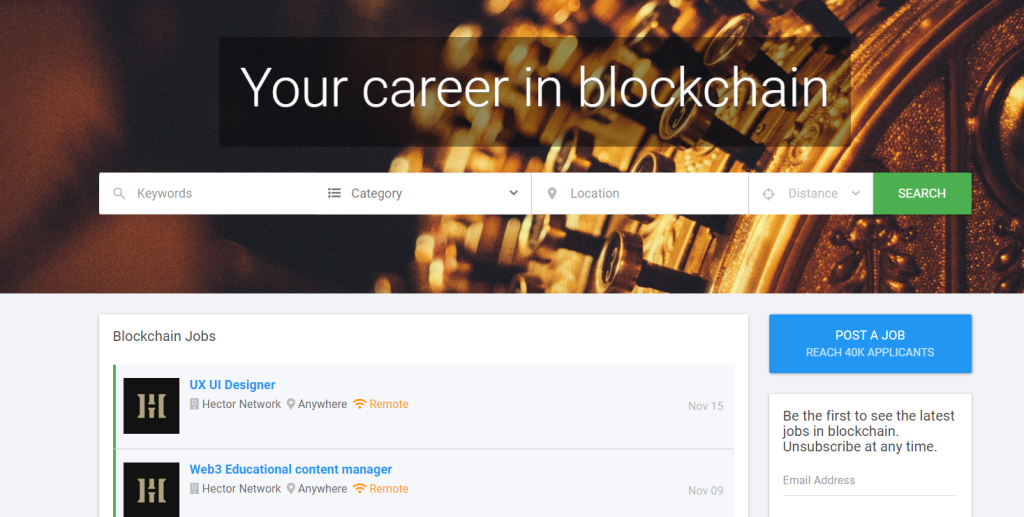 While the number of postings is lower than on some of the other sites we've discussed, this one is still worth your time if you're in the market for a new job or gig.
Blocklace
---

If you're looking for a career in the blockchain industry, you should check out Blocklace. If you want to see remote opportunities, you may filter your search results by using the "Remote Only" button while you browse or enter your keywords.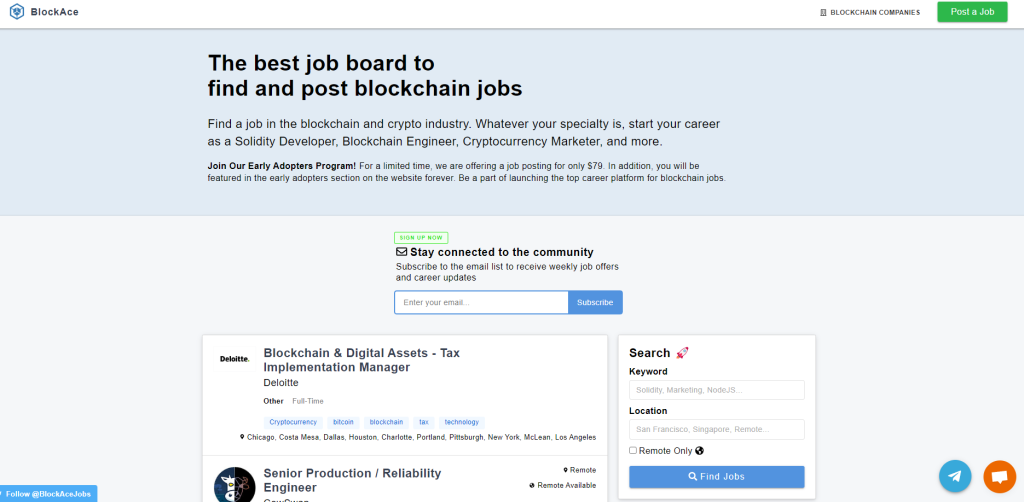 You may find that well-known businesses like Ripple, IBM, and Kraken are listed.
Blockew
---

While it has some interface flaws, it is a solid backup to the other crypto job sites mentioned above and a relatively new addition to the blockchain and cryptocurrency job sites roster. BlockewLike BlockTribe, Blockew primarily advertises full-time, office-based positions, with a few remote opportunities sprinkled in. Binance and Kraken are only two of the exchanges, along with ConsenSys, AVA Labs, and Gemini, that have listings on Blockew.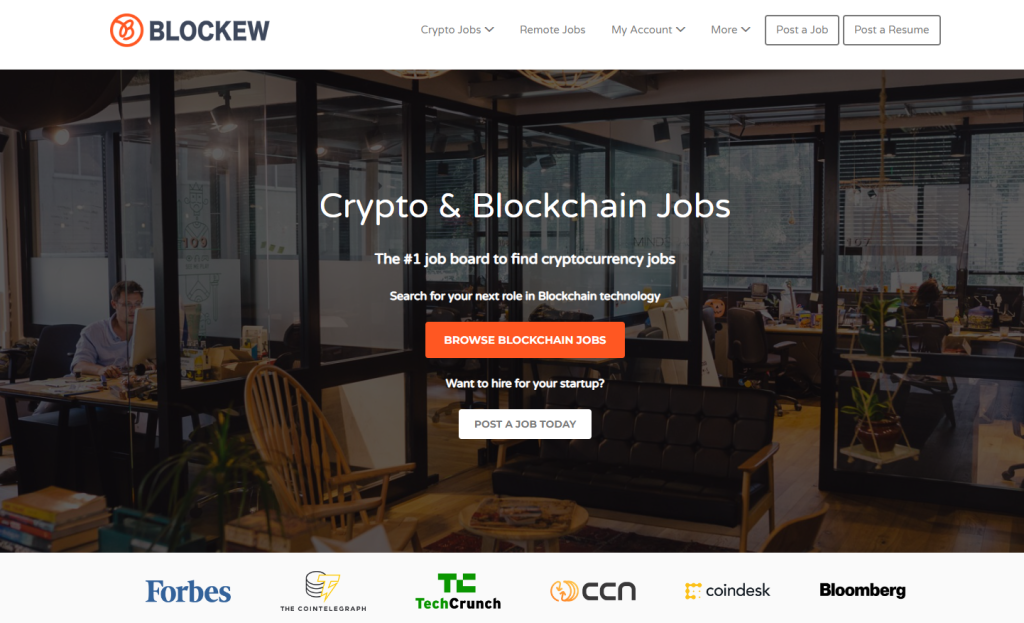 Long-term positions, including frontend engineers, blockchain developers, strategic operations associates, regional managers, and marketing managers, can be found among the openings on Blockew.
Even though Blockew's job listings are detailed, it might be hard to figure out when a position was first posted and if it is still accepting applications. Like BlockTribe, Blockew has a CV upload feature that makes applicants' information searchable by recruiters.
Because of this, BlockTribe is a fantastic choice for those in the market for a passive job listing site that can be utilized in tandem with one of the other big blockchain job platforms mentioned in this piece, such as CryptoJobsList.
AngelList
---

Angel.co is both a thriving online hub for entrepreneurs and a resource for finding new employment opportunities. The company provides engineers, designers, marketing managers, and even co-founders with a curated list of the best blockchain and cryptocurrency prospects.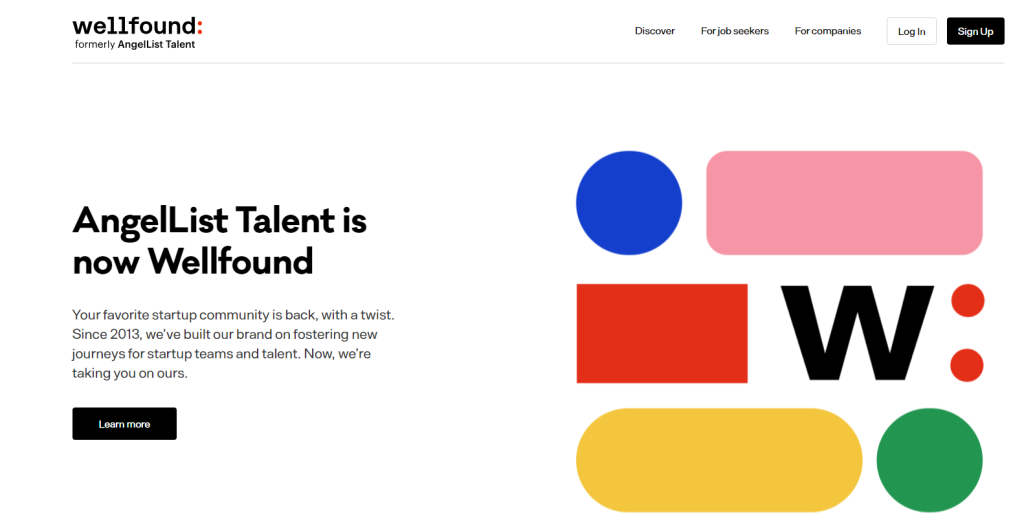 The ability to see typical compensation and stock options for each job is a fantastic feature. Although the majority are in-office positions, there are still opportunities that need you to work from home.
CryptoRecruit
---

CryptoRecruit is a staffing firm focusing solely on the blockchain and cryptocurrency industries. It lists available positions in a variety of categories, such as "software developers," "IT infrastructure," "social media," "customer support," and more. Be sure to select "Remote" from the Location drop-down menu if you're looking for remote work specifically.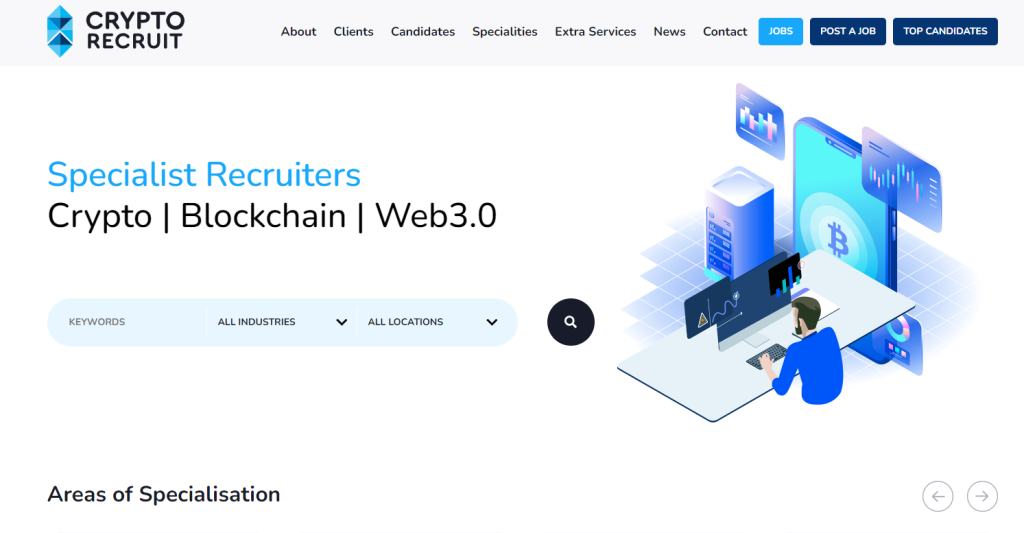 UpWork
---

Upwork, the biggest online job board for freelancers, often posts jobs related to bitcoin and blockchain, but not just in one field. UpWork isn't a standard job board like the others mentioned about crypto and blockchain jobs in this post. Instead, everything about the work done through UpWork, from the application to the payment, is handled by the UpWork platform itself.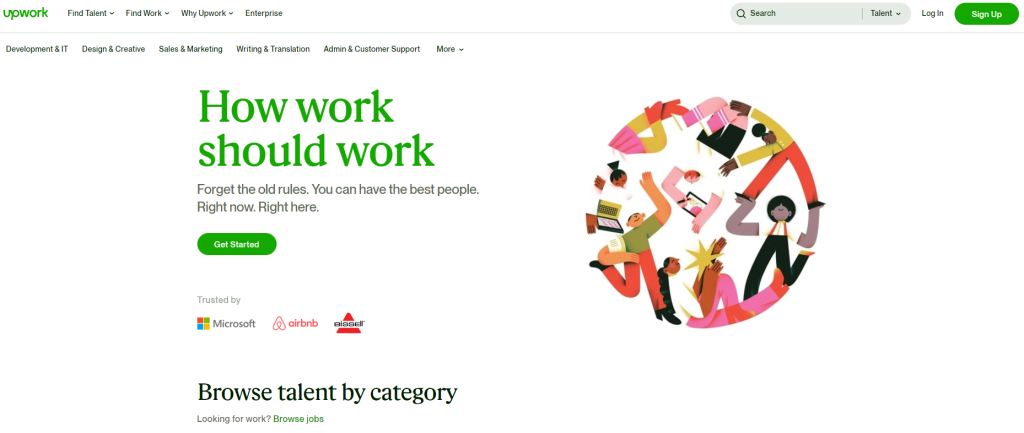 The UpWork platform isn't a good fit for blockchain experts looking for permanent employment, but it does give blockchain freelancers access to occasional freelance work. The fact that UpWork takes a cut of freelancers' earnings (up to 20% in some situations) is a major downside of the service.
Since fraud is a continuing issue on UpWork, finding legitimate companies or projects to work on might be challenging. Freelancers looking to expand their blockchain-related portfolios or gain work experience might consider using UpWork for shorter-term tasks.
Linkedin
---

There is a wide variety of blockchain and cryptocurrency-related job openings to be found on LinkedIn, from full-stack developers to product managers to communications managers. Moreover, hundreds of fresh job openings are advertised daily (as of right now, 189 blockchain jobs have been posted in the last 24 hours).
One drawback is that it is not always possible to filter out local views in favor of distant ones. If you find a listing that piques your interest, click on it to learn more and find out if working remotely is an option.
Key Takeaways
---
The area of crypto-specific job boards is still in development, and new job boards pop up and vanish quickly. Several jobs are burgeoning, and if you're stuck in a job you don't like, changing a career lane and jumping into one of the most exciting industries worldwide might be a good idea for you. There are plenty of free resources to learn blockchain from different angles and become a crypto developer, marketing expert, community builder, etc. 
Read also:

CaptainAltcoin's writers and guest post authors may or may not have a vested interest in any of the mentioned projects and businesses. None of the content on CaptainAltcoin is investment advice nor is it a replacement for advice from a certified financial planner. The views expressed in this article are those of the author and do not necessarily reflect the official policy or position of CaptainAltcoin.com