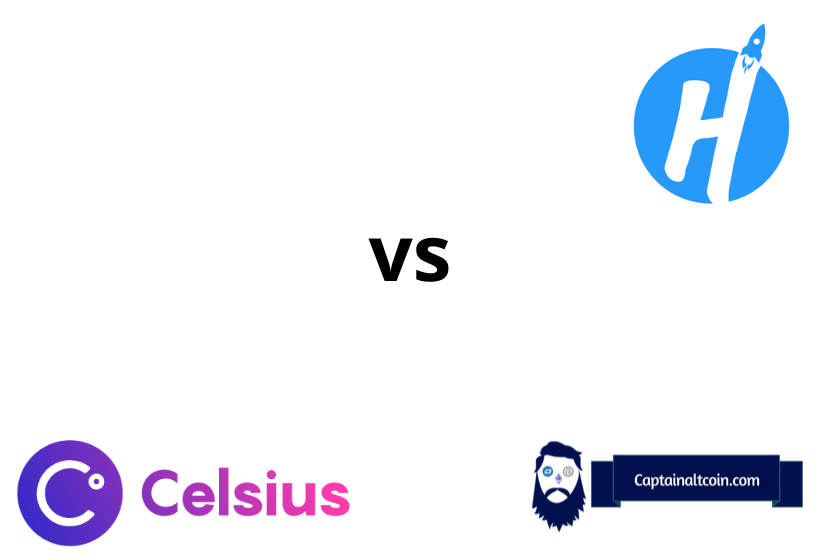 Celsius Network offers a wide range of products and services to help you manage your money, pay bills, or send/receive payments. It also provides an easy-to-use interface that allows users to view their accounts in real-time as well as make transfers between different currencies using its own stablecoin called CELIOS. The company has been around since 2014 and was founded by the same team behind the popular cryptocurrency exchange platform Changelly.
Hodlnaut is a newly formed Singaporean-based crypto loans provider. Launched in 2019 it manages over $500Min from more than 10 thousand users. 
Both platforms offer unique pros and cons, so let's take a look and compare them.
Celsius vs. Hodlnaut: Key Information
| | | |
| --- | --- | --- |
| Item | Celsius | Hodlnaut |
| Location | London | Singapore |
| Beginner-Friendly | Yes | Yes |
| Mobile App | Yes, on Android and iOS | Yes, on iOS |
| Available Cryptocurrencies | BTC, ETH, LTC, GUSD, 30+ others | BTC, WBTC, ETH, USDC, USDT, and DAI |
| Company Launch | 2017 | 2019 |
| Community Trust | Great | Great |
| Security | Great | Great |
| Customer Support | Great | Good |
| Fees | Very Low | Low |
| Reviews | Read our Celsius review | Read our Hodlnaut review |
| Site/Promotions and Signup Bonuses | Earn up to $50 by signing up for a Celsius account. | Earn up to $20 when you sign up for a Hodlnaut and deposit up to $1000. |
Feature #1: Interest Rates — Who Has Better APY, Celsius or Hodlnaut?
---
Bitcoin
---
Celsius offers 6.2% APY for your first BTC and 3.51% for any additional BTC.
Similarly, also Hodlnaut offers tiered rates on Bitcoin, meaning your APY drops off after a certain threshold of assets is held.
Hodlnaut rates are quite higher up to 90 BTC:
7.46% on <2 BTC
4.08% on <8 BTC
2.02% on <90 BTC
1% on 100+ BTC
Celsius's rates on Bitcoin and Ether:

Hodlnaut's interest rates:

Ethereum
---
On Celsius, you'll earn a 5.35% APY on your first 100 ETH and 5.05% for any amount over that.
Again, Hodlnaut's APY offerings are substantially better. Users earn:
7.46% on <20 ETH
4.08% on <80 ETH
2.02% on 100+ ETH
Stablecoins
---
Hodlnaut offers 3 stable coins with tiered rates.
While Celsius offers fixed rates on over ten stablecoins.
Hodlnaut's rates on USDC:
12.73% on 0 – 25,000 USDC
7.25% on 25,000 – 100,000 USDC
3.56% on 100,000 – 500,000 USDC
2.80% on 500,000+ USDC
Hodlnaut's rates on USDT:
12.73% on 0 – 25,000 USDT
7.25% on 25,000 – 100,000 USDT
4.60% on 100,000 – 500,000 USDT
3.04% on 500,000+ USDT
Hodlnaut's rates on DAI:
8.32% on 0 – 25,000 USDC
5.12% on 25,000 – 100,000 USDC
3.56% on 100,000 – 500,000 USDC
2.02% on 500,000+ USDC
Celsius's stablecoin rates in the U.S. are 8.8% APY on TUSD, GUSD, PAX, USDC, USDT ERC20, TGBP, TAUD, THKD, TCAD, BUSD, ZUSD, and 4.60% on MCDAI.
But if you opt to earn interest in CEL, you can earn up to 11.21% APY (instead of 8.88%) and up to 5.78% APY on MCDAI.
Winner: Hodlnaut takes this round, it offers a lot more competitive rates and lower limits.
However, Hodlnaut offers way less choice than Celsius, so if their selection floats your boat better, go for it. For example, Celsius offers yield on DeFi tokens like AAVE and Compound.

How Do Celsius and Hodlnaut Make Money?
---
Normally cryptocurrency interest companies lend user deposits at a higher rate than it pays depositors, and profit on the difference. The bulk of most big names in the field includes lending assets to institutional or commercial creditors.
Celsius's business model is loaning to both commercial and institutional borrowers. While Hodlnaut claims only loans to institutions and decentralized protocols.
To be precise Hodlnaut borrower vetting process is:

Because neither company is US regulated, the crypto held by Celsius and Hodlnaut is not FDIC insured, which is not unusual among competitors. So keep in mind that there's an added element of risk with funds held in Celsius and Hodlnaut. If something in the economy goes systematically wrong and the company fails you've most likely lost your crypto.
That is why both companies require all creditors to put up collateral to avoid any defaults qualify for a loan you should hold at least twice the loan. Both companies set a minimum of 50% LTV for borrowers, going up to 150% on Celsius and 70% on Hodlnaut.
Here are Celsius' procedures in the case of a borrower default:

Hodlnaut's procedures for borrower defaults:

Feature #2: Payouts and Withdrawals
---
On Celsius, all withdrawals over $150,000 take up to 48 hours to complete, as they have to be processed manually. This makes the withdrawal a lot slower, but increases the safety and avoids scams.
Celsius also offers a $600,000 withdrawal limit every 24 hours. Additionally, they do not charge withdrawal, origination, transfer, deposit, or other fees, and users can withdraw their assets at any time.
Hodlnaut also allows for withdrawals at any time but has a set limit of 100 BTC daily for accounts without KYC verification. That's way more than anyone would ever need so without a doubt a great addition. Hodlnaut cares about customer privacy, what a beautiful surprise.
Hodlnaut charges withdrawal fees depending on the asset. Here's a breakdown:

Both companies compound interest each Monday on both Celsius and Hodlnaut.
Winner: Hodlnaut. It may have slightly higher fees, but the lack of KYC for withdrawals under 100 BTC is one heck of a feature.
Feature #3: Celsius vs. Hodlnaut Security
---
Platform Safety
---
Celsius integrates a number of security protocols to make sure the platform is safe from hacks and breaches, such as pin, 2-factor authentication, biometric security, and additional opt-in features such as verifying email verification if you change the address. Additionally, the platform also offers an address whitelisting feature, and manual verification withdrawing a net value of more than $150,000.
Celsius also includes a HODL mode, an opt-in feature that makes all withdrawals go through an additional 24-hour waiting period before anything is confirmed, this way giving Celsius more time in the case of a hack.

Holdnaut also includes 2-factor authentication, a pin, and biometric access features. There's also a safe listing feature included on the platform that allows withdrawals for some specific wallet addresses only.
Fund Safety
---
Celsius uses Fireblocks and PrimeTrust as custodial options, which stores your funds with a mix of cold storage and insured hot wallets. Fireblocks even includes some insurance on crypto, but cannot cover assets that are loaned out on Celsius.
We should also point out that in April 2021, Celsius' email distribution servers were hacked. Hackers leaked out a lot of contact info of some users and performed email and SMS pushing attacks which scammed many users' resulting in the loss of their funds.
Celsius response? CEO Alex Mashinsky stated, "We have always communicated to our customers and will continue to reinforce that Celsius will never ask for passwords, private keys, seed phrases, and other confidential user credentials."
Problem is, those funds are gone.
Hodlnaut's also uses Fireblocks as their primary custodian, so funds are similarly stored in a mix of offline cold storage and insured hot wallets. Fireblocks claims to take additional steps, ensuring even more security by never storing all your funds in the same place.
And in addition thanks to the partnership with Nexus Mutual, all Hodlnaut users are insured even if their assets are loaned out to earn yield. That's not common in the space and gives Hodlnaut a real competitive advantage.
All thought truth be told Hodlnaut's insures via Nexus $22M in users funds, and that's only about 4.4% of the assets under the platform's management.
And as of this writing, Hodlnaut has never been hacked.
Winner: Without a doubt Hodlnaut.
Both platforms have industry-standard protection. Celsius's HODL gives more protection from hacking, as the funds are held an extra 24 hours. But this also increases the centralization risk and opens up users to even more abuses of power. What if in the future your government decides to freeze your withdrawal due to your political opinions? The cons may even outweigh the pros.
Hodlnaut insurance secures users' funds, partly even if they're loaned out. However, Celsius has never been hacked, which is a fact we should not overlook.
Feature #4: Celsius vs. Hodlnaut Ease of Use
---
Both platforms excel at being beginner-friendly. Users can access Celsius via the web, Android, and iOS apps, while Hodlnaut is available via the web and its iOS application, which was just recently released.
Winner: Celsius offers more options for users to manage their assets on the go via apps or the web app. While Hodlnaut Android users are only able to access the platform through its web app.
Celsius and Hodlnaut Bonuses and Standout Features
---
Celsius HODL mode, allows users to turn off any outgoing activity on their account, this way making hacks and scams significantly harder.
The second interesting feature is CelPay, which makes it easier for users to buy goods and services with their cryptocurrency.
Via the Hodlnaut TokenSwap users can exchange cryptocurrencies to FIAT directly in the app. It allows users to convert from BTC to ETH or USDC to BTC, wrap and unwrap their BTC, and a lot more.
Customer Service
---
Celsius has a Help Center with FAQs answering most issues newbies may have, it also offers a customer support email for users to submit their questions to.
Hodlnaut also has an FAQ section on its website as well as support by creating a support ticket or contacting support@hodlnaut.com.
Celsius vs. Hodlnaut Customer Reviews
---
Celsius reviews I found online are mostly supportive, being satisfied with its security features, regular AMAs and decisions by CEO Alex Machinsky, and rewards as positives.
The same story goes for Hodlnaut reviews. User Reviews on sites like Reddit are overwhelmingly positive and appreciative of the platform's industry-leading interest rates as well as the optimal customer support.
Read also:
Celsius vs. Hodlnaut Review Final Thoughts: Which is The Better Crypto Interest Account?
---
Before drawing a judgment we first have to take a look at how Celsius and Hodlnaut compare into the current cryptocurrency interest account landscape.
Firstly, Celsius was founded in 2017 and has built up a user base of over 1 million. Hodlnaut is a relatively newly founded company with only a fraction of the clientel. The difference is that Hodlnaut is emerging quickly in a rapidly growing market.
The company offers some best rates in the industry; up to 7.46% APY on BTC and ETH and up to 12.73% on stablecoins like USDC and USDT. If we compare rates alone (6.20% APY on BTC, up to 5.35% on ETH, up to 8.88% on stablecoins), Hodlnaut is the way better option.
The race is close.
Celsius makes for a better crypto interest account
---
The company has a great reputation and has been in the business for a long time. Celsius beats Hodlnaut for the following reasons:
The Earn in ELl option allows users to extra.
There's no operational fees
The platform supports over 40 assets.compared to Hodlnaut only six tokens.
But Hodlnaut isn't a bad company by any means for starters the optional insurance cover through Nexus Mutual is a competitive advantage not often found. Another pro is without a doubt the lack of KYC for withdrawals of less than 100 BTC, way more than most of us need.
Hodlnaut also offers a higher yield even if there is less choice, so you might want to choose to diversify into a beneficial mix.

CaptainAltcoin's writers and guest post authors may or may not have a vested interest in any of the mentioned projects and businesses. None of the content on CaptainAltcoin is investment advice nor is it a replacement for advice from a certified financial planner. The views expressed in this article are those of the author and do not necessarily reflect the official policy or position of CaptainAltcoin.com