BotCrypto.io Review – Price, Features, Security, Strategies, Supported Exchanges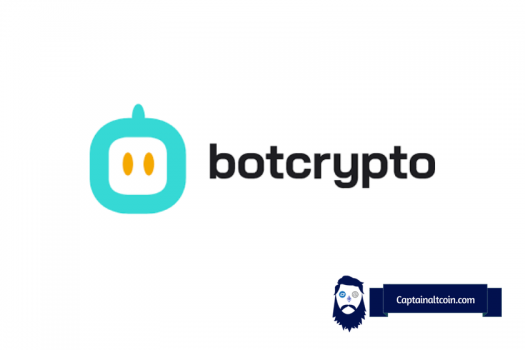 BotCrypto.io Review – Price, Features, Security, Strategies, Supported Exchanges
The website is user-friendly and easy to navigate
It provides users access to free strategies, backtests, and real-time simulations.
The payment plans are affordable with something for everyone.
It has an impressive customer support program with training courses for beginners.
It doesn't require installation before use.
It has a strong community presence where you can share strategies, ask questions, and get general help.
Have you ever used a bot to trade crypto? Even if you haven't, you would likely have heard of bot trading in the crypto world. Is it something you can do? What if I told you that you don't need to be a technical guru before you use bots to trade? Yes, that is possible. There are platforms that simplify the process and take care of all the technical jargon for you. Crypto markets never sleep but we humans (crypto traders) have to. One such platform is Botcrypto. This article will talk about the Botcrypto platform and how you can benefit from it.
WHAT IS BOTCRYPTO?
---
Botcrypto was launched in France in 2017 as a crypto trading platform that focuses on retail traders and helps users create and customize crypto trading bots, using the visual editor. Therefore, users do not need to keep looking at charts and making orders over and over again. The whole process can be automated and customized for them with the help of this trading service.
Of course, this doesn't mean that Botcrypto will be solely responsible for all your crypto trading decisions. Those who are familiar with how a trading bot works will know that you will still have to pick out a strategy for it and code it to follow your instructions. However, once you have picked a strategy that works for you, the bot handles the rest. Trading bots are a controversial component of the crypto market.
The good news is that Botcrypto not only provides bots for trading purposes; it also gives access to several time-tested strategies from which the crypto trader can make his pick. Thus, it really does simplify the whole trading process.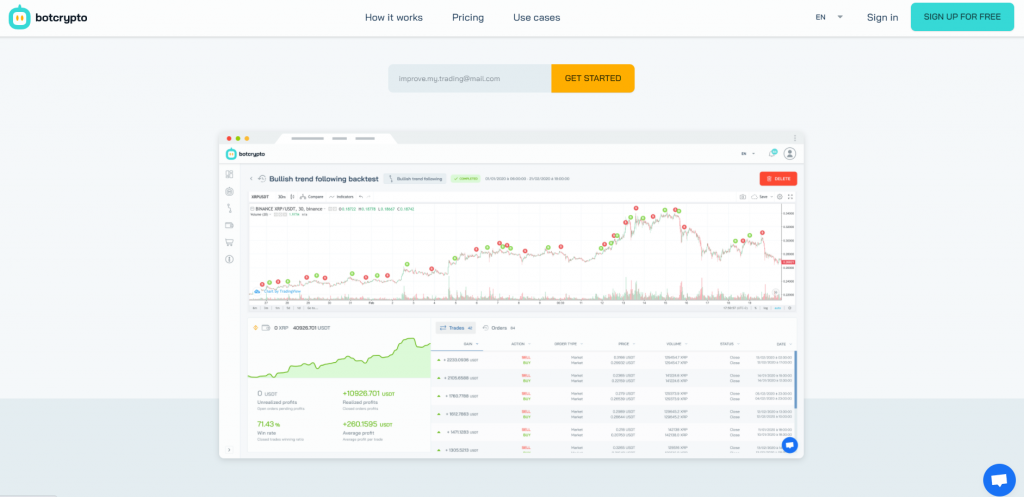 HOW TO GET STARTED WITH BOTCRYPTO
---
You don't have to pay a dime to start accessing the features of this service. It is clearly stated on its website that you can sign up for free. To sign up, you would need to enter a valid email address and provide and confirm a password. Also, you would complete a captcha test to confirm you're not a robot. Once that is done, click the 'Sign up' button, and you're good to go.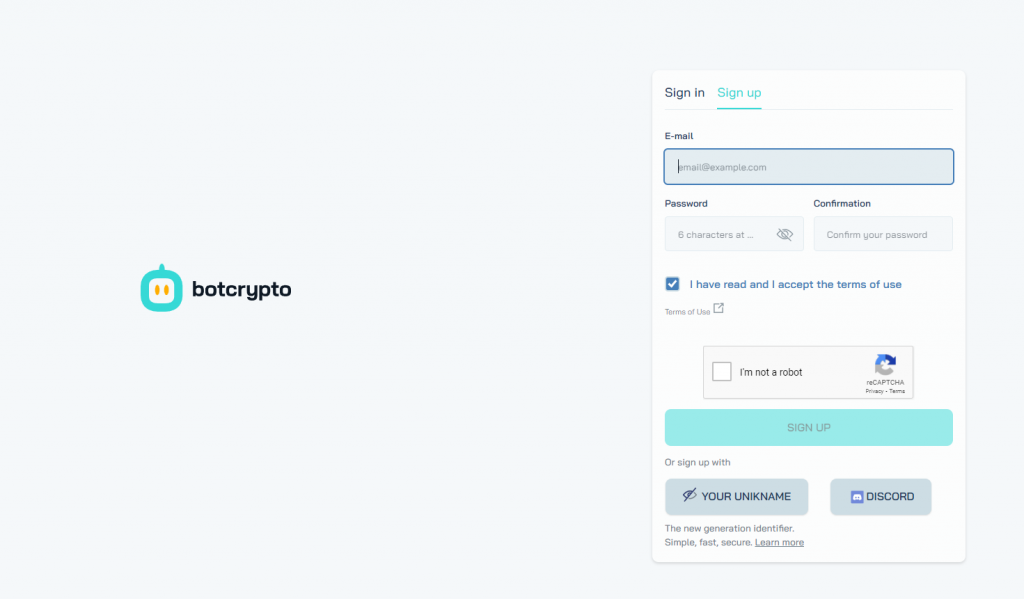 If you want to expedite the signup process, you can use either your Discord or Unikname account to sign up with less stress. After the signup process is done, you can get access to hundreds of strategies that are free to pick. Pick a strategy and backtest it to see if it works for you. If it does and you're ready for more, then you would have to subscribe to a monthly plan to get access to a bot that would implement your chosen strategy.
BOTCRYPTO TRADING BOTS
---
These bots can help you in a number of ways. For example, they can help you invest wisely by means of Dollar-cost averaging, one of the least risky forms of cryptocurrency investing. Also, they can help you make fast and powerful trading decisions.
Once you've signed up, you gain access to a maximum of 20 trading bots, depending on the package you choose. These bots only work with Kraken and Binance for now. They can run simultaneously and can be paused and unpaused at any time. You can even create manual orders alongside your bots. Lastly, the platform allows you to monitor the actions of your bot in real-time using a TradingView widget integrated with Botcrypto.
BOTCRYPTO TRADING STRATEGIES
---
There are more than sixty strategies offered in the Botcrypto store, which are accessible to all users for free. Most of these strategies were suggested by the community, and more keep coming. Examples are the slow bull run, epic bull run, simple MACD, smart DCEA, ride the dip 2020+, etc. These strategies can be sorted by their popularity status, how often they are imported, and general Botcrypto note.
In the Botcrypto store, you can view all necessary information about a strategy once you click on it. Information like what the strategy is all about, the visual flow diagram, and the number of imports are displayed right away and help you decide whether or not this bot will work for you.
BOTCRYPTO PRICING
---
There are four different plans available on the Botcrypto platform. They are as follows:
The free plan: This one is also known as 'Discover.' It provides access to everything on the platform except bots. Thus you can get unlimited strategies, real-time simulations, notifications, API access, and up to 1440 backtests. If you want to implement those trading strategies in a bot, though, you would have to pay.
The Bronze Plan: This plan goes for 12.49 Euros if you choose to pay monthly or 9.99 Euros if you pay once a year. It provides users with access to two bots on the crypto market as well as up to 5760 backtests.
The Silver Plan: You can get this for 37.49 Euros or 29.99 Euros if you pay yearly. With this plan, you get five bots as well as up to 7920 backtests.
The Gold Plan: Here, you have to pay 74.99 Euros monthly or 59.99 Euros yearly. It gives you access to 20 bots as well as up to 10080 backtests.
Apart from these plans, if you feel the need for a customized plan for you or your company, you can contact the customer care team to handle that for you. Payments can be made using a bank credit card, PayPal, Bitcoin, Ethereum, or Litecoin.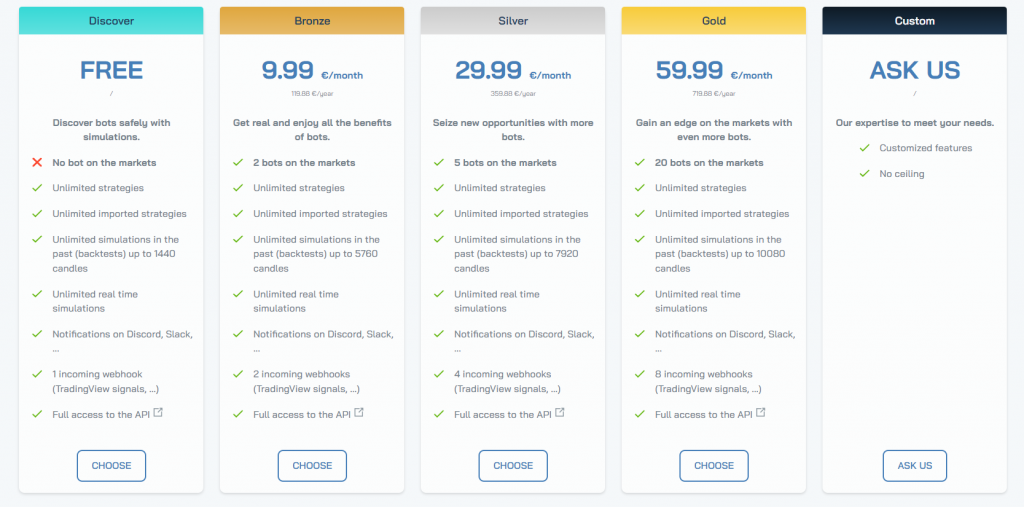 BOTCRYPTO CUSTOMER SUPPORT
---
The platform is pretty big on customer support and education. For one thing, the website is appealing and self-explanatory. Thus it is easy for users to find their way around. In addition, there is specialized help for users through the live chat function on the website, the email address provided, and the international phone number provided for calls. They also have social media handles on Twitter, Youtube, and Discord.
WHAT CAN I DO ON BOTCRYPTO?
---
On Botcrypto, you can create, personalize, and manage crypto trading bots with the use of a visual simulator. That means you don't need to know how to code before utilizing bots for trading on the platform. Also, the platform allows you to backtest real-time simulation strategies before breaking them out on your portfolio. Lastly, Botcrypto not only provides bots for trading it also helps you invest by means of automated buys at recurring intervals. This method is known as Dollar Cost-Averaging.
WHICH CRYPTOCURRENCIES AND EXCHANGES ARE SUPPORTED?
---
The services of the platform are open to users of Binance crypto exchange and Kraken crypto exchange, the first and fourth-ranked crypto exchanges, in terms of trading volume. All the cryptocurrencies on those two exchanges (408 in Binance and 100 in Kraken) are supported.
Visit Binance Now Visit Kraken Now
WHICH TECHNICAL INDICATORS ARE SUPPORTED BY BOTCRYPTO?
---
There are currently 26 technical indicators supported on Botcrypto. They are:
Bollinger Bands Exponential Moving Averages Ichimoku
Keltner Channels MACD Mobile Average %
Pivot points, Pop, Price, Relative Strength Index, Series
Stochastic Oscillator, Value, Volume
Vortex, Volume-weighted average price, RSI Stochastique
CHOP, EFI, Community Channel Index, VWAP
Gain, EMA, Super Trend, Fear and Greed Index.
IS BOTCRYPTO SAFE AND LEGIT? ARE MY FUNDS SAFE?
---
To an extent, we can say yes to both questions. Botcrypto is legit for the following reasons:
They have two physical offices with their addresses included on the website. Thus, that gives some grounds for credibility. The addresses are:
Botcrypto: Botcrypto SAS, 15, Avenue du Rhin, 67100 Strasbourg, France, SIRET 83986949200018
Hébergeur: OVH SAS, 2, Rue Kellermann, 59100 Roubaix, France, SIRET 42476141900045.
They have some big partners that are also listed on their website. Some of these partners are Unikname, Clank, Semia, Waltio, Grandest, etc. Most are integrated into the website to help users with account opening, tax calculations, and other functions.
They have a press kit that shows detailed information about their founders and team members.
They do not store your funds; they don't need to. Your funds are stored in the exchanges you connect the bots to. The API keys that it uses only request trading rights from the exchanges and not withdrawal rights.
The API keys that are used by the bots are encrypted with AES-256 security. This is the highest level of cipher security and is approved by the NSA.
Read also:
DOES BOTCRYPTO HAVE A MOBILE APP?
---
For now, the Botcrypto platform does not have a mobile application. Therefore they can only be accessed through their website alone. Also, the platform has not said anything about something like that coming up in the future. They do provide webhooks, though. These webhooks provide notifications through TradingView signals, pop-ups, and social media.
PROS
The website is user-friendly and easy to navigate
It provides users access to free strategies, backtests, and real-time simulations.
The payment plans are affordable with something for everyone.
It has an impressive customer support program with training courses for beginners.
It doesn't require installation before use.
It has a strong community presence where you can share strategies, ask questions, and get general help.
CONS
The number of exchanges it supports is limited. You can only use the bots on Kraken or Binance.
It also has a limited number of strategies.

CaptainAltcoin's writers and guest post authors may or may not have a vested interest in any of the mentioned projects and businesses. None of the content on CaptainAltcoin is investment advice nor is it a replacement for advice from a certified financial planner. The views expressed in this article are those of the author and do not necessarily reflect the official policy or position of CaptainAltcoin.com