BitBox02 Review – Price, Supported Coins, Security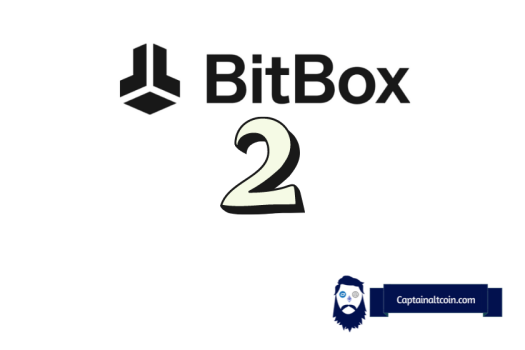 BitBox02 Review – Price, Supported Coins, Security
Has a USB-C connector
Intuitive touch-sensor buttons
High-quality security measures
The wallet is easy to set up
The app is very user-friendly
Great backup options included
Elegant display screen
Affordable
Hardware wallets have been trending for a couple of years now, while also evolving at a rapid pace month after month. One wallet that has been gaining traction in the last few months is BitBox02 – the latest product of the Swiss-based manufacturer Shift Cryptosecurity.
In this article, we will explain what BitBox02 is, how it works, and check out all of its different features.
Summary
---
The BitBox02 is a Swiss-made hardware wallet that has been making strides in the crypto community due to its great multi-asset support, user-friendliness, and the simplicity of the one-piece design.
It is the second hardware wallet created by the Swiss company called Shift Cryptosecurity.
One of the main reasons why BitBox02 appeals to crypto traders is that it can be a great alternative to some of the popular hardware wallets like TREZOR or Ledger Nano X, but it comes at a much lower price.
Here is a summary of some of the main pain points regarding BitBox02:
BitBox02 wallets have a very simple design. There are intuitive touch sliders included instead of buttons.
The wallet includes a USB-C port, but it's also compatible with a USB-A port.
There are more than 1,500 cryptos supported.
BitBox02 provides two backup options – an SD card and an apocalypse-proof backup called Steel wallet.
The company integrates several security measures to make sure that the device is safe, which includes signing the secure chips to avoid physical tampering.
The interface is easy to navigate through and it's user-friendly.
Best for
---
As we said, BitBox02 is a hardware wallet that comes with a package of great features, all at an affordable price.
The BitBox02 wallet is best for traders who want to keep their cryptocurrencies secured in a reliable device, but don't have a fortune to spend on some of the better-known options such as Ledger or TREZOR.
While the BitBox02 is mostly suitable for beginner and amateur crypto traders, even professional traders can rely on the wallet due to the advanced security measures it incorporates.
BitBox02's Packaging and Presentation
---
The BitBox02 packaging follows the minimalist style of the BitBox01 box, but with an additional 'premium' flare.
You will notice that the box is sealed via plastic wrapping, which is great because it means no air is coming out of the package. Also, proprietary plastic is important in preventing supply chain attacks.
The tamper-evident bags are another indicator that Shift Cryptosecurity takes package security extremely seriously.
Checking the packaging before you start setting up the device is mandatory, and in case the box isn't sealed properly, you shouldn't use the device.
After you open the double-layered carton box inside, you will find a black box alongside a manual that describes how you should operate the device. Since there are no physical buttons on the BitBox02, you'll need to slide, tap, and hold with two fingers.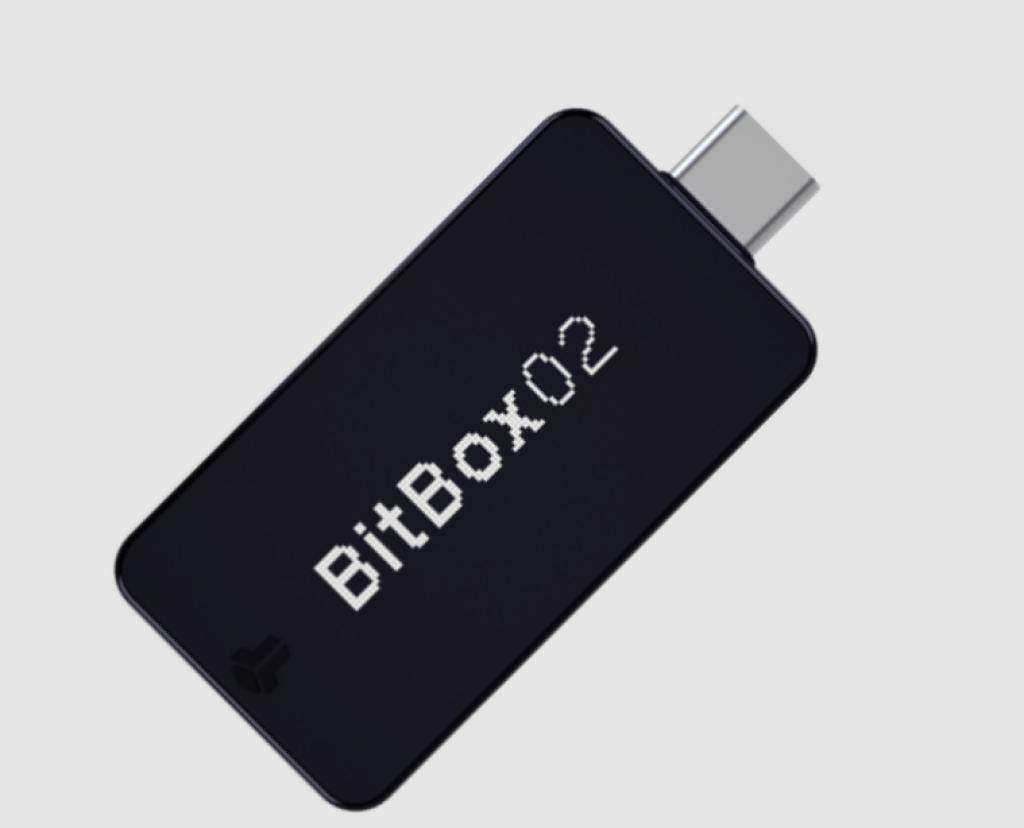 The hardware wallet will be located inside the black box, alongside a Sandisk 8GB SD card, and a USB-C to USB-A adapter.
At the bottom, there is a pocket in which you will find the different stickers and accessories. Here, you will see a USB-C extension cable and a more comprehensive manual on how to set up the device.
Lastly, there will be a white carton space that says you should go to Shift Cryptosecurity's official website to continue with the setup. The URL will lead you to a webpage on which you can download the necessary app for the device's operating system.
Setting Up the BitBox02
---
The BitBox02 setup process might be a bit complex, but if you follow the right steps you should be able to do it in no time.
First, download the BitBox App from the company's official website – this will allow you to use the hardware wallet while it's plugged into the device.
After plugging it in, carefully follow the instructions displayed in the app. The process consists of installing the firmware and setting up a name for the wallet, it only takes a few clicks.
👉 By using the touch sensors on the side, create a password for the device so you can access it whenever it's plugged in. While it may seem a bit complicated, the touch buttons are very intuitive and you should quickly get the hang of it.
Once you wrap up this initial setup, you will have to insert the Micro SD card you received in the box. The card works as a backup that doesn't require a password, and the best thing is, it's very compact and easy to hide.
You can now use the app and make your first crypto deposit.
One of the features that appeal to users is the custom transaction fee – it helps make transactions faster even when the blockchain is experiencing high traffic. Plus, traders can use Moonpay within the app to purchase cryptos.
Send and Receive Transactions on BitBox02
---
To send and receive transactions on BitBox02, you have to open up the 'Accounts' column.
Here, you can choose your crypto, select it, and then pick your desired option (send, receive, and buy coins).
When opening your account balance, you can view it in either fiat or crypto form.
👉 The default interchange options include USD, EUR, and CHF, but you can go to 'Settings' and add another currency, in case you need it.
Sending transactions includes a UTXO automatic selection process, but before you use it, you should select 'Enable Coin Control' in the 'Settings' menu for additional privacy. After activating this, you will have a clearer pocket overview of where you want to transfer coins and the recipient won't see how many coins you have in other places (UTXOs).
👉 You can choose between default fee and custom fee options, depending on whether you want to manually set up the fees.
Similar to any other hardware wallet, you have to confirm the transaction on the main screen by placing two fingers on the sides of the BitBox02 (this is the 'hold' gesture).
Receiving transactions is a more unique process.
By using the BitBoxApp, you will be provided with 20 new receiving addresses generated by your public key. So, when you need to receive funds, you choose one of the addresses. And, if you are receiving BTC, you can choose between bech32 and SegWit.
Did we mention that you can also buy cryptos directly from the BitBoxApp interface?
This is done through the integrated MoonPay app, and while it is pretty convenient, the fees might be a bit higher than usual.
BitBox02 Advanced Features
---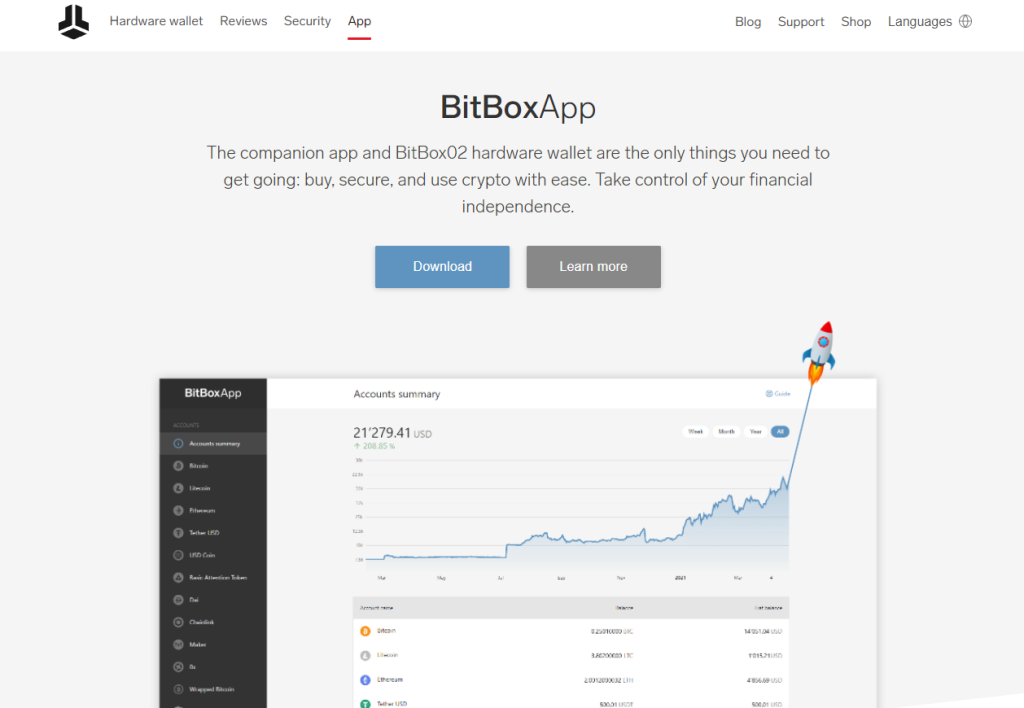 Now, time to go over some of BitBox02's most notable advanced features.
Most of these features can be enabled in the 'Expert Settings' column.
For starters, traders can use the 'Enable Custom Fees' feature which can help them save up some money on transaction fees. This option should only be used if you have some experience and know what you're doing.
Next, there is 'Coin Control'. This allows you to control UTXOs (wallet pockets). Each time you make a transaction, you can choose which UTXO to utilize. Coin control is great if you want additional privacy since the recipient won't receive any information about your holdings in other pockets.
You can also set up different accounts via address type in the 'Expert Setting' menu. For instance, if you are trading BTC, you can choose between SegWit and bech32 addresses. The main benefit to this is that you'll pay a lot less on trading fees.
The fourth feature involves enabling a Tor proxy, which goes a long way in enhancing network-level security. This is one of the features that can mostly be seen in advanced wallets such as Wasabi.
Bitbox02 Bitcoin-only vs. BitBox02 Multi-edition
---
BitBox02 offers two types of wallets – the Bitcoin-only and the multi-edition.
The main difference between the two is that the Bitcoin-only device supports solely Bitcoin, while the multi-edition can store different currencies such as Bitcoin, Ethereum, Litecoin, or any other ERC20 token.
Also, multi-edition owners are given access to Ethereum and Litecoin wallets alongside the Bitcoin ones, while Bitcoin-only owners can only access Bitcoin wallets.
Lastly, multi-edition allows users to set up a universal 2-factor authentication (U2F), which is something that isn't available in the Bitcoin-only model.
How Much Does The BitBox02 Cost?
---
BitBox02 costs around $140 for both editions (Bitcoin-only and multi-edition).
This low price makes it a great alternative to the more popular wallets like the TREZOR Model T or the Ledger Nano X, which are way more expensive.
However, the price isn't the only thing that makes BitBox02 great – there are a variety of advanced features to accompany it.
One of the main downsides of this hardware wallet is the limited support of altcoins and blockchains.
BitBox02 Supported Coins
---
As we said, BitBox02 supports a limited number of blockchains; the ones included are Bitcoin, Litecoin, and Ethereum blockchain. However, the wallet does support other ERC-20 tokens on the Ethereum blockchains.
These include Tether, USD Coin, Chainlink, Basic Attention Token, Maker, Single Collateral DAI, PAX Gold, Wrapped Bitcoin, etc.
You can use the MyEtherWallet to add more Ethereum tokens.
Backup & Recovery
---
In case you lose your device somehow, you need a backup to restore all of your funds. BitBox02 offers two methods – an SD card and a Steel wallet apocalypse-proof backup.
The Steel wallet is made out of stainless steel that can stay intact even during radiation, fire, corrosion, or any other extreme condition. It's fairly simple to use the device and you won't need any extra tools.
Lastly, there is an age-resistant backup that allows traders to ensure future generations can get a hold of their funds.
BitBox02 Review: Security
---
The security measures on BitBox02 are top-notch.
First of all, BitBox02 assesses the wallet's safety even during the factory setup. Each time you log into the BitBoxApp, they check the device's authenticity. Since Shift Crypto signs the firmware, it's the only one accepted by the app.
Also, the company has a bug bounty program that rewards users that find any type of security breach on the device. To minimize the chance of supply chain attacks, the device is delivered in a vacuum-sealed plastic bag.
BitBox02 integrates a monotonic counter within the secure chip which is used for limiting the number of attempted password entries. You can set up a password for the device. All communication between the app and device is encrypted.
Lastly, there is a universal two-factor authentication (U2F), but only on multi-edition wallets.
Alternatives
---
Let's check out BitBox02 alternatives in detail.
Bitbox02 vs. TREZOR
---
The TREZOR hardware wallet undoubtedly comes with much more advanced features, but the price might be a bit too high for some traders.
On the other hand, BitBox02 provides a decent amount of features and it comes at a much lower price.
Bitbox02 vs. Coldcard
---
BitBox2 shares lots of similarities with the Coldcard hardware wallet. For instance, both use the ATECC608A secure chip and have high-quality safety features.
Although, BitBox02 comes with a much faster microcontroller chip (120 MHz), which makes multisig setup quicker and easier.
Bitbox02 vs. Ledger
---
This comparison is similar to the one with TREZOR.
Ledger is one of the best and most popular wallets on the market, but it's not something every trader can afford, which is why lots of them opt for BitBox02.
FAQs
---
PROS
Has a USB-C connector
Intuitive touch-sensor buttons
High-quality security measures
The wallet is easy to set up
The app is very user-friendly
Great backup options included
Elegant display screen
Affordable
CONS
Limited support for blockchains and altcoins
There isn't an app for iOS devices

CaptainAltcoin's writers and guest post authors may or may not have a vested interest in any of the mentioned projects and businesses. None of the content on CaptainAltcoin is investment advice nor is it a replacement for advice from a certified financial planner. The views expressed in this article are those of the author and do not necessarily reflect the official policy or position of CaptainAltcoin.com