Kryll Trading Bot Review – Is Kryll.io Legit & Worth It?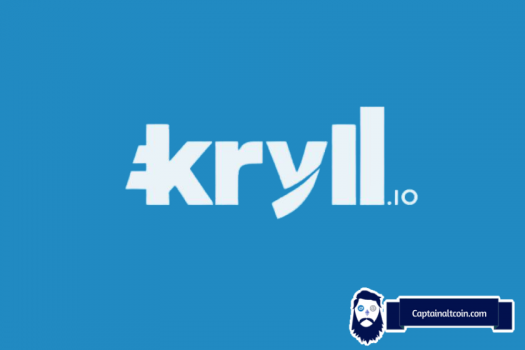 Kryll Trading Bot Review – Is Kryll.io Legit & Worth It?
Easy-to-Use Interface
Great Team behind the project
Low Fees
Extensive Help Section
Strong community of users
Supported on major exchange platforms
Kryll.io is a notable platform in the cryptocurrency trading sector, offering a range of features designed to enhance the trading experience of both novice and experienced traders. This review will delve into the various aspects of the Kryll platform, exploring its user-friendly visual strategy editor, diverse marketplace, efficient backtesting feature, and more.
The platform's commitment to providing real-time notifications, comprehensive portfolio tracking, and support for a wide range of coins and exchanges will also be examined. Whether you are looking for a detailed Kryll.io review, insights into the Kryll trading bot, or a general overview of what Kryll offers, this review aims to provide a well-rounded perspective on the platform's capabilities and offerings.
| Feature | Description |
| --- | --- |
| 🛠️ Visual Strategy Editor | Kryll provides a user-friendly visual editor allowing traders to design their own trading strategies without requiring any coding knowledge. |
| 🌐 Marketplace | Users can explore and select from a broad array of pre-built trading strategies developed by other community members available in the Kryll marketplace. |
| 📊 Backtesting | Traders have the ability to test their trading strategies against historical data to assess their performance before implementing them in real-time trading. |
| 📡 Trading Signals | Supports trading signals from various sources like TradingView, assisting users in making informed trading decisions. |
| 🚨 Notifications | Users can get real-time notifications through email, SMS, or Telegram for specific events or trading conditions. |
| 📈 Portfolio Tracking | Offers a comprehensive overview of users' trading portfolios, including performance metrics and profit/loss calculations. |
| 💰 Pricing | Provides various pricing plans including Free, Beginner, Trader, and Pro, each with distinct features and trading limits. Detailed pricing information is available on the Kryll website[1]. |
| 🌍 Supported Countries | Supports traders globally with no specific restrictions on supported countries. For the most current information on supported countries, refer to the official Kryll website or contact their support team[2]. |
| 🔄 Supported Exchanges | Integrates with several renowned cryptocurrency exchanges, enabling users to link their exchange accounts and execute trades directly from the Kryll platform. A full list is available on the Kryll website[3]. |
| 🪙 Supported Coins | Supports a diverse range of cryptocurrencies, allowing users to trade major coins like Bitcoin (BTC), Ethereum (ETH), Ripple (XRP), and more. The exhaustive list of supported coins is available on the Kryll website. |
Also, the trading game requires time, technical knowledge, analytical skills, discipline, and proficiency in using professional tools in order to achieve true success, so crypto traders without all of these missed opportunities or lost a chunk of their assets in the last few years.st
Automated trading software, commonly known as trading bots, can trade the markets round the clock (no sleep required) with pure objectivity and precision at all times. This means that these automated solutions could prove to be quite helpful in time, cost, and risk management. Today, there are more and more different auto trading systems that are promising a great trading experience.
One such tool is Kryll, the first intuitive platform to define powerful crypto trading strategies through a simple drag-drop editor. This crypto trading root is giving traders the opportunity to create their own auto trading strategies, which can consist of blocks of logical operators, signals, variable values (market volume, trends, technical indicators, technical analysis), user notifications, and orders. This will make the entire process not only automatized but personalized as well.
Kryll claims to be easy but powerful, so we decided to explore the project's potential ourselves. Read this review to find out more about Kryll features, how the platform works, software, customer support, and essentially, whether it fits in with your goals as a crypto day trader. Cryptense S.A.S is the Blockchain company behind the Kryll project and it is based in the European technology park of Sophia Antipolis in the south of France.
In early March, Kryll even made a deal of cooperation with Spectre.ai (Speculative Tokenized Trading Exchange), the world's first broker-less and fraud-free trading platform that uses unique smart contract technology built on the Ethereum blockchain. Their plan is to incorporate the existing technology on the Spectre of those owned by Kryll. This partnership looks very promising to its users.
Read also:
Review
---
Launched in 2018, Kryll is the ultimate platform for crypto traders who are looking to use the most advanced trading tools and strategies, as well as the combined intelligence of the community in order to achieve the best returns in crypto markets. Founded by a team comprising Luce Benevolo, Philipe Longere, Paul Collorafi, and others, it is designed to allow users to design and create their own automated cryptocurrency trading strategy and set them to execute automatically.
This automated trading software is aimed to make cryptocurrency accessible to all. Kryll tries to provide a solution to problems of lacking the desired trading tools to enter into the world of professional crypto trading or facing the problem of high prices while buying pro tools for performing the crypto transactions. Introducing WYSIWYT (What You See Is What You Trade) technology, the Kryll team will provide a simple yet powerful trading strategy making use of the industry's most powerful tools and safely testing them with backtest and sandboxing.
Once your tools prove their worth you can set them to live-trade on your behalf, since the crypto trading bot keeps making trades on their behalf 24/7. It's also important to note that traders on Kryll can also follow more experienced daytraders to replicate their strategies, which allows each user to buy custom strategies, and also offer their own strategies to be sold in order to monetize their experience.

Add to that the fact that Kryll is integrated with all major exchanges, such as Binance and Bittrex, with more integrations in the pipeline.
Kryll Demo
---
We were pleasantly surprised that there really is a demo available on the platform, which will allow you to make tweaks before going live. This feature will allow traders to backtest their strategies in a live simulation environment, which proves their mettle before they are sent out to do the work in the real world with real money, which will serve as a cost and time-saving feature for all levels of traders. Also, there are some tips and tricks on the demo, that will help complete newbies learn to use it as quickly as possible.
How Do Blocks Work?
---
The Kryll platform has been designed to make cryptocurrency accessible to users, whether they are professional daytraders or fresh traders wanting to benefit from digital currencies. However, the block system can appear somewhat confusing to newbies. That's why we'll explain how this works in more detail for users to have a better understanding of how the strategy-building process works.

Creating a New Strategy
---
Traders who wish to use Kryll, are required to create their wallet, which represents the wallet portfolio for the specific strategy you are looking to create. This particular block is the first step and it's mandatory.
Kryll's system has five main block types for building successful trading strategies:
Market Trends – It provides trends analysis, such as price fluctuation, technical data analysis and prognosis based on machine learning.
Trading Actions – It allows users to purchase, sell, and hold assets, or stop the trading activity if needed.
Signals – This block is a combination of recent tips coming from professional traders, Telegram channels or social networks.
Operators – It organizes data feeds and signals interactions.
Notifications – This block keeps users informed of a strategy's status by text messages, emails or smart notifications.
Price up and Price down Block
---
The purpose of the price up block is to trigger a movement when the price pumps for the percentage you chose. Here are some examples of what you can do:
Market Evolution: It depends on the market price evolution. For example, you can instruct your strategy to buy crypto if the price drops for example 20%, and then goes for example 10% up.
Last Order Price: It depends on the Last Order Price and can be instructed to trigger when the price goes up or down by a certain percentage. For example, if you bought a coin at 0.1BTC, and the block specifies a movement when the price increases by 10%, this block will be triggered if the price reaches 0.11BTC.
Last Block Price: This block depends on the Last Block Price, which means that it will be triggered if the price has gone up to the percentage you chose in comparison to the price at last block that your flow encountered.
Average buy order: This particular block is perfect for controlled profit taking and will be triggered if the price reaches the average of the orders made before. For example, if you purchased 3 Ethers at the following prices: 1ETH for $80, 1ETH for $110, and 1ETH for $170, then your average purchase price will be $120.
Price Down acts exactly like the PRICE UP block, but is triggered when the price drops.
Volume
---
The purpose of the volume blockchain is to trigger when the volume increase or decreases by a certain amount of percentage that you set compared to its MA (Moving Average) that you can choose.
Starting from the last block: This feature allows users to automatically execute a trade when the volume goes up or down in comparison to the previous block.
Rolling: This is useful if you want to execute a trade based on specific volume conditions, such as 'volume vs time'.
There are other conditional blocks that you can use to expand your strategy, such as 'Or' block, 'And' block, or if you have more advanced knowledge of trading, you can use the Moving Average Convergence Divergence (MACD) or Bollinger technical indicators. However, the above examples should give you a better understanding of how you lay the foundations for an automated strategy.
Kryll Marketplace
---
The Kryll Marketplace is perfect for those who would like to try out automated cryptocurrency trading, but are not quite ready to take the plunge themselves. Traders who prefer to use strategies that are already available should definitely visit the Marketplace section. Some traders prefer to create their own strategies, while others use already made strategy algorithms.
Every strategy is presented with a short description and instructions and is completely transparent. This means that results can be verified independently, and those using the strategy can leave public feedback and ratings. It's also important to note that ratings, recommended pairs and the number of users who used the strategy can be checked out.

Kryll Token and Fees
---
Kryll requires all traders to use its own native ERC-20 token – which it calls the KRL token. This token is utilized to fuel the platform's strategies, which means that, if a trader does not hold KRL, their strategies could stop the moment they run out of it.
KRL is only available on a few niche exchanges that are not as well-known (Liquid, IDEX, MERCATOX, and Yobit), which stops most users from using the platform. As we already said, in order to use Kryll's services and fund their strategies, users have to buy KRL. The price for each strategy funding depends upon the number of tokens that you hold in your account.
The fees are highly reasonable but a bit complicated to understand. As a basic outline, Kryll charges 0.0333% per day, based on the total amount of funds you have invested in your respective strategy.

We should also note that there are discounts on this fee if you hold a certain amount of KRL.
For example, if you hold $500 without a KRL holding package, you would be charged $0.166 per day, which means that there would be no discounts involved. On the other hand, if you hold 50,000 KRL, then you would get a 50% discount on the total fees, which means that you would only be charged $0.083 per day.
The Kryll platform offers the following packages that each depend on the amount of KRL that you hold:
0 KRL
---
All traders start with 0 KRL accounts. This account comes with 10 trading slots and a daily live test cost of $0.06. It offers a 20% referral program and has regular backtest speeds.
5,000 KRL
---
This package has regular backtest speeds and offers a 15% fee discount, 20% referral program, $0.05 daily live test costs, and 20 slots.
20,000 KRL
---
This tier has boosted backtest speeds. It has 30 trading slots, boasts a fee discount of 35%, and has a referral bonus of 30%. It also offers a daily live test cost of $0.04.
50,000 KRL
---
This expensive account type offers boosted backtest speed and carries a daily live test price of $0.03. It also comes with 40 trading slots and has a 50% fee discount with a 35% referral bonus.
100,000 KRL
---
This account type has priority backtest speed, 75% fee discount, 40% referral, $0.02 daily live test costs and 50 trading slots. This particular tier defines itself as a value deal for many traders.
200,000 KRL
---
As the most advanced and the most expensive account type offered by the platform, this package has priority backtest speeds and comes with 60 trading slots and a daily live test fee of $0.01. It also has a whopping fee discount of 95%, while the referral bonus is 45%.
As you can see, the features that change with each package are:
Trading slots
Fee discounts
Referral bonus
Backtest speeds
It's also important to note that, those people who decide to rent a trading strategy that has been published by another user might need to need to pay fees in the form of KRL tokens, which amounts to provider fees and varies on a strategy-by-strategy basis. On the other hand, some providers are also free.
Kryll Team
---
The core Kryll team is composed of veteran developers and Internet professionals. Kryll is led by CEO Luca Benevolo and CTO Philippe Longere, who have been trading cryptocurrencies for years. With their background and close circle of advisors ranging from within the fields of software development, trading, law, machine learning, and economic sciences, they've decided to build the right platform and provide the right tool for cryptocurrency traders.
With pretty strong support of researcher-based experts and academics, as well as by lawyers from Ernst & Young, you will certainly find trading techniques that you will not find on other platforms.
Members of the team are:
Luca BENEVOLO: CEO / Founder / Architect
Philippe LONGERE: CTO / Founder
Paul COLLORAFI: CMO / Strategist
Francis PRAT: Artistic Director
Fabien MABON: Backend Expert
Jay SALVAT: Frontend Expert
Lisa PONS: Marketing Officer / PR
Jeremy BLOT: Community Manager
There are also nine advisors that assist their work and give great contributes. Advisors are:
Jerôme CHIFFLET
Thomas HERLIN
Nicolas IVALDI
Clement LAFORET
Patrick MUSSO
Millie TAING
Sylvain THEVENIAUD
Raphael TRONCY
Pui-Ching CHAU
Customer Support
---
Kryll customer support is available via live chat, which is a very popular means of communication as it is quick and simple to use. You have to write your name, and email, describe your problem, and attach some documents if you have them, as Kryll live chat supports sending up to five documents at a time. You will get a response from the first available agent.
There is also the FAQ section for those traders who want to learn more. However, if they cannot find the answer to a question, then they could contact the customer support team.
Official channels:
Kryll Reputation
---
Kryll was launched through an initial coin offering (ICO) in 2018 and was released to the public in January 2019, which makes it quite a new platform. Since its public release, the platform has started gaining traction amongst the crypto community and has gradually yet surely obtained a certain level of reverence amongst its users. The platform has also earned positive reviews from users. Also, professional critics sing praises for the trading bot.
Supported Exchanges
---
Despite being new in the sector, Kryll is supported on major exchange platforms, including:
Bittrex
Poloniex
Bitfinex
Coinbase/Gdax
Cryptopia
YoBit.net
Binance
HitBTC
Bitstamp
Kraken

With further developments, we can expect Kryll to available on other crypto exchanges as well. Also, the platform supports all cryptos that are listed on each exchange, so traders don't have to worry about being restricted on the use of certain digital assets.
The fact that Kryll is integrated with all major exchanges means that you can set up a strategy and forget about it, instead of micromanaging trades between multiple exchanges 24/7.
It's also important to note that you'll need to obtain your unique API key in order to integrate your respective exchange account with the Kryll platform, which gives Kryll the authority to perform automated trades on your behalf. Your strategy will be operating in an autonomous nature. However, the Kryll platform does not have any access to your exchange login credentials, which ensures that your data remains secure.
Conclusion
---
Kryll has a very easy-to-use interface that is also pleasing to the eyes, which makes it quite simple to operate for new and experienced traders alike. The platform also offers an extensive help section that assists users if they run into any issues. On the other hand, the process of having to purchase KRL for fee structure is a bit complex for new traders and might even be termed as a hassle by some. Kryll also has a strong community of users which can help you come up with the right strategy, which means that you can always rely on the community of users and learn from the people who have created the right strategy.
All in all, the team at Kryll has created a very unique product with easy-to-use features that essentially opens the crypto day trading doors for beginners looking to foray into the world of cryptocurrency, or those that simply do not have the time to day trade themselves.
Kryll Alternatives
---
In case you are looking for more trading platforms, below is our list of reviews:
PROS
Easy-to-Use Interface
Great Team behind the project
Low Fees
Extensive Help Section
Strong community of users
Supported on major exchange platforms
CONS
New Platform
Fee structure is a bit complex

CaptainAltcoin's writers and guest post authors may or may not have a vested interest in any of the mentioned projects and businesses. None of the content on CaptainAltcoin is investment advice nor is it a replacement for advice from a certified financial planner. The views expressed in this article are those of the author and do not necessarily reflect the official policy or position of CaptainAltcoin.com