Luxalgo Review – What Does Lux Algo Do & Is It Worth It?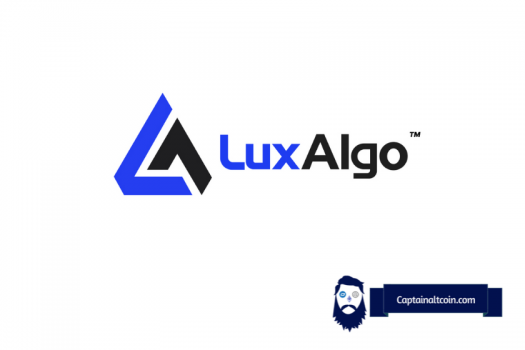 Luxalgo Review – What Does Lux Algo Do & Is It Worth It?
Members of the Luxalgo community get lifetime updates for free.
It allows for flexibility as users can create their trading strategies.
You can get access to support every time during the week.
There are many technical indicators available for both professionals and beginners.
Luxalgo provides educational content for its community.
The discord server is filled with community members that are always ready to assist and share trading ideas.
The tools come with instructions that make it easy for users to utilize them efficiently.
Luxalgo uses robots that have been programmed to monitor markets, detect trends, detect patterns and send trade signals in line with users' strategies.
What is Luxalgo?
---
Lux Algo is a vendor that provides advanced charts, indicators and signals for Tradingview users. Luxalgo targets the creation of an all-embracing set of technical tools that traders could use on the TradingView platform by its users.
With the constant evolution of the financial market and the tech industry, traders and investors need an updated toolkit to execute smart trades. For this reason, Luxalgo has created toolkits that can enhance traders' experience on the tradingview platform and discord.
Lux Algo targets making charts-monitoring so easy for its users by making their tools usable on any device and fine-tuning the charts for all markets available on the Trading View platform.
The carefully crafted toolkits developed by Luxalgo can spot a pattern formation automatically, signals for buying and selling, moves made by institutional traders, etc.
Luxalgo has a vivid community on Discord with over 50000 members. The investors and traders on this server can access relevant updates, signals, and automatic alerts.
Is Luxalgo safe and trustworthy?
---
At the present tie, Lux Algo has a 4.2 rating on Trustpilot. Although Luxalgo has proved not to be a scam, the reliability of the signals will depend on individual traders.
Pricing
---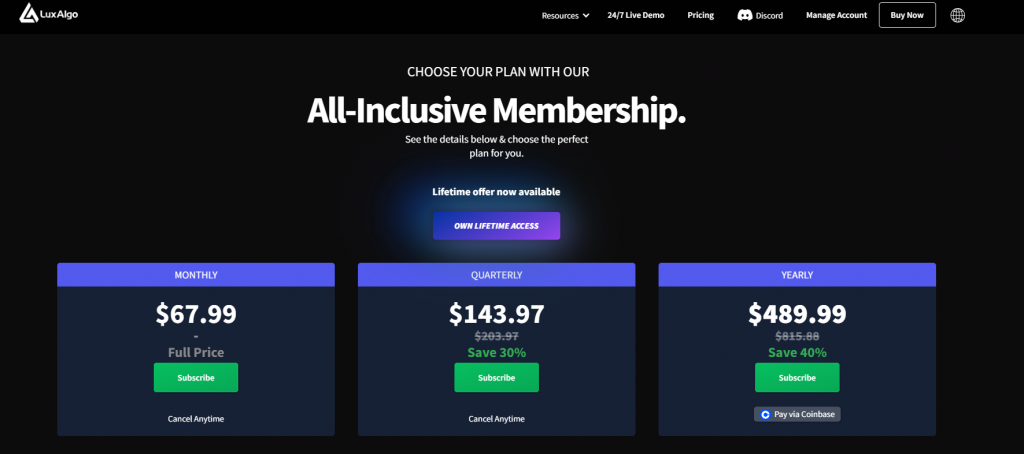 Lux Algo uses an all-inclusive membership plan. This means once you make the necessary payment, you can have access to all the features of the software.
Users can pay $67.99 monthly, $143.97 quarterly, or $489.99 yearly.
How does Luxalgo work?
---
A user can choose any of the available plans. Once that is done, he can sign up. After signing up, a mail will be sent to the user from where he can connect his TradingView and discord accounts. Alex Pierrefeu is the developer behind the project.
The software works with numerous markets such as the foreign exchange market, stock market, and indices market. Users can trade with different timeframes ranging from one minute to one week.
Once an account is connected to a tradingview account, users can access the tradingview charts. Any tradingview plan, even the basic plan, can connect with the Luxalgo software.
Read also:
Luxalgo premium indicators
---
A key indicator Luxalgo provides is the Lux Algo Premium indicator. With the Lux Algo Premium indicator, Luxalgo targets to help each user make an informed decision when trading by delivering all helpful information.
Features
---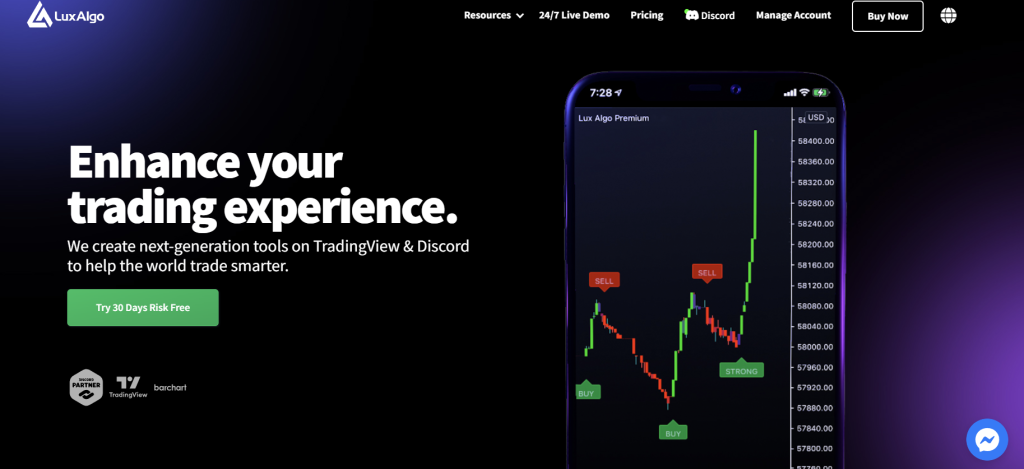 It displays buy and sell signals.
It has two methodologies which are Confirmation Signals and Contrarian Signals.
Users can select which signal to be displayed to suit their trading style.
Traders can choose a comprehensive option of settings based on their needs.
An Auto Pilot Confirmation Signal Setting option allows a signal algorithm to self-adjust based on the market moves.
There are four different ways support and resistance levels can be plotted automatically.
Users can set two take profit points and two stop-loss points.
In addition to the confirmation and contrarian signals, users can use other technical indicators on the chart.
Users can set colors for each candle, and some of these candles are based on contrarian and confirmation signals.
The dashboard displays important information and data that can be used alongside signals and indicators.
There are in-built alert conditions with the Luxalgo premium indicators.
Lux Oscillator premium
---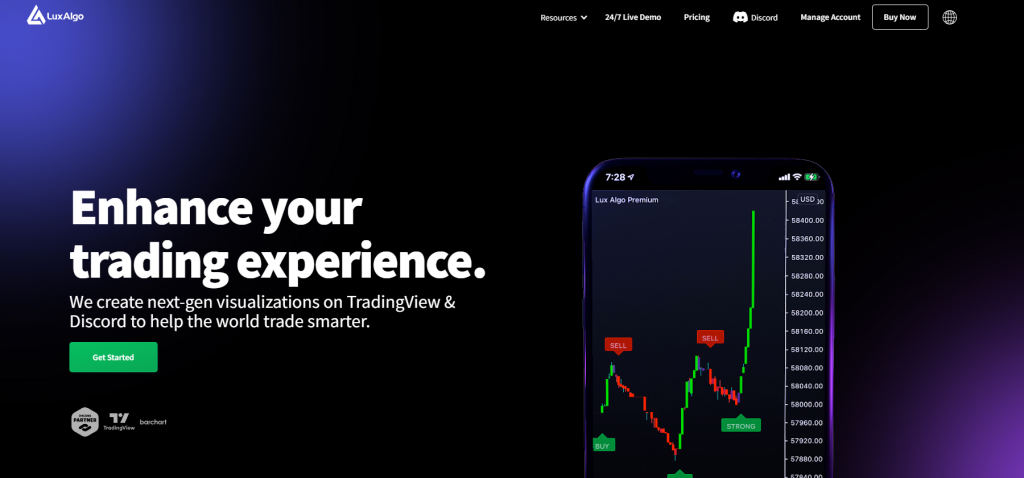 This is a complete package oscillator that contains some other four oscillators. These four oscillators are explained below:
Legacy
---
Using the stochastic and moving averages, this oscillator guarantees earliness and accuracy.
It has two colors that can help determine an uptrend and a downtrend.
Classic
---
Using the intersection between the oversold and overbought points, and the oscillator, the classic indicator reveals a point of divergence and a fact where there is a likely trend reversal.
There are two alerts on this oscillator. The Classic Oscillator Buy is triggered when the oversold zone goes below the oscillator. The Classic Oscillator Sell is triggered when the oscillator goes above the overbought zone.
Advanced
---
This oscillator gives a trader multiple information which could be acted upon. Some of the information that traders could get from this indicator are an estimate of an adaptive cycle or trend, a divergence, an estimate of actions taken by institutions.
This oscillator has 3 elements: main oscillator, cycle oscillator, and institutional movement.
Normalized
---
This oscillator adapts to different market price variables, and it is in a range between zero and a hundred. It bases its calculations on the confirmation signal. Traders can use it to detect an uptrend and a downtrend.
Lux Statistic Premium
---
This is a set of tools that include 3 indicators to help traders make forecasts.
Features
---
👉 Pivot oscillator
This oscillator can be used to forecast a point that can likely be a top or a bottom.
👉 Lux Volatility
This indicator measures how volatile a market is at a time to make it easy to interpret.
👉 Institutional Activity
This indicator reveals the volume of activities by institutions.
With this indicator, traders can expect information to affect a market movement and make necessary adjustments.
Discord features
---
VIP Resources
---
VIP members can get their information from the VIP Announcement channel.
A VIP Guide channel can help VIP members understand the VIP discord channel.
VIP members can set the alerts they want for individual markets. Members can do this on the View-Scanners channel.
VIP Trading Hub
---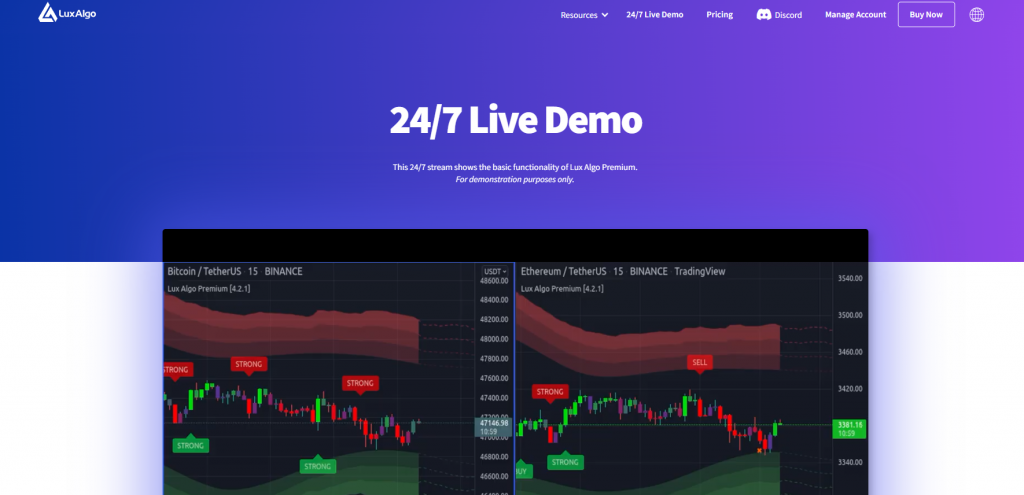 VIP members can get answers to questions, engage in various discussions, and share different trading ideas on the VIP Hangout channel.
There is a Crypto Chat channel where discussion about the cryptocurrency markets holds.
Another Forex chat channel is accessible for VIP members where discussions about the forex market are held.
There is a Stock Chat channel for the VIP members where discussions hold about the stock markets.
VIP members can also chat about the futures market on the Futures Chat channel.
Pro members share their analysis on the Pro callout channel.
VIP Support
---
Support team members on the VIP Support channel are always available to provide solutions to membership and indicator-related problems.
Users who have suggestions about some other features Luxalgo could add can make their suggestions on the VIP Suggestion channel.
Optibot channel
---
Users can configure the sensitivity and agility settings for alerts on this channel where signals are optimized for higher returns.
Pattern Detection Channel
---
Patterns that are just formed or are almost entirely formed for various assets on 1d timeframe are detected and posted on this channel by 2 pm each day.
Satellite
---
Users can get information about various assets from this channel's stock market, indices, crypto, and forex markets.
Luxbot
---
There is a bot on the Lux Algo discord server that, when called by typing /, can allow users to:
backtest different trading strategy
fetch news relating to an asset of choice with an option of selecting a news source,
display different charts from tradingview.
Market Scanner
---
There are 7 channels that give alerts across the different markets supported.
Frequently asked Questions
---

CaptainAltcoin's writers and guest post authors may or may not have a vested interest in any of the mentioned projects and businesses. None of the content on CaptainAltcoin is investment advice nor is it a replacement for advice from a certified financial planner. The views expressed in this article are those of the author and do not necessarily reflect the official policy or position of CaptainAltcoin.com