ProfitFarmers Review – Is ProfitFarmers Legit Or Scam Service?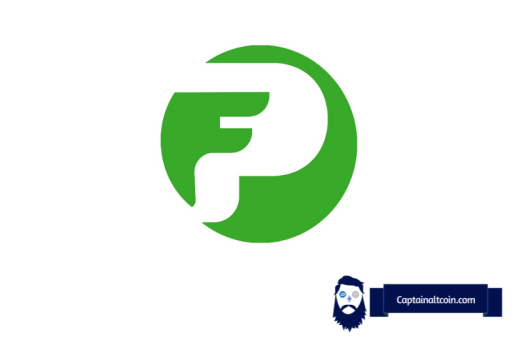 ProfitFarmers Review – Is ProfitFarmers Legit Or Scam Service?
It doesn't take any fee or commission apart from the subscription fee. All profits belong to you and you alone.
Allows you to automate the trading process
There is a money-back guarantee on your subscription payment if you don't meet a threshold after 30 days. That's a sign of confidence in their abilities.
The platform has a lot of help articles, videos, and tutorials to guide users in making profitable trade decisions.
The platform is easy to navigate for experts and beginners alike.
PROFITFARMERS OVERVIEW
---
Not all trading bot services can confidently offer a money-back guarantee if the profitability of their strategies falls below a certain threshold.
That is why the Profitfarmers platform is an interesting one to look at. In this article, find out what makes them so confident. You will also learn how you can sign up for their services and what dangers, if any, are there.
Most traders believe that trading Crypto is only profitable for experts with decades of experience. It doesn't have to be.
WHAT IS PROFITFARMERS?
---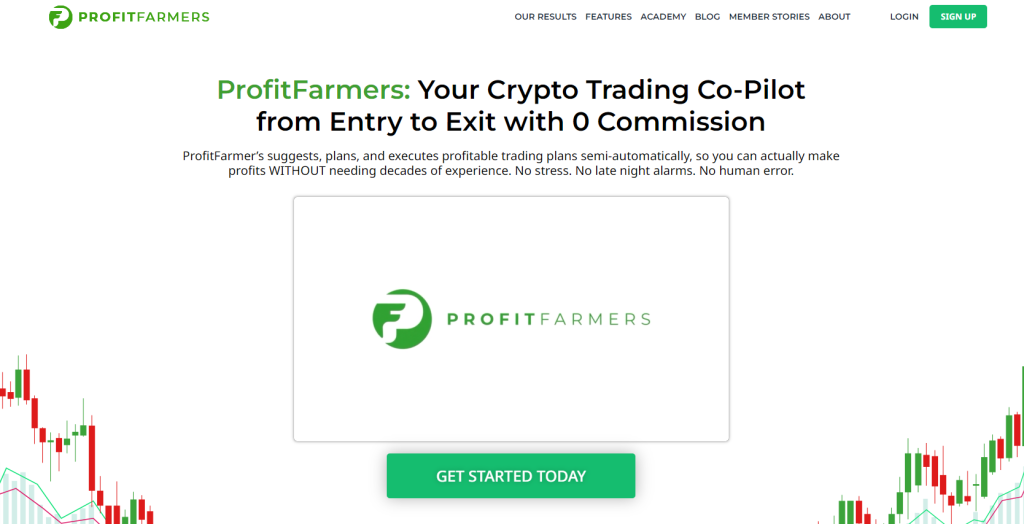 Profitfarmers was founded in 2018 and publicly launched in 2020. It is a crypto trading platform that serves as a guide for beginners and as a co-pilot for experts. Therefore, everyone can benefit from using Profitfarmers.
Its features include copy trading, signals monitoring, price action scanners, trade guardians, laddering mode, etc. It also features an academy and a blog, along with member testimonials and success stories.
Outstanding among its offers is the 30-day money-back guarantee if the number of profitable trades for that period is not up to 60%. Therefore, they're essentially guaranteeing that you'll never lose on the platform. Take note that the money-back deal is on your subscription package, not on your trading capital.
Also, they have an interesting partnership with 'One Tree Planted', a reforestation agency. So, for every month you spend with Profitfarmers, you plant a tree.
The system provides an android device-compatible mobile app.
WHO IS PROFITFARMERS FOR?
---
The following group of people will benefit from Profitfarmers:
Crypto newbies. If you're a newbie, you don't know much about the crypto world; you may have heard that you have to lose some money before finding your way around the crypto world. With Profitfarmers, you don't have to lose to earn
Expert traders. As an expert, you are used to checking charts, placing and monitoring orders, analyzing trendlines, and waking up to price alerts at any time of the day. Why not let Profitfarmers take some of that stress away. All you have to do is to set your preferred trade settings and relax, knowing that your fortune is safe in their hands.
PROFITFARMERS FEATURES
---
Signal Copy-Trading
---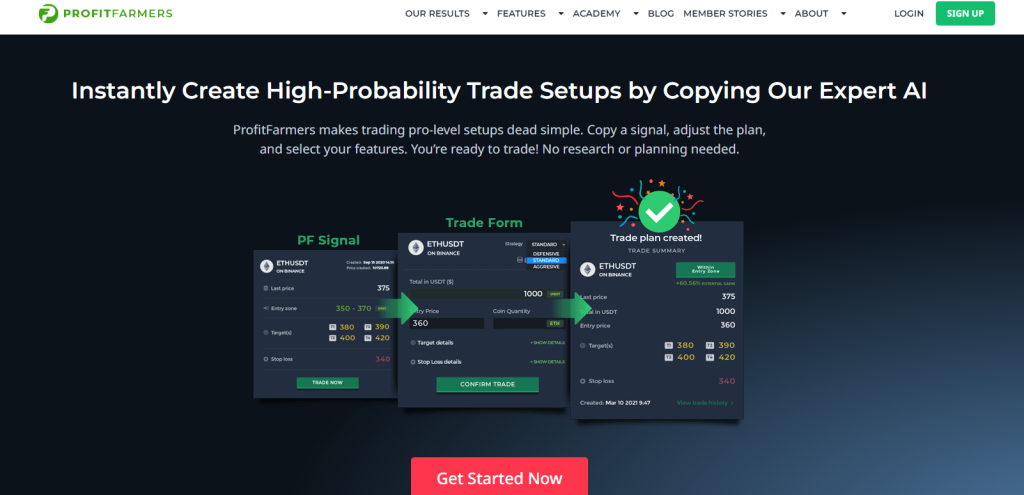 Copy-Trading, also known as social trading, is a trading mechanism where subscribers follow an expert's orders, and trade for trade. Therefore, they profit when the leader profits and they lose when the leader loses. 
On Profitfarmers, Copy Trading doesn't mean you're no longer in control of your portfolio. You still have absolute control and can adjust or cancel trades as you like. The performance results of copy-traded signals are also posted biweekly, monthly, and quarterly. This helps you to assess how your signals are performing and to adjust accordingly.
Trading Terminal
---
Profitfarmers has its own trading interface with secret order types that you will not find onBinance. This terminal is linked to your Binance account through your API keys, allowing you to trade more conveniently. Some of the order types on Profitfarmers trading Terminal are:
Trailing stop buy and sell
OCO(One-cancels-Other) buy and sell
OSO(One-sends-other) buy and sell
And many other custom order types that give you the flexibility you want with your trades.
Trading tools
---
There are several tools on the platform, including
Breakeven Stop-loss: This tool helps you to lock in your profit by moving your Stop-loss accordingly as your trade progresses. You can set it to move it up to your entry point or, even further than that, to your take-profit points. On the platform, you can set up three take-profit points with this tool. Once you set it, it takes over from there and ensures you do not lose any profit you gain in your sleep. Cool, right?
RSI scanner: The Relative Strength Indicator(RSI) is one of the most used indicators in the crypto space. Profitfarmers' RSI scanner simplifies the process much further. It scans the RSI and gives you high probability price actions, all for your taking.
HOW TO USE PROFITFARMERS. STEP BY STEP
---
The first step is to sign up on their platform. You can do that by clicking the 'Get Started' button on the front page. It'll usher you into a window where you will enter your name, email address, and password to set up an account.
You then choose a payment plan to proceed with. There are three payment plans to choose from. They offer the same services but for different timeframes. We'll discuss more on that later.
After choosing and making payments, connect your Binance account to the Profitfarmer platform using your API keys.
Ensure that you have sufficient liquidity in yourBinance wallet, especially coin pair BTCand USDT. You don't need to have both currencies. You can convert one to the other on Profitfarmers trade terminal.
Set your notifications so that you will be alerted as the bot makes progress on your trades.
Follow your first signal.
LET'S TAKE A LOOK AT THE PARTS OF THE SIGNAL
---
⚡️ Entry
---
This is the point at which you will start a trade. Sometimes, you have to wait for the entry price to come down to your entry point, while, at other times, you may need to get into the markets right away because the price may be at the bottom already. With Profitfarmers signals, the entry zones are already researched and specified; and the Copy-Trading algorithm buys it within this range.
⚡️ Target
---
Trading crypto without making a profit is like going on a journey without a destination. That is why you need to have a target. The trade targets are clearly defined in Profitfarmers' trading signals. Thus the Copy-Trading algorithm knows precisely when to take profit. And unlike human experienced traders who may be confused by emotions when the pump starts reeling in, the algorithm doesn't feel; it just acts.
⚡️ Stop-loss
---
This is the measure put in place to ensure that you don't lose all your capital because of a bad trading day. The signals gotten from Profitfarmers have this in place and imprinted in the Copy-Trade algorithm so that you only make minimal losses, if at all.
Confirm Trade Button
---
After analyzing trade patterns and finally figuring out what strategy you want to use, it may be tireless to keep pressing the 'Confirm Trade' button, especially if your strategy involves making several trades within a short time. With Profitfarmers, you have that automatically done for you. Just set the entry and exit points, and you're good to relax!
PRICING PLANS
---
Profitfarmers' pricing is made on a durational basis. That means you have access to all the features of the platform, regardless of which plan you buy. However, you can choose to pay monthly, quarterly, or yearly.
If you choose to pay monthly, you'll pay $299 for the whole month and have to renew it the next month. You will also not be able to make payments via crypto; you can only pay via credit card.
The quarterly plan goes for $599 for three months, making it about $200 per month (you save close to a hundred Dollars. Cool!) You can also choose to pay with cryptocurrencies through CoinPayments. Apart from that, you can pay with credit cards, PayPal, or Amazon Pay.
You would expect that there would be more discounts as you go for the yearly plan. Unfortunately, that's not the case. With the annual plan, you pay $3,588, which equates to $299 per month. Therefore, it doesn't really matter if you pay yearly or monthly. The quarterly plan saves you more. You can also pay with crypto, credit cards, PayPal, and Amazon Pay.
IS PROFITFARMERS SCAM OR LEGIT?
---
The Profitfarmers platform is not a scam. It is a veritable trading signals platform that has accrued testimonials from many users on Facebook, HelpDesk, TrustPilot, and other online media channels. What makes us sure:
For one thing, it doesn't have or even asks for access to withdraw funds from your Binanceaccount. You only grant it access to make trades on your behalf. So, your funds are safe.
There is a guaranteed money-back policy if it doesn't work your way. That's not common in this industry.
The founder is doxxed( a term in the crypto world that means that the founder of a project is not anonymous). His name is Matthew Tansley, and he is not hiding. The team members are also known.
However, put in mind that it's the crypto world. Anything can happen. So do not jump all in. Manage your risk well, and let Profitfarmers do the rest.
PROFITFARMERS VERSUS TRADING BOTS
---
The Profitfarmers platform gives a more customizable feel to the trading experience than most trading bots. You feel more in control because you can customize any of their trading signals before copying them into your Profitfarmers trade setup. Therefore you set how you want your trade to be.
Another difference is that the Profitfarmers algorithm is constantly being monitored and updated by the team. This is more than we can say for bots, which break down often and need to be replaced or upgraded.
FREQUENTLY ASKED QUESTIONS
---
PROS
It doesn't take any fee or commission apart from the subscription fee. All profits belong to you and you alone.
Allows you to automate the trading process
There is a money-back guarantee on your subscription payment if you don't meet a threshold after 30 days. That's a sign of confidence in their abilities.
The platform has a lot of help articles, videos, and tutorials to guide users in making profitable trade decisions.
The platform is easy to navigate for experts and beginners alike.
CONS
Sometimes they make mistakes. Who doesn't?!
The money-back guarantee is on your subscription payment, not your trading capital. Therefore, if your money suffers an extreme loss, you may lose more than you get back.
They do not recommend it for traders with less than $3000 in their portfolio. Therefore, it may not be the best for retail traders.
You can't track PnL directly on the platform.
You can only use the platform on Binance. No other exchange is supported.
The only trade pair is BTC/USDT.
The payment plan is confusing. Most platforms offer discounts when you pay yearly. But with profitfarmers, it doesn't matter if you pay monthly or annual; the price is the same.

CaptainAltcoin's writers and guest post authors may or may not have a vested interest in any of the mentioned projects and businesses. None of the content on CaptainAltcoin is investment advice nor is it a replacement for advice from a certified financial planner. The views expressed in this article are those of the author and do not necessarily reflect the official policy or position of CaptainAltcoin.com